Like GearBrain on Facebook
The Lenovo Smart Tab M8 with Google Assistant packs a smart display, tablet and smart home system into a $100 price tag. Tiny, at just 8 inches, the device can work flat and also upright as a display— and we spent some time using it both ways, as both a second screen on our desk, and a display for our home. It succeeded fairly well at both.
Features and details

The first thing you notice is that the Lenovo Smart Tab M8 feels solid. The back has a black matte finish which grips well, and there's a good heft to the tablet. That's great because even though it comes with a stand — which doubles as its charger — you're going to find you may walk around with the screen more than you think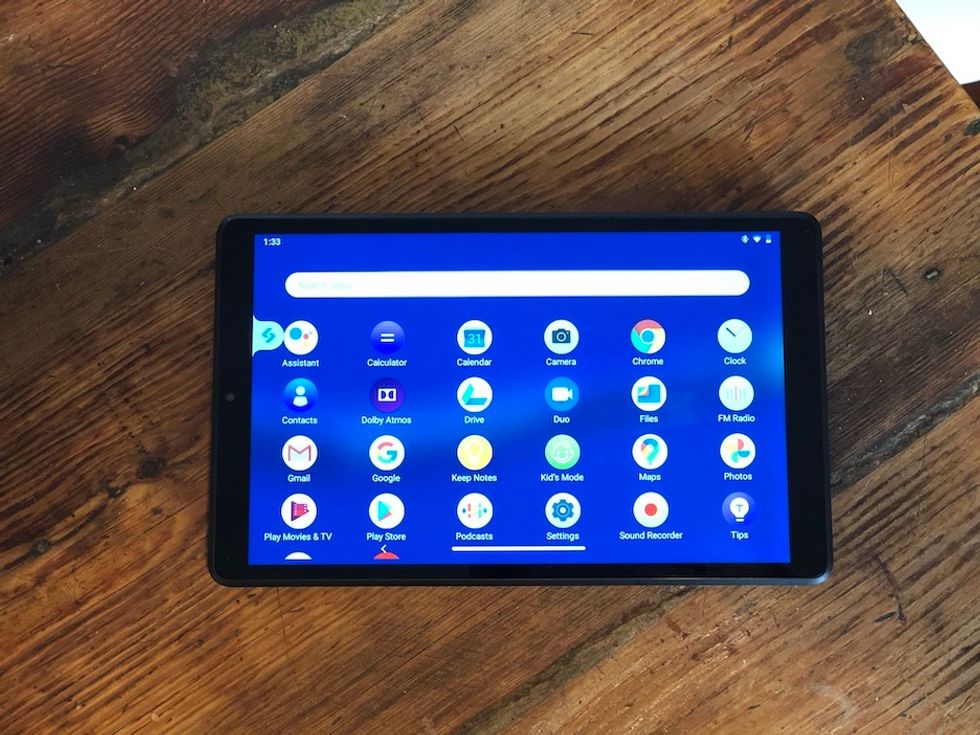 You can use the Lenovo Smart Tab M8 with Google Assistant as a tabletGearBrain
The tablet is also an Android device that has a 2GHz quad-core processor, 2GB RAM and 32GB of internal storage, plus there's a microSD slot on the side if you feel you need more. You also get Dolby Atmos, two speakers on the side, two microphones, an audio jack and a micro USB port for charging, which is on the station as well. The microphones are key — this is how Google Assistant will hear you, when you ask Google for assistance, and how you'll connect via video conferencing apps.

As for cameras you have a rear, auto-focus, 5MP camera and a 2MP fixed focus front camera. The cameras are certainly not what you'll want to use for photography, with images quite murky coming from the rear camera, and the front camera a bit soft and dark. But for quick shots, for video conferencing, they're serviceable. Note that there isn't a physical shutter here.
Battery
Let's talk about charging. Battery power is impressive. The 5,000 mAh battery went six days without needing a reboot from the charging stand, although to be fair that was with light use initially. But what's great is if you leave the tablet somewhere (let's just say your kitchen) and don't pick it up for a few days, it's still going to turn on, and that's rare for a digital device.
Do note that the screen is almost always off, though. It doesn't just turn on when you lift it up and you will need to turn it on through the power button to get the screen active.
You can charge the tablet solo, through the USB port on the bottom, or through micro pins that hit the charging dock. That's how I set the Smart Tab M8 up in my space. It was easy to slide the tablet in, and if I wasn't sure it had connected, I just slid it in one direction or the other until I heard a snap, which meant it was connected.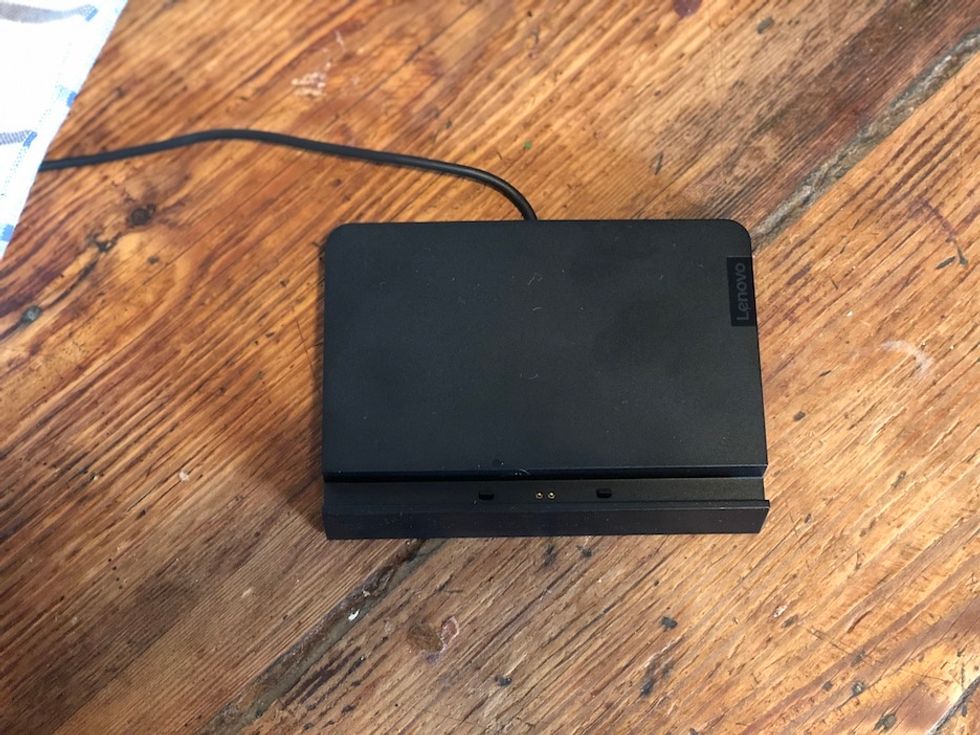 You dock the Lenovo Smart Tab M8 with Google Assistant for charging and bringing up Ambient ModeGearBrain
Size

The size of the entire tablet is fairly small. You're looking at an 8-inch touchscreen, and frankly I have a daily planner that's bigger than this. It's noticeably smaller than the Yoga Smart Tab with Google Assistant we recently reviewed. But that size also means less of a footprint on a desk or shelf for the stand, which actually is about 5 x 3.5 inches, as the Smart Tab M8 stands upright when docked inside. As much as I like the Yoga Smart Tab, the Smart Tab M8 felt just more workable as a desk and work accessory. (It's also half the price.)
Google Assistant
Google Assistant is baked inside the Lenovo Smart Tab M8, in fact its built into the name. For Google users, this is a nice perk. Login to your Google account from the tablet, and you can start integrating its smart assistant immediately, and connect to smart home device with Google baked inside.
The Lenovo Smart Tab M8 takes advantage of something called Ambient Mode, which means when this setting is on under the Assistant tab, personal results will show up on the main screen when the tablet is docked. Reminders, weather for your location and such will be visible. We did find that if the Smart Tab M8 needed to be on its dock, for Ambient Mode to appear.
Because of Google Assistant, you can use the tablet as well as a smart home hub, and connect to other smart devices linked to your Google account.

Photo taken from an iPhone X (left) and the Lenovo Smart Tab M8 with Google Assistant (right)GearBrain
Second Screen

As a second screen, the Smart Tab M8 works well too, something you can use to play content, like music or news or YouTube videos — or hold a video conference — while you're working away on your main laptop or desktop. It even has Google Duo built in so you can just tap and chat.
I had news (and, okay, some music videos) running on the tablet, paired wirelessly with a my favorite pair of Skullcandy Crusher ANC headphones, as I worked on my MacBook Air, a nice set-up.
The Smart Tab M8 also is TUV certified, which is a German certification, and means some of its design focused on helping with eye strain caused by blue light, whether that's something you're concerned about or not.
Price
The Lenovo Smart Tab M8 with Google Assistant is $99.99.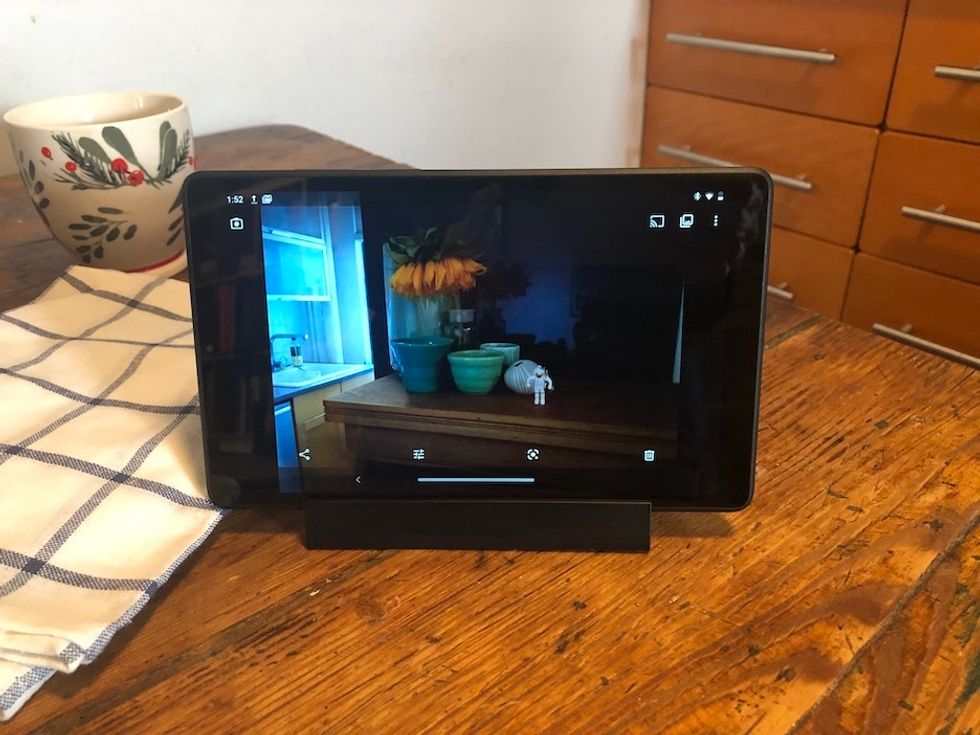 The Lenovo Smart Tab M8 with Google Assistant has speakers and a microphone so it can hear "Hey Google," and respondGearBrain
Worth buying?

The Lenovo Smart Tab M8 is a $100 device that pulls more weight than it costs. The device is solid, has a hard-working battery, can work flat like a tablet and stand up as a video screen. Integration with your Google account is simple, and Google Assistant is baked inside.
Know that the Smart Tab leans heavily towards video use. There are YouTube and YouTube Music apps right on the screen, plus an extra tab on the left which slides over to bring over YouTube instantly. So if you're looking for a second screen for video conferencing, for watching content, for quick visual searching, this is a good option.
The Lenovo Smart Tab M8 is not going to sing with its cameras — your smartphone, we almost guarantee, is going to be a much better option. But they work for video chats and quick shots.
But in short, for anyone looking for a first smart display, or a second screen in a work station, and also one that works with Google Assistant devices and Google accounts, the Lenovo Smart Tab M8 with Google Assistant is certainly worth a serious look.
Pros:
Price
Amazing battery life
Integrates well with Google accounts and Google Assistant
Cons:
Cameras are average
Screen, when in tablet mode, has to be woken up to use
Lacks a privacy screen to turn shutter off cameras
Check out The GearBrain, our smart home compatibility checker to see the other compatible products that work with Google Assistant enabled devices.
Lenovo Tab M8 Tablet, 8" HD Android Tablet, Quad-Core Processor, 2GHz, 32GB Storage, Full Metal Cover, Long Battery Life, Android 9 Pie, ZA5G0060US, Slate Black
Like GearBrain on Facebook