Like GearBrain on Facebook
Televisions have always been a cornerstone of the CES technology show, and for 2020 this was more evident than ever.
Samsung, Sony, LG, Hisense, TCL and many others showed off their latest and greatest televisions, with the focus unsurprisingly on 8K, huge screen sizes, and new form factors.
Read More:
But, to anyone reading this in the hope that CES featured their next television, we have some bad news. Unless you are seriously wealthy - and want to throw the dice on whether mainstream 8K content will truly take off - then most of the TVs in Vegas are not for you.
Samsung QN65Q900RBFXZA Flat 65-Inch QLED 8K Q900 Series Ultra HD Smart TV with HDR and Alexa Compatibility (2019 Model), Black
Prices and release dates were missing from some of the show's biggest TV attractions, while others carried price tags of $60,000 or $70,000. Yes, really.

Regardless, CES is about indulging in the very best consumer tech has to offer. So with that in mind, here are our TV highlights from CES 2020.
Samsung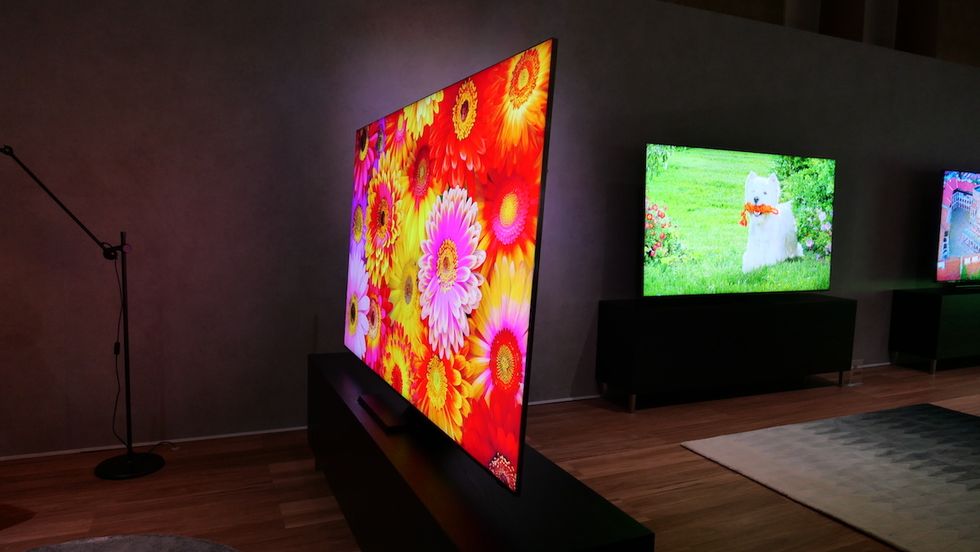 Samsung's new 8K flagship TV has no bezelsGearBrain
The focal point of Samsung's booth was the Q950TS, a super-thin 8K TV with almost no bezel at all. In fact, the bezel measures just 2mm, making it almost invisible when viewed from just a few feet away.

The TV is also remarkably thin at just 15mm, and of course the 8K, QLED panel looks absolutely gorgeous. As you might have guessed, Samsung is yet to say what the Q950TS will cost, or when it will go on sale.
Elsewhere on the Samsung stand, there was the Sero, a TV which rotates to display video in landscape and portrait. Rotating to portrait means TikTok and Instagram Stories fans can view their content properly - make no mistake, this is very much a TV aimed at Generation Z above everyone else.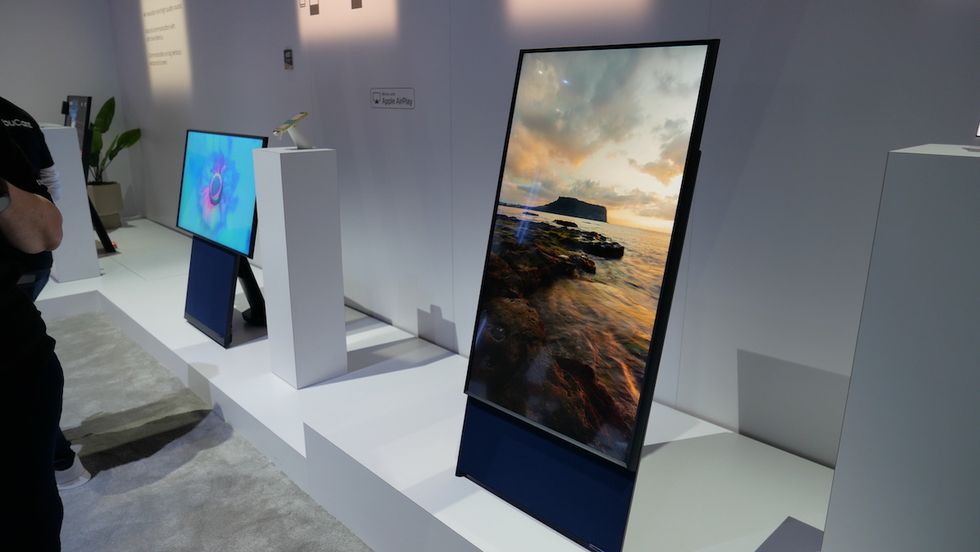 The Sero TV rotates using a motorGearBrain
The Sero has a 4K, QLED panel and is available in just one size, 47 inches. The Sero is priced at around $1,600, and it will go on sale later in the year. Gimmick or genius? We'll let you decide.

Finally, Samsung once again showed off The Wall, a TV which uses modular MicroLED technology to be offered in a wide range of sizes. For CES 2020, Samsung up the stakes and revealed 292-inch version of The Wall - that's a 24-foot television, and it looks as jaw-dropping in person as you might expect. A lesser 150-inch, 8K model was also on display, but there's no price or release date.
Sony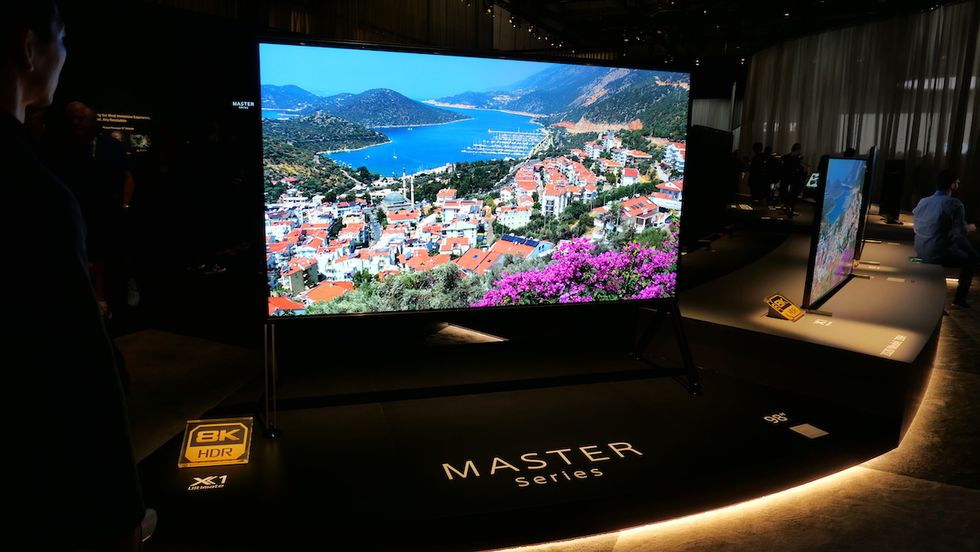 Sony's massive 98-inch 8K TV is priced at $70,000GearBrain
The entrance to Sony's CES stand was dominated by an enormous 98-inch, 8K television. Called the ZG9 Master Series, the new TV uses an OLED panel and is priced at $70,000. It is also available in the slightly more modest size of 85 inches, and that model is actually much cheaper, at just $13,000.

Sony's stand also features the Z8H, another 8K TV offered in 75 and 85-inch sizes. There's no price just yet, but by using LED backlighting instead of an OLED panel, we dare say this might be a vaguely affordable 8K TV, at least compared to the ZG9 series.
Sony XBR-85Z9G 85-Inch 8K HDR Smart Master Series LED TV with Alexa Compatibility (2019 Model)
Thankfully recognizing that very few people have the space and budget for such a massive TV, another highlight from Sony was the 48-inch Master Series A9S, an OLED, 4K television which is packed full of features (like Dolby Vision HDR and Apple AirPlay 2), but is offered in a size most people can get onboard with.

Sony also noted at CES that all of its new TVs for 2020 are compatible with Google Home, Amazon Alexa, Apple HomeKit and AirPlay 2, so whatever smart home system you use, a new Sony TV will fit in just fine.
Check out The GearBrain, our
smart home compatibility checker
to see the other compatible products that work with
Google Assistant
and
Amazon Alexa enabled devices.
LG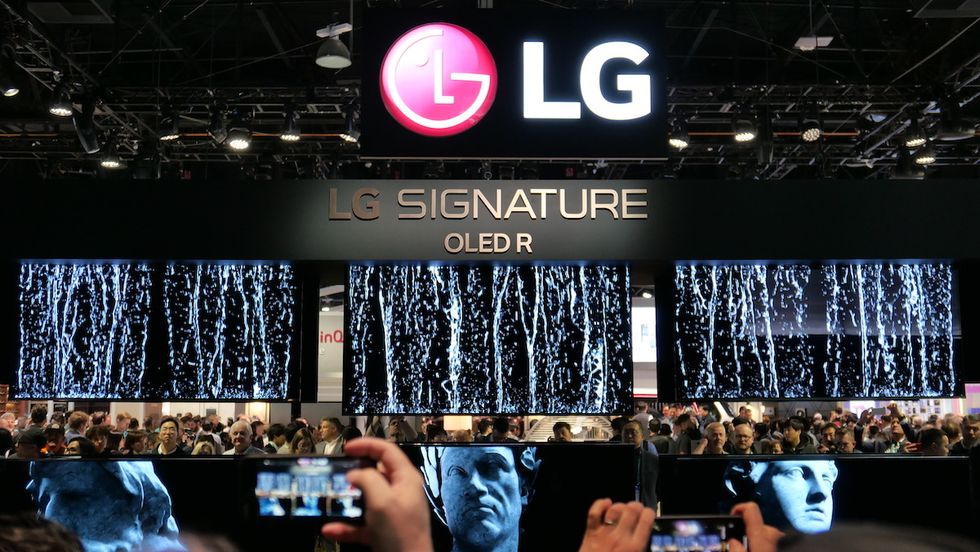 LG's rollable TV is expected to cost in the region of $60,000GearBrain
LG's rollable 65-inch OLED, 8K television was back for CES 2020, and this time it can roll upwards into a box fixed to the ceiling, as well as rolling down into a box on the floor. We're not quite sure why anyone would want to fit a TV to the ceiling, as it will likely be far too high to make for comfortable viewing, but this is CES, where common sense can be left at the door.

LG says the TV which rolls down from the ceiling is still a concept, but that the regular rollable TV, the Signature OLED TV R we first saw at CES 2019, is "much closer to being ready for consumer purchase," LG says, without stating a specific month.
As for the price, LG says the TV will cost in the region of $60,000. We told you this year's CES highlights were on the pricey side…
The general message from TV manufacturers at CES 2020 was that of priming and preparation. Very, very few people will buy an 8K television this year, but almost everyone will have heard about the technology, thanks to the flashy peacocking seen at CES.
But this are just the first few pieces of an 8K jigsaw puzzle, and they'll be followed by the Tokyo Summer Olympics, which will be filmed and broadcast by Japanese broadcast NHK later this year. You can surely expect more major sporting events to get the 8K treatment next year, and before we know it, prices will fall and consumers will finally open their wallets.
8K TV makers are playing the long game, but it's a strategy which will - eventually - result in healthy sales. Or at least they hope so.
LG SIGNATURE OLED88Z9PUA Alexa Built-in Z9 88" 8K Ultra HD Smart OLED TV (2019)
From Your Site Articles
Related Articles Around the Web
Like GearBrain on Facebook