LG released both the LG V60 ThinQ and the LG Velvet dual-screen smartphone this year. Both are priced similarly, between $600 and $700, and both can work on the 5G network. So how to choose? Here's how both compare on basic areas, including cameras, sound and basic specs like battery life and size.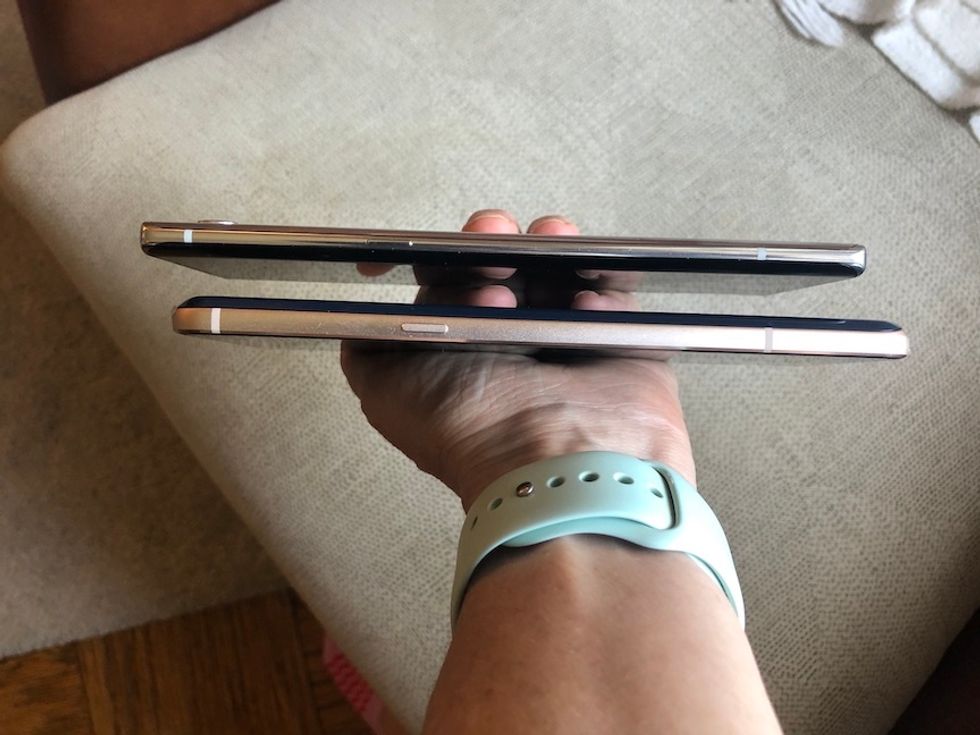 LG V60 ThinQ (bottom) vs LG Velvet (top)GearBrain
Features

The LG Velvet has a 4,300 mAH battery, while the LG V60 ThinQ has a 5,000 mHh battery. They aren't too different in size, but you do get a bit more oomph with the V60. The LG Velvet is a bit trimmer, weighing 6.35 ounces with the LG V60 ThinQ clocking in at 7.72 ounces. That's not a deal breaker, but it's something to note.
Both of them have a fingerprint scanner, and a headphone jack — a nice addition. And both have 128GB of storage, plus a 6.8-inch OLED screen, and IP68 rating making them dust and water resistant up to 1.5 meters for 30 minutes.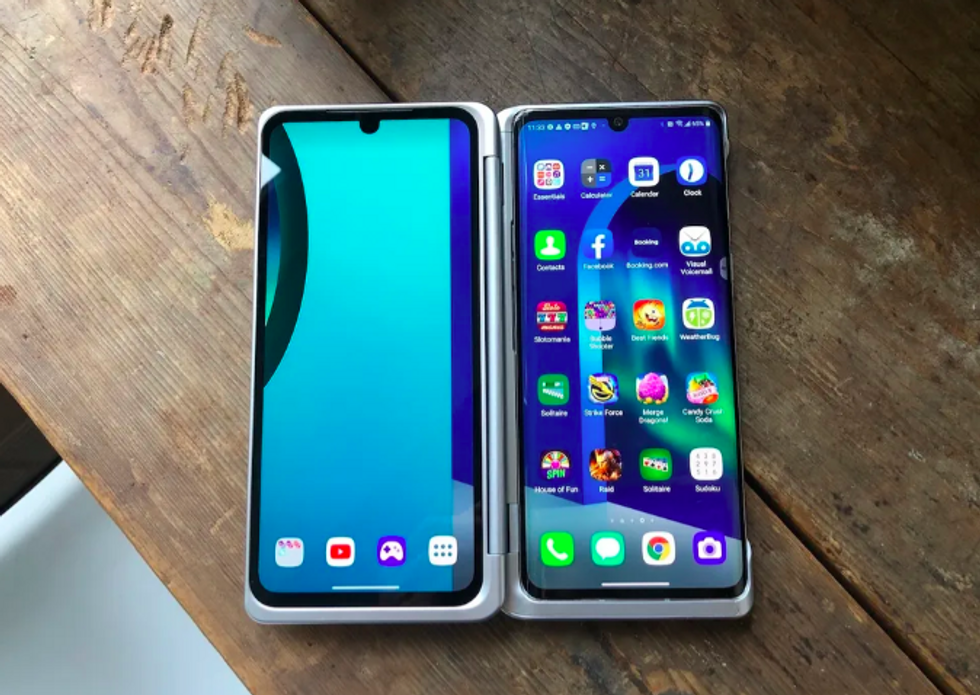 LG Velvet Dual ScreenGearBrain
Sound

The LG Velvet has stereo speakers, and an adaptive sound feature called a 3D sound engine which tunes the sound to your hearing needs. But Voice Bokeh, which helps to sharpen the sound, punching up someone's voice over background, for example. It's a neat feature, and you can hear the difference when you put it into use.
The LG V60 ThinQ also has stereo speakers, plus the AI-powered 3D audio engines. So again, you're getting a nice set up with both.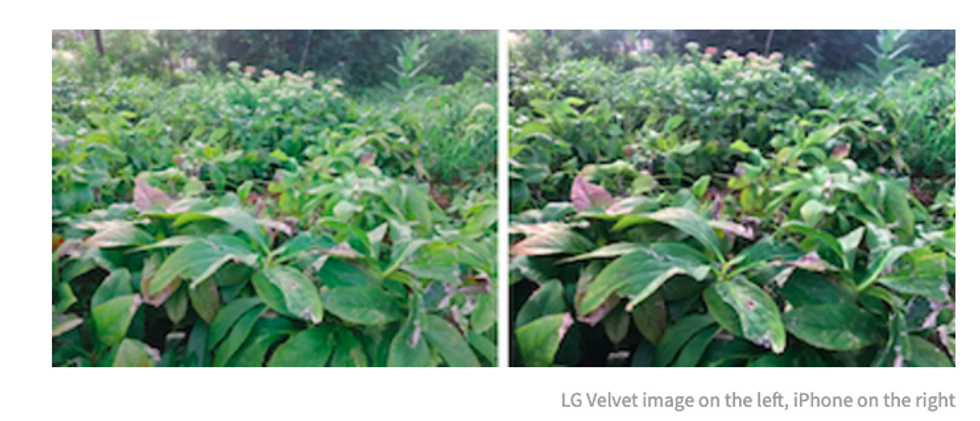 Photo from the LG Velvet on the left, compared to an iPhoneX on the rightGearBrain
Cameras

The LG Velvet has three cameras on the back, a 48MP, f1.8 camera, a 8MP wide camera with an f2.2, and a 5MP depth camera with an f2.4. The front selfie camera is fairly normal, a 16MP camera with an f1.9. These did not product the brightest images, when we tested it against an iPhone X. Colors flattened, and details were softer.
The LG V60 ThinQ has two cameras on the back, one that's a 64 MP f/1.8 plus a 13 MP wide angle, and also a time of flight sensor, which boosts augmented reality rendering and 3D images. Here's the thing — even with just two images on the V60, the photos were lovely, solid and crisp. They just did a nicer job, and rendered images that were just that much more elevated.
Dual Screen
Both smartphones work with the Dual Screen, which is nice — you're not giving up the option to use a second screen with either of these. The Dual Screen is actually worthwhile picking up, especially in the current work from home scenario most people are in right now, giving you an extra screen to watch video, or even expand certain apps which support the feature.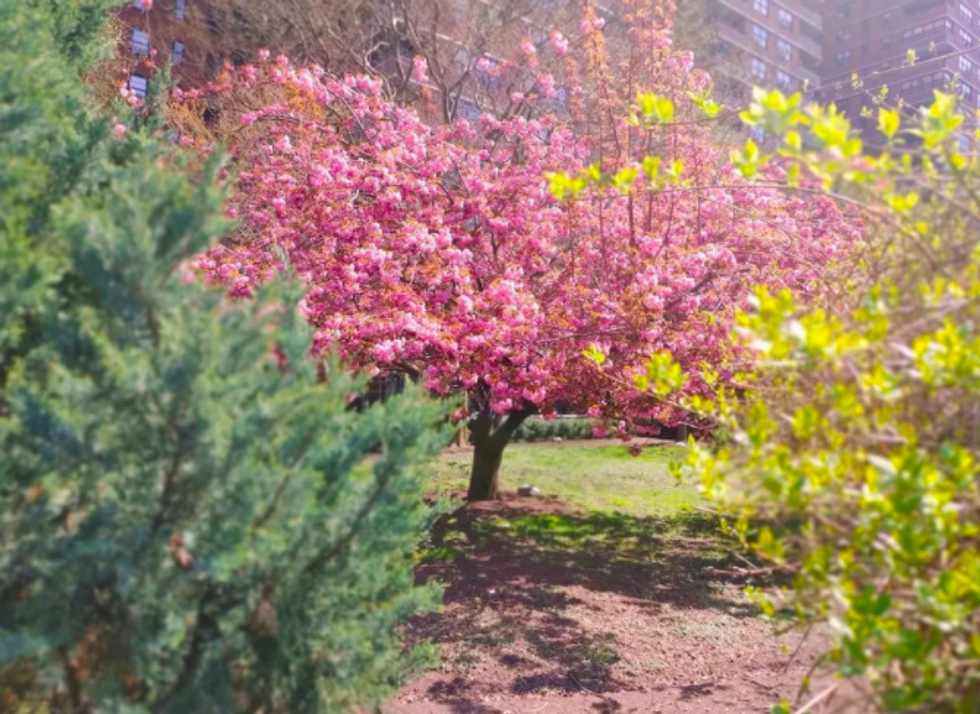 Photo taken with the LG V60 ThinQGearBrain
Price

The LG V60 ThinQ had a hefty $900 price tag at launch, and has now come down to between $650 and $700 depending on the carrier. We see the LG Velvet sold for $600 — so it is a $50 to $100 savings.
Which is right for you?
Truly the differences here are coming in at price, cameras, battery and size. The LG Velvet is a little lighter, about an ounce less, with a smaller battery, and a price tag that is at least $50 less.
The cameras are noticeably different though — with the pictures captured by the LG V60 ThinQ just better quality, sharper, clearer and brighter. Those from the LG Velvet were just less detailed, fuzzier and flatter. We think that it's worth the extra $50 for the better camera set-up, if you can pick up an LG V60 ThinQ at $650 and not $700.
Introduction of The GearBrain, The First Compatibility Find Engine for Smart Devices www.youtube.com