Like GearBrain on Facebook
Reliable. That's what you want a Wi-Fi security camera to be. Reliable. You want to know – you need to know – that everything and anything that happens within the camera's range gets recorded without you having to do anything. That's what the Logitech Circle 2 ($179.99) gives you – reliability.

Set the Logitech Circle 2 for Smart Alerts, let the app know your home's location, and you're done. Anything that happens in the Circle 2's range gets recorded in the cloud for 24 hours, whether you're home or not, and you'll get alerts of activity when the app realizes you've left the building.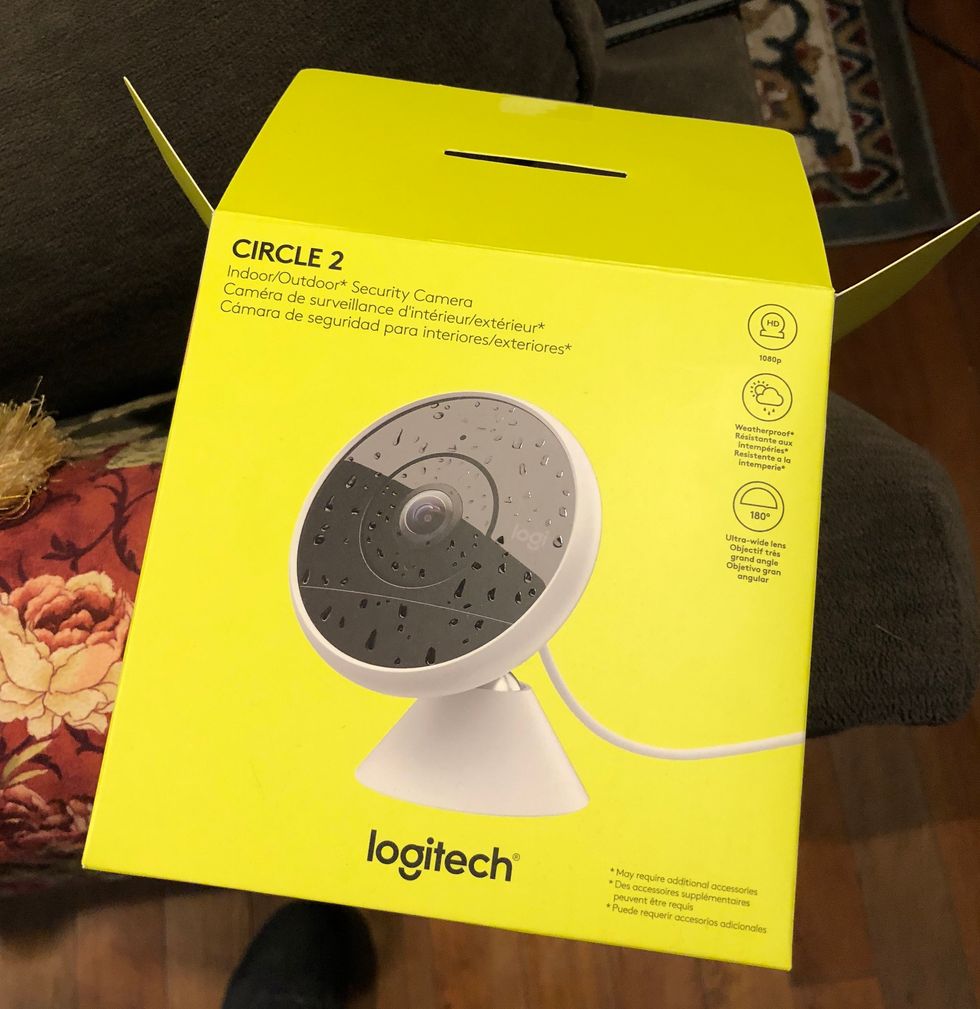 Logitech's new Circle 2 is a complete revamp of its original Circle.Stewart Wolpin for GearBrain
The weird thing is, in this "if it ain't broke don't fix it" world, the Circle 2 is less an upgrade than a completely re-designed replacement for the now-discontinued – and widely admired – original Circle. Physically, this successor bears no resemblance to the original. Instead of indoor-only AC/DC operation, the indoor/outdoor Circle 2 is designed to work with a number of Circle 2 accessories, including a rechargeable battery pack that duplicates the flexible placement advantage of the original, a suction cup mount to stick the Circle 2 to the outside of a window looking-in, and other indoor and outdoor accessories.
In short, outside of a few minor quibbles (such as Premium features that ought to be free), the Circle 2 is the Wi-Fi security camera to which all others should aspire — particularly any you want to put inside your smart home.
Logitech Circle 2 Indoor/Outdoor Wired Home Security Camera Works with Alexa, HomeKit and Google, with Easy Setup, 1080p HD, 180° Wide-Angle, Night Vision, 2-Way Talk, Alerts, Free 24-Hours Storage

Setup

Instead of the spherical original, the Circle 2 is conical. For indoor use, which is the basic package, you fit the white 3.4 inch high x 2.8 inch wide x 2.6 inch deep camera into a rubberized neck on its stand, which can be desk- or wall-mounted. Within the rubberized neck, the camera can be rotated or adjusted into any angle or position.
Spec-wise, like most cameras in the Circle 2's price class, you get 1080p video with 8x pinch-and-zoom digital zoom, adjustable full-room 180-degree views (most cameras offer around 130-degrees), night vision up to 15 feet (which is on the short side; most competing cameras usually provide 25-36 feet of night vision), and a two-way mic and speaker.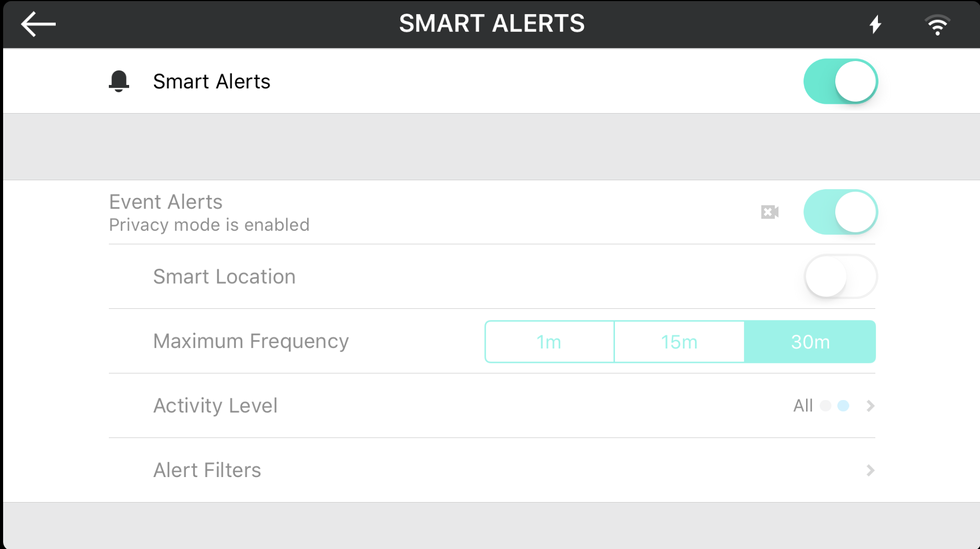 You can set a privacy mode within the Smart Alert feature of the app.Stewart Wolpin for GearBrain
Setting up the camera is ridiculously simple. After downloading the app and entering your account and password info, just choose the Circle 2 from the short list of cameras and, in about 10 seconds, the app finds and automatically pairs the camera to your smartphone. You then choose the Wi-Fi network – either 2.4GHz or 5GHz – and you're done. Why can't all Wi-Fi cameras be this easy to setup?
The app annoyingly operates only horizontally, in widescreen landscape mode, which takes a bit of getting used to and remembering, and is one of my minor quibbles.
Usage

Using the Circle 2 is nearly as easy as setting it up.
Opening the app takes you directly to the landscape live view. On the top left of the screen is the standard three horizontal line menu/settings icon; on the bottom left is a camera icon that lets you snap a still of what you're viewing, and a person icon that enables the push-to-talk two-way speaker.
On the right side of the screen is an event time array. Each bubble indicates the time of a detected movement/sound and an accompanying video. Circle 2 will record and store 24-hours' worth of videos, but you can add longer cloud video storage plans, which we'll get to in a second. You can easily scroll through and tap on a time bubble to view the event video. When viewing the video, tap the down arrow on the bottom left to download the video to your phone, from where you can share or save it as you would any photo or video.
Under the white "Live" bubble is a yellow "Day Brief," which assembles a handy 24-hour recap of all recorded events.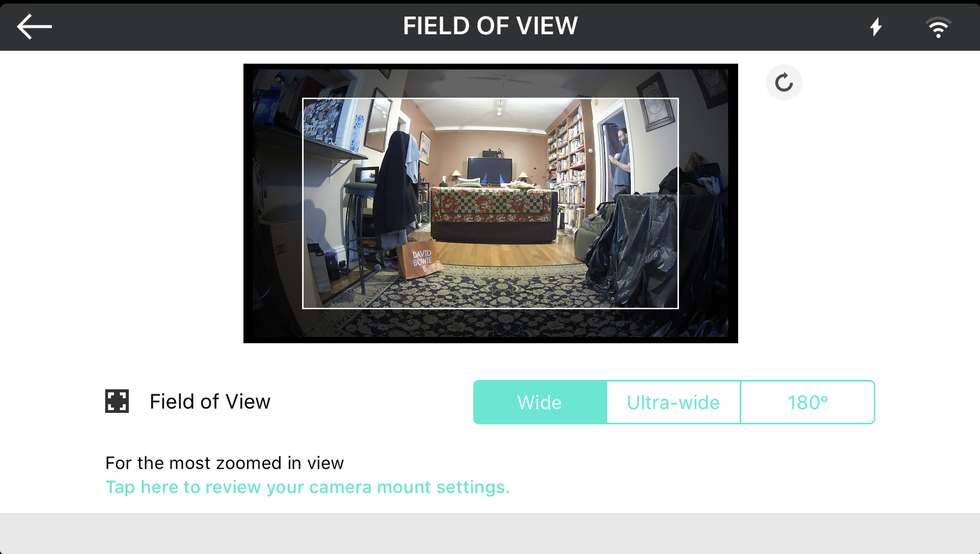 You can get up to 180-degree field of view with the Logitech Circle 2Stewart Wolpin for GearBrain
Circle 2's menus also are pretty easy to navigate. There are only five major settings, all in one handy list: camera on/off; Privacy Mode toggle on/off – the camera streams but doesn't record; Smart Alerts to turn on geofencing; activity level, mysteriously defined as different-colored "bubbles," which is explained nowhere; and, alert frequency – once a minute, once every 15 minutes and once every 30 minutes.
There's also a "System Alert" toggle with an online/offline choice, the function/purpose of which escapes me; I assume this lets me know if the camera's Wi-Fi connection or power goes off, or camera condition issues. But that's a guess.
It'd be great if the app included a Smart Alerts on/off button on the Live screen to quickly switch between Privacy and complete auto mode.
Under "More Settings," some of these options are unnecessarily repeated but you also get a "Field of View" adjustment in case you don't need the full 180-degree view, video resolution choices, three-level (off, mid, high) microphone sensitivity, speaker on/off, and a half dozen other system and usage options.
Circle 2 also is Amazon Alexa, Google Assistant and Apple HomeKit compatible, but these voice command functions are rather limited at the moment.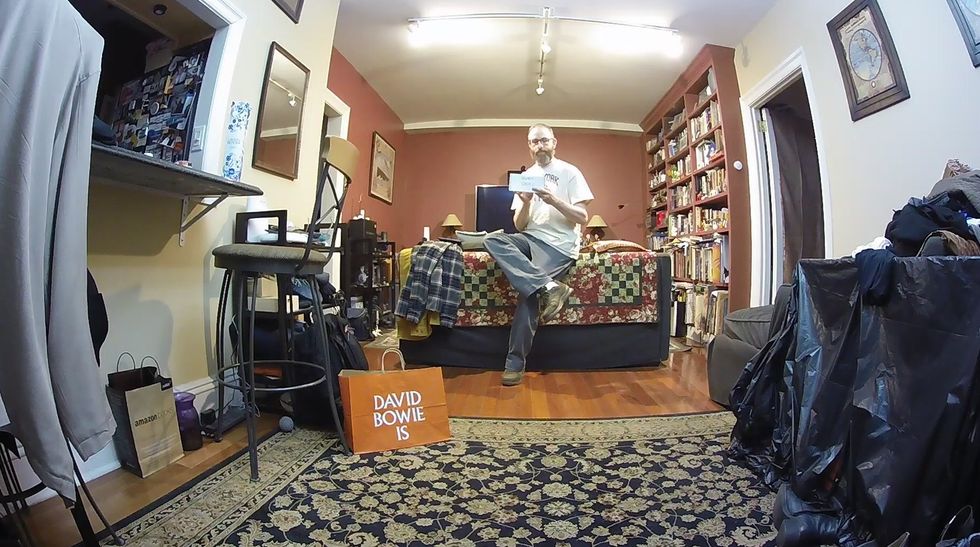 Video isn't the highest of quality, but certainly usable for seeing what's happening in a room.Stewart Wolpin for GearBrain
Smart Alerts worked flawlessly while I was out, although I did continue to get alerts for a few minutes even after I returned home. Alerts are accompanied by a photo still of the event rather than just text.

What Circle 2 is missing are user-adjustable motion and sound sensor sensitivity, found on even many cheap Wi-Fi cameras. This omission is more than a minor quibble.
Cloud Recording and Premium Features
As noted, Circle 2 recorded everything it sees or hears, although I'm unclear on how it decides how long to record. For instance, in the sample video I was unceremoniously and mysteriously cut off after a minute and 22 seconds. Some videos go on for several minutes. I'm unsure of how or why Circle 2 decides to stop recording.
Although videos are 1080p by default, the color in the footage is faded and details aren't as crisp and detailed as I expected from such high resolution. Footage is far fuzzier and grainer than 1920 x 1080p digital video ought to be.
As noted, you get 24 hours of free cloud recording. You can buy two weeks of video storage of Circle Safe service for $3.99 month, with additional multi-camera plan options. For the Premium 31 days of cloud video storage you'd pay $9.99/month or $99.99/year, also with additional multi-camera plans.
Premium service includes smarter Smart Alerts that react to people rather just movement, but is smart enough to avoid alarms from pet activity. Also added with Premium service is Motion Zones, which enables alerts if your Circle 2 senses motion in up-to five specific areas of the house, such as the front door, garage door or windows. This fits in well with any DIY home security set-up.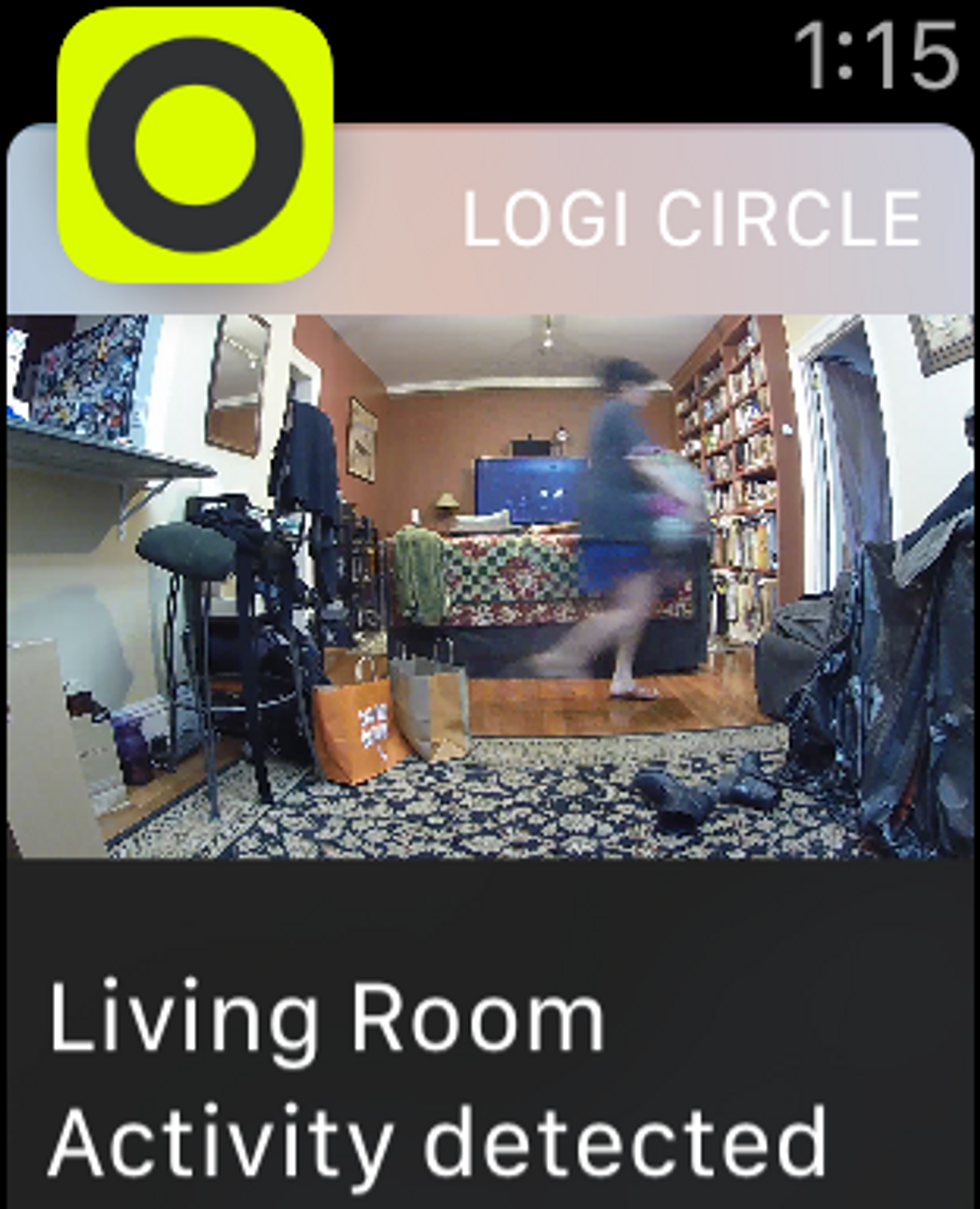 You'll get alerts when motion is detected in view of the Logitech Circle 2Stewart Wolpin for GearBrain
Charging more for longer cloud recording makes perfect sense. But being forced to pay $9.99/month for 31-day cloud recording you may not want/need just to get the Premium people detection and zone ID features often provided as part of the standard feature package with other premium cameras is sucky. I'm paying $180 for the camera, and these Premium features do not cost Logitech anything extra to supply.
I'm also a bit surprised and disappointed that Logitech hasn't added face detection or any other sensors (temperature, humidity, air quality), available on a growing number of cameras at all price points, which would add immeasurably to Circle's 2 functionality.
Summary
Other than having to pay for features that ought to be included and lower-quality video than I expected, the Logitech Circle 2 is in the top tier of premium ($200) Wi-Fi cameras along with the Nest Cam Indoor ($199), Netgear's Arlo Q ($199.99), Canary (price decided by service plan level), and the Netatmo Welcome ($199) – and is $20 less than all but the Canary.
The Circle 2's setup, app navigation, functionality, geofencing and cloud recording access are all intuitive and easy to work, and its inside/outside placement flexibility is unmatched. I just wish its settings were a bit clearer with a smidge more free adjustment and sensor options. Otherwise, highly recommended.
Pros
• GPS/geo-fencing
• flexible indoor/outdoor mounting
• free 24-hour cloud recording
Cons
• constant horizontal view
• lower-than-expected video quality
• no free motion sensitivity/zone settings
Like GearBrain on Facebook