Like GearBrain on Facebook
Just as we thought Apple put an end to the fingerprint reader with Face ID, a smartphone maker will soon give print-scanning the update it needs — by placing the sensor under the phone's display.
Such a setup was rumored to be coming to the iPhone X. But alleged manufacturing delays pushed Apple to switch to Face ID. Now, biometric technology company Synaptics claims to have succeeded where Apple failed.
Called the Clear ID FS9500 (we hope someone comes up with a better name before it goes on sale), the fingerprint scanner will be embedded into the smartphone's display. This allows for the bezel-free design of today's flagship phones — but without compromising on the location of the fingerprint reader. how The technology is ready for mass production and will soon appear on a handset from an unnamed "top five" manufacturer, says Synaptics.
Samsung installed a small and off-center reader on the back of the Galaxy S8 and Note 8 handsets — earning criticism for its placement— while Google also installed its print scanner on the back of the Pixel 2 and 2 XL. Apple kept the home button and Touch ID for the iPhone 8 and 8 Plus — but then ditched the system for Face ID on the buttonless iPhone X, a system it claims is more secure without losing Touch ID's convenience.
However Synaptics claims its fingerprint reader is "faster, more convenient and [more] secure than alternatives biometrics." Such a claim goes against pre-existing research into comparing biometric systems. Iris scanning — as used by the Samsung S8 and Note 8 — is the preferred biometric technology, according to the Center for Global Development which published a paper on the subject in 2016.
Alan Gelb, a biometrics expert and director of studies at the Center for Global Development, wrote: "Iris has many advantages...Eyes are self-cleaning and image capture is performed without physical contact with the reader."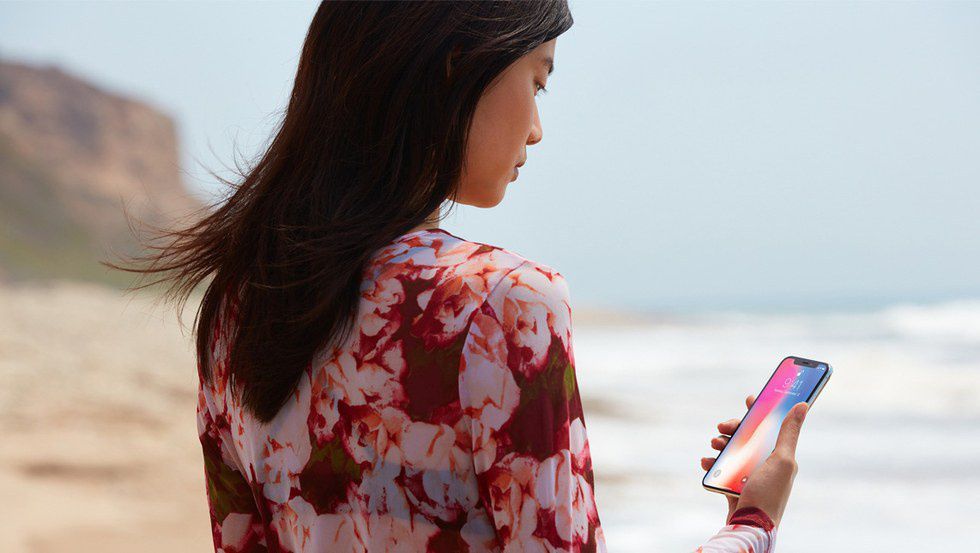 Apple claims Face ID is more secure than a fingerprint readerApple
Having tested both iris and fingerprint scanning, Gelb found the former "trumped" the later.
"Iris scans were far more inclusive than fingerprints, with fewer people unable to provide them at acceptable quality," he wrote. "They were also more precise for authentication, with a better tradeoff curve between errors of acceptance and rejection."
Gelb also points out how the pattern of blood vessels in the iris does not change over our lifetime, whereas fingerprints can be damaged and altered by injury, or having endured a life of manual labor.
Damaged prints are also a factor considered by Rupinder Saini and Narinder Rana of the Rayat Institute of Engineering and IT. In a 2014 study published by the International Journal of Advances in Science and Technology.
"Because fingerprint scanners only scan one section of a person's finger, it may [be] susceptible to error," the two wrote.
They also said of fingerprint scanning that, while the system is easy to use and, as with all biometrics, removes the need to remember a password, it "could be cheated [by] employing artificial fingers or perhaps showing another person's finger…[and] cuts and marks transform fingerprints which often has a negative effect on performance."
Referring to the numerous attempts to hack fingerprint systems over the years, they add: "Fingerprints aren't private. We all leave fingerprints almost everywhere. Once the fingerprints are stolen, they are stolen for life."
All that being said, smartphone users are drawn to biometric features for their simplicity and wow-factor as much as their advances in security. We have previously reported on how Face ID is slower (albeit only slightly) than Touch ID, and in our own experience have had to, on some occasions, resort to entering our passcode after a Face ID failure.
No system is perfect just yet, and for now they are all only as secure as the PIN, code or password you set them up with. But with Synaptics' new technology set to arrive soon — along with a similar offering from Qualcomm — it looks like fingerprint scanners will not only remain on smartphones for now, but will soon become much more convenient than they are today.
Like GearBrain on Facebook