Like GearBrain on Facebook
Lightsaber battles are arguably the best part of the "Star Wars" film sagas, and now fans can have their own duels with a new free update to the Star Wars: Jedi Challenges augmented reality (AR) toy.
The feature called Lightsaber Versus Mode is live today, available through an update to the iOS or Android app, and was one of the most requested asks from those who have already bought the device, produced by both Lenovo and Disney.
"We think the future of AR is going to be social," says Seth Davis, Disney's director of product management, connected experiences. "People told us they want to play with each other."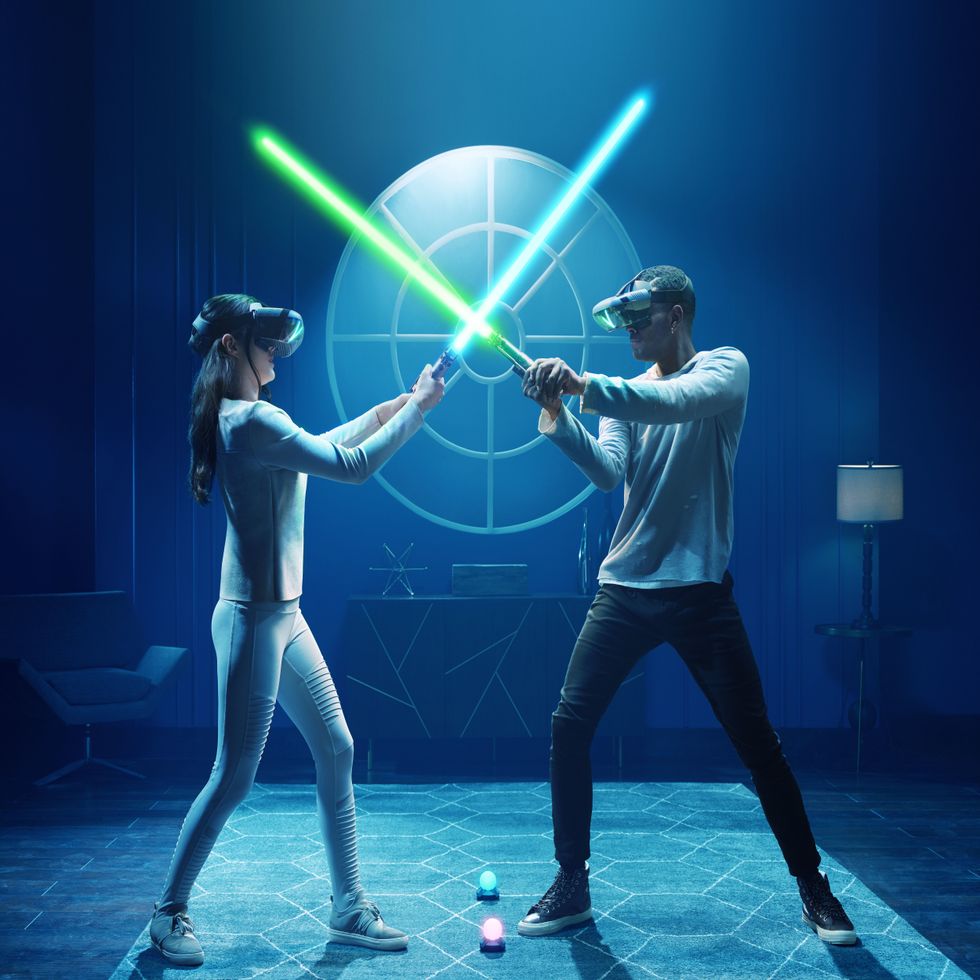 Battling against another lightsaber is now possible with Jedi Challenges new featureLenovo
Battle royale

The new feature lets two people square off — with the Jedi Challenges Lightsaber recognizing the other. You can feel when the lightsabers hit each other, and you're directed or "choreographed," as Davis says on how to move, when to dodge, block or strike. A light bar is visible above each players head, keeping track of hits and life force. Hit full on about 10 times, and you're likely to lose.
While the new feature fits squarely into the Star Wars world, it is not meant as a tie-in to the highly anticipated "Solo" Star Wars spin-off, due in theaters May 25.
"He likes blasters, not lightsabers, which are different things," says Davis.
The Jedi Challenges augmented reality feature certainly requires an expensive toy for many parents — it's $199.99 plus you need a smartphone. Yet there's a level of imagination that children get to bring to the toy. And while arrows help you find the best ways to move so as not to kill off your character, you can ignore them, they don't negate the play, and they certainly don't direct the storyline.
Want to pretend you're Boba Fett playing against Obi Wan Kenobi? Or Luke Skywalker up against his father? Or Wonder Woman up against a soldier in some superhero comic world mashup? That's completely up to you — and any child playing.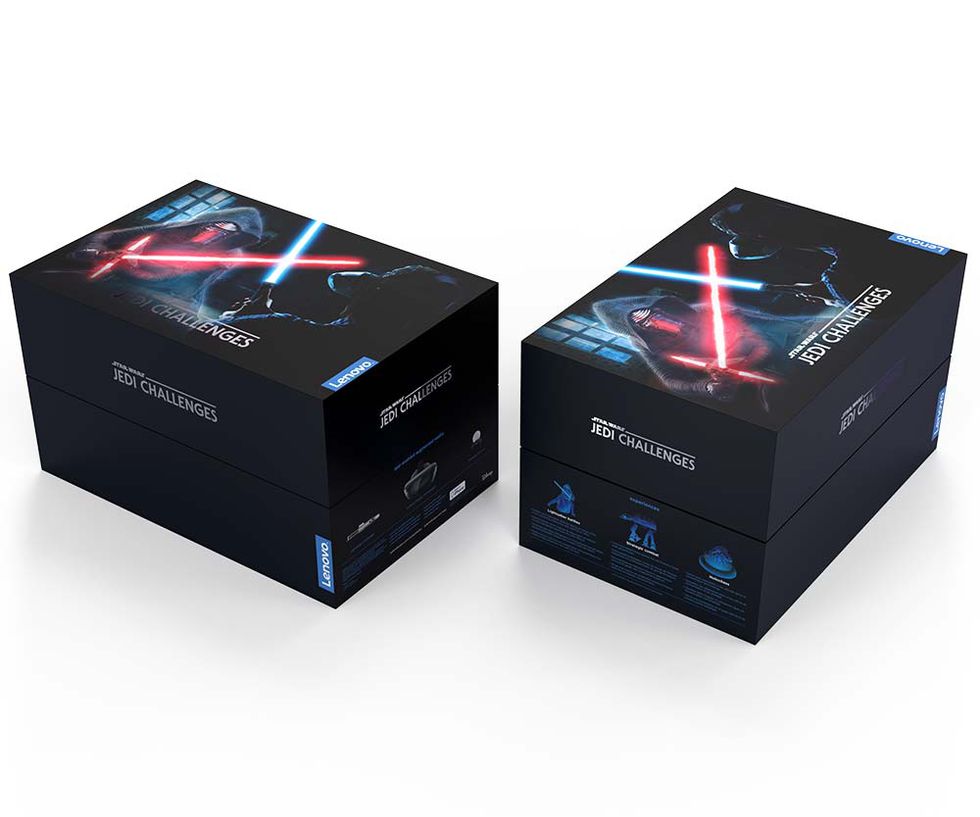 You'll need two Jedi Challenges kits — or one, plus a friend who has a lightsaber and wants to play with youLenovo
Virtual play
Technology toys for kids are a complicated lot. While they can deliver extraordinary experiences, they can also be sedentary. Yet children between the ages of 6 and 17 should get at least 60 minutes of physical activity a day, according to the Centers for Disease Control and Prevention. Only 21 percent of children get that level of physical activity, according to the U.S. Office of Disease Prevention and Health Promotion.
The Lightsaber Versus Mode doesn't demand that you move, as you can stand there in place and take hit after hit — and you might just to get a feel for the toy. But after a moment or two, the game will feel more fun, and does, as you dodge, duck and attack. Will you break a sweat as you would after a relay race? Again, up to you.
Children can invent play quite easily — and they do in the best cases. Long before there were technology toys, kids played at being Luke Skywalker and Princess Leia using sticks as lightsabers and made their own sounds as they battled. The new battle mode doesn't take away the inventiveness of a child's play — but for parents who, again, can afford the toy to begin with, this free feature from Lenovo and Disney might be one of those updates people actually take the time to download.
Like GearBrain on Facebook