Like GearBrain on Facebook
Pros: Ridiculously simple to use, lightweight, does shoot in virtual reality.
Cons: Price, can't easily see what's being shot, need multiple devices for 360-degree shots.
Watching VR images is now simple: a cheap pair of Google Cardboard goggles do the trick. Shooting VR? That's usually a more complicated matter left to professionals and their high-end gear. Lucid Cam, a new VR camera, hopes to change that, pushing a consumer-priced device that lets shutterbugs point, click, upload and share virtual reality images and video. The company sent us a review device to try and we think, for some, this is going to be a fun gadget.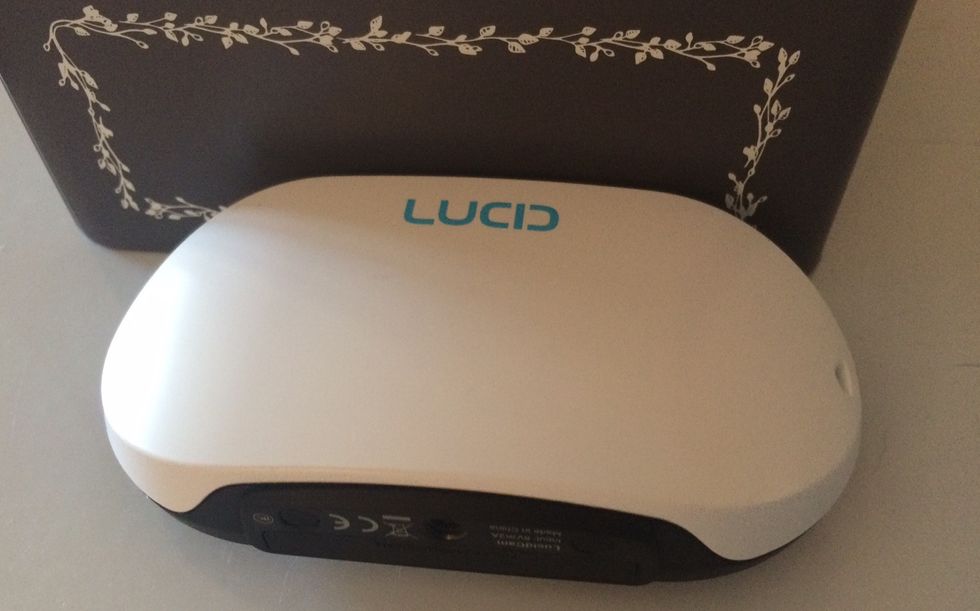 Lucid Cam is a VR camera designed to easily slip into a pocket.
Out of the box
The Lucid Cam could not be more simple to use. Charge the device, push the lever to one side to take photos, the other to take video. A quick start guide can walk you through the details. But the essential thing to keep in mind is that audio picks up when video is being shot, which is standard. Also because of the 180-degree range, anything not directly behind you is going to be captured in the lens.
Shooting brings up a problem: you can't view what's being captured without pairing the Lucid Cam to a smartphone and holding both up at the same time. That requires one hand for each device, and making the experience that much harder for anyone who wants to angle and frame a shot. Without pairing to a smartphone, then, everything is a grab bag. That's fun for a novelty shot, or a social media post of a big event. But for true storytelling, telling stories requires making a choice about what's in the frame, and not. Making those decisions is hard with this device.
As we mentioned, the device also shoots 180 degrees — so you're really not going to shoot anything but a wide shot. You're not going to get detail shots or close-ups. This is a shot that's meant to feel experiential: putting someone in a scene, and giving them the feel of being there. But there's no focus here — no way to really frame. There is, though, a stand mount at the bottom of the Lucid Cam which stabilizes the camera when shooting.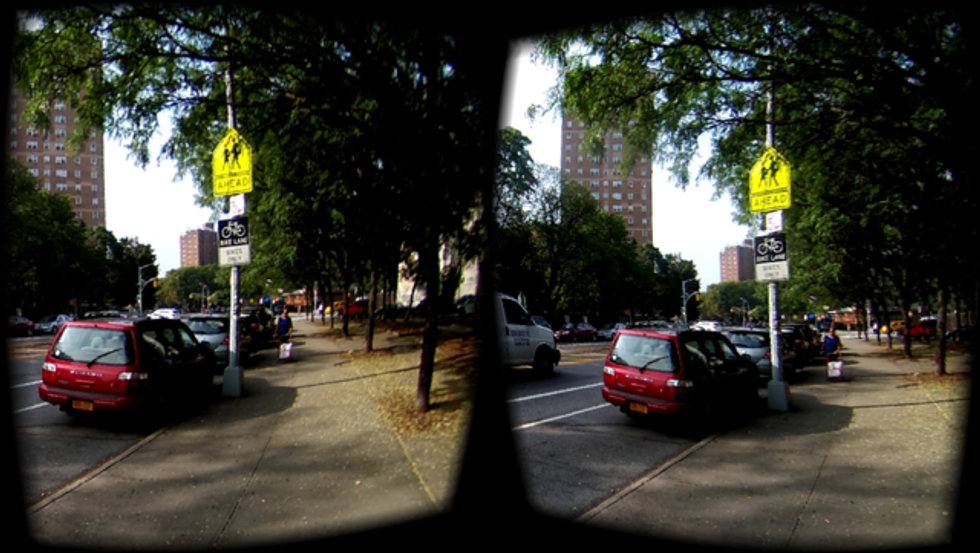 Lucid Cam shoots VR images that can be viewed immediately from a smartphone.
Portable, packable
The LucidCam is very lightweight, you don't have to really think about heft here. Still, we wish there was a bit of added gear, if only something that could be made to protect the lens. Because of the way the lenses are designed to shoot VR, they don't have a lens cap. But they have to be kept covered. A cloth bag is included, but the material feels flimsy and not enough to protect the lenses. Keep in mind this is a $500 device — not inexpensive. You will want to cover the lens.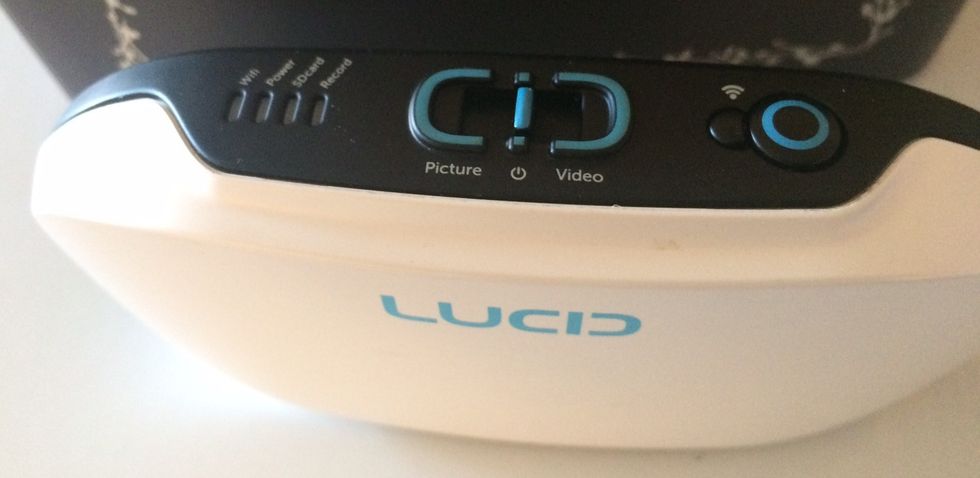 Move the switch on the top of the Lucid Cam to one side for still photos, one side for video.
Screening the shots
To download anything shot with Lucid Cam, download the iOS and Android mobile app, then launch push the Wi-Fi button at the top of the camera. Next, open settings on the smartphone, go to Wi-Fi, choose Lucid Cam, and type in the last eight digits after its name into the password to pair up the camera to the phone. From there, the camera will download images and video to the app. We tried this with an iPhone 5S and everything went smoothly.
Images and video are not immediately stored to the smartphone. Instead, to share the app wants you to share with social media: Twitter, instagram and Facebook. You can save the images to a camera roll: But you'll need to grant permission for the app to access the roll. (Of course.) For video, push play and the video will immediately play in VR. Put on VR goggles and you're in business.
Luckily, considering you've dropped $500 on the device, the VR is viewable with Google Cardboard headsets. Cheap goggles often induce that kind of VR nausea that pops up after 10 to 15 minutes. Lucid Cam uses image stabilization which is meant to cut down on that queasy feeling.
For 360 degree VR, three Lucid Cam can be stitched together. That's not going to be something we think consumers are going to do for a device that's meant for social sharing weekend activities. This is more of a professional option — especially given the price tag.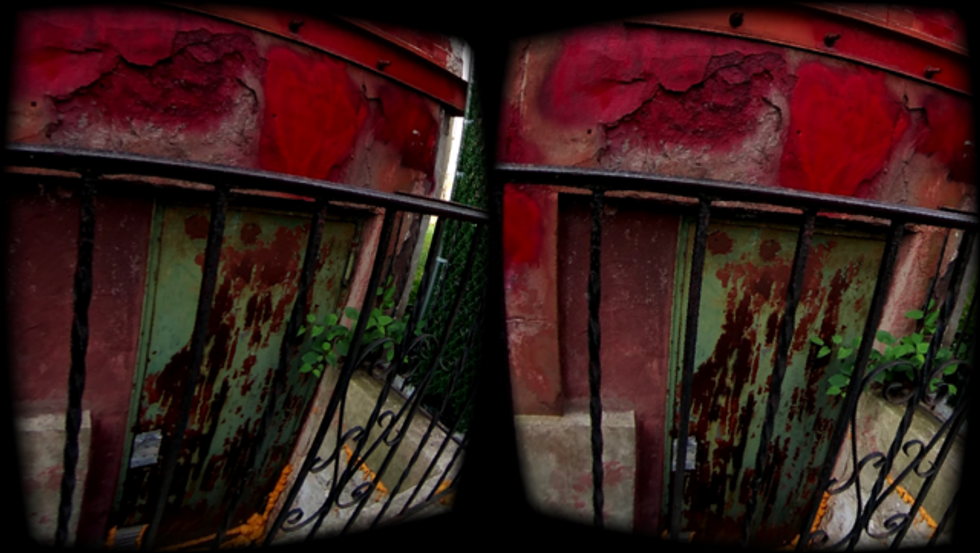 It's tricky to shoot close-ups or detailed shots from Lucid Cam.
Shoot or not to shoot
Lucid Cam is offering a 10 percent discount for the immediate future dropping the overall price tag on this camera to $449. That's a nice little incentive. But anyone deciding to buy this device isn't going to be pushed by a $50 drop in price.
Virtual reality is still a tough sell for to consumers. Even Oculus Rift has come down significantly in what they want to charge for its rig. Although, this could be to weed out inventory as the company looks to develop, and sell, a untethered device. The upshot is, consumers don't seem completely sold yet on VR. Having a pocket-sized device that lets them create and share VR imagery is certainly one way to get them more excited about his technology. The question is, how many are going to spend $450 or $500 to experiment?
For those willing to drop five C-notes, Lucid Cam is certainly a solid option, and we expect something consumers who do buy the gadget will find fun. Consumers who pre-order should expects shipments to start this month, according to the website.
Like GearBrain on Facebook