Like GearBrain on Facebook
After eight years of secretive development and billions of dollars of funding from prominent investors, the Magic Leap headset has finally gone on sale.
The mixed reality device, which lays a digital user interface over what the wearer can see in front of them, is similar to the Microsoft HoloLens, which has been on sale for two years.
Read More:

Not intended as a consumer product (at least for now), the One Creator Edition is for developers to buy and experiment with, building augmented reality (AR) software and experiences. The company has previously said it hopes future consumer-friendly versions will cost about the price of a high-end smartphone.

The One Creator Edition is priced at $2,295 and begins shipping in the US today, August 8. This undercuts the $3,000 Microsoft HoloLens but sits well above other MR and AR devices like the $399 DreamGlass.
Despite keeping its product a closely-guarded secret until only recently, Magic Leap has earned a huge amount of investor cash to keep its mixed reality dreams alive. Since being founded in 2010, the company has earned at least $2.3 billion in investment from companies including Google, JP Morgan and Alibaba — a sum almost equal to the $2.4 billion NASA plans to spend on sending a rover to Mars in 2020.
The Magic Leap is three devices all connected together. First there is the headset, called the Lightpack. This is powered by a small computer, called the Lightwear, which clips onto your belt or slips into your pocket, and a controller with buttons, a trigger and a touchpad, called the Control. We have outlined the specs of each device at the end of this article.
As for the experience of using Magic Leap, early reviews are starting to appear online and, while praising the comfort of the hardware, claim the visual experience is similar to the HoloLens.
In particular, this means limitations with field of view, where computer-generated images and 3D objects can't be seen in the wearers peripheral vision. Instead, they have to turn and directly face whatever it is they want to look at, removing the sense of immersion consumers might be hoping for.
A review by The Verge said: "The Magic Leap One's field of view is constantly distracting. Field of view is a huge problem for mixed reality headsets, which can generally just project images into a moderately sized rectangle in front of you, leaving the rest of the world bare. Magic Leap has improved on Microsoft's HoloLens...But it's not nearly enough to look around the world normally."

An early teaser video, below, published by Magic Leap long before the hardware was shown, features a life-like whale leaping through the floor of a school gymnasium, crashing into the ground with incredible realism. But it was later admitted that this video was computer-generated and not an indication of what the headset is capable of rendering to the eye.
What Magic Leap can do is project elements of a user interface onto the environment around you. Just like with the HoloLens, wearers can pin a video chat to a nearby wall, or put a media player on the fall wall, stretched from corner-to-corner like an enormous virtual television.
For now, simple gaming is a central part of what the headset can offer, where players shoot at animated creatures invading the environment around them. There is also an NBA app where you can watch live games on a nearby wall as if it had a TV on it, and view rendered animations of players on your floor, as if they have been shrunk to the size of an action figure.
But there are limitations. As CNBC explains: "The Magic Leap One doesn't work if there's too much or too little light in the surrounding environment...There's also a field of view issue…[it] is sort of like looking through a window within your field of view. It doesn't lay the scene on top of everything within your vision, which means it can be hard to see objects that are really close to you or too big for the headset's field of view."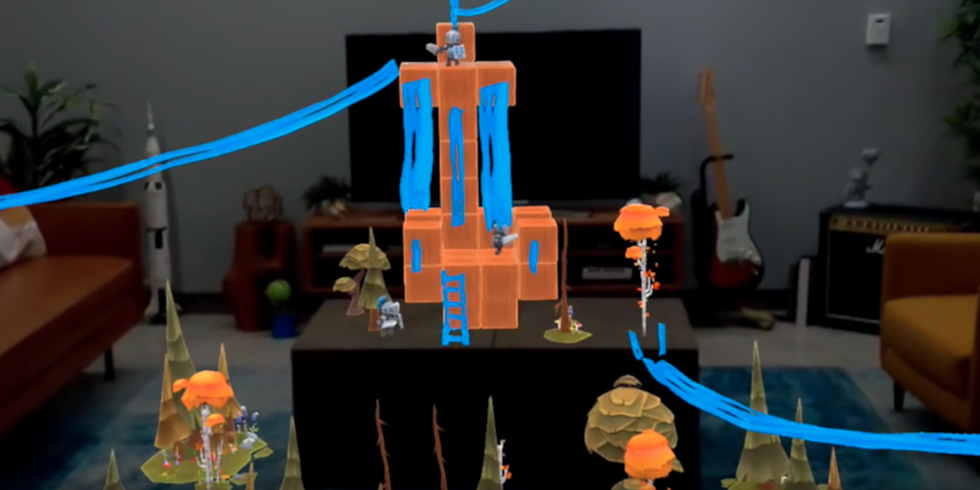 Demonstration of a Magic Leap in a real-world living room Magic Leap
Wired's Jessi Hempel praised the hardware, saying: "The headset was beautiful, and unlike others I've tried, it felt light on my head. A disc-sized battery and computing pack, built like a small CD, fit easily in my front pocket."
Magic Leap says it will use Enjoy, a startup founded by former Apple executive Ron Johnson, to hand-deliver each One headset and ensure it perfectly fits its owner, before helping them through the setup process.
Unlike others, Hempel said the field of view "didn't seem narrow," but reported issues with glitches due to the headset not fitting well. After fixing this, the experiences on offer "were creative and compelling. The images were crisp and solid...These experiences are certainly on par with other augmented reality and virtual reality demos I've seen. Are they really mind-blowingly better than the competition? Not yet."
Magic Leap One Creator Edition specs:
Lightpack:
Processor: Nvidia Parker SOC
GPU: Nvidia Pascal
RAM: 8GB
Storage: 128GB (available space 95GB)
Battery life: Up to 3 hours, comes with power lead and charger
Connectivity: Bluetooth 4.2, Wi-Fi, USB-C
Lightwear:
Audio input: Voice and real world audio
Audio output: Internal speakers and 3.5mm jack; audio spatialization processing
Control:
Battery life: Up to 7.5 hours
Power: USB-C
Inputs: Trackpad, 8-bit trigger button, bumper button, home button
Like GearBrain on Facebook