Like GearBrain on Facebook
Marshall Major IV headphones are a fan fantasy, a device meant to bely Marshall's legacy in rock with the iconic logo written across each ear. Everything from the styling of the headphones with their old-fashioned wired look, to the photo of a tattooed arm on the box, tug on your connection of the brand to the music business. Even the sound when they turn on pushes this emphasis — you don't hear a beep, you get a guitar lick.
We tested the headphones while listening to music, making calls and watching movies, looking to see whether these wireless headphones are worth their $150 price.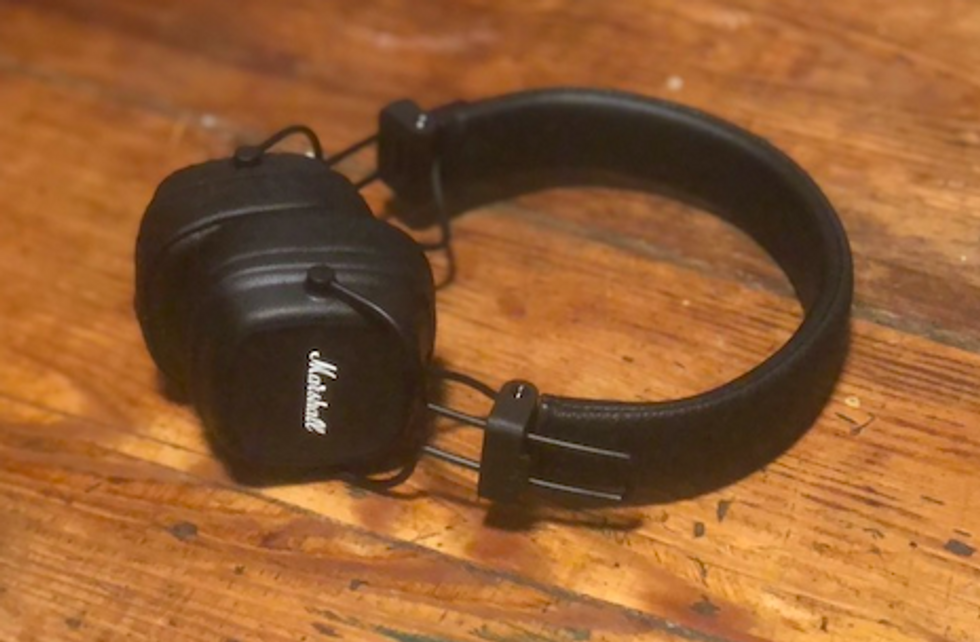 The look of the Marshall Major IV headphones are stepped in its music legacyGearBrain
Design

To start, the Marshall Major IV, which dropped in September, have a classic style, and a clean rocker design. Marshall, of course, is a classic brand name in the music industry, and is well-known for its storied guitar amps, as well as its loudspeakers and the configuration of the two can be put together into something called the Marshall Stack. The company launched in the UK, and became an immediate competitor to Fender. Since then the brand has since also pushed out consumer devices, like headphones and individual speakers.
I liked everything about the way the Marshall Major IV's looked from the squared-off ear pads to the visible metal wires that slide along the headpiece, reminding me of headphones that might have been used by air pilots decades ago. They're also small in size and very light, 5.82 ounces, which, if you're wearing them for any length of time, is going to be appreciated.

You can adjust the arms, sliding them up and down depending on the size of your head. But these have a firm fit against the ear, maybe too. After a couple of hours, they begin to pinch even with the heavy padding on each ear, which sits on top and not over the ear. Not everyone is going to use them for that long, but for some, headphones have become standard home gear especially for those sharing work from home spaces with roommates and family.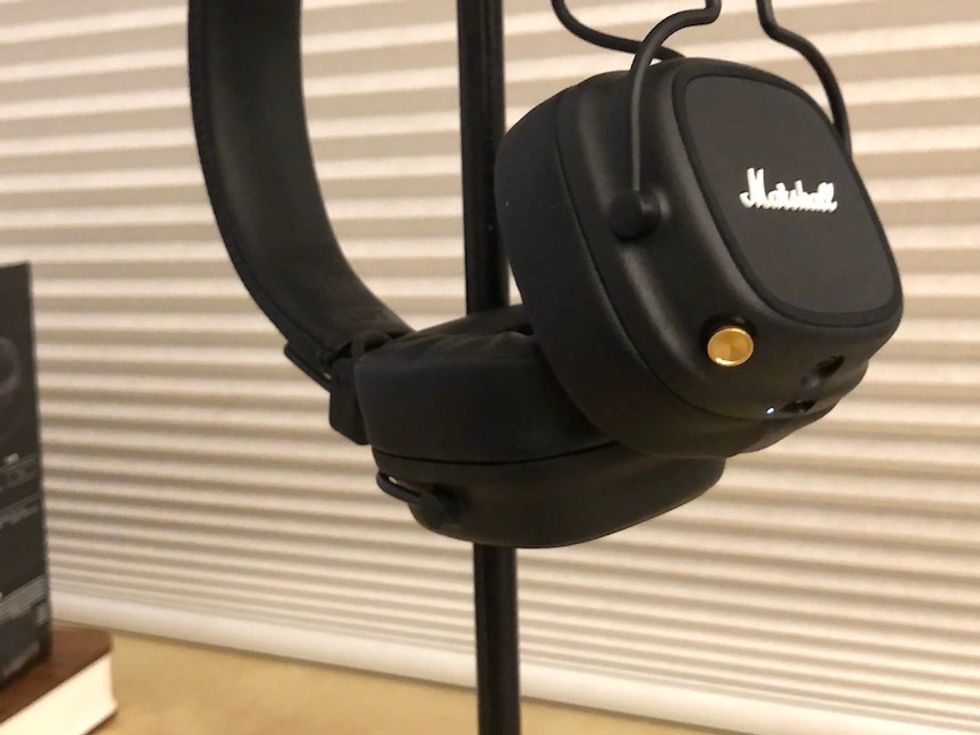 One knob controls all features on the headphonesGearBrain
There is just one button on the headphones, a bronze-colored knob, and this controls the power, Bluetooth connection, picking up calls, playing sound and volume, and calling up your smart assistant. It's a nice design choice and was frankly easy to get used to pushing this one spot rather than feeling about for the right button to press depending on my need.

You can share what the sound of you're watching or listening to as well, by popping in an audio cord, which is included, into the 3.5mm port on the headphones and then into a pal's. That's also what you'll use to wire these for airplane use.
Connecting to a laptop and smartphone was supremely simple too — just pressing for four seconds turned on the Bluetooth connection, and I could select the Major IV from my list of devices.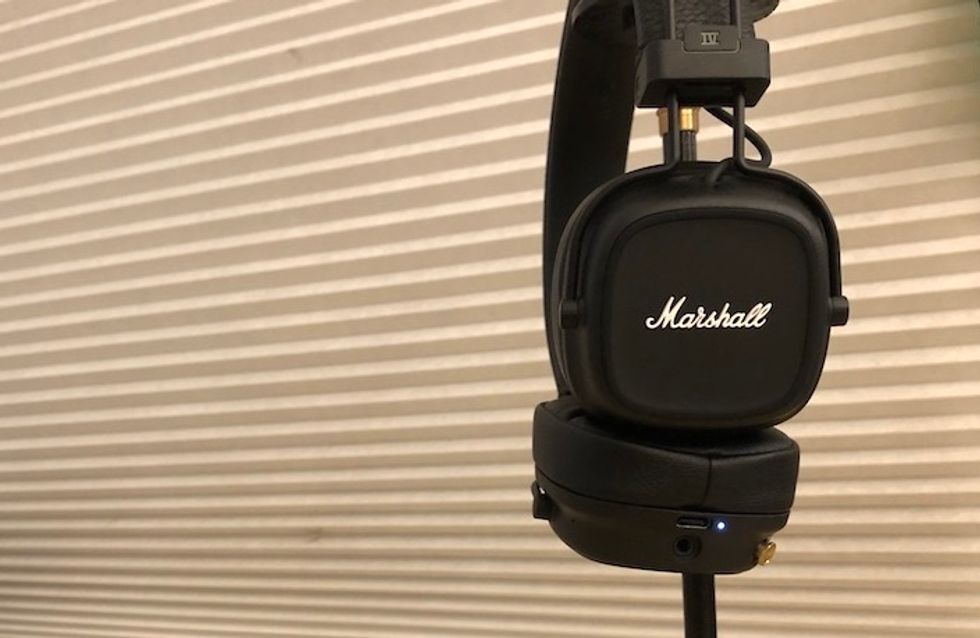 The Marshall Major IV headphones have small, square-shaped pads that sit on, not over, the earGearBrain
Sound

The Marshall Major IV do not have active noise cancellation — nor any kind of noise dampening actually. Sitting on my head, without music or sound playing, I could hear someone talking in another room. In short, you're not going to want to buy these if you're looking for headphones that create a silence pocket for you.
Sound through the Major IV was very clear, bending a bit towards a heavy bass tone. But music stayed full, and details were crisp in my ear, and there was solid separation between the left and right whether I was listening to songs or to movies. I actually enjoyed listening to music through these. I also didn't find any Bluetooth delays when watching a movie — in short, the words I heard were in sync with people talking on my computer screen. That's nice, and appreciated — and not always the case in wireless audio devices.
Call quality was excellent, with voice clarity was some of the best I've heard in headphones, and those hearing me said my own voice was easy to hear. What was also nice was I could also hear my own voice, a side effect of not having noise cancellation, but it's something I prefer.
Battery life

The Marshall Major IV have a long battery life — 80+ hours of use on one charge which is substantial, and you can get a speed boost of 15 hours in just 15 minutes. A USB-C charging cable comes with the headphones, but they also support wireless charging as well. But you'd have to pick up a wireless charger if that's something you want.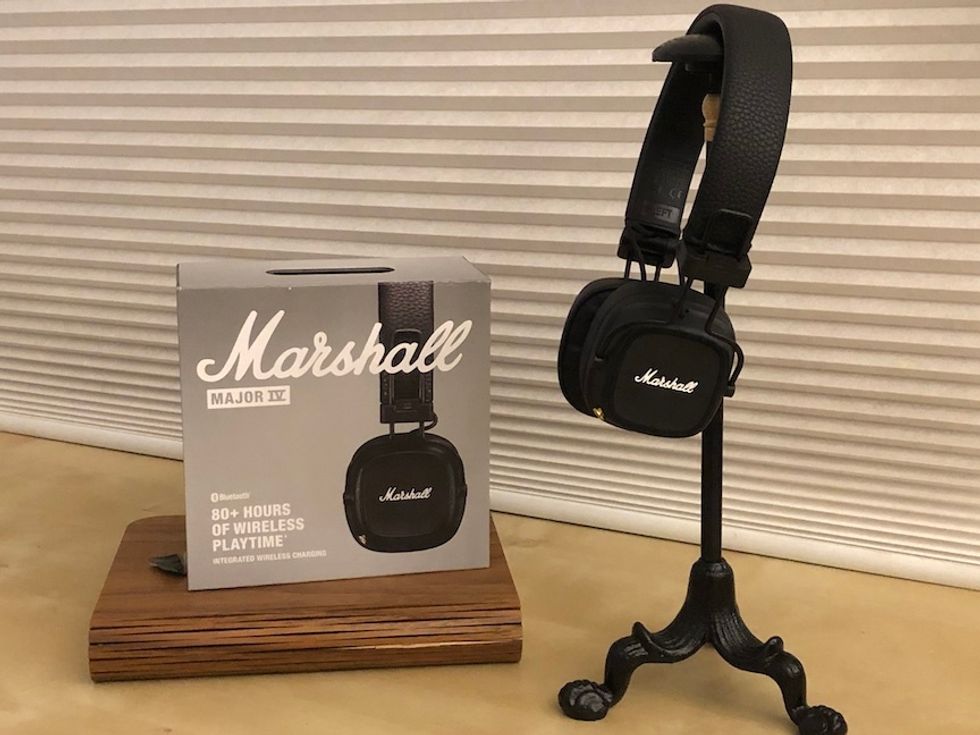 The headphones are light weight, and have adjustable arms for a close fitGearBrain
Price

You can pick up the Marshal Major IV headphones for $149.99 on the company's site.
Worth buying?
The lack of active noise cancellation in the Marshall Major IV needs to noted, but if that's not something you need, nor a feature you want to pay for, than you can set that lack of feature aside. You're typically going to pay more than $300 for ANC headphones, although you can find them for less — but not in the $150 range. But we also found that over the course of a couple of hours, these are headphones that can start to pinch after an extended wear.
Still, the sound while taking phone calls as well as listening to music is solid, and there was no Bluetooth lag while watching movies. These are also likely going to appeal to someone who gets the Marshall brand, and connects with the look — plus those who don't want to drop north of $150 for quality sounding headphones. For all those reasons, the Marshall Major IV's are worth a serious look.
Pros:
Solid sound and no Bluetooth lag while watching movies
Cool, classic design
80+ hours of battery life, plus wireless charging
Cons:
Lacks active noise cancelling
Fit was tight on the ears after a couple of hours of use
EarPods sit on top of the ear, and not over
Introduction of The GearBrain, The First Compatibility Find Engine for Smart Devices www.youtube.com
From Your Site Articles
Related Articles Around the Web
Like GearBrain on Facebook