Like GearBrain on Facebook
Last updated: October 12, 2016
We prize our devices today for the wealth of information they contain, and praise them for their compact size. Instead of carrying around a Walkman, organizer, camera, and phone, we simply pick up our smartphone and head out the door. Still, when I had to pack up my phone, tablet, laptop, Nintendo DS, and smartwatch last week, I realized I hadn't merged my older tools into one—I'd just replaced them with others.
So why would I want to add the Misfit Shine to the mix? To start, Misfit's fitness tracker is one of the more popular devices on the market today. Plus I got a review copy to try. Would the Shine be worth adding to my arsenal of wearables? I decided to give the device a go. What did I find? Big on subtlety and style, Shine is definitely a beauty. Yet the tracker may leave some wanting in the features department.
Design is a delight
As far as fitness trackers go, you probably won't find many sexier than the Misfit Shine. The disc comes in nine different colors, and the actual device is about the size of a quarter—no thicker than two or three quarters stacked together. The Shine can be strapped into a wristband (mine came with a white and black band) and worn like a watch. Similarly, it can be clipped onto clothing, slid into a pocket, worn on the ankle, or placed just about anywhere, depending on the activity you're undertaking.
I mostly wore mine as a wristband, suitable for just about any activity—plus I couldn't help feel like the clothing clip was a good way to lose the tracker while out for a run. The Shine's design is lightweight, minimalistic, and doesn't even hassle you with a charger. Instead, the disc comes with a replaceable coin cell battery (like those for a watch) which lasts up to 6 months. After a few minutes of wearing the tracker, I forgot the Shine was there. If someone did notice it, I never felt the need to explain the disc's function to justify its appearance: Shine looked that good.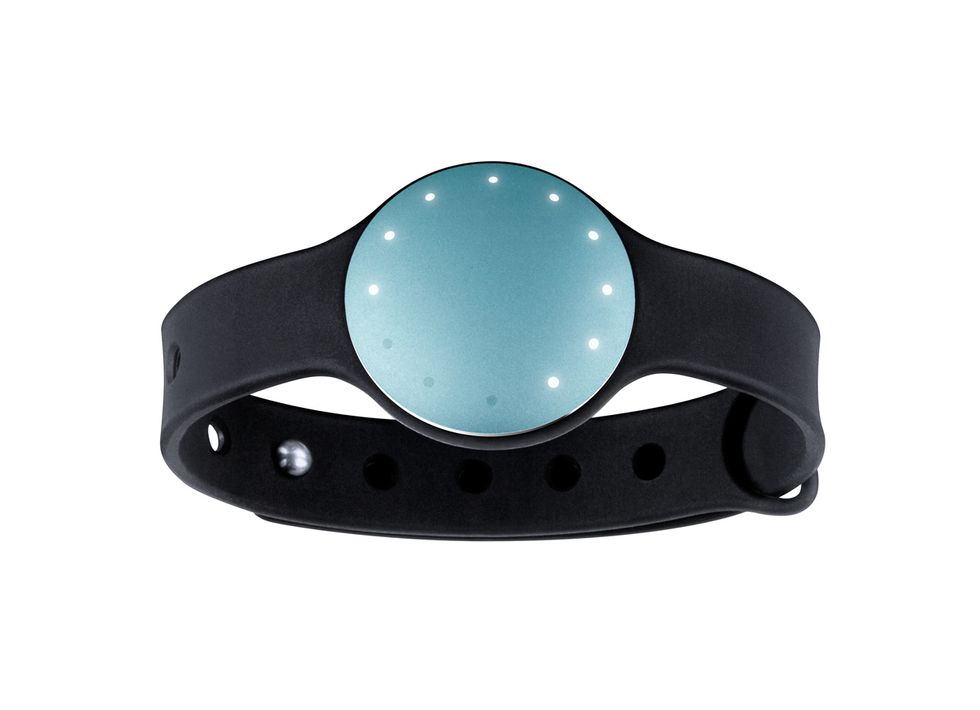 Hard to use for counting stairs
A great design is a nice plus. But at the end of the day, the main question is: Does Shine work as a fitness tracker? The simple answer is yes, it does. Whether I was out at the gym or simply walking around the grocery store, the Misfit Shine accurately tracked my stepping progress. When measured against Google Fit and Noom Walk Pedometer, all three trackers were always within a couple steps of each other in the count. In fact, the Shine was often times right smack in the middle with its count (e.g. Google Fit = 356 steps, Misfit Shine = 357 Noom Walk = 359 Steps).
One main caveat to its tracking, (and depending on your exercise location this could be a problem) is Shine doesn't have an altimeter. So, if you're a stair climber, or live in an area with a lot of stairs, the Misfit Shine won't accurately track your stair count. To test this, I climbed a set of 45 stairs in a stairwell, and each time, whether I went up or down, the Shine only counted about 15 total steps taken. In practical terms, this means that out of the three flights of stairs (15 stairs apiece), the Shine didn't count a two of them. Again, depending on your own situation, this may or may not be a deal breaker. But for those who hit stairs or climbing machines at the gym, it's worth noting.
Stairs aside, the Misfit Shine really takes after its namesake when it comes to swimming. Since it is waterproof up to 50 meters, feel free jump into the pool and swim laps to your heart's content. In the Device tab of the mobile app, you can even set your pool's physical length and have the Shine automatically count your laps for you.
Mobile app pairs easily
However, since the Shine has no onboard screen of its own, you'll be relying on the mobile app to track and manage your fitness progress. Fortunately, Misfit has released the app on all three major platforms: iOS, Android, and Windows.* Also, the tracker uses BLE, or Bluetooth Low Energy, so you don't have to bother pairing the device to your phone, nor does it matter how long ago you logged into the app. The moment you do, all your data is updated automatically. However, the device only stores 30 days' worth of data, so it's necessary to log in at least once a month to keep your information.
The app itself is responsive, user-friendly, and didn't give me any problems as I used it. Upon installing you'll input your sex, age, and weight, as well as your desired activity level. You then get suggestions on how much time you should spend on activities.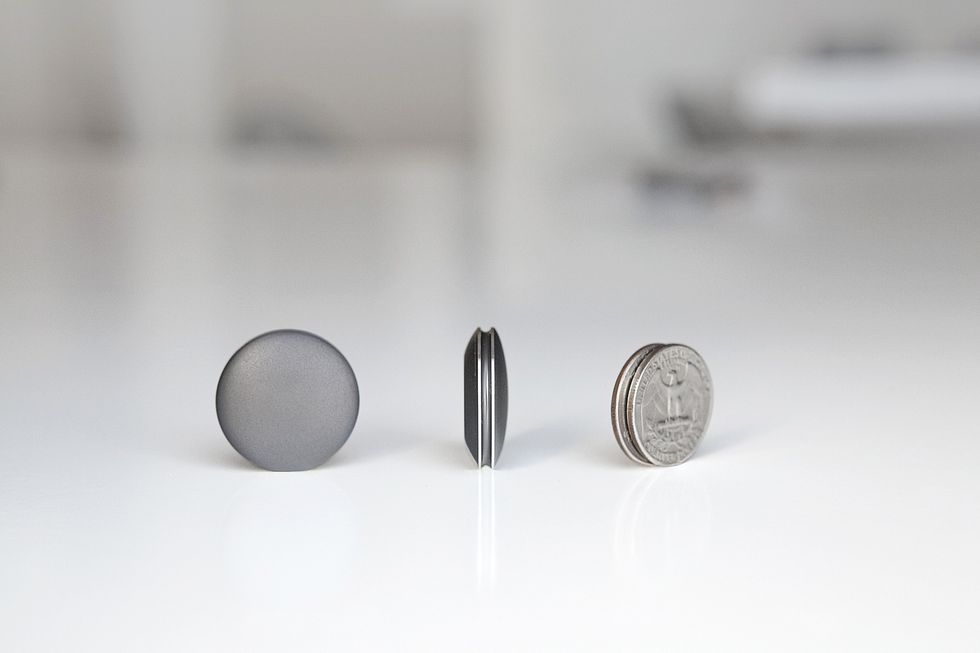 Sleep tracker is hit and miss
Besides helping you track workouts, the Shine can also track your sleep. By wearing the device at night, you can monitor your tossing and turning, then calculate how much time you spent in "Light Sleep" or "Restful Sleep." Still, unlike its spot-on pedometer, Shine's sleep tracking feature is a bit less reliable. Plus I, personally, didn't find a way to turn the data into a better night's sleep—nor was I sure the information was accurate.
One morning I woke up particularly tired and groggy, and my sleep results proudly told me how great my "Restful Sleep' stats looked. The following morning I awoke refreshed and ready to go, however, my results were abysmal, with much of the night apparently spent in "Light Sleep."
The main problem with this kind of feature is it doesn't differentiate between the types of Restful Sleep. Was I getting deep sleep? REM (rapid eye movement) sleep? Shine also didn't track how many sleep cycles I had each night—pretty integral if you're trying to optimize your sleep-wake times. In the end, the Sleep Tracking function is interesting, but probably won't help you much from a practical stand point.
The downside of no screen
Misfit Shine's minimalistic design means no onboard screen. So you'll be syncing its data to your phone, then using the app to track your progress. On paper this isn't that big of a deal. But in practice? It's cumbersome. Let's say you're on your daily run of two miles and want to track your progress. The only way to see if you've hit your goal is by whipping out your phone mid-run, syncing the Shine to its app, and checking your Mile count on the Home tab. This is where the Shine's sleek design shows its weakness. Why? Because, if you're like me, doing that kind of tech-juggling during a run could result in plowing face first into a telephone pole—or pedestrian.
The disc does feature 12 tiny LED's which light up to show you the time. However, you may be better off just checking your phone: I found the LED lights less clear than my OnePlus One readout.
Ultimately, be aware you're essentially buying a pedometer with some bells and whistles. The sleep tracking is certainly a nice, if somewhat forgettable, feature, while the lack of an altimeter is unfortunate. However, Misfit's little fitness tracker is, without a doubt, a good looking device, and as a passive tracking system, it does the job. Plus at $69.99 it's on the affordable end of the spectrum for fitness trackers. When shopping around for similar wearables, if style is a concern and stair step tracking doesn't matter, the Misfit Shine might be a solid choice. Furthermore, if you're a swimmer then this tiny, water resistant disc could be just the thing for you. —Lee Turner
Misfit Shine is supported by a number of devices and operating systems including:
iPhone 4S / 5 / 5C / 5S / 6 / 6 Plus
iPod Touch 5th Gen and above
iPad 3 / 4 / Air / Mini (all running iOS 6.13 and above)
Samsung Galaxy 4 / 5 (or other BLE* ready Android devices running 4.3 and above)
BLE** ready Windows Phones running 8.1 and above
Pro: Sleek and stylish; geeky in a good way; water resistant and tracks swimming
Con: Lacks altimeter for tracking stairs; must sync device to phone to check progress
**BLE simply stands for Bluetooth Low Energy, or Bluetooth Smart, and is a wireless personal area network designed for low energy use communications. Chances are if your phone isn't a stone age Nokia Brick, you've got it all ready.

Looking for other types of fitness trackers? Check out Best Fitness Trackers for Runners or 5 Best Fitness Trackers For Swimmers.
From Your Site Articles
Related Articles Around the Web
Like GearBrain on Facebook