Like GearBrain on Facebook
In a small room of a nondescript London office block, a pair of robotic hands twitch into life. Slowly but precisely, they reach out for ingredients, tip them into a pan and stir the concoction together. A few minutes later, a bowl of delicious crab bisque is presented, as if it were prepared by a professional chef.
This isn't a scene from "Black Mirror," but a demonstration I experienced back in 2015. The meal tasted perfect but, while startup Moley Robotics had high hopes for their robotic kitchen, complete with an online catalogue of thousands of recipes created by professional chefs, I doubted I'd ever see it again.
Read More:
Thankfully, I have been proven wrong and the Moley robotic kitchen is now available to buy in the UK and Europe, with U.S. availability to follow shortly after.
"It's a big task," says Mark Oleynik, the Russian computer scientist who founded London-based Moley Robotics in 2014. "The smart home is really developing but mostly people are still using it for remotely controlling other devices, not a physical application like a robot. Things like Alexa, they are software and not hardware."
Robotic hands and fingers
Moley is all about the hardware, and while Oleynik says integration with voice assistants like Alexa, Siri and Google Assistant could be a part of his robot's future, the emphasis for now is on a physical experience.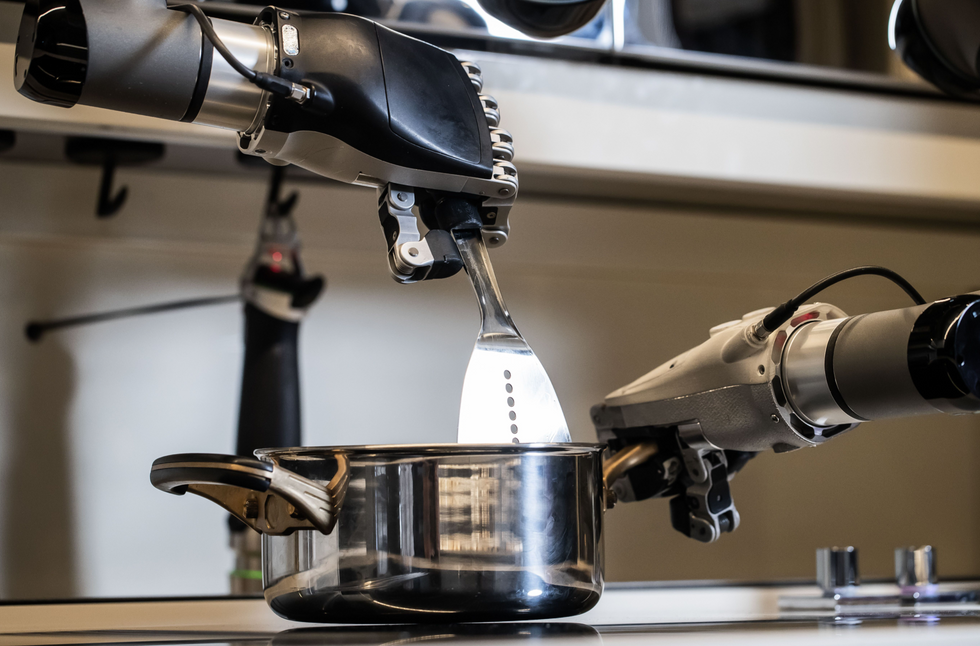 The robot can interact with custom-made cookware and appliances Moley Robotics
The robotic arms, hands and fingers are taught using bespoke software and motion-capture technology. They can then interact with regular appliances by pressing buttons, turning dials and operating touchscreens. Oleynik adds: "Not all appliances can be activated with an API or remote control because of safety issues. A lot are still to be operated by the robot itself, pressing buttons, looking at touchscreens, opening and closing doors...We can teach the robot to do all this."

Operating appliances is only the first, simple step. Moley Robotics has built an entire set of bespoke utensils and cookware, designed to be used by either the robot, or its owners when they fancy cooking something themselves. Each of the stainless steel pots and pans has a subtle marker to help the robot orientate itself and pick out the right item.
As you might have worked out by now, this is a very expensive kitchen. Moley Robotics says it is designed to compete against other luxury kitchens, and the fit and finish, as well as the professional-grade appliances and the quality of cookware, sits at the top of the market. It's also an IoT, connected kitchen with a refrigerator that tracks ingredient quantities and alerts you when items are running low.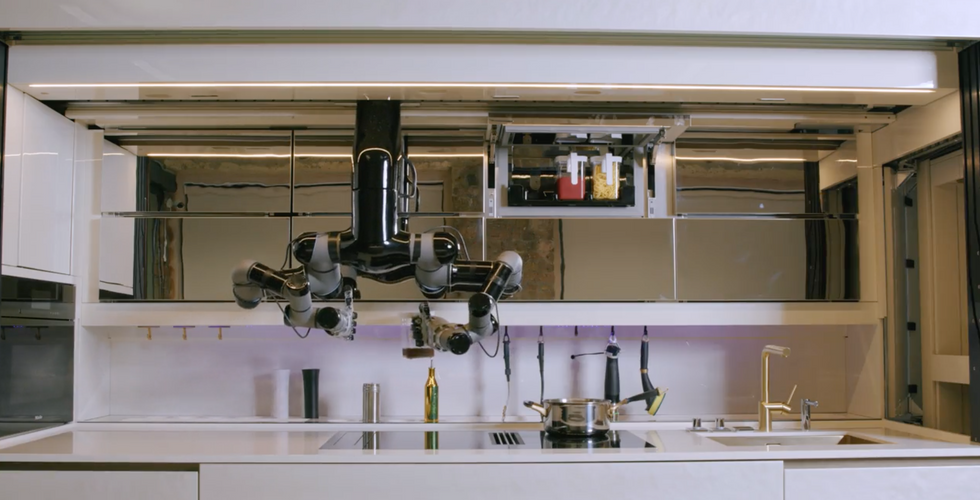 Food is stored in containers that the robot can handleMoley Robotics
High price, high demand
But despite all that, the price is still massive, at £248,000 ($330,000). That isn't a typing error. To help soften the blow, customers can order a Moley IoT kitchen without the robotic arms for £140,000 ($187,000), then add the arms (or a future generation of arms) at a later date, which apparently takes just a day's work.
Moley, which includes over 100 designers and engineers, says it has had more than 1,200 "qualified sales enquiries," and a lot of interest from hotels, restaurants and catering companies – so much so that a commercial version of the Moley kitchen is planned for release in 2021. I feel that's where the real potential for this product is, but Oleynik tells me he has also received a lot of interest from property developers. "I think we will definitely supply kitchens in some nice futuristic apartments and houses," he adds.
Moley says its kitchen can be fitted in most homes, and the only visible difference is that the worktops are a little deeper than the industry standard. The kitchen uses high-end appliances and the layout can be adjusted to fit the needs of each customer, with the robot then calibrated for their unique kitchen.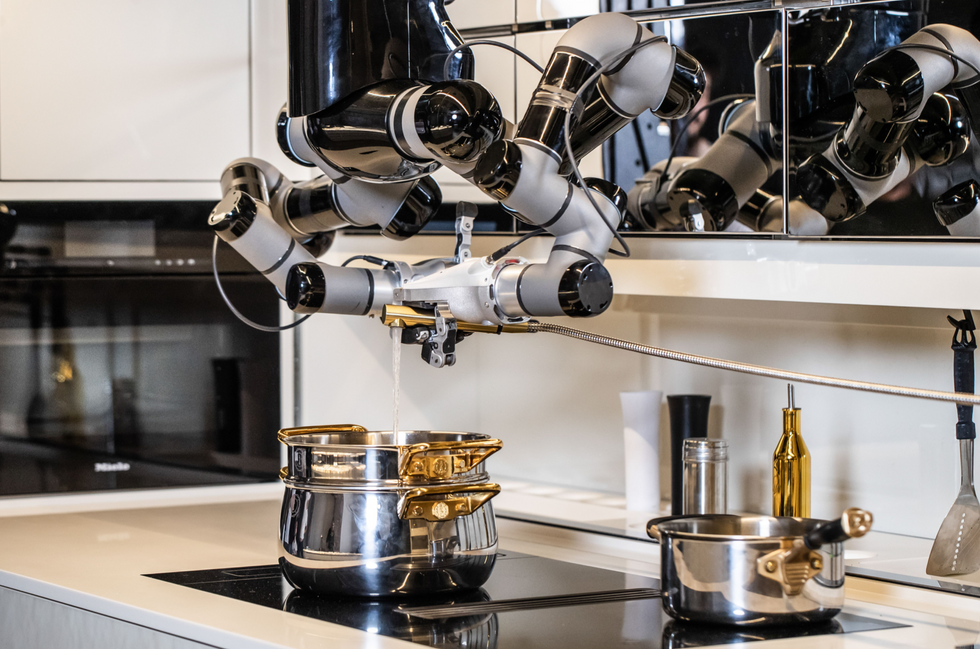 The robot can use the faucet and clean up after itselfMoley Robotics
Everything from the pans to the worktops has the look of a luxury kitchen about it, and customers are invited to explore a bespoke configurator at Moley's showroom in Hammersmith, west London, as they would any other kitchen, to decide on design and materials.

Having gone through 11 development cycles since 2014, the robot can retrieve ingredients from the fridge, adjust the stove, use the faucet, pour and mix ingredients, and plate up. It will then partially clean up after itself, wiping down surfaces and using ultraviolet lighting to sterilize equipment.
So long as everything it needs to cook with is returned to the correct place, and ingredients are stored in the right containers of the custom fridge, the robot uses its sensors and cameras to interact with ingredients, cookware and utensils. The robot can also spot dropped food and clean it up.
Human help required
However, there is a degree of preparation required. Food needs to be removed from its packaging, chopped by hand and placed in the right section of the fridge before the robot can get to work.
There are currently 30 recipes loaded into the robot's memory, accessible via a bespoke touchscreen display. These have been recorded by three professional chefs, including Tim Anderson who won the BBC's Master Chef TV show in 2011. More recipes will be added monthly, with Moley saying the robot will ultimately be capable of preparing over 5,000 different meals.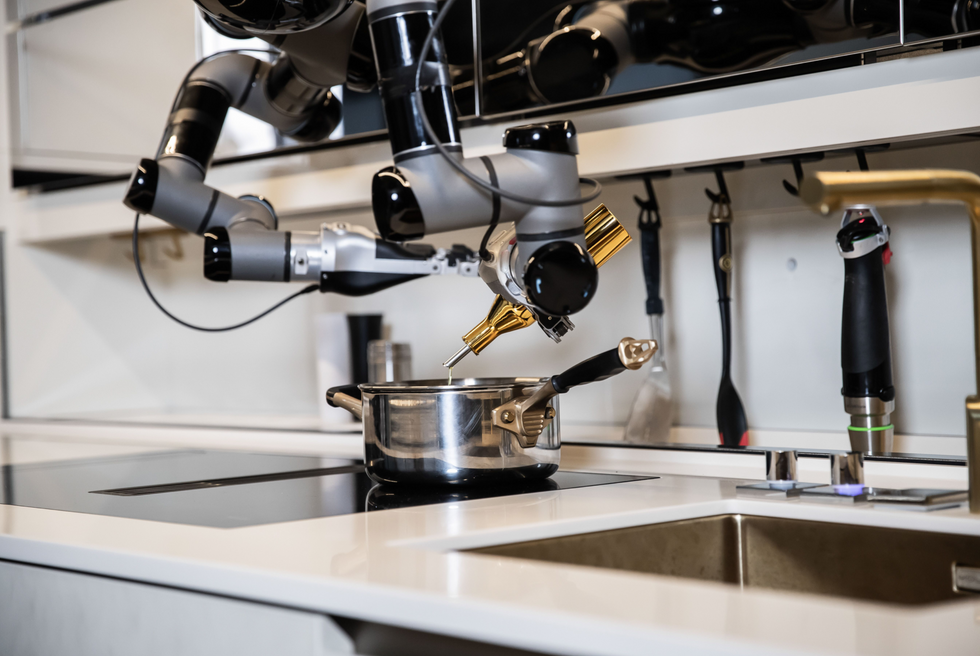 The robot comes with 30 recipes, with the potential for thousands moreMoley Robotics
These will be taught to the robot by professional chefs using motion-capture technology, then made available for Moley kitchen owners to buy, potentially creating a new revenue model for chefs and restaurants.

Owners can also teach their own recipes to the robot, using custom software to ensure it always uses the right ingredients and quantities.
Although there isn't yet an Alexa skill to have your Amazon assistant interact with the Moley kitchen, Oleynik is keen to explore the smart home ecosystem. "We will definitely put some voice recognition inside the kitchen. It doesn't matter which company, we can use any or all of [the voice assistants and smart home platforms]. Or we could make our own voice recognition system. I don't see any reason for not putting the kitchen in a smart home infrastructure."
Moley knows its kitchen is very expensive, but hopes to receive enough orders to reinvest the profit in making future generations more affordable. The company likens its strategy to Tesla, which began with the expensive Roadster before making the Model S and eventually the more affordable Model 3. The robotics firm says: "As the technology matures Moley aims to produce versions at a variety of price points enabling mass-market adoption in much the same way Tesla has with EV cars."
GearBrain meets Intuition Robotics' ElliQ www.youtube.com
From Your Site Articles
Related Articles Around the Web
Like GearBrain on Facebook