Like GearBrain on Facebook
Samsung knows we're cooking more in their own kitchens since Covid-19 — and its new Front Control Slide-in Range reflects this push to prepare food for our families, and ourselves. With one touch, the oven can pre-heat, and even more keenly, remember how you actually like your roast, while also letting you air fry and even pre-heat all by asking aloud.
While just 40 percent of people say they spent five hours or more each week cooking at home before the pandemic, now 53 percent are spending that amount of time preparing their own meals, according to a Samsung Home Appliance survey from August 2020. And not only are the majority of those surveyed by Samsung cooking more, they're also trying new recipes, said 79 percent of those ages 18 to 34, and 76 percent of those between the ages of 35 and 54.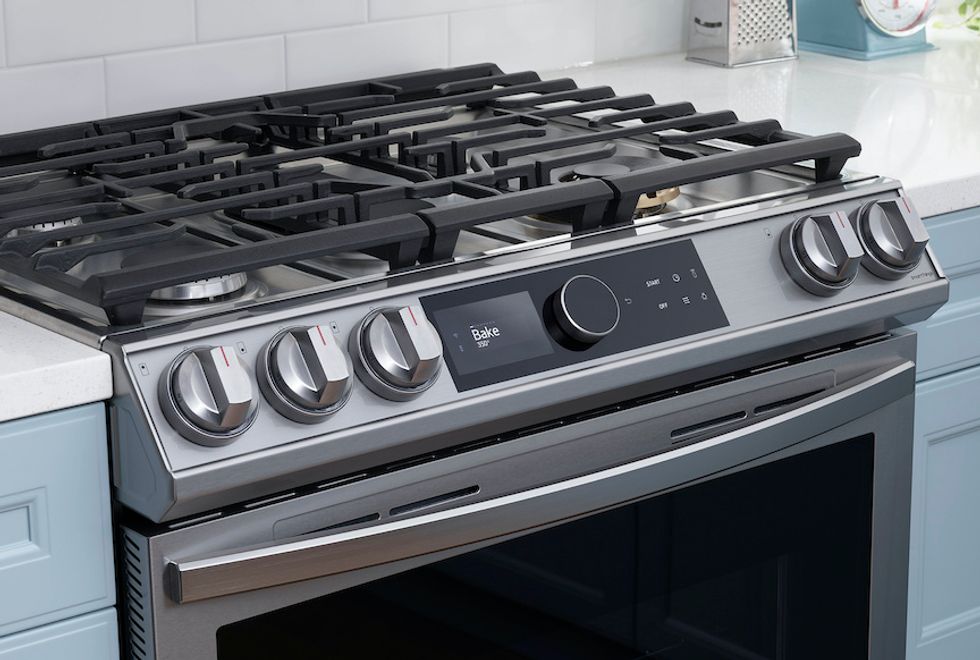 The new Samsung Front Control Slide-in Range has knobs that illuminate blue when the range is workingSamsung
The new Front Control Slide-in Range taps into this push to cook more at home as well, by supporting cooking trends like the new Air Fry mode that's built right into the range. Controls are front facing, with large knobs as well as a digital screen that shows the preset but also the time left to finish cooking. The knobs also light up to a gentle blue — a strong visual indicator that the oven is on or not.

Voice control is also available, connecting to both Samsung's own voice assistant Bixby, as well as Google Assistant and Amazon Alexa. You do need a Wi-Fi account and the Samsung SmartThings app to connect the new range to these voice options, but from there you can just ask the oven to start pre-heating from an Android and iOS device.
Samsung has been developing smart connected devices for the kitchen and other areas of your home for several years, looking at ways that voice and internet-enabled features can streamline how you handle daily tasks. That can include grocery shopping from your refrigerator to steam-cleaning your clothes, right from a closet in your own home. The company even dabbled with helping people make a love match with a dating app in 2019.
There are five different models for both a gas and an electric hookup, and also a Dual Fuel option as well, and the entire line starts at $999. The new range can also be picked up online.
"From a refrigerator that suggests recipes to a range that knows your preheat settings, Samsung has completely changed what's possible for—and what people have come to expect from—their appliances," said John Herrington, senior vice president, general manager of home appliances for Samsung Electronics America in a statement. "We're proud that our appliances are inspiring consumers find more meaning in their homes, inspiring them with what's possible, and enabling them to do more of what they love."
Check out The GearBrain, our smart home compatibility checker to see the other compatible products that work with Samsung SmartThings.
Smart Kitchen Trends on GearBrain TV with Flex www.youtube.com
From Your Site Articles
Related Articles Around the Web
Like GearBrain on Facebook