Like GearBrain on Facebook
Just as the rumor mill predicted, Motorola has revealed a new version of its iconic Razr flip phone - and it has a folding screen.
Where the original from 15 years ago flipped open to reveal a display and a physical keyboard - plus a smaller display on the front when closed - the new model's inside is entirely display.
Read More:
There's also a smaller color touch screen on the outside for seeing notifications, taking selfies and sending quick replies to messages without opening up the handset.
When open, the folding screen measures 6.2 inches and, while a little taller and narrower than a regular phone like an iPhone or Google Pixel, it is roughly the same proportions as other Androids. As such, it runs Android as normal, with apps and games filling the screen correctly - something the Samsung Galaxy Fold and its square screen can't manage.
Also setting the Motorola apart from other folding phones is how it uses a clever hinge to fold completely flat when open, then shut properly. Folding phones from Samsung and Huawei close in a way which leaves them slightly open and susceptible to dust ingress.
When folded open, the pOLED display has a resolution of 2,142 x 876, and an aspect ratio of 21:9, the latter being the same as recent Sony Xperia handsets. The smaller display on the outside measures 2.7 inches and has a resolution of 800 x 600.
Motorola owner Lenovo has included a fun Easter egg which turns the entire folding display into a replica of the original Razr, where the bottom half of the screen looks like that phone's physical keyboard, and the upper half shows its mid-2000's user interface.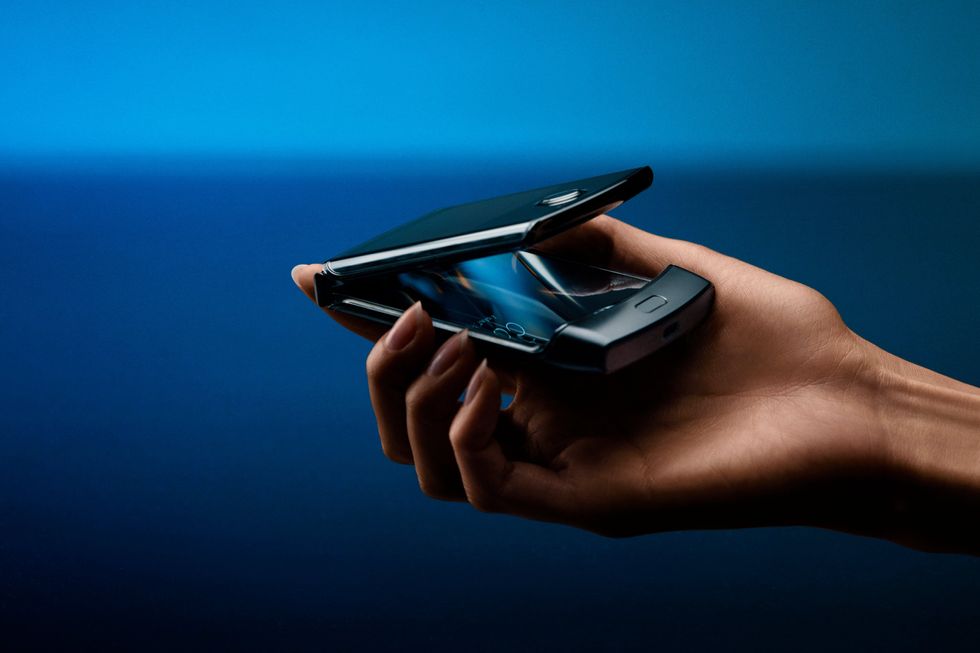 The new Razr opens for pre-orders on December 26Motorola
Next to the external screen is the phone's main camera. There's just one lens in front of a 16-megapixel sensor, which means the Motorola is unlikely to offer the same photographic performance as the latest multi-lens iPhone, Google Pixel or Samsung Galaxy. But this is clearly a fashion-first handset that puts its own design ahead of producing the best photos.

There's also a 5-megapixel camera above the internal display for video calls, while the external camera can be used to take selfies when the phone is folded closed.
Ben Wood, a mobile industry analyst from CCS Insight attended the Motorola launch event and tweeted: "Fantastic engineering around the hinge allows it to close flat. At $1,500 it's a super-premium product but I doubt Motorola will have any issues selling the first wave of units."
It has been speculated that Lenovo-owned Motorola hopes to sell 200,000 units - a far cry from the 100 million it sold of the original Razr.
Woods added: "To me, the [new Razr] will be remembered as the first true folding phone compared to the [Samsung Galaxy Fold] which is more of a phone with an iPad Mini inside."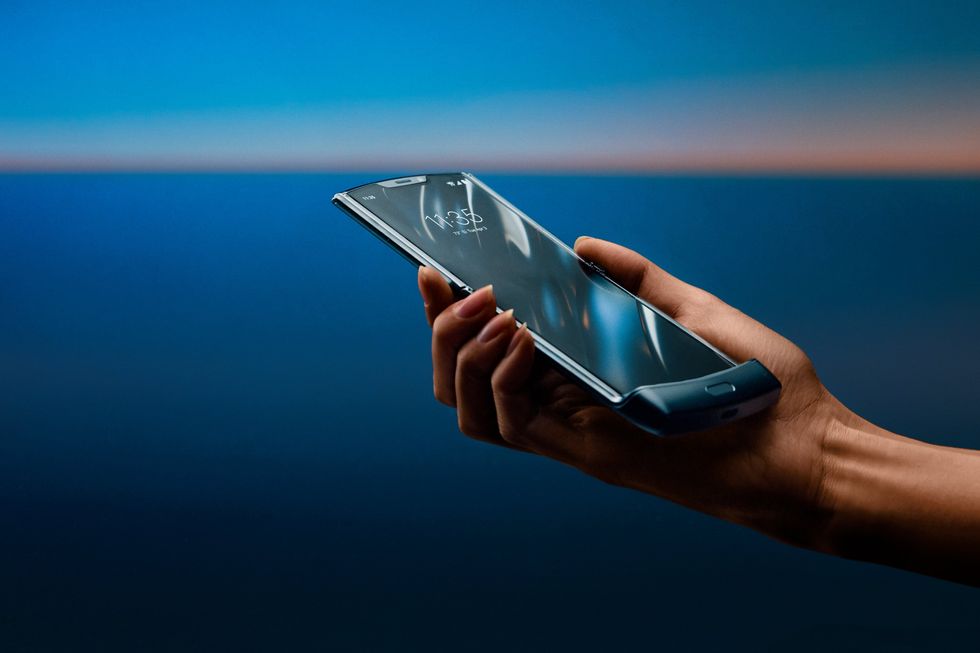 The new Razr has a 6.2-inch OLED screenMotorola
Power comes from a mid-range Snapdragon 710 processor with 6GB of RAM, so we can't expect the Motorola Razr to offer the same performance as other four-figure smartphones - but again, that isn't necessarily the point. This phone is all about the design, and all about that retro flip action. The battery is only 2,510 mAh, so might also lack behind most other smartphones from 2019 and 2020.

Echoing concerns over the phone's specifications, James Brown, director of gadget insurance company Protect Your Bubble, said in a statement sent to GearBrain: "The Razr V4 will be a trendy gadget that fans of retro chic will embrace, but users could find that sacrificing a decent camera and processor is the price of looking cool."
And now for the bad news - the new Razr is priced at $1,500, It is exclusive to Verizon at launch, with no word yet on whether a SIM-free version will be offered by Motorola itself at a later date. Pre-orders open in the US on December 26 and the phone will ship in January.
Motorola RAZR V3m Cell Phone for Verizon with No Contract
From Your Site Articles
Related Articles Around the Web
Like GearBrain on Facebook