Samsung has shown off a new folding phone concept reminiscent of flip phones of the early 2000s, like the Motorola Razr.
The new Samsung was teased at the company's own developer event this week, and comes just a couple of months after it was reported that Samsung was secretly working on such a handset.
Read More:
Where the $1,980 Galaxy Fold is hinged vertically when held in portrait orientation and opens like a book, the new Samsung concept is hinged horizontally, with the top half flipping upwards when opened.
The company's Twitter account described the phone as "a brand new form factor Samsung is exploring for the foldable category of devices," and said its unveiling was merely a "sneak peek" for now.
Such a form factor should help make smartphones with tall screens fit into our pockets more easily, but there could be other benefits too. The short trailer published by Samsung shows how the phone's user interface changes when it is folded half closed.

In the example embedded below, a TikTok video recording takes up the full screen, but when the phone is partially folded, playback and recording controls shift to take up the bottom half of the display.
We also wonder if holding the phone like this and resting it on a table could enable hands-free video calls using the front camera. It isn't clear for now if the phone has a second display on its front, but such a screen could be useful for seeing notifications and maybe sending short replies without opening the phone.

Motorola is also working on a folding smartphone which is hinged horizontally. Expected to be a modern revival of the iconic Razr flip phone, the handset it due to be revealed at a launch event on November 13.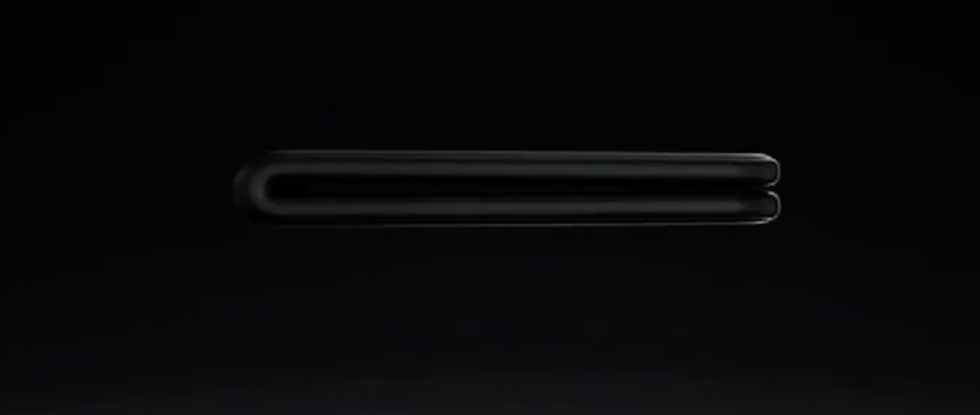 The concept closes like an old flip phoneSamsung
We're excited to see both of these handsets from Samsung and Motorola, but remain cautious given the setbacks Samsung endured with the Galaxy Fold, and how Huawei is yet to put its delayed Mate X on sale, despite announcing it almost nine months ago.

Samsung also used its developer event in San Jose, California this week to show off the Galaxy Home Mini smart speaker. But the company gave no new details about the product, which was announced a couple of months ago and comes after the original Galaxy Home, which, 15 months after it was announced, is still yet to go on sale.