Like GearBrain on Facebook
When Google announced its new Nest Thermostat earlier this month, it said the device was available for pre-order now and would ship in the coming weeks.
Now, it looks like the product will arrive by the end of the month, with the Google online store stating October 31 as the next available delivery date.
Read More:
However, it appears that Google has been suffering from some technical difficulties, as for over an hour this morning (October 15) the Nest Thermostat's product page returned a 404 error message. Despite appearing on the Google Store home page, complete with a link inviting visitors to "learn more" about the Nest Thermostat, clicking this resulted in a 404 error as well.
Some instances of the new Nest Thermostat's product page stated "deprecated" in the URL, which can mean the web page has been removed or replaced. Google's compatibility checker for the Nest Thermostat does at least still work.
Also incorrect was how another page of the Google store states the thermostat's price as $249, when it was previously announced by Google as being $129; this lower price appears when attempting to buy the device, and after entering a U.S. address we were given the October 31 estimated delivery date when using same or next-day delivery.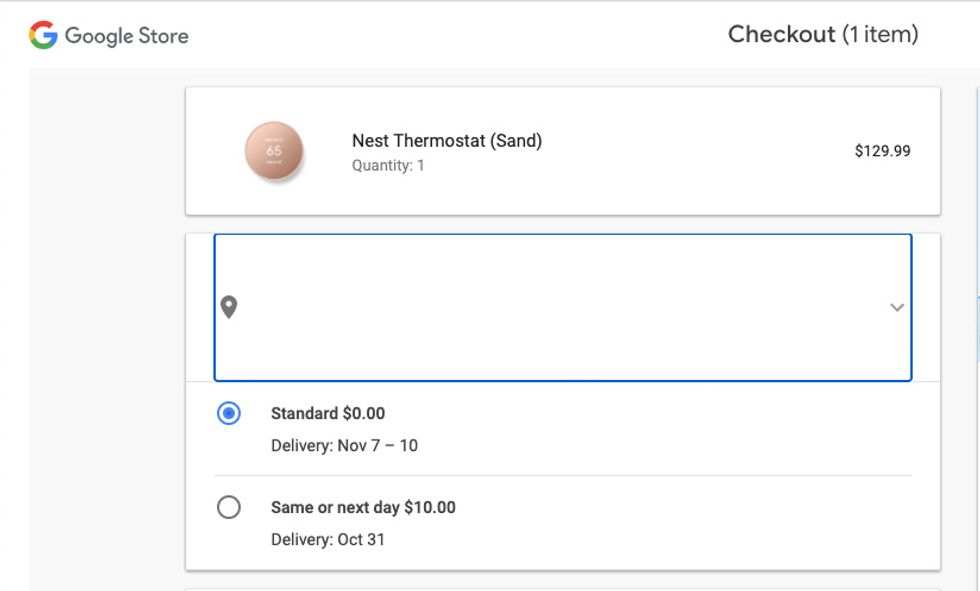 Google Store offering October 31 delivery for the new Nest ThermostatGearBrain
It is likely that Google's online store has been suffering from some technical gremlins. But for this to happen for one of the company's latest products, and one of the most high-profile devices among its Nest smart home brand, surely isn't the product launch Google was hoping for.

Google has just now fixed the link. But It is also worth noting that the broken link has been included in countless news articles and features about the new Nest Thermostat, all of which pointed readers towards a broken page on the Google store.
Google confirmed to GearBrain by email that the official release date for the Nest Thermostat is October 30 — making a delivery date of October 31 for anyone who chooses next day delivery.
—Additional reporting by Lauren Barack
Introduction of The GearBrain, The First Compatibility Find Engine for Smart Devices www.youtube.com
From Your Site Articles
Related Articles Around the Web
Like GearBrain on Facebook