A smart thermostat can help lower your energy bills by automating the heating and cooling of your home. Some do this by learning how you use them for the first few days, then take control, making small changes which you might not notice but will lower your energy use.
Other use sensors to work out which rooms are being used and which aren't, so energy isn't wasting on heating or cooling an empty and unused room.
Read More:
ecobee SmartThermostat with Voice Control, SmartSensor Included, Alexa Built-In
With a Wi-Fi connection, smart thermostats can be controlled via a smartphone app, and many also tap into smart home automation platforms like IFTTT (If This, Then That) and Apple's Siri-controlled HomeKit. Many can be controlled by speaking to the Amazon Alexa and Google voice assistants, or be left to work automatically as you enter and exit your home (by knowing the location of your smartphone).

Nest is arguably the most popular name in the smart thermostat market. Before being bought by Google, Nest was founded by Tony Fadell, a former Apple engineer who is widely regarded as the father of the original iPod.
But there are many alternatives. Some come from seasoned home heating companies, others are the offsprings of startups fighting for a slice of the smart home cake.
With the summer ending and cooler weather on its way here are the top smart thermostats to lower your energy bills in 2020:
Nest Learning Thermostat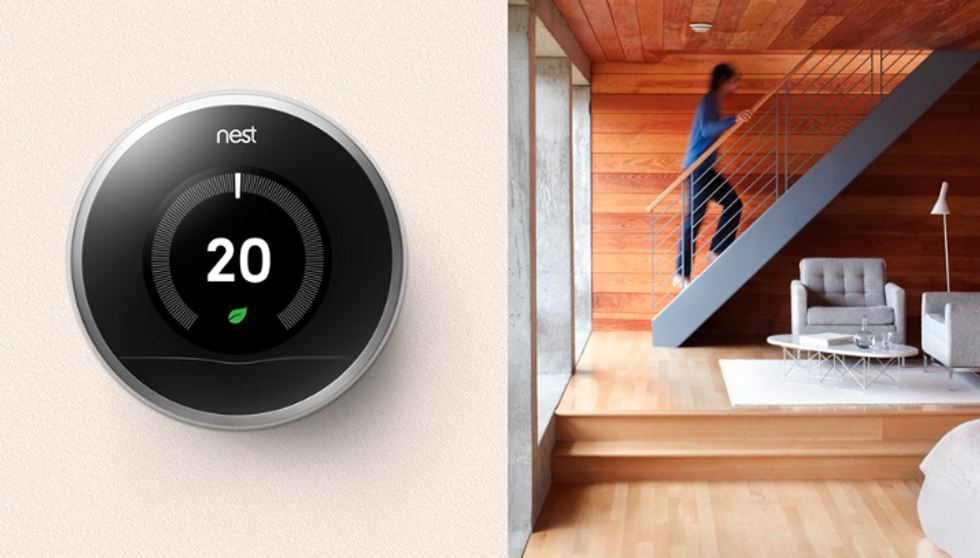 The Learning Thermostat from Nest is one of the most popular
Nest
Nest's Learning Thermostat is now in its third generation and is available in four different colors: stainless steel, black, white and copper.
When the Nest is first installed, you'll have to rotate it manually to turn the temperature up or down. But after a few days, the Nest will have started to learn what you like, and when. Eventually, the thermostat will manage the heating (and cooling) all on its own, turning things down when you are away, and off when on vacation.
It can be controlled via your smartphone (or by speaking to the Google Assistant) if you need to change the heating remotely, and the unit's green leaf icon always suggests the best temperature to help save you money.
The optional $39 Nest Temperature Sensor helps you tell the thermostat how you like the heating in a particular room. With multiple sensors, you can put one in each room, use them to tell the Nest how you like the temperature (and when), and the thermostat will do the rest.
As well as the thermostat and sensor, the Nest ecosystem includes a wide range of smart home devices that all work together. These include in- and outdoor security cameras, a video doorbell, smoke detector, WiFi router, alarm system, and the Nest Hub Max smart display.
Ecobee SmartThermostat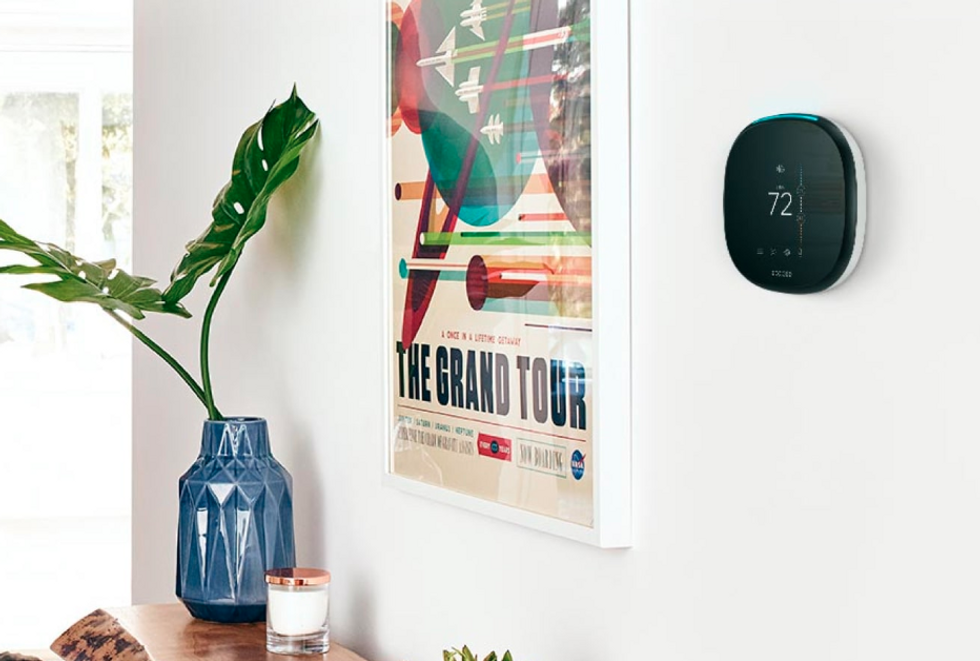 Extra sensors tell the thermostat the temperatures of various rooms throughout the home
Ecobee
Launched in 2019, the Ecobee SmartThermostat replaces the company's fourth-generation model and features integrated Alexa. This means you can ask the Amazon assistant to adjust the HVAC system whenever you're within earshot of the thermostat, but also use Alexa as normal - so you can ask it questions, add things to your to-do list, or ask it to play music, all without being anywhere near a smart speaker.
There's also Bluetooth and, for the first time in an Ecobee thermostat, Spotify Connect, so you can easily play music from any compatible speaker elsewhere in your home. Unlike some other non-Amazon devices with Alexa built in, the Ecobee SmartThermostat includes Alexa Calling, Messaging, and Drop-in.
The $249 device also works in a similar way to the Nest, adjusting your heating and cooling with help from sensors located throughout the home (you can add up to 32 of these if you have a particularly large home, and only heat the rooms that are being used at any one time).
The Ecobee4 is claimed to save up to 23 percent on your annual heating and cooling bills. Naturally, there is a smartphone app for remote control, and the Ecobee4 works with Alexa, Google Assistant, Samsung SmartThings, IFTTT and Apple HomeKit.
Honeywell's Smart Color Thermostat with Wi-Fi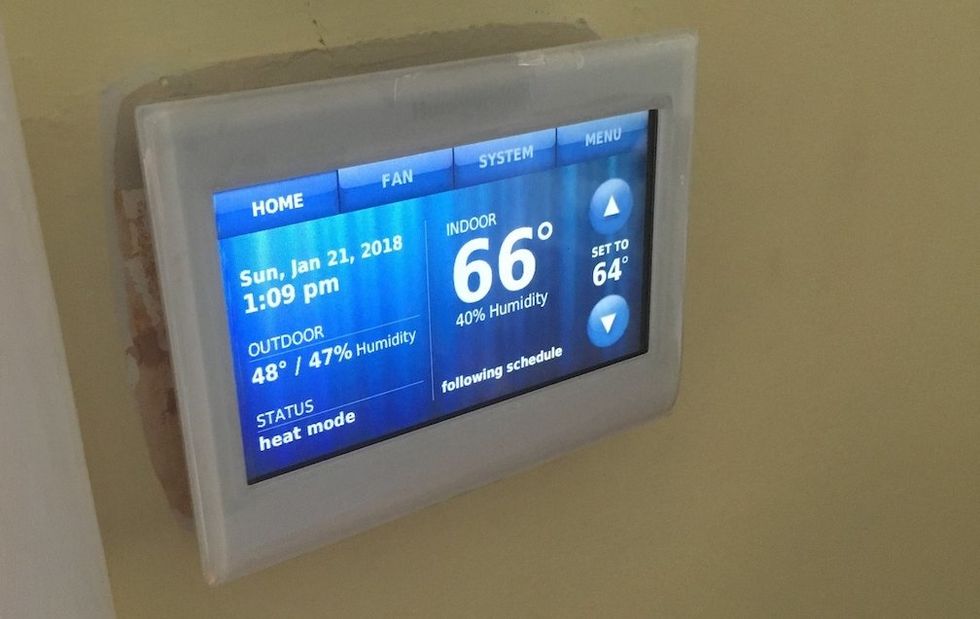 Tie the Honeywell Smart Thermostat with Wi-Fi to your local utility for extra savings.
GearBrain
The Honeywell's Smart Color Thermostat with Wi-Fi is a solid thermostat, one that can tie into your local utility company to help you save money. At about $200, you can often pick one up for less. Features include a vacation mode, plus a design element which lets you change the screen so it matches the wall color.
Honeywell also has a marketplace section, so you can search for deals with your electric company — in our review, we found savings of up to $85 plus credits on our bill. That's helpful, and can offset the cost of the actual device.
The smart thermostat also works with a wide range of systems and networks including Alexa, Google Nest Home, Apple HomeKit, IFTTT, Yonomi, Samsung SmartThings as well as Logitech's Harmony Hub. That makes this a smart thermostat that's versatile, allowing you to really work with the platform you prefer.
Nest Thermostat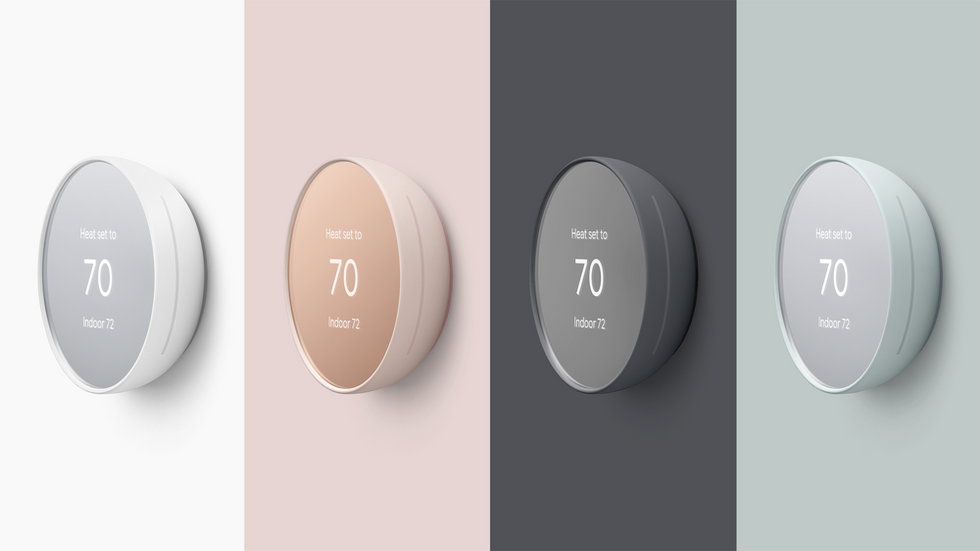 14 smart home devices to save you money in 2020 Google
Announced in October 2020, the new Nest Thermostat is a low-priced alternative from Google, priced at $130, or almost half that of the company's flagship Learning Thermostat. Despite the price cut, Google claims the new model could save users an equal amount of money on their energy bills, of up to 12 percent on heating and 15 percent on cooling.
Sold in four colors, the Nest Thermostat has a plastic body (as opposed to metal with the Learning Thermostat) and is compatible with 85 percent of 24V heating and cooling systems. You can check if your system is compatible here.
This model is set up and controlled using the Google Home smartphone app, but is not compatible with Nest's Temperature Sensor; that is exclusive to the $250 Learning Thermostat.
Ecobee3 Lite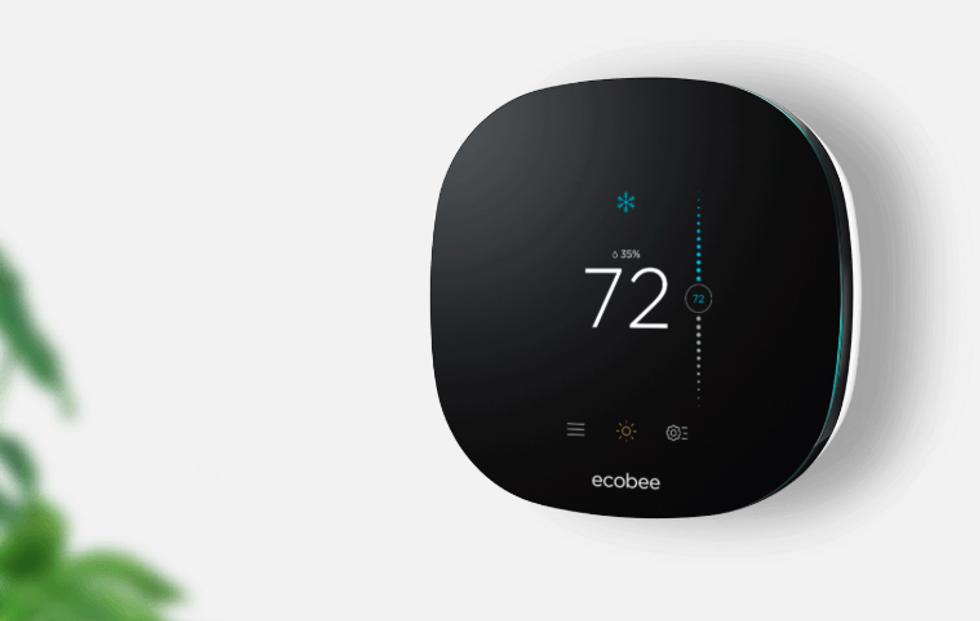 Additional sensors can help tell the Ecobee3 lite the temperature in other rooms​
Ecobee
Just as how Nest sells the cheaper, simpler Thermostat E, Ecobee offers the 3 Lite as a more affordable alternative to the Ecobee SmartThermostat.
Despite the lower price, the ecobee3 lite can be controlled by your iPhone or Android smartphone (or Apple Watch), works with the ecobee room sensors to only heat up the rooms you are using, and uses aims to reduce your heating and cooling bills by up to 23 percent annually.
The Ecobee3 lite uses local weather forecasts to use as little energy as possible to heat your home, as if sunshine is on its way, it will hold off on powering up the boiler. As with the Ecobee SmartThermostat, this model works with a wide range of smart home platforms, including Apple HomeKit, Amazon Echo, Google Home, Samsung SmartThings and IFTTT.
Insteon Smart Thermostat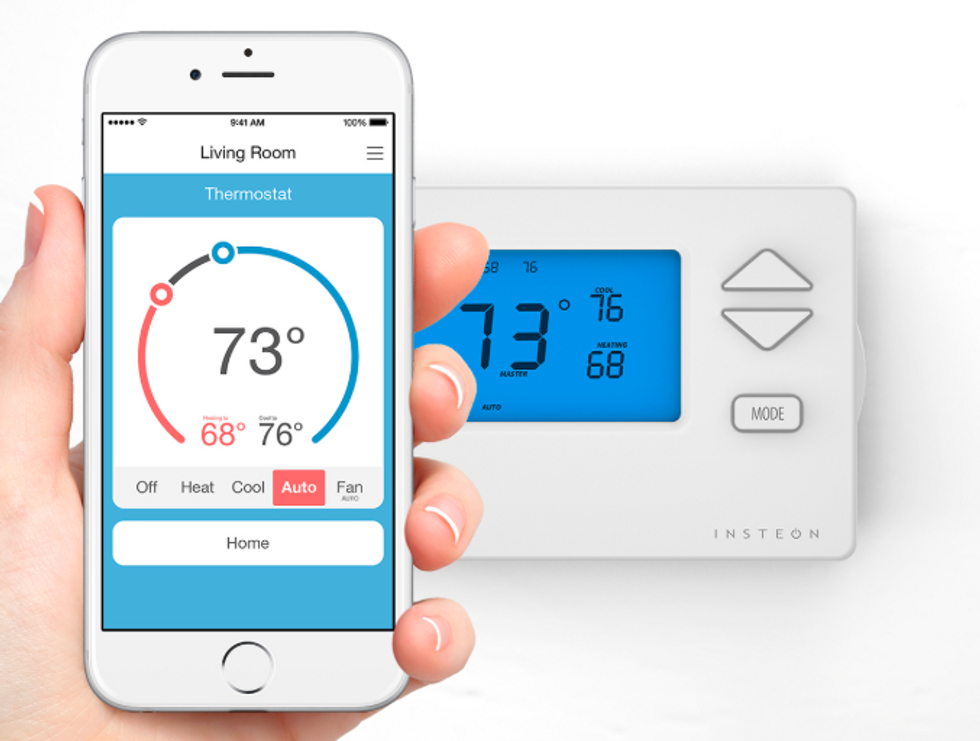 This Insteon hides its smarts by looking like a regular thermostat
Insteon
Despite looking like a regular thermostat, this device hooks up wirelessly with the Insteon Hub to provide smartphone control and Amazon Alexa integration. There's also support for voice controls via Google Assistant, and an Apple Watch app puts climate controls on your wrist.
Insteon says its thermostat will work with almost all HVAC system, and it will integrate with other Insteon devices connected to your Hub, like switches, sensors and light bulbs.
Check out The GearBrain, our smart home compatibility checker to see the other compatible products that work with Nest, Samsung SmartThings, Philips Hue smart lights, Insteon, Google Home and Home Mini and Amazon Alexa enabled device
Honeywell Home T9 Smart Thermostat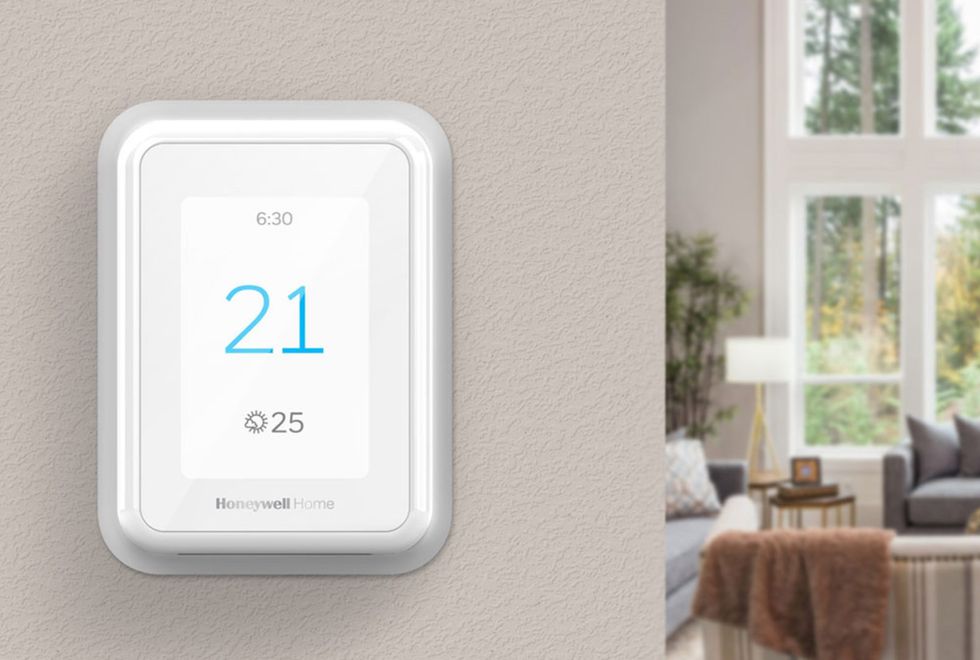 The T9 smart thermostat by Honeywell
Honeywell
A great option for those already invested in the Honeywell Home or Lyric smart home ecosystems, the T9 is a smart thermostat that comes with a room temperature sensor and can be connected to up to 20 in total. This helps to heat or cool your home, and the rooms you are actually using, more precisely in a bid to keep you comfortable and save money on your energy bills.
GearBrain reviewed the T9 in late-2019 and praised its robust smart home integrations (Alexa and Google Assistant recognize the thermostat and every sensor), and inclusion of the all-important C-wire adapter.
Honeywell T9 WIFI Smart Thermostat + 3pk Honeywell Home Smart Room Sensor (works with Alexa and Google Assist)
How to Install Nest Smart Thermostat www.youtube.com