Like GearBrain on Facebook
Google's redesigned Nest Audio is a new look — and a new name — for its core smart home speaker. Now the audio device carries the Nest name, and much more organic look, with the promise of better sound, because after all, Google Assistant now lives in many more devices since Google launched its first Google Home in 2016. What customers are more keenly interested in is whether the new speaker is actually a better speaker not just for hearing the voice assistant, but for listening to music, phone calls and more.
After a few days of playing with the $99 Nest Audio, and playing content on the Nest Audio, here's our take.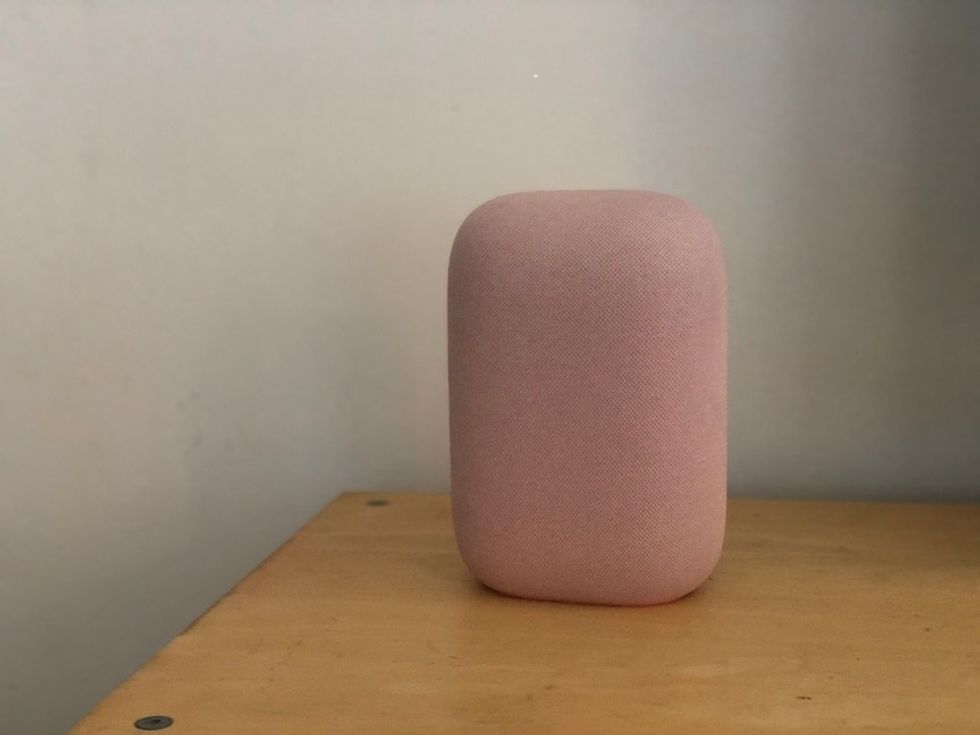 Nest Audio has a modern organic look that's going to fit easily, design-wise, into most homesGearBrain
Design

You could say the shape is the size of an oversized Chiclet piece of gum, and that may sound unpalatable. But the rounded rectangular shape of the Nest Audio is instinctively pleasing, with an extremely organic look in its shape and size. Google has really specialized at this design, creating almost the de facto expectation for home devices. I liked the look immediately.
The fabric is the Google standard, an open-weave that's texturized — helpful in maintaining a grip on the Nest Audio when you move it about because, honestly, it's heavy. But Google says it also tested hundreds of different fabrics to ensure the sound would not be negatively impacted by the covering, which encircles the entirety of the new Nest Audio.
That fabric, though, picks up on dirt almost immediately as I discovered while moving the device and testing it in different rooms. I cleaned it fairly easy, using a damp cloth and wiping the areas. Made of 70 percent recycled plastic, a move Google says it started last year when releasing the Nest Mini, the material may be better able to handle some spot cleaning. That said, I might not leave this on a kitchen counter — or near where you plan on doing a lot of cooking.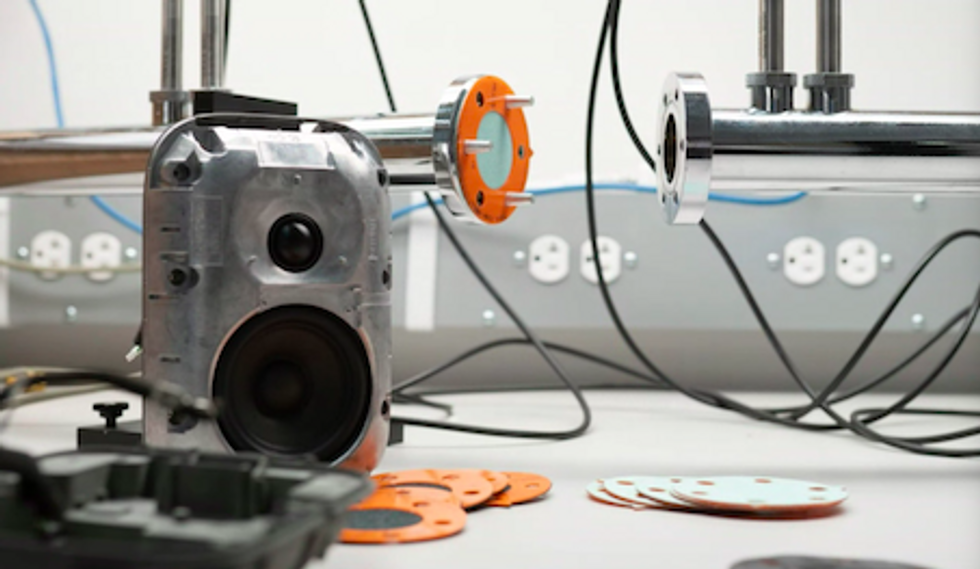 Google put the tested the Nest Audio through temperature and sound tests to optimize the audio coming from the new speakerGoogle
Voice and touch control

Nest Audio, of course, integrates into the Google Home app. And setting it up took less than 90 seconds — 78 seconds to be precise. Yes, I measured it. But you can also, of course, run the speaker through touch.
There are three sensitive points along the top and upper sides of the speaker. Touch on the left top front to decrease the volume, and the upper right front to increase the volume. At the top center, you can touch to play and pause content, if you're answering a phone call, for example, or answering the door. The touch points are very sensitive, you won't need to press firmly, just touching them will activate the volume, play and pause functions immediately. Nest Audio will also respond, playing a single tone when you decrease the volume, and two tones when you increase.
Google, of course, also has voice control through its Google Assistant. This voice assistant is very sophisticated, one of the major three including Amazon Alexa and Apple's Siri. Over the year's Google Assistant has grown more sophisticated, able to handle natural language more easily — and keenly, able to continue conversations, even after a pause and it answers a question and goes silent.

I tested that, continuing on a question about the weather in New York City, asking in my second question whether I needed an umbrella and then asking in our third exchange if I'll need one at all that week. The key is I didn't mention the second or third time that I was talking about New York City, Google Assistant just understood. That kind of natural exchange, of course, makes you more likely to speak and use the voice assistant. Which is Google's gain as well.
I tried this by asking it to play some music. Certain features, like requesting specific songs, are only available with premium upgrades — of which Google reminded me. But when I asked Google then to play something more upbeat, it actually suggested I try a station, that is more "upbeat," it said to me. That's pretty great in terms of context and understanding what I meant. And frankly it sent me to a random, French, hip hop channel that was excellent, but I could not find again. (Help anyone?)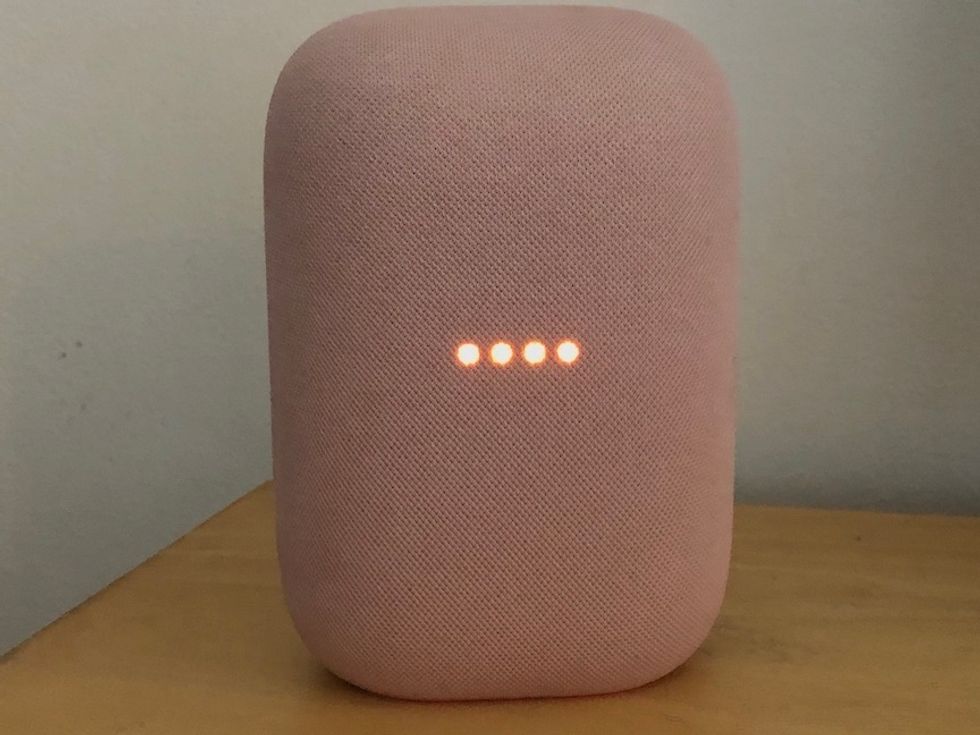 Four lights to show that Google Assistant is listening, talking or muted are right on the front of the Nest AudioGearBrain
Ambient IQ

A new key feature with Nest Audio is something called Ambient IQ, which adapts the equalizer and volume of the speaker to the noise around it, making it easier for you to hear it when speaking. The feature actually quietly rolled out to Google devices earlier this year, but Nest Audio is designed to make use of it as well.
I tested this in a number of situations, and found I didn't always hear the shift in sound. Once, when I had a robot vacuum running, I actually had to ask Google to turn up its own volume, which is naturally did. But my having to ask is something Ambient IQ is supposed to prevent.
I then placed the Nest Audio next to a TV playing sports highlights, quite loudly, where I asked it about the weather. What was clear is Google Assistant's ability to hear me, even when I asked the third question in a normal speaking voice about 8-feet away from the speaker. I also could hear the speaker very clearly even through the noise, and I could audibly hear that the speaker was louder.
Note that Ambient IQ will not, naturally, work if you have the microphone turned off as it needs to hear the sounds around it while you're speaking to adjust itself.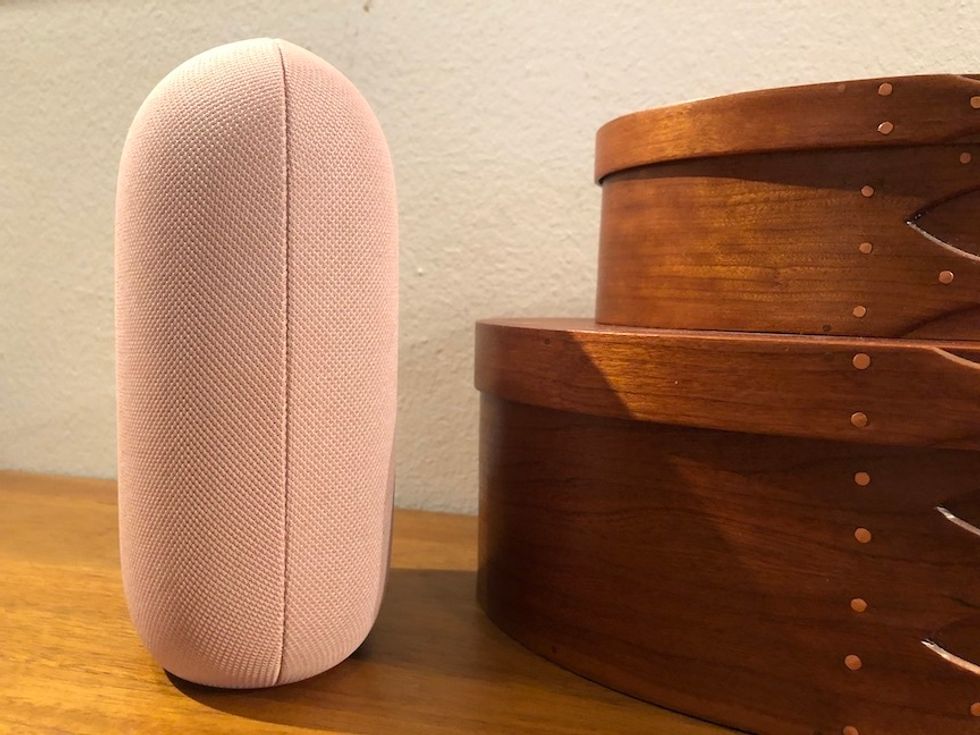 Fabric is wrapped completely around the entire smart speakerGearBrain
Sound quality

The big feature of Nest Audio is Google's attention to sound quality in designing the new speaker. (It's even in the name.) Unlike the original Google Home, the new Nest Audio has 75 mm woofer and a 19 mm tweeter, which Google said is meant to give more frequency range to the speaker. It's also 75 percent louder than the original speaker, and has 50 percent more bass.
Google also said it focused specifically on three areas in terms of sound quality. One, they wanted to make sure sound was full, with a balance between the lows, midpoints and highs. Two, the wanted clear sound without distortion. And three, they wanted the sound to be natural.
I found the sound quality, during my tests, was very clean, and notably round. Speakers can sound muffled, and that didn't happen with the Nest Audio. Music especially had a very rich sound, and filled three rooms where I tested it, quite well. In fact, sound was also notably loud — and you could make it quite loud if you chose, which I did during my tests. (Sorry neighbors.) It also wasn't overly bass-y, and elements in music were also very clear, as well as vocals whether I was listening to hip hop, alternative music or soul.
Would I use it to swap out my Sonos Beam in my living room? Probably not. But I did find the sound quality strong enough to use as a second speaker in the kitchen or even study where I am working — and I did both. Keenly, Nest Audio is certainly an improvement over the Nest Mini and Nest Wifi points which also work as speakers.
I also tried Nest Audio on a variety of surfaces, from a metal cabinet to the top of a wooden bookshelf and on the floor. The metal cabinet placement did give off a bit of timber and rumble, fairly expected from the material. But a wooden shelf, and a formica countertop didn't produce this kind of reverb.
As for sound direction, I did find that despite the rounded shape, I heard more power and volume and brightness coming from the front of the device than the side, and the back as well. From the side, music sounded flatter, with less range.
Truthfully you're unlikely to put any speaker in the center of a room, and more likely to place one near a wall — but you can see how having two speakers, for more stereo quality, would be optimal. Still, sound came out better in the front than the back and sides and that would be something to consider if you're looking to pick this up for your space.
I also tested Google Duo, calling in to the Nest Audio from an iPhone with the Google Duo app installed. The sound was adequate, not excellent. It's not a better choice than calling someone's smartphone. But if you want to make a call to an entire room, or to a home in general, it's a nice feature to have as an option.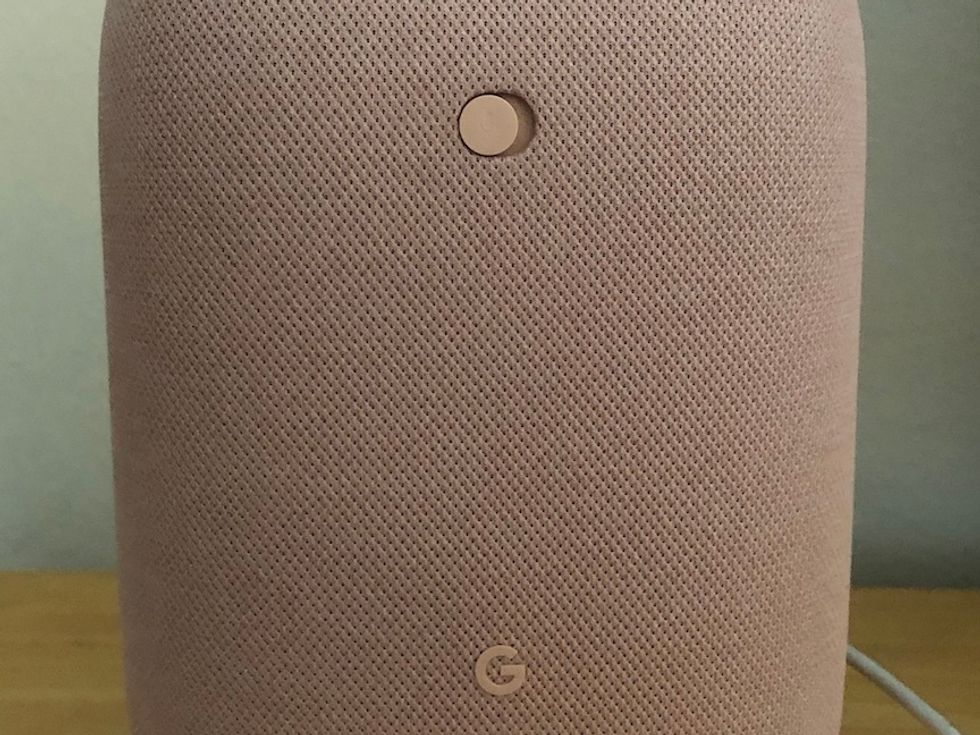 There is only one button on Nest Audio, which is on the back, and turns the microphone off on the speakerGearBrain
Privacy

When Google is listening, talking or when Nest Audio is first connected, four lights will either show steadily on, or blink slowly, right on the front of the device.
As for privacy, you can turn the microphone off from a small physical slide on the back, You'll know when it's working, and not listening, through two key ways. One, a bit of orange will be visible next to the slider, to show the microphone is off — which means it can listen to you. Second, the four front lights will hold a steady orange — and they will remain that way the entire time this mode is active. I tested this over 12 hours, and found the lights never dimmed, and never turned off. Note that periodically, though, Nest Audio, through Google Assistant, will remind you audibly that the microphone is off.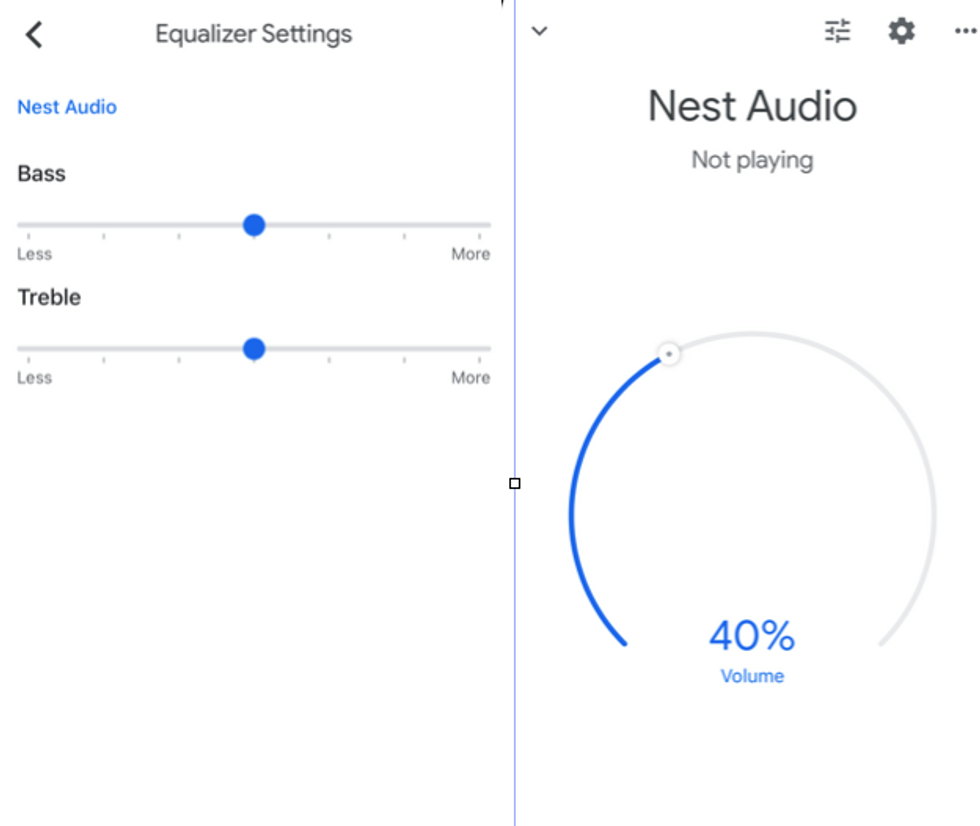 You can control the volume, bass and treble on the Nest Audio through the Google Home appGearBrain
Nest Audio integrates into any Google Home setup you may have in your space. That means you can use Google Assistant to control other connected devices from brands that can link to the Google Home app, such as a Kasa smart plug, or an Ozmo robot vacuum.
You can control Nest Audio, then, via the Google Home app. And you can add the speaker to different groups, meaning you can shift music around your home to different devices, moving from the Nest Audio to another set of speakers. Or you can just add the Nest Audio to start playing something that's already live on another Google device, like a Lenovo Smart Display with Google Assistant, through multi-room audio control.
Nest Audio also supports key Google features including Google Duo, and you can play from a variety of music services from YouTube Music, (owned by Google), Pandora and Spotify.
Price
Nest Audio is priced at just $99.99 for a single speaker, $30 less than the original Google Home when it was first released in 2016 at $129. The speaker is available in Chalk, Charcoal, Sand, Sky (which is a light blue), and a new color, Sage, which is a soft, muted pink.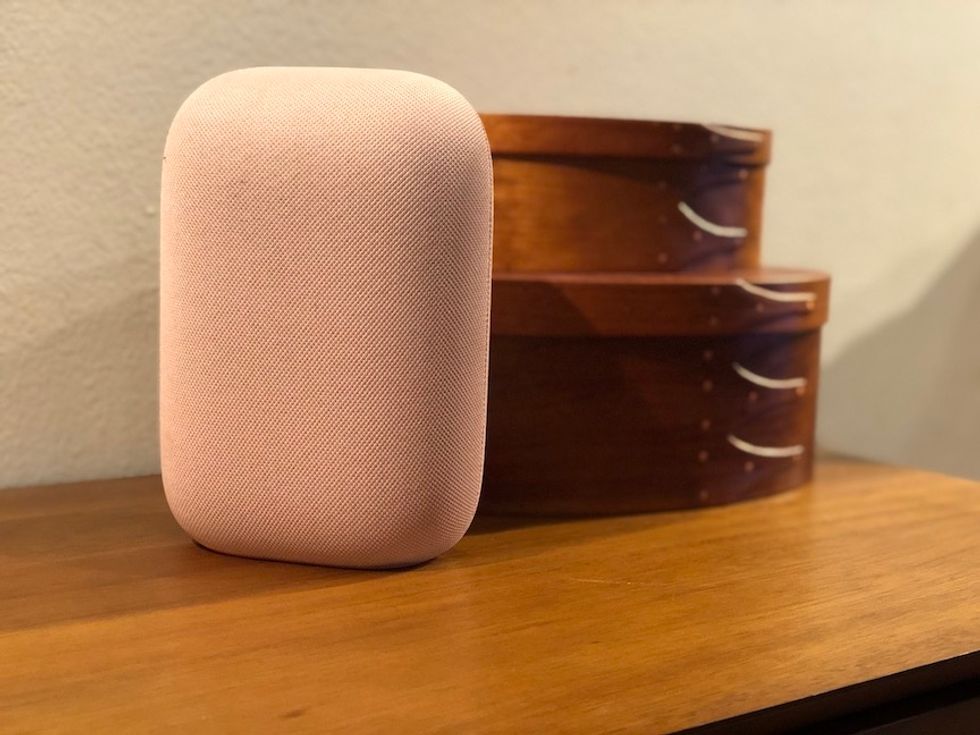 Nest Audio smart speaker in the new Sage color
Summary

Nest Audio is a good upgrade from the original Google Home, a speaker that first introduced people to the idea of having a smart assistant in their space. Now, between their smartphones and displays, smart assistants are fairly ubiquitous in many people's lives. A smart speaker, then, needs to work harder to find footing in a home or apartment. It needs to be able to hear you, it needs to look nice, and it crucially needs to push out the best sound as possible.
I don't think Nest Audio is going to replace someone's top of the line stereo speakers. But it's a solid upgrade to the original Google Home in both design and sound quality. Music sounds full, round and when put in a location where sound is directed forward, quite clean and bright.
For anyone first buying a Google smart speaker, it's an easy decision to pick up a Nest Audio. The size and shape fit well into any space, and the sound quality is a nice addition and perhaps will be a pleasant surprise.
Pros:
Modern, organic shape
Price
Good sound quality
Cons:
Full fabric covering may limit placement in kitchens
Sound quality is notably different on sides than from the front
Introduction of The GearBrain, The First Compatibility Find Engine for Smart Devices www.youtube.com
Like GearBrain on Facebook