Like GearBrain on Facebook
Google has revealed a new model of smart thermostat, simply called the Nest Thermostat. Priced at $129.99 and available in four different colors, it is considerably cheaper than the original $250 Nest Learning Thermostat, and has an all-new design.
Read More:
Instead of the original's rotating metal enclosure, the new model is smaller, simpler and touch-sensitive. Also new is a Soli radar sensor, as used by Google's Pixel 4 smartphone from 2019.
For the new thermostat, the Soli sensor is used to wake the display up when you approach it, and also to help the device understand if anyone is home or not. Motion sensing is combined with location information from your smartphone to work out if you are home or away, then adjust the heating accordingly.
If your phone is across town and the thermostat can't detect any movement, it will enter Eco mode to consume less energy. It had been rumored that the Soli radar technology would also be used to enable motion gestures with the thermostat, but this is not the case.
As with other smart thermostats, the new Nest works automatically to help heat or cool your home as efficiently as possible, but can also be set to follow a schedule, created using the Google Home smartphone app.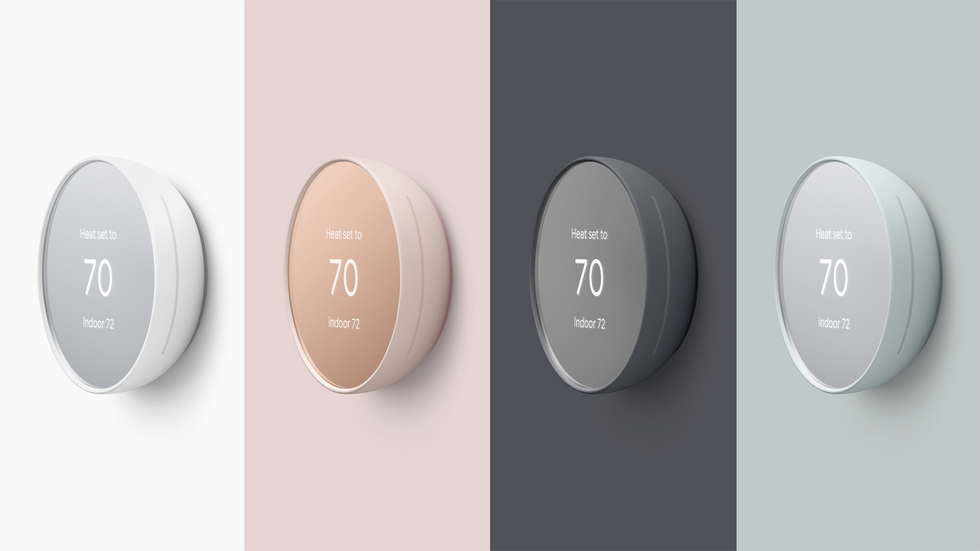 The new thermostat is offered in four colorsGoogle
Different temperatures can be set for any time of any day of the week, and the app will suggest pre-set temperatures in a bid to balance comfort with energy efficiency. The temperature can also be adjusted at any time by swiping at the thermostat, or from the Google Home app. You can also ask the Google Assistant on your Google or Nest smart speaker too.
Google says the new Nest Thermostat can be installed in 30 minutes or less, and does not require professional installation to connect to your home's existing thermostat wiring. To check it will work in your home, Google has a compatibility checker here.
The new Nest Thermostat is available to pre-order now in the U.S. for $129.99 and Google says it will be available in the coming weeks. It is offered in Snow, Charcoal, Sand and Fog color options, and for the first time Google also sells a range of trim kits to help cover any marks or other imperfections left on the wall by your previous thermostat.
How to Install Nest Smart Thermostat www.youtube.com
From Your Site Articles
Related Articles Around the Web
Like GearBrain on Facebook