Seven years on from the launch of the PlayStation 4 and Xbox One, the next generation of video game consoles arrives this week.
Microsoft's two-pronged approach with the Xbox Series X and smaller, cheaper Series S arrives on November 10, followed two days later by Sony's PlayStation 5 and PlayStation 5 Digital Edition on November 12.
Read More:
They are priced from $300 for the Xbox Series S to $500 for the Series X and PS5, with the $400 digital-only PS5, which lacks a disc drive (like the Series S) sitting at $400. But some have already sold for far more due to restricted supply and huge pent-up demand.
A look at eBay today (November 9) shows how pre-ordered PlayStation 5 consoles due to arrive on launch day are selling for over $800. Many others are priced at over $1,000, due to Sony saying there will be no stock in stores across the U.S., UK and beyond on launch day. It's a similar story for the Xbox Series X, with eBay sales passing the $800 mark.
The consoles are launching into a strange world, where the pandemic has caused pursestrings to be tightened, but also ignited a boom in gaming as millions of people spent the year at home. The consoles arrive just as countries like England and France are plunged back into lockdown and, with the weather turning and no options to socialize in person, a shiny new video game console and multiplayer online games will be considered a must-have by many.
Early demand for the PS5 seems to be strongest, but we won't know for sure until the consoles are available through all retail channels, likely by early 2021. Sony won the console war of 2013-2020, notching up just over 112 million sales of its PS4, compared to 52.8 million for the Xbox One. The Nintendo Switch, which is generally considered to be in its own race and not on the same update schedule, has sold an impressive 63 million units since 2017.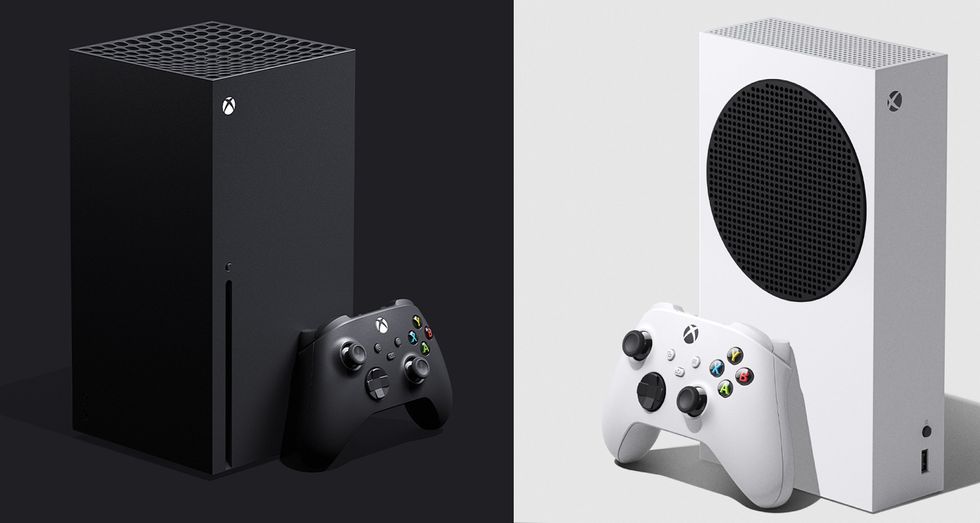 The Series X (left) is priced at $499 and the Series S is $299 Microsoft
What's new?

As ever, better graphics are a big draw with the new consoles. Higher frame rates, 4K resolution and ray-tracing, where shadows and reflections react in real-time, are headline features of both consoles (although the cheaper Xbox Series S has its native gaming resolution capped at 1440p).
But these upgrades aren't offered by all games; instead, some will get 4K and 120 frames per second, but miss out on ray tracing. Others will have 4K and ray tracing, but a 60 fps frame rate. This situation will likely improve as the console generation matures and games made exclusively for the new console arrive in the coming years. But for now almost every game available on the PS5 and Xbox Series X|S is available on the older PS4 and/or Xbox One, too.
Until a raft of new games arrive, speed improvements are a key advantage of the new hardware, with early reviews demonstrating how current games load far quicker on the new consoles, in some cases booting up in half the time. The Xbox Series X|S also benefits from Quick Resume, where games can be switched between in seconds, instantly picking up where the player left off.
A major feature of the PS5 is its all-new DualSense controller, which features smart haptic feedback to make players feel the game in more detail than before. The controller's triggers have also been reinvented to have variable resistance, making games push back against their players fingers, creating a more immersive experience. For us, the DualSense controller is the biggest step-change across both sets of consoles so far.
The Xbox's controller remains the same as before, lacking both of Sony's interesting new features.
Subscription gaming
What Microsoft hopes will lure buyers towards its Xbox Series duo is Game Pass, the $15 monthly subscription service that grants access to a huge catalogue of games. Dubbed as the Netflix for games, Game Pass means no more spending $60 on each title; instead, just pay monthly and have access to them all.
A new top tier of Game Pass also includes the console, making the Series S ($24.99 a month for 24 months) and Series X ($34.99) accessible to gamers who can't afford the high up-front cost of new hardware, but can manage the monthly subscription.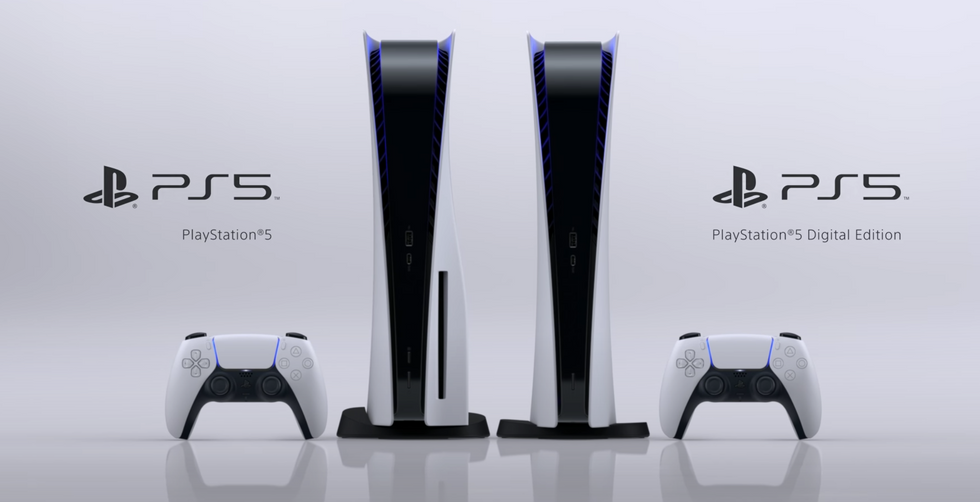 There are two versions of the PlayStation 5 arriving on November 12 Sony
But the catch here is that of an unknown future. Game developers and publishers may decide to remove games from Game Pass, or never include them in the first place. Just as content comes and goes from Netflix and other streaming services, games could come and go from Game Pass. Some gamers will be happy to play a title for a limited time before it potentially disappears, while others will want to pay the $60 to keep it forever, making the monthly subscription less appealing.

While pre-order sales on eBay suggest plenty of demand for the consoles themselves, when it comes to new games it's a different story. With Halo: Infinity being delayed until 2021, the Xbox Series X and S have no exclusive launch day games; instead, buyers will only get to upgrade their current Xbox One catalogue to Series X/S-optimized versions with better graphics. On day one, 30 games will have been optimized for the new Xbox consoles.
It's a similar story with the PlayStation 5, with only Astro's Playroom, Godfall and Spider-Man: Miles Morales being available as new titles on launch day. This is all great news to PS4 and Xbox One owners, who will get to enjoy new games for a long time to come, but means buying a new console at launch essentially means better graphics for games that are also available elsewhere. It won't be until 2021 and 2022 before we start to see a large number of games arrive exclusively for the new consoles.
The curious case of the Xbox Series S and PS5 Digital Edition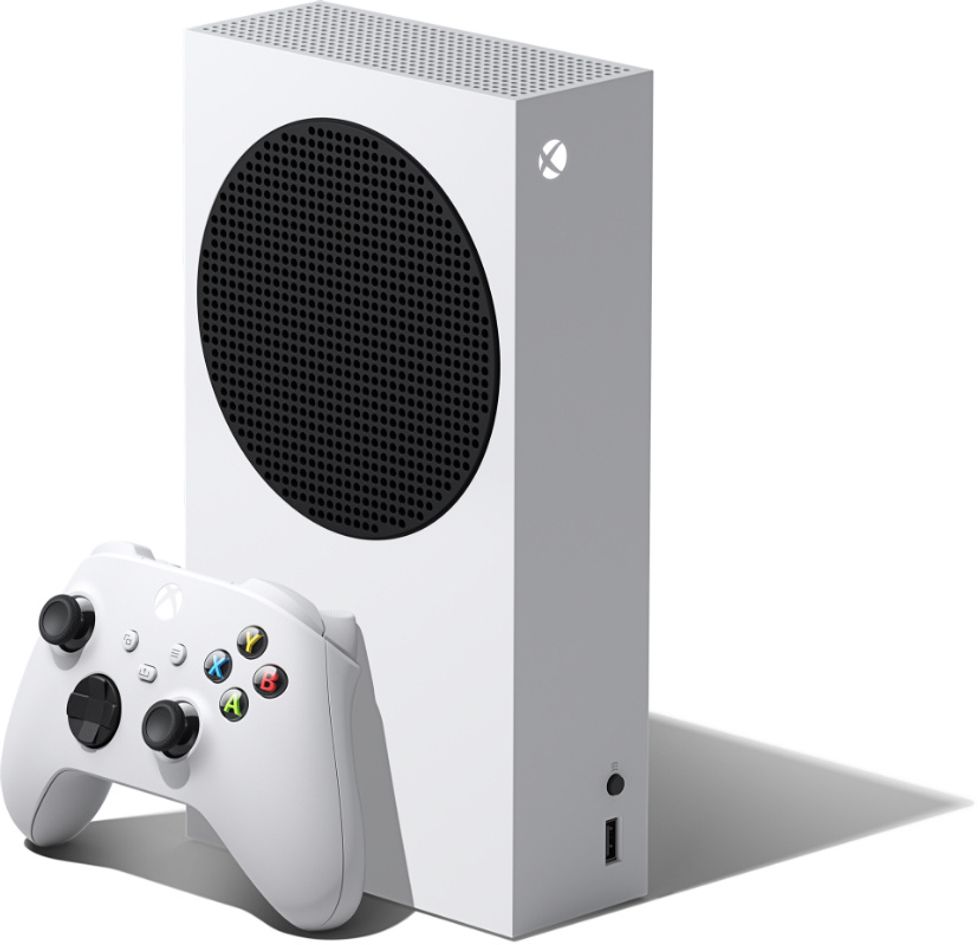 The Series S is available from November 10 Microsoft
Much of what we have said so far refers to the Xbox Series X and PlayStation 5. The Series S, while significantly cheaper, is an intentionally less powerful and less capable (but much smaller) console with no disc drive, meaning all games have to be downloaded.
While also cheaper than its sibling, the PS5 Digital Edition is the same console as the PS5 but also lacks a disc drive.
The Xbox Series S and PS5 Digital Edition are both likely to encounter storage issues later in their life. The latter has to keep games in their entirety on its 825GB of internal storage. With some of today's titles already weighing in at over 100GB, that space will quickly fill up.

Storage is at even more of a premium on the Xbox Series S, which has just 512GB of space, compared to 1TB in the Series X.
Both Xboxes can have their storage expanded by 1TB via the bespoke Seagate Expansion Card, which slots conveniently into the back of the console. But it costs $220, adding 73 percent to the cost of the Series S and taking it up to $520.
Storage aside, the Series S is a much smaller and arguably more attractive console than the Series X, making it easier to fit on a shelf beneath your television. It also has the same user interface, the same controller, works with the same accessories, plays the same games, and offers ray tracing. The S is also compatible with the new 120fps frame rate, but few games offer this for now, and many televisions are limited to 60fps.
The Series S can play video content from apps like Netflix in 4K resolution with HDR, but unlike the Series X its games are rendered at the lesser 1440p (instead of 4K), then upscaled to 4K. This ultimately means picture quality on the Series S won't be quite as good as on the Series X and both versions of PS5.
These limitations make the Series S a good option for a second TV in your home; perhaps a screen in the bedroom, or a computer monitor in your office, where native 4K gaming and masses of storage isn't needed.
Preparing for the future of gaming
It is likely that this new generation of game consoles will be with us until around 2027. By then, it is widely expected that the majority of games will be streamed, as they are today through new services like Google Stadia and Amazon Luna.
Microsoft is gearing towards this future with Project xCloud, a streaming element of Game Pass. It is increasingly likely that a future incarnation of Game Pass will see all games streamed to consoles for a monthly fee, instead of bought out-right on a disc. Sony is also creating a game streaming service, in the form of PlayStation Now, which offers instant access to titles made for the PS2, PS3 and PS4.
This shift from powerful, expensive consoles playing games from a disc, to streaming for a monthly fee, could make this the last generation of game consoles as we know them.
By bundling all of its services, and even the new consoles themselves, into the Game Pass monthly subscription service, Microsoft's is arguably the more mature business model, already laying the foundations for an exclusively-streamed future paid for monthly. So while Sony was the clear winner with the PS4 outselling the Xbox One two-to-one, the race that starts this week – and, more importantly, the streaming wars set to follow — could swing the other way.
Right now though, both consoles need strong catalogues of truly next-generation games to show us just how good they really are.