Like GearBrain on Facebook
Niantic Labs, the video game developer best known for creating the hugely popular Pokemon Go app, has teased what looks like a pair of augmented reality glasses.
Pokemon Go is a smartphone game that was played by millions the world over when it launched back in 2016. Although augmented reality wasn't a primary focus of the game, it leveraged the technology to make players feel like they were exploring the real world around them to catch Pokemon with the app and their phone camera.
Read More:
In 2017, Niantic founder and CEO John Hanke said how the potential for augmented reality is "immense" and that "AR will make a thousand things we do on our phones significantly better."
Now, Hanke tweeted on March 29 saying: "Exciting to see the progress we're making to enable new kinds of devices that leverage our platform…" and included a close-up image of what appears to be a pair of AR glasses carrying Ninantic branding.
It isn't clear if the device is closer to the slim Google Glass school of AR, or is taking the technology in the bulkier and more powerful Microsoft HoloLens direction. Hanke said nothing more about the device.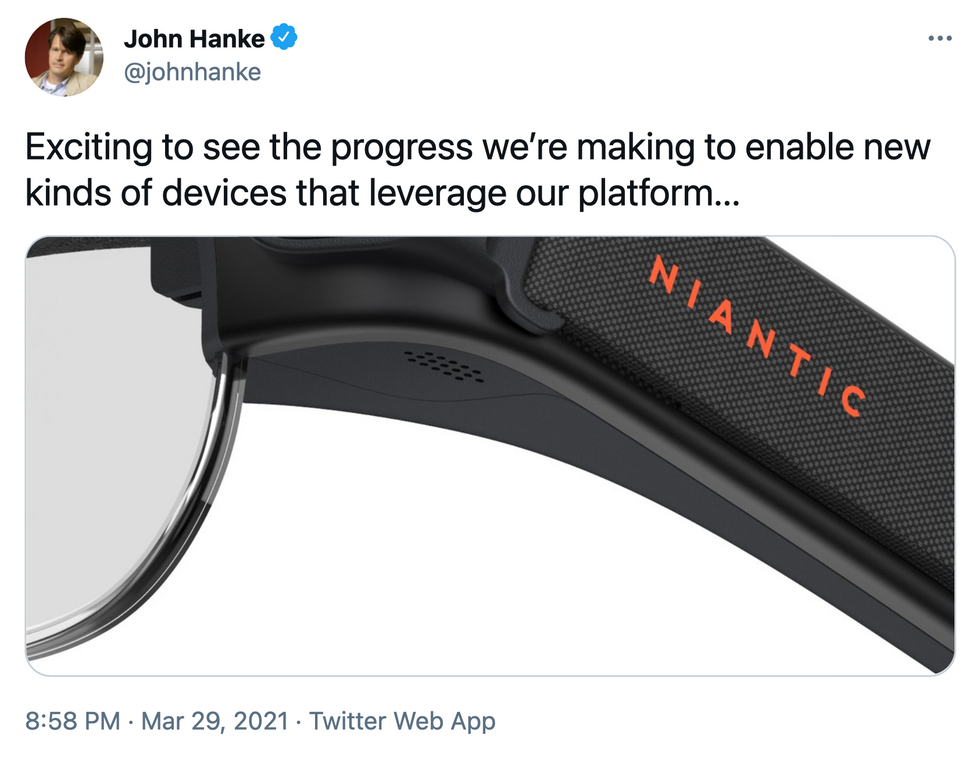 Teaser image tweeted by Niantic boss John HankeTwitter / John Hanke
What we can see is the arm of a device to be worn on the face, a grille that looks to be for a speaker, and the polished frame of a lens. If we assume the holes of the speaker grille are similar to the size of those on a smartphone, then the device could be quite small, and closer to the Google Glass than the HoloLens.

It isn't clear if the arm hinges or not, or how any augmented interface is projected onto the lens. Indeed, given we can't see a projector it isn't even clear if these use a form of visual or audio AR, the latter being like Amazon's Echo Frames.
This teases contradicts comments made by Niantic chief operations officer Megan Quinn, who told Protocol in July 2020 that Ninantic is "not building our own hardware" and has no plans to do so, despite partnering with Qualcomm on the development of AR reference hardware.
While the image tweeted by Hanke this week could be reference hardware – in other words, a device intended to show other manufacturers what to make for Ninantic software – the design and detail suggests this could be a device intended for sale to the public.
Several manufacturers are working on augmented and virtual reality hardware, with the most high-profile being Apple. The iPhone maker is believed to be preparing a mixed reality headset capable of AR and VR for sale in 2022, followed by a pair of smaller smart AR glasses around 2025.
Vuzix Blade 1.5 Upgraded Smart Glasses for Enterprise Applications
Like GearBrain on Facebook