Like GearBrain on Facebook
Facebook-owned Oculus is about to add wireless PC compatibility to its popular Quest 2 virtual reality headset.
Currently, the self-contained headset can be connected to computers, but only via a Link-compatible USB-C cable. Otherwise, it is intended to be used on its own with no PC, smartphone or game console attached.
Read More:
But connecting to a powerful gaming PC is a way to access higher-quality games with the Quest 2. With the update, which was announced this week and is rolling out soon, users will be able to enjoy games and VR experiences running on their PC, wirelessly through the Quest 2.
The feature is coming with version v28 of the Quest's operating system, which is due to land on headsets in the coming days. Version 28 of Oculus' software is required on both the headset and the PC you are connecting it to.
Oculus says the feature will first arrive in "experimental mode," and the company says it is keen to hear feedback from the first users to try it out. Oculus stresses that the Link cable will "still provide a robust and consistent experience," while those trying Air Link are advised to only do so if they have "a strong and secure Wi-Fi network," and a play space that is within roughly 20 feet of their router. Oculus admits that "not every network and PC setup will be ideal," adding: "We're continuing to improve Air Link's performance and compatibility for different configurations."
How to enable wireless Air Link with Oculus Quest 2
If you think your Wi-Fi network is up to the challenge, and the router is close to where you plan to play VR , here is how to get started with Air Link:
Download and install the Oculus PC app if you haven't already
Make sure it is version v28, which Oculus says is rolling out soon (as of April 14, 2021)
In the Oculus PC app, navigate to Settings –> Beta and enable the Air Link toggle switch
Now put on your Oculus Quest 2 headset and follow these instructions:
Navigate to Settings –> Experimental
Enable Air Link
To go back to using the Link system with a USB-C cable, head into the settings pages of both your PC and Quest to, then click the toggle to disable Air Link.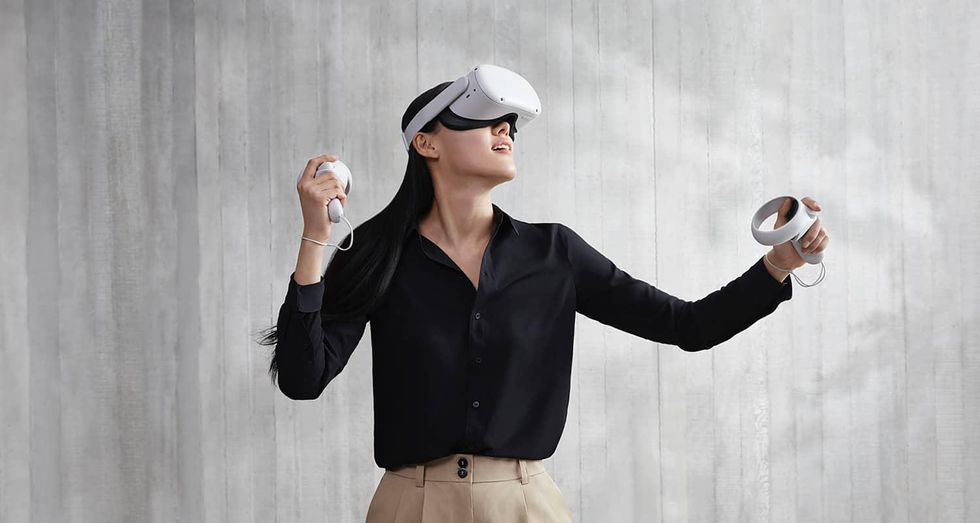 The Quest 2 will soon work wirelessly with PC games Oculus
Oculus asks that Quest 2 owners only use Air Link on a 5GHz network with an AC or AX router (meaning it meets the Wi-Fi 5 or Wi-Fi 6 standards), and with a PC that is connected to the router with an Ethernet cable. We also recommend that readers only try Air Link when no other data-intensive devices are connected to the Wi-Fi; we suspect streaming 4K Netflix to your TV while playing VR games over Air Link might be a struggle for most routers.

Oculus added: "We'll work to improve Air Link over time, including performance, visual quality, and the ability to run in less than ideal wireless scenarios."
The v28 software update also brings a 120Hz refresh rate to the Oculus Quest 2. The headset first launched in 2020 at 72Hz, before being upgraded via a software update to 90Hz, and now it will run content at 120Hz. This should make for a smoother gaming experience, but only once developers have updated their games and VR applications to take advantage of the higher frame rate.
Lastly, the v28 update improves on Oculus' Infinite Office feature. This already allowed for headset wearers to see their real-world Bluetooth computer mouse in VR, and now with the update their keyboard will be visible too, helping to blur the lines between real and virtual worlds. This is another experimental feature for now, and the first keyboard to work with Infinite Office is the Logitech K830.
From Your Site Articles
Related Articles Around the Web
Like GearBrain on Facebook