Like GearBrain on Facebook
UPDATE: Sonos CEO Patrick Spence addressed the issue with a blog post on January 23.
Spence said: "We heard you. We did not get this right from the start. My apologies for that and I wanted to personally assure you of the path forward...While legacy Sonos products won't get new software features, we pledge to keep them updated with bug fixes and security patches for as long as possible."
Spence added: "If we run into something core to the experience that can't be addressed, we'll work to offer an alternative solution and let you know about any changes you'll see in your experience."
He also explained that Sonos is now working on a way to have older and more modern Sonos products coexist in the same home. Spence said the company is finalizing details on this and will "share more in the coming weeks."
Original story:
Connected audio company Sonos has announced that some of its oldest products will no longer receive software updates from May this year. This decision effectively means the devices will gradually lose functionality and will likely one day cease to work properly.
Read More:
First, let us outline exactly which Sonos products will be affected. Starting in May 2020, the original Zone Player, Connect, Connect:Amp, first-generation Play:5, CR200 and Bridge will all stop receiving software updates from the company.
Sonos said it has "now come to a point where some of the oldest products have been stretched to their technical limits in terms of memory and processing power."
This means these devices won't gain any new functionality, but it also means their software will not be kept up to date with updates from third party companies as well — including Spotify and the dozens of other streaming services Sonos products can access.
Sonos One (Gen 2) - Voice Controlled Smart Speaker with Amazon Alexa Built-In - White
"Without new software updates, access to services and overall functionality of your sound system will eventually be disrupted, particularly as partners [like streaming services] evolve their technology," said Sonos.
Although this is unlikely to cause any problems in the short term, it could eventually mean that some functions stop working. For example, if Spotify was to change the way internet-connected speakers like the original Sonos Play:5 access its music library, then the app might cease to function on the older Sonos hardware.
Some of the affected products from Sonos are well over a decade old, with the Connect:Amp launching in 2006 and the first Play:5 arriving in 2009. However, the former remained on sale until 2015. That means, some owners may have been able to use these speakers for just five years before the devices received their last, and final, software update.
As a reminder of just how much has changed since these products first went on sale, Sonos points out in a blog post how its first speakers arrived before the first iPhone and when social media was dominated by MySpace.
Limited life expectancy
But because every Sonos product contains a processor, flash memory and other computer hardware, they have a limited life expectancy, making them more akin to smartphones than regular audio equipment. That said, unlike the circa three year life of most smartphones, Sonos claims 92 percent of all products it has ever sold remain in use today.

However, that will likely be of little consolation to customers who kitted out an entire home with Sonos hardware a decade ago, as the next few years may now bring a downgrade in features, or require them to upgrade to new speakers, which will likely be expensive.
Sonos Beam - Smart TV Sound Bar with Amazon Alexa Built-in - Black
Owners of affected Sonos products now have two options. The first is to continue using their so-called legacy equipment, recognizing that these Sonos devices will no longer receive software updates, and functionality may decrease over time.

Alternatively, they can activate Sonos' controversial Recycle Mode, which wipes their personal information from the legacy hardware and bricks the product so it cannot be used by anyone again. Owners are then asked to either send the deactivated product back to Sonos, or dispose of it at a local e-recycling center.
In return for doing this, customers get a 30 percent discount on new Sonos equipment. For those considering re-investing in new Sonos speakers, this might be a good option. But note: Recycle Mode can only be activated with the legacy products listed earlier in this article.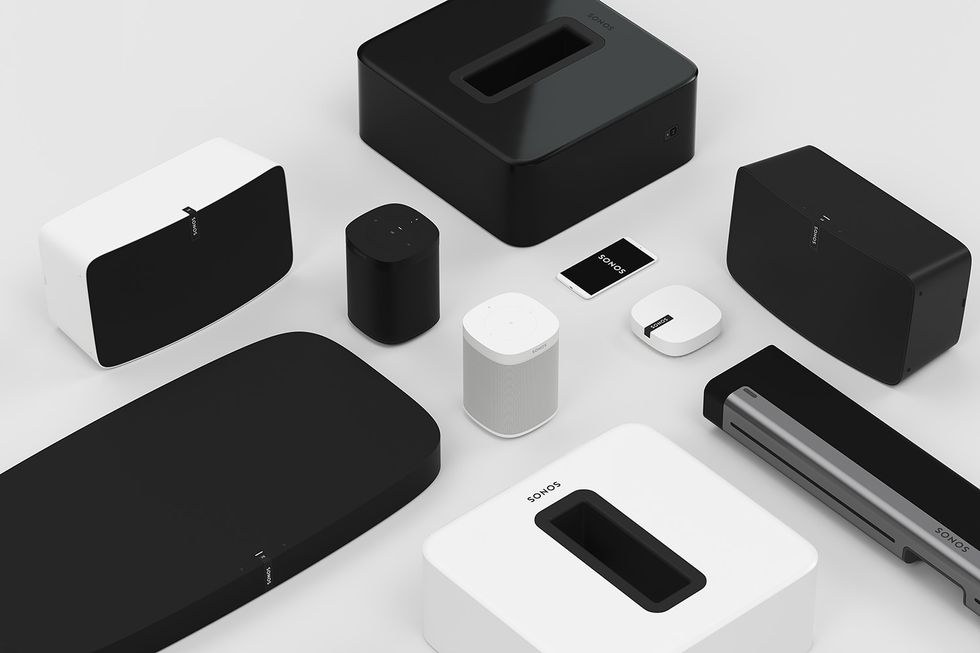 Affected customers have been offered a 30 percent discount on new Sonos productsSonos
Sonos also states this choice is the most environmentally friendly approach to disposing of old hardware, and "protects unsuspecting people from buying legacy products that are approaching the end of their useful life and will not provide the Sonos experience customers expect today."

Smart home 2.0
Sonos finds itself in a difficult situation here. By being a smart home pioneer and giving the humble speaker a previously unheard of degree of intelligence and connectivity, Sonos has exposed itself to what all companies truly do want: the upgrade cycle. But, that also brings, typically, ire from consumers who have invested in the products and don't want to have to buy new devices if they feel their older items work fine, or well enough.
Audio equipment that doesn't require an internet connection, such as typical wired speakers, would still work today. Many do. On the other hand, if Sonos had fitted those earlier devices with more powerful processors and extra flash memory, the prices, then, would have been far higher — and may have deterred buyers and adoption.
We expect that as more smart home brands move to their next phase, we'll see more connected products that are able to work, but won't be supported by a company in terms of updates. For Sonos users, they'll need to see how well they can adjust to losing certain features on older models, or if they're willing to re-invest in the brand and update their speakers.
All-new Sonos One - 2-Room Voice Controlled Smart Speaker with Amazon Alexa Built In (Black)
From Your Site Articles
Related Articles Around the Web
Like GearBrain on Facebook