Like GearBrain on Facebook
If you have been lucky enough to pick up a PlayStation 5 or Xbox Series X game console, you might be in the market for a new projector to make the most of their next-generation graphics.
This week, Optoma has announced a pair of new projectors to do exactly that. Called the UHD35 and UHD38, they can project Ultra HD (also known as 4K) at up to an enormous 300 inches, and can handle the resolution at 60 frames per second.
Read More:
That resolution and frame rate delivers a response time of 16.7ms. But if you are willing to drop the resolution down to 1080p Full HD, both new Optoma projectors can deliver 240 frames per second and a response time of just 4.2ms – perfect for gaming.
There is also the option for 120 frames per second, which is where the current crop of consoles top out, but the projectors can't manage that at Ultra HD, so you'll have to make do with Full HD instead. Their lack of support for 120FPS at Ultra HD is due to the projectors using HDMI2.0 ports instead of the newer 2.1 standard.
Turning down the frame rate even further, there is also a 24fps option for faithfully recreating movies shot in that format and in Full HD.
The only major difference between the two projectors is how the lesser UHD35 has a peak brightness of 3,600 lumens, while the UHD38 manages 4,000 lumens. This is an admittedly small difference, but if you plan to use your projector during the day and don't want to close the blinds, brighter is always better.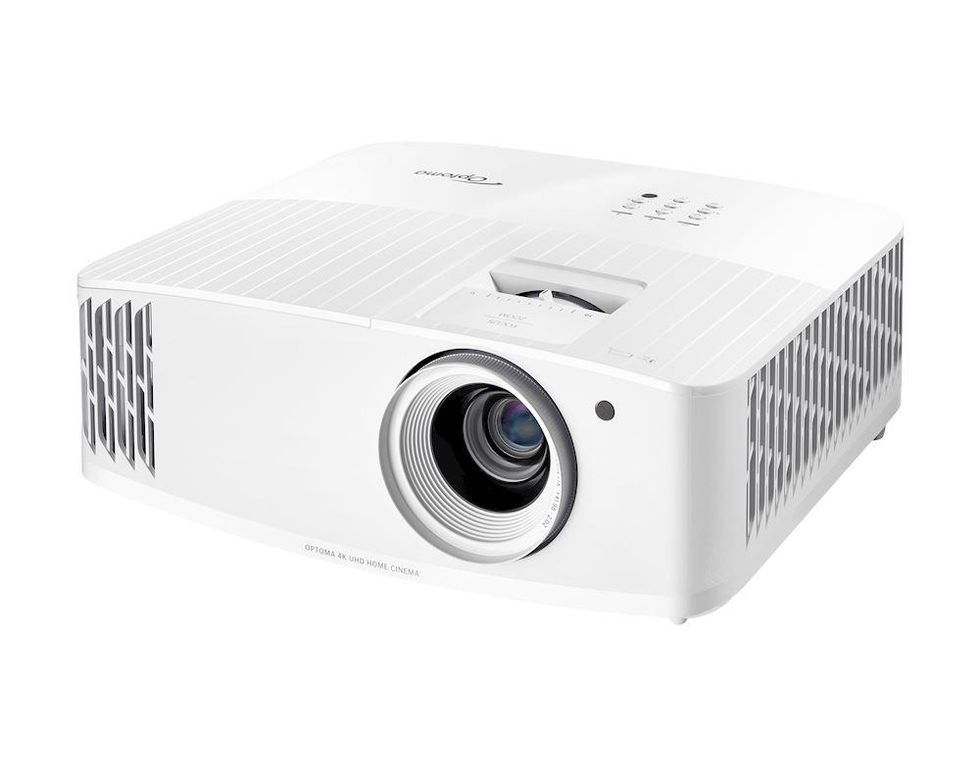 Optoma UHD38 projector is capable of 120 and 240 frames per secondOptoma
Both projectors support HDR10 (High Dynamic Range) and HLG (Hybrid Log Gamma), have a 1,000,000:1 contrast ratio and even support 3D content from most sources, if that's a technology you are still invested in. Sound comes from an integrated 10W speaker, but given the cinema-quality picture on offer, you will want to hook up a high-power sound bar or complete surround system to make the most of your gaming sessions and movie nights.

The projectors have a pair of HDMI inputs, so you can connect a game console as well as a streaming stick or box, a set-top box, a computer or laptop, or an A/V amplifier with all of your devices connected to that instead.
It is worth noting that these are both traditional projectors and need to be placed across the room from the wall or screen you plan to project onto. The larger the image you want, the further away the projector needs to be placed. For example, Optoma's own calculator says a 300-inch image requires the screen and projector to be 32.5 feet apart. A 100-inch picture requires a more reasonable 11 feet, and the projection size can be as small as 33 inches.
Placing a projector in the perfect location can be tricky, so to help out these have both vertical and horizontal keystone correction. This means you can adjust the picture to make it square, even if the projector is sat off to one side or is projecting onto an uneven wall.
Optoma hasn't announce a release date or US price for these projectors just yet, but says the UHD35 and UHD38 will be priced in the UK at £999 and £1,099 respectively, which is $1,370 and $1,500.
Optoma UHD30 True 4K UHD Gaming Projector | 16ms Response Time with Enhanced Gaming Mode | Lowest Input Lag on 4K Projector | 240Hz Refresh Rate | HDR10 & HLG
From Your Site Articles
Related Articles Around the Web
Like GearBrain on Facebook