Despite their impressive 4K displays with HDR, dynamic lighting and more, today's televisions are mostly left lacking in the audio department. This is because a desire for thinner televisions means they have less space to accommodate quality speakers, and those speakers have less air to push around in the super-thin frames of today's best TVs.
Read More:
As a result, the sound bar has quickly shifted from a nice addition for movie buffs, to a must-have for everyone. Prices start below three figures, and extend comfortably past $1,000 for the full home cinema experience.
We've picked our favorites across a range of prices to help you pick the perfect sound bar for your TV.
The best sound bar under $100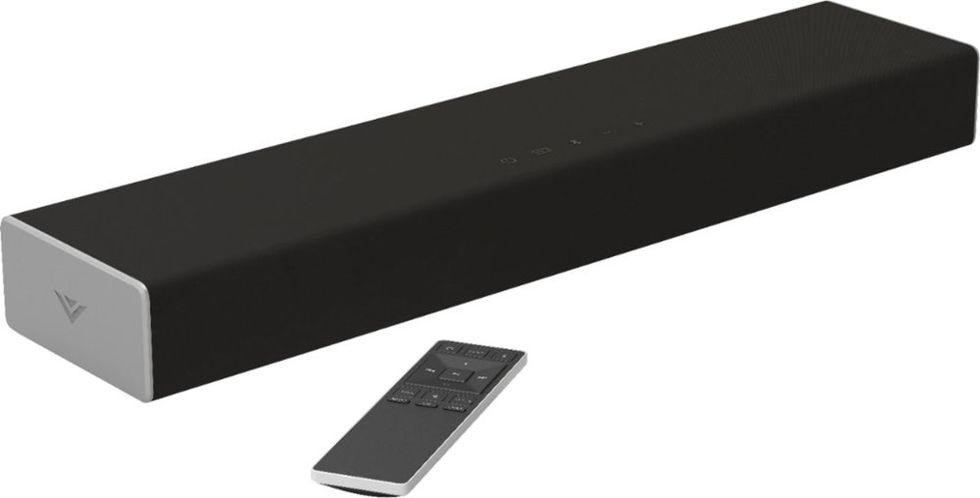 Sound bars like this can be had for just under $100Vizio
Options below $100 are fairly limited, but look out for sound bars from brands like Vizio. The company's SB2020N-G6M is currently available for $90 at Best Buy. It is compact, so will fit neatly in front of small televisions, and has Bluetooth, as well as RCA, 3.5mm and optical inputs for connecting to your TV or streaming device.

This is a sound bar with two channels, which means a separate speaker is used for the left and right sides of audio produced by your TV or other input devices, creating stereo separation.
Roku Streambar – $100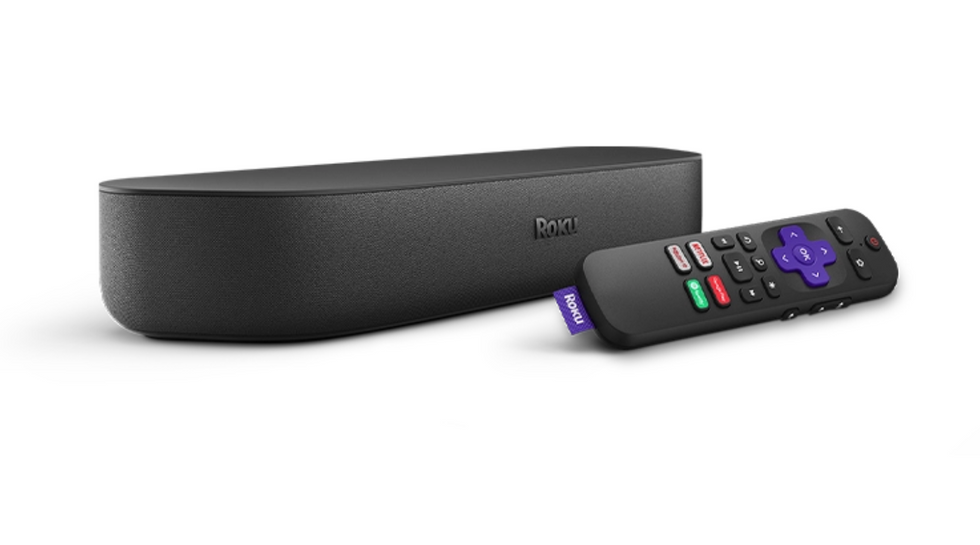 The Roku Streambar is $140 Roku
We'd also like to mention the new Roku Streambar, which is a compact sound bar that connects to your Wi-Fi network and doubles as a Roku movie and TV streamer. It produces surprisingly good sound for such a small device, and works with a huge range of streaming services, including Netflix, Amazon Prime Video, Apple TV+, Disney+, YouTube, Spotify and many more.

We reviews the Streambar earlier in 2020 and recommend it as the perfect bedroom TV sound bar.
If you have a larger budget, Roku also sells the $180 Smart Soundbar, which is the same as the Streambar but is larger to produce even better (and louder) sound.
The Roku Streambar is priced at $100VIZIO 20 inches 2.0 Soundbar System with DTS Virtual:X - SB2020n-G6 (Renewed)
The best sound bars under $200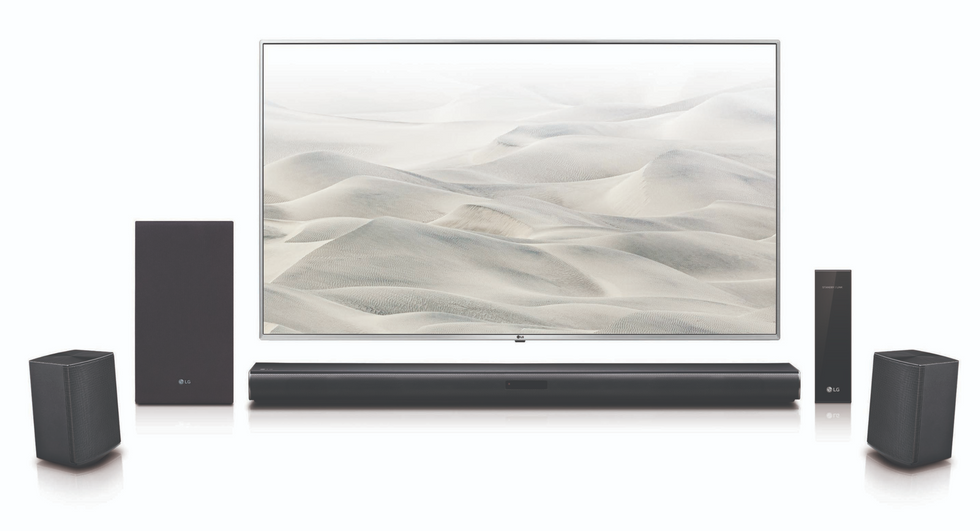 This wireless sound bar from LG offers a lot of practicality for $200LG
Doubling your budget to $200 introduces you to many more options, and some from leading brands like Bose, Samsung and LG.

Paying more money gets you a fuller and louder sound, HDMI inputs for connecting multiple devices like your streaming box and games console, and even a subwoofer or pair of rear speakers to place at the back of your room, creating true surround sound.
Options here include the Bose Solo 5, which is currently discounted to $180 at Best Buy and offers Bluetooth streaming and support for Dolby Digital. The sound bar is connected using an optical audio cable.
Another great option below $200 is the LG SLM4R, which costs $179 at Walmart and includes both a wireless subwoofer and a pair of wireless rear speakers. These still all need connecting to wall outlets, but you won't need to lay speaker cable right through the room.
The sound bar has a generous 420 watts of power, works with the DTS Digital Surround audio standard, and is connected using Bluetooth or an optical cable.
LG LASC58R 4.1 ch Sound Bar Surround System with Wireless Subwoofer
The best sound bar under $400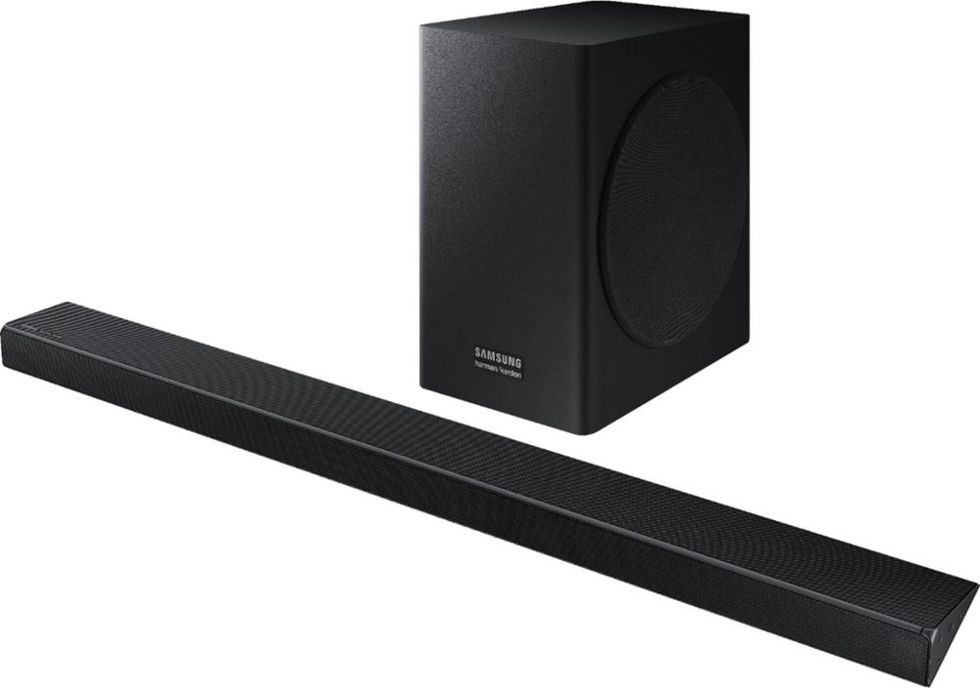 This Samsung uses virtual surround sound instead of rear speakersSamsung
Double your budget again and you can buy yourself a serious sound bar from almost any of the biggest names in the business. A great pick is the Sonos Beam, which is available in black or white and is a surprisingly compact but powerful and feature-packed option.

Priced at $400, the Sonos Beam includes five speakers, each with their own amplifier, and can be controlled by speaking to Amazon Alexa or Google Assistant.
It includes one HDMI port for connecting to your TV, and you can connect the Beam to an existing Sonos speaker system you might already have; this means multi-room music, or you can use a pair of Sonos Ones as rear speakers, creating true surround sound.
If Sonos isn't for you, then try out the Samsung HW-Q60R/ZA. This is a $400 sound bar with a wireless subwoofer, 360W of output power, and what Samsung calls Acoustic Beam. This uses the sound bar alone to create a virtual surround sound, without needing physical speakers at the back of the room.
Sonos Beam - Smart TV Sound Bar with Amazon Alexa Built-in - Black
The best sound bar under $750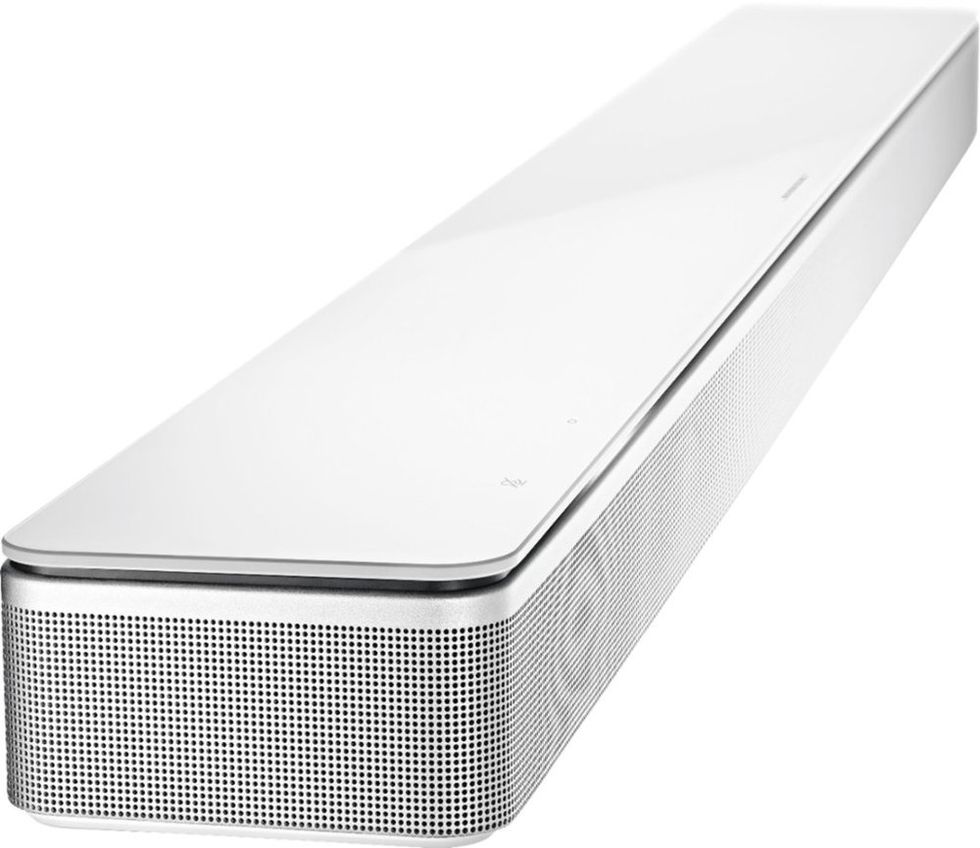 This Bose sound bar is priced at $700Bose
Between $500 and $750, a big consideration to make is whether you want rear speakers, or if you are happy with the virtual surround sound created by a sound bar and a subwoofer on their own.

Upping the budget will also bring extra input options (such as two or more HDMI ports), and other features like Wi-Fi for streaming audio from services like Spotify, as well as support for more advanced sound formats like Dolby Atmos, the current range-topper.
A solid option here - and recently reduced at Amazon from $800 to $579 — is the Samsung Harman Kardon HW-Q70R. This is a sound bar without rear speakers, but creates 3D sound compatible with Dolby Atmos and DTS: X using its seven speakers, two of which fire upwards to bounce sound off the ceiling.
Stretching closer to the $700 limit is the Bose 700, an aptly named sound bar which costs $699, includes Alexa and Google Assistant, is available in black or white, has HDMI connectivity, and support for DTS and Dolby Digital. This is a good option for those who want a compact, all-in-one sound bar from a premium manufacturer.
Samsung Harman Kardon 3.1.2 Dolby Atmos Soundbar HW-Q70R with Wireless Subwoofer, Samsung Acoustic Beam Technology, Adaptive Sound, Game Mode, 4K Pass-Through with HDR, Bluetooth & Alexa Compatible
The best sound bar when money is no option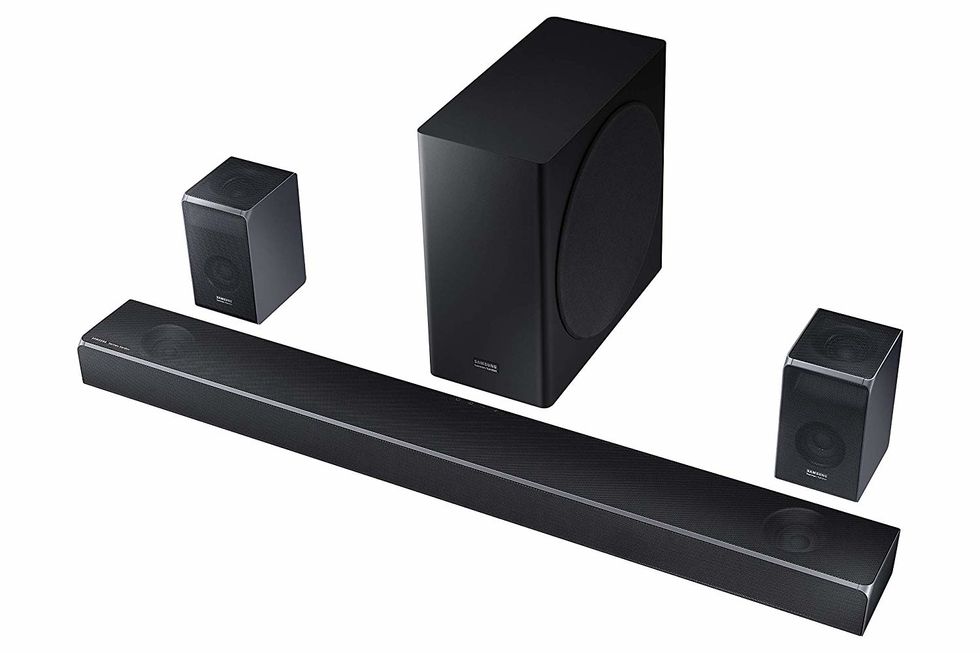 Samsung's flagship sound bar for 2020 is a 7.1.4 setupSamsung
In all honesty, there isn't much need to spend thousands of dollars on a sound bar. If you have a truly limitless budget, you are better off building a home cinema system using separate speakers, subwoofers and an amplifier from the likes of Denon. This option can satisfy even the largest of budgets - we're talking six figures — but can also take up a huge amount of space, especially if you start installing speakers in the walls and ceiling.

Instead, a strong flagship option is the Samsung HW-Q90R, which is a 7.1.4-channel sound bar with wireless rear speakers and subwoofer. What 7.1.4 means is that it has seven speakers pointing at the viewing area, one subwoofer, and four speakers aimed at the ceiling to create three-dimensional sound. This system has 512W of total power, Wi-Fi and Bluetooth connectivity, a pair of HDMI inputs, is Dolby Atmos compatible, and comes with a bracket for mounting on the wall below your TV.
Reduced from $1,700, the Samsung HW-Q90R is currently available at Best Buy for $1,700.
Samsung Harman Kardon 5.1.2 Dolby Atmos Soundbar HW-Q80R with Wireless Subwoofer, Adaptive Sound, Game Mode, 4K Pass-Through with HDR, Bluetooth & Alexa Compatible