Like GearBrain on Facebook
During the recent warm summer nights my thoughts quickly turned to the open-air romance of an outdoor cinema. Sat beneath a blanket, the stars overhead, fresh air all around, and my favorite movie front-and-center. What's not to like? And, because open-air cinemas tend to be overpriced with little in the way of a refund policy if it rains, I decided to build one for myself.
Read More:
Given I already have a small roof terrace with a white painted wall on one side and two sheltered plug sockets on the other, I thought it would be relatively simple to hook up a projector and speakers, give it an internet connection, and there you have it — my own open-air cinema. Here's how that vague plan became a reality.
The projector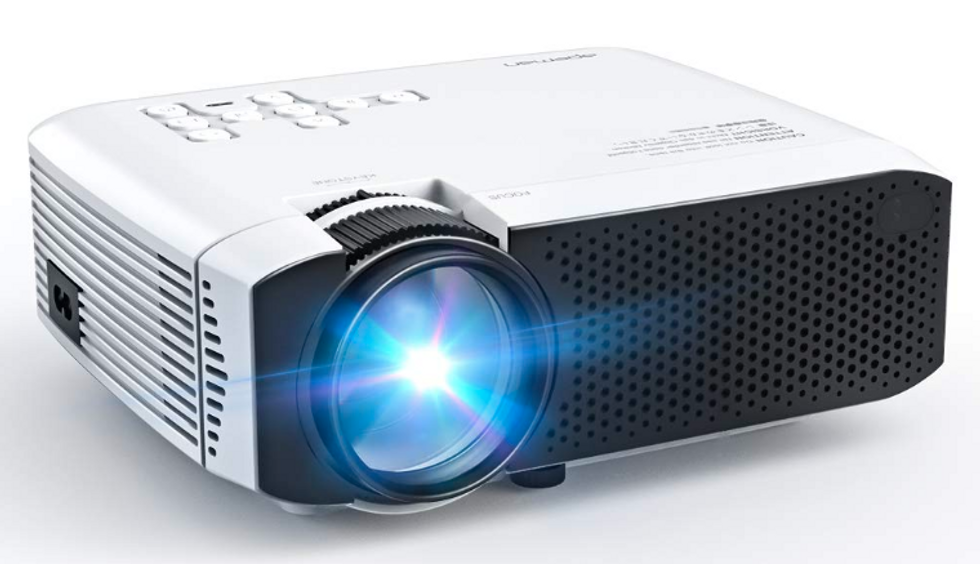 The projector has 1080p HD support and costs just $76Apeman
This plan for DIY movie theater was little more than idle daydreaming, not too far removed from my lottery-win 10-car garage. That is, until I had a quick look at the prices of projectors on Amazon. They are remarkably cheap.

Sure, you can spend $3,000 on an Ultra HD projector with a super-bright bulb and a wide range of connectivity options if you want. But I had no plans to use the projector during the day and didn't mind if it was only HD resolution, as going Ultra HD would have significantly raised the budget.
I found a projector made by Apeman which has a 3,500 lumen LED bulb rated to last 45,000 hours, and support for 1080p Full HD. It also has an HDMI port, a USB socket, dual built-in speakers, and a headphone jack. The specifications stated it could project up to 180 inches across at a 2000:1 contrast ratio. It was priced at just £60 (I'm in the UK; it can be bought for $76 from Amazon.com.)
By all accounts, this seemed too good to be true. But a quick look at the hundreds of customer reviews suggested it really was as good as it claimed to be. At the time of writing, it has a 4.5 star rating from 611 reviews, 79 percent of which award it five stars.
Sure enough, I tried the projector in my bedroom with the lights off one night, and the image beamed onto my window blind was amazing. It looked even better once I had fiddled around with the settings, lowering contrast and brightness to 34 and 40 percent respectively, then upping color to 70 and leaving sharpness at 50.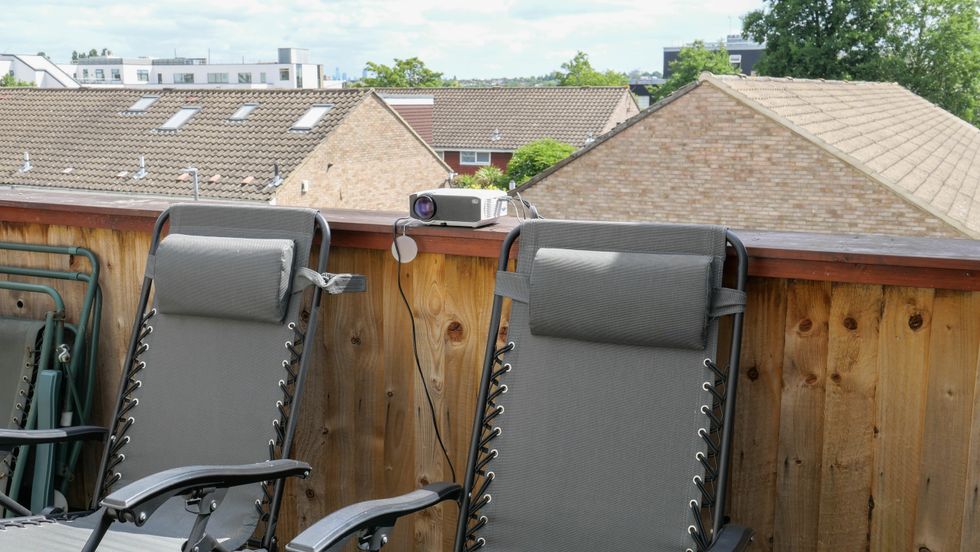 The projector sits neatly between a pair of sun loungersGearBrain
I should also point out that, while the projector 'supports' 1080p Full HD, it actually projects an image which has a resolution of just 800 x 480, not 1920 x 1080. This sounds like a huge difference, and you'd really notice it on a phone or TV screen, but on a projected image a room's length away, it's fine. A little grainy, sure, but not a dealbreaker — especially not for under $80.

Also, I have no plans on using this projector outside during the day. The terrace is far too bright to be able to see a clear picture — a £75 projector ($94) has its limitations, after all. That said, when projected against a blackout blind in my bedroom it works very well, even on a bright day. The only issue here is heat, as the projector kicks out plenty, my bedroom is small, and opening the windows floods the room with light, ruining the picture.
The projector's focus and horizontal angle of projection can be adjusted, and there's a screw-in foot on the front which can be raised or lowered to adjust the height of the projected image. For use in my bedroom, I balance the projector on a pile of boxes and books to get the height and angle just right for projecting onto the window blind; not a graceful solution, but it works and cost me nothing.
The Chromecast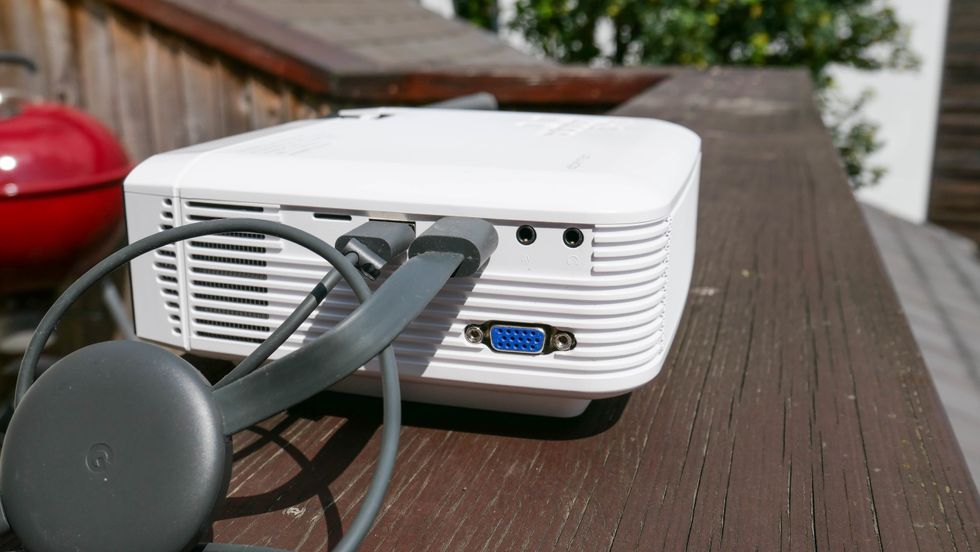 The USB port powers a Google ChromecastGearBrain
The projector has no Wi-Fi connection or 'smart' features of any kind. Instead, you have to feed it media from an HDMI device, or via the USB port and micro SD card slot. Thankfully, a cheap and simple solution here is to plug a $35 Google Chromecast into the HDMI port.

I was pleased to find the projector's USB port delivers enough power to run the Chromecast without needing to plug it into a wall outlet.
Now all I had to do was set up the Chromecast in the usual way, via the Google Home smartphone app. Once set up and connected to my Wi-Fi network, I can pick something to watch on my iPhone then tap the cast icon and send it to the projector. This means Netflix, Amazon Prime Video, YouTube, BBC iPlayer and much more are all accessible in my budget open air movie theater. The projector also came with an infrared remote for adjusting the volume and picture settings, switching input, turning it off and so forth.
Setting up outdoors
This is all I needed to project in my bedroom (providing the lights were off), but I wanted to use the projector outside, too.
Fortunately, the roof terrace of my rented house has a wall partially painted white, opposite two weather-protected power outlets and a balcony edge which is the perfect height to sit the projector on.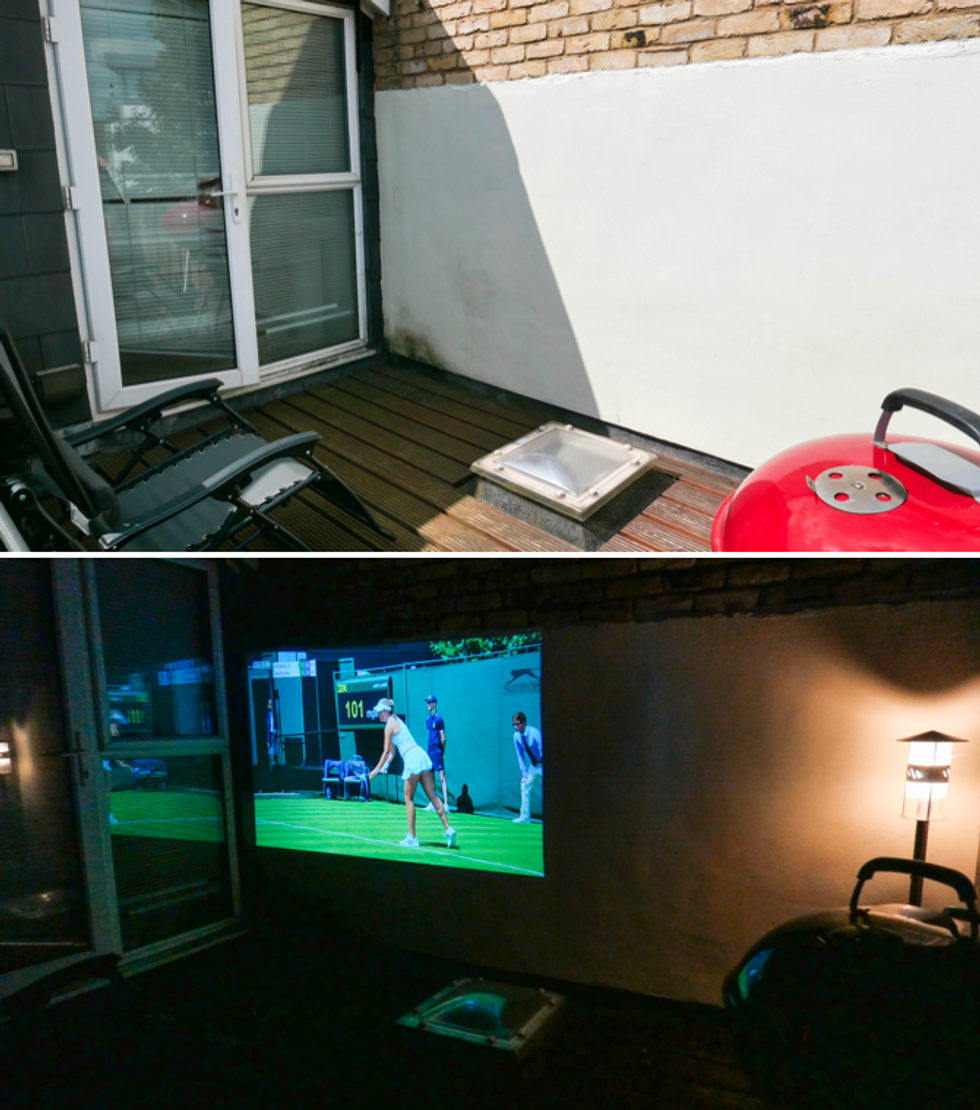 Photos of our outdoor cinema during the day and at nightGearBrain
All I had to do was plug in (along with a set of Bose PC speakers I wasn't using) fiddle with the focus ring to get the image as sharp as possible, then wait for the sun to set, and put a movie on.

For an extra touch, I've installed a Philips Hue smart bulb in a light fitting already on the terrace. This illuminated an area by the barbecue without flooding the projector's picture, which is a nice touch. Of course, I can switch that light off (or dim it and change it any color) with the Hue app on my phone.
If I'd hooked up a laptop to the projector I could also use the Hue Sync app to have the light change color in time with what the projector is showing.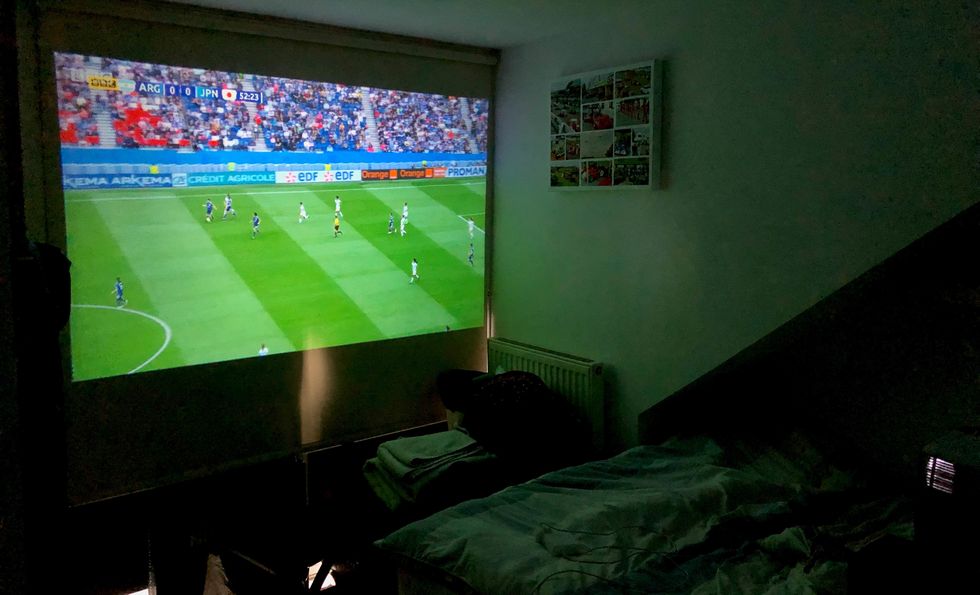 The projector also works well against a bedroom window blindGearBrain
As a side note, I'd also connected the projector to a Wi-Fi mesh network, which has an extender in my bedroom next to the terrace. I have this set up as the router downstairs struggles to reach up there. I could have connected the Chromecast to my phone and used 4G, but that would have used up a lot of my monthly data plan. You can buy home Wi-Fi extenders from around $20 from Amazon.

Finally, I bought a £7 ($9) extension lead from Amazon, as the projector's cable is quite short. That way, I can put it in the middle of the terrace, in-between two reclining chairs. An extra socket in the wall outlet and three on the extension cable mean I can plug in speakers, or a phone charger, games console, popcorn maker (naturally) and anything else visitors to south-west London's latest open-air cinema might want.
I could even plug in a Google Home smart speaker, then speak to the Google Assistant to control the Chromecast, saying something like: "Hey Google, play the next episode of Stranger Things."
Conclusion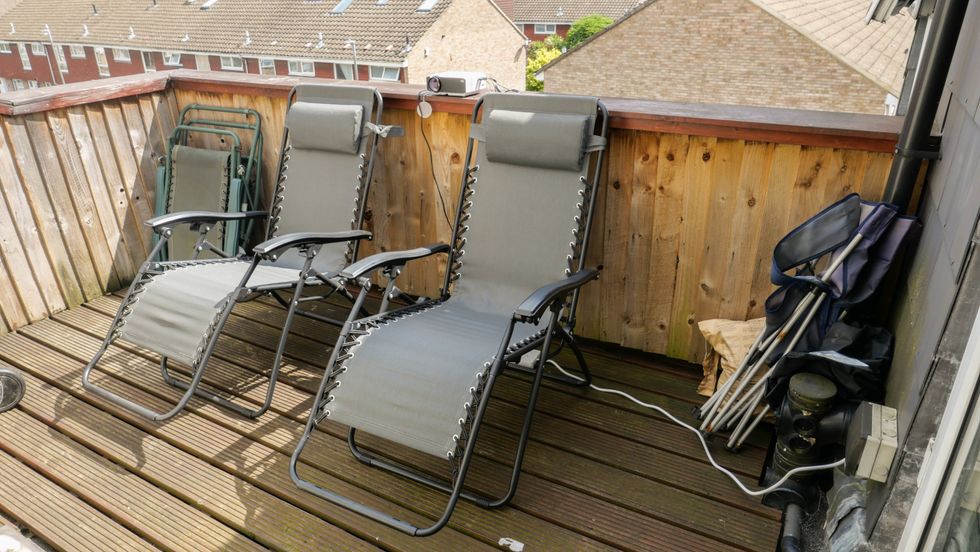 A $10 extension cable gives more options for positioning the projectorGearBrain
I admit, a lot of what made this budget cinema setup possible is to do with the layout of my rented home. The roof terrace is a good size to project across, the edge is the perfect height, and the white painted wall makes for the ideal projection screen. The power sockets also make this possible, along with the Wi-Fi extending mesh network and Hue smart bulb I already had.

But the rest of the setup was remarkably cheap, and comes to $120 once the extension lead and Chromecast are added to the projector. You may also want to add your own speakers, but for general TV viewing I found the projector's own acceptable.
Now to keep my fingers crossed for plenty of dry and mild nights this summer...
Like GearBrain on Facebook