Like GearBrain on Facebook
A 14-inch laptop, the Panasonic Toughbook 55 is considered a semi-rugged PC, IP53 rated, so it can manage desert heat as well as light rain. Basically, this is not designed for philosophy class, but for precipices and packing into a work space like a construction site or police car, a computer that's ideal for locations where you're typically not worried about writing a paper.
Panasonic changed its concept with the Toughbook 55, adding a modular design so that new elements can be added to personalize what someone needs. We're seeing other brands go in this direction as well, including Motorola and its Moto Z line. After spending some time with the laptop, here's how it fared.
FZ-55 Panasonic Toughbook 55 Intel Core i5-8536U, 1.6GHz/4.1GHz, 14.0" FHD Touchscreen, 8GB, 512GB SSD, HDMI, Bluetooth, USB-A x 2, USB-C x 1, LAN, Webcam, Backlit Keyboard, Windows 10 Pro
Designed for the field
The design of the Toughbook 55 begs for a hefty gig. With a second battery, which is extra, you can get 40 hours of juice on the device. And Panasonic says you can drop this laptop from up to 91 cm. We did not test that, but it's about waist high.
The screen has 1,000 nits — amazing for dark environments — and includes night vision options. The laptop can also fold flat back, to a perfect 180 degree angle, ideal for any work environments from school, to the office to fieldwork, a solid feature for sharing visuals you want others to view easily. You can also add other extras aside from the second battery (this is the modular design) from a Blu-ray Drive to a DVD drive, as well as a second Ethernet port and even a fingerprint sensor.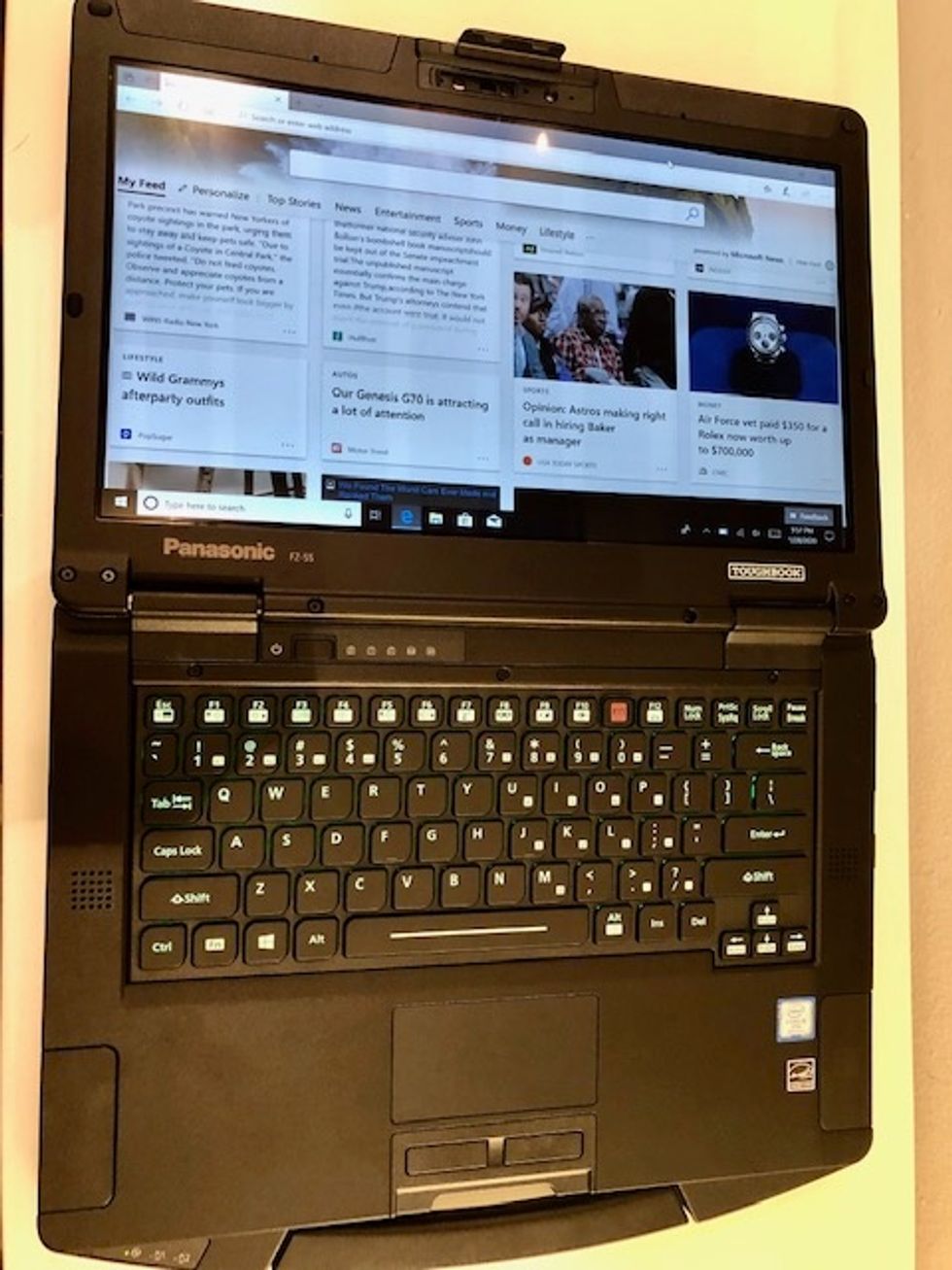 You can fold the Panasonic Toughbook 55 flatGearBrain
You're going to feel the weight of this machine as you carry it around. At 4.9 pounds, I could tell I was carrying a heavier device, with much more heft than my just under 3-pound MacBook Air that itself felt like a brick during CES 2020. You actually don't have to put this in a backpack — there's a handle on the top, briefcase-like and official.

There are also a number of ports on this machine, including a 3.5mm audio jack, (fairly standard), plus a microSD card slot, a USB 3.1 Gen 1 Type-A and USB 3.1 Gen 1 Type-C port, plus one for Ethernet. And they're all covered for protection. (Rugged, remember?) Also, you can use cellular with the Toughbook 55, and not just through a hot spot, but through a SIM card that can be added to the computer.
Along the back, you'll find a nano-SIM slot, another USB 3.1 Gen 1 Type-A and one for HDMI. At the bottom of the machine are panels that can be opened via screws, where you can add more RAM or storage. Here is where you can also access the three expansion bays — where you'll add that extra battery for example or a Blu-Ray drive.
There are speakers on other side of the laptop, and the audio gets up to 92 decibels. For reference, a motorcycle engine running is about 90 to 95 decibels, and your vacuum cleaner is about 70 decibels. That means at its highest setting this machine is loud.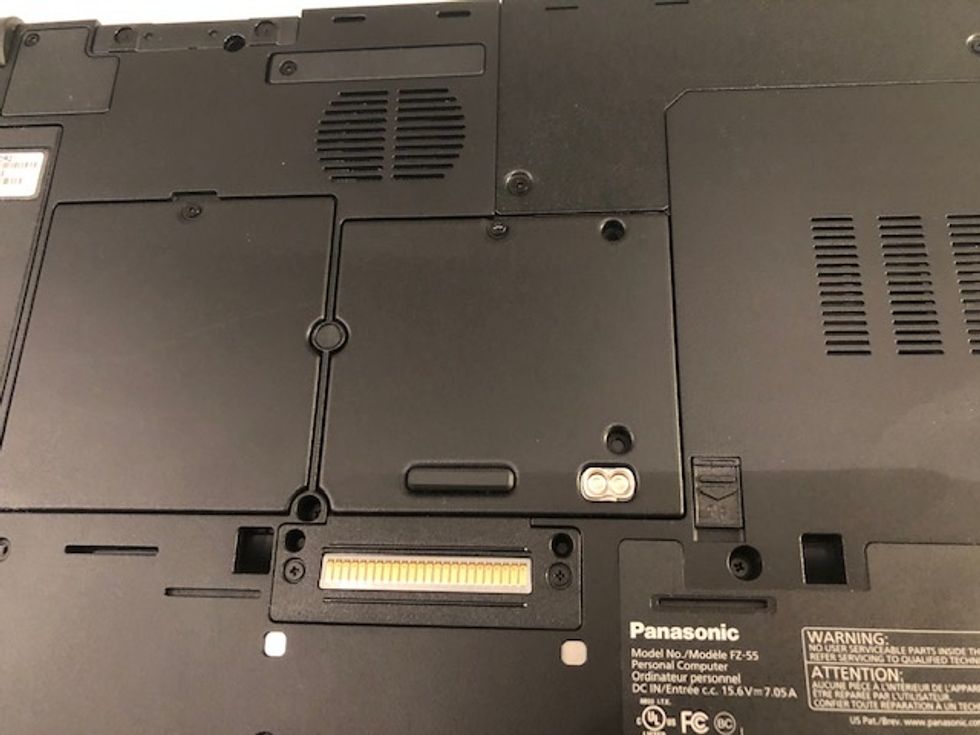 The Panasonic Toughbook 55 can be opened up in the back to add other featuresGearBrain
How to get around the Toughbook 55

The touch pad is not where you click. Instead there are two physical buttons below that, which took a bit of getting used to in terms of moving quickly. But you can adjust. You can also pull up a touch keyboard, and when you hover over icons, like mail or Explorer, and they open. (Our laptop came pre-installed, though, with Microsoft Edge.)
The keyboard also itself has a nice feel. You're pressing the keys down clearly and you feel it.
The Toughbook was a chunky thing to carry. Still, you're not buying this PC because it's beautiful, but because you know it's going to work when needed.
Price
$2,195.
FZ-55 Panasonic Toughbook 55 Intel Core i5-8536U, 1.6GHz/4.1GHz, 14.0" FHD Touchscreen, 8GB, 512GB SSD, HDMI, Bluetooth, USB-A x 2, USB-C x 1, LAN, Webcam, Backlit Keyboard, Windows 10 Pro
Should you buy one?

If you need a computer that can withstand some hearty environments, perhaps you're going on a dig in Italy, or you looking to kit your sheriff's office with machines that can handle some bashing in the car, the Panasonic Toughbook 55 is a solid choice. It's expandable for unique needs — fingerprint sensor, extra batteries and the like. There's a fast, dependable processor, plus night vision settings that allow you to easily turn this into a solid work horse for those on the late shift.
While the IP53 rating is fine, do note that you still don't want this out in a hurricane — and you certainly don't want to spill a can of soda across its keyboard on a plane. We didn't do that to this Panasonic Toughbook, although we have taken out another computer this way.
The price tag is a pause, but we think it's likely justified for what you're getting in terms of construction. For the right buyer, with the right needs, this is a good working machine.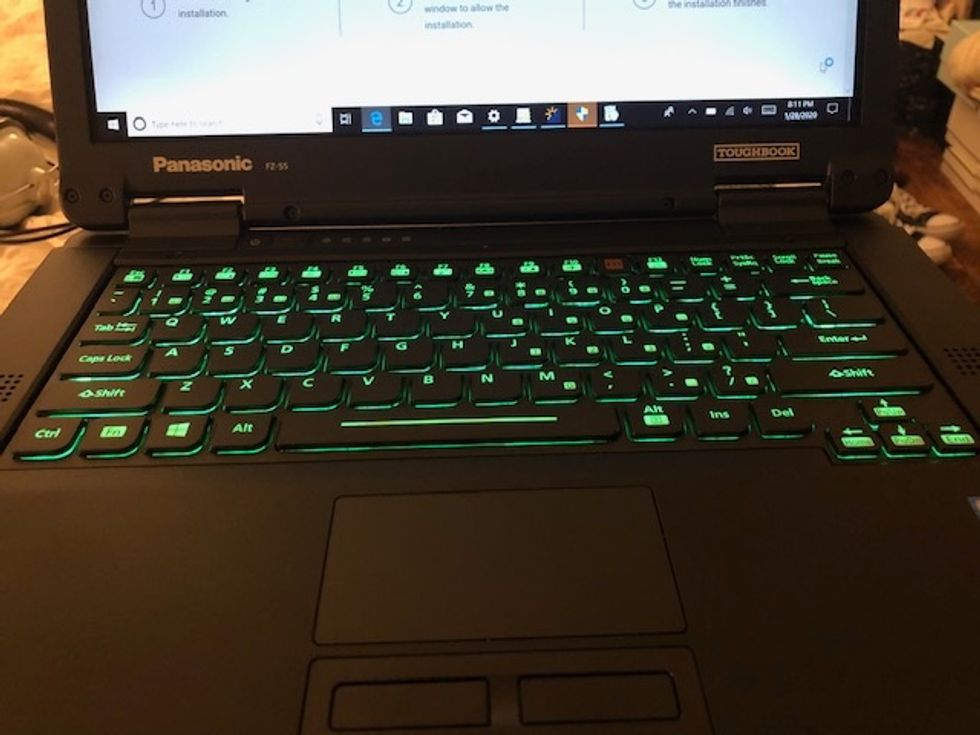 The Panasonic Toughbook 55 has features, including a back lit keyboard, for working at night.GearBrain
Pros:

Can be dropped, handled in a desert and in practically any environment
Can extend battery to up to 40 hours
Modules from Blu-Ray to fingerprint sensors, make this highly customizable
Cons:
Price
Weight
Touch pad that doesn't click
From Your Site Articles
Related Articles Around the Web
Like GearBrain on Facebook