Launching today, the Moto Z4 smartphone is going to be favored by those who spend a lot of time on social media, as well as gamers and content watchers: its 3600 mAh battery means that you don't have to worry about your phone shutting down while building an Instagram story or as your about to drop from the Battle Bus in Fortnite. But it's certainly one of the more expensive Motorola phones.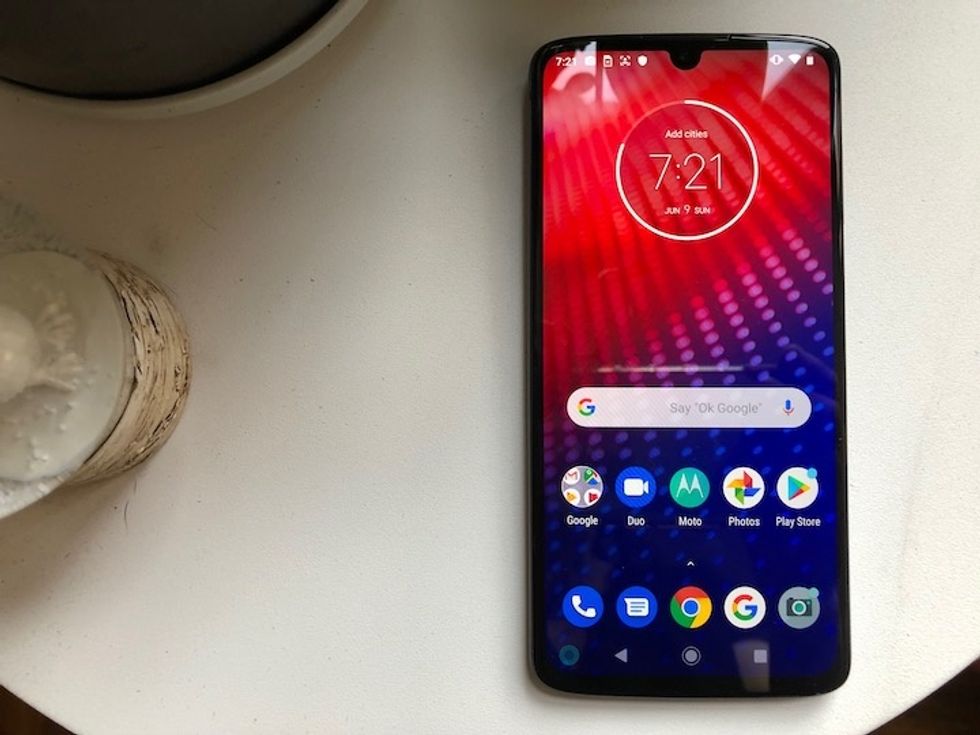 The $499 Moto Z4 ships with Android 9 Pie, and can connect to 5GGearBrain
What you get

Motorola is selling the Moto Z4 for $499.99 — but it's one of the few phones that currently will work on Verizon's 5G network. That's a plus, except you need to live in one of the two cities in the U.S. to date where the network works: Minneapolis and Chicago.
You'll also get a 15W TurboPower charger in the box with a USB-C connector as well, and that's really all you need. The phone charges fast, and it ships with Android 9 Pie pre-installed.
Basics
The Moto Z4 packs a 6.39-inch OLED touchscreen, and the body is encased in aluminum. This is a big phone — and when you add a mod to the back it's going to be thick too. Yes, it'll still slide into the front pocket of your jeans. But it's a hefty device, and just keep that in mind.
At the bottom people are going to be pleased to find that there is a 3.5 mm headphone jack. Motorola has made much of the phrase, "the jack is back," and those who have been frustrated by having to choose between charging or using headphones with their smartphone will like this feature. Wireless headphone adoption aside, it's nice to not have to choose.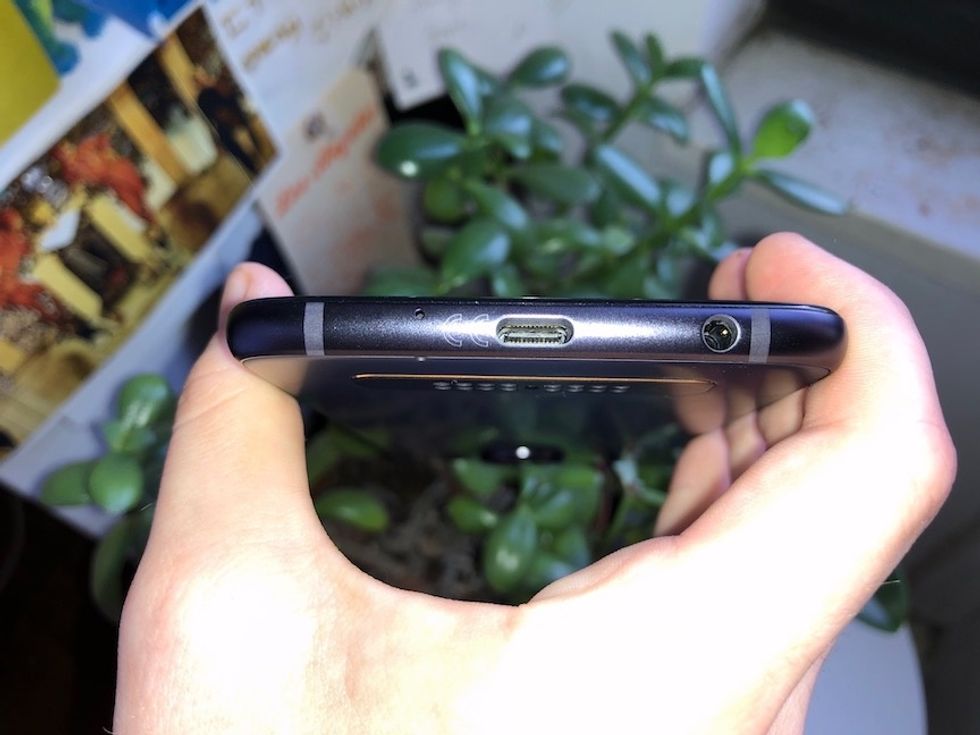 You'll find two ports at the bottom of the Moto Z4 including one for a headphone jack and one for chargingGearBrain
Operating the phone
You can unlock the phone with a fingerprint, facial recognition and also a pin. But Motorola notes that adding what it calls "an incompatible screen protector" may make the fingerprint scanner stop working. Google services are packed in the phone at launch, with the regular options to sync up your Google apps.
The phone honestly does not run out of power. It will, of course, but with the Moto Z4 we did not see a sizable depletion over a full day — and Motorola says it will last two. In Settings, you can get an estimated time when the phone will run out of battery. At 83 percent, I was told the phone should last about another 11 hours — that's a bit less than I expected. But it's pretty solid.
Working on Android 9 Pie, the Moto Z4 is fast. I did note some lag when opening the phone from the locked screen. Touching the lock button, the phone usually told me I had moved away too quickly and need to hold the button longer. In fact I barely needed to touch the screen for the phone to react — it's fast.
This is also an Android phone, so you're likely going to be familiar with the operating system. The Moto Z4 also takes advantage of a number of familiar gestures Motorola calls Moto Actions including two chops to turn the on and off the flashlight and twisting your arm quickly to open the camera.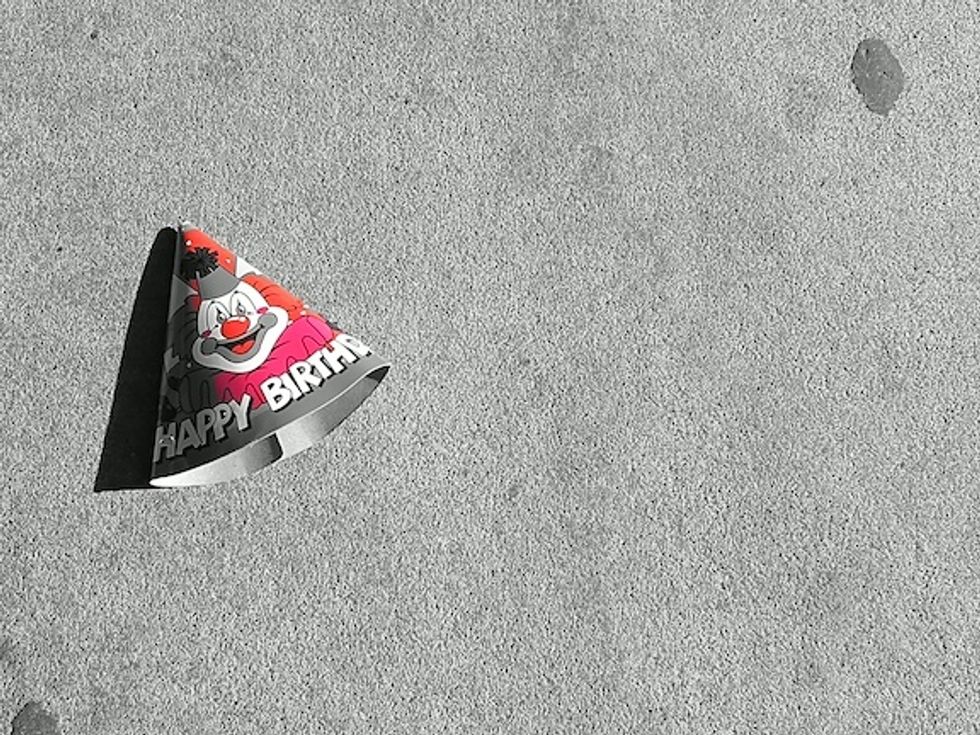 The Color Pop filter, a feature of the Moto Z4 phone, isolates colors and makes them standoutGearBrain
Camera and filters
One reason people turn to Motorola phones is for its features. The Moto Z4 is a camera-heavy phone: fun features, abilities to shoot videos, tons of filters and the Moto Z4 lived up to that. There are five photo modes including portrait, spot color, Cinemagraph, panorama and live filter. You can also pick three video modes including slow motion, time lapse and YouTube Live right from your phone.
Building a GIF took no time at all, and building one in the phone is excellent. That feature works through Cinemagraph, where you can edit the GIF before storing it or uploading it right from the phone.
You have 4GB of RAM, and 128GB of internal storage. With a microSD you can expand storage up to 512GB. That means you can back up a lot of your images, and that's a good thing as if you start creating a lot of GIFs, you're going to eat a lot of your storage fast.
Photos are easy to take, but I did find the quality not as high as more expensive devices like the iPhone XS Max and Pixel 3, particularly in standard mode. Portrait mode also wouldn't lock on a face unless it was human. You may not have a pet, but for those who love snapping shots of their dog and cat, I found that odd.
You can pick up the Moto Z4 with a 360-degree camera mod as well. This is one of the latest camera adds — like the Hasselblad mod — that Motorola offers customers. While 360-degree photos are certainly the rage, this one felt fairly uninspiring. You can zoom in and out, and shift the focus of where you want to center the image. The resulting image is fun, and taps into the virtual reality trend. But there are better 360-degree cameras out there. This is a nice thing to have if you have some interest in VR. We might say it's okay to pass on this one.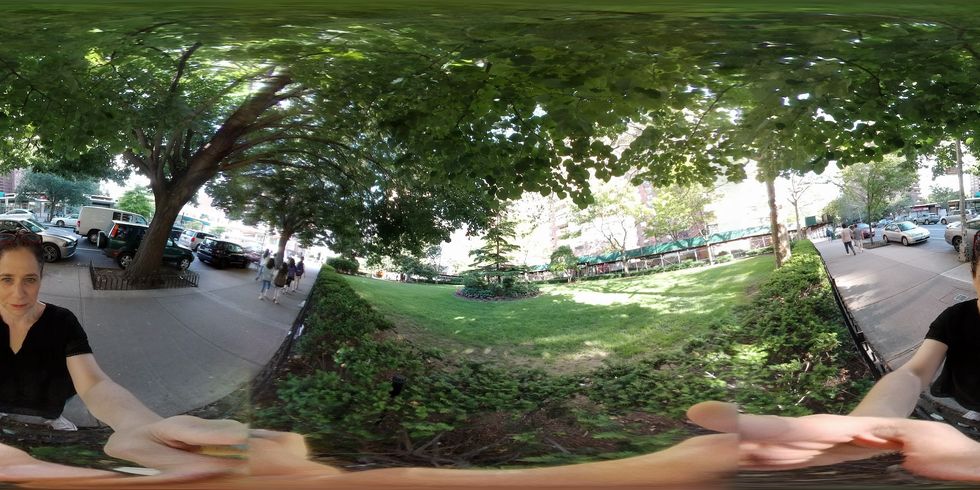 The 360-degree Moto Mod takes instant 360 photos — and quicklyGearBrain
Should you buy it?

For Android users, Motorola offers some of the best deals in smartphones. Priced below $500, you have a device that holds its own in the Google space, and is packed with fun assets including a wide-range of photo and video features.
The Moto Z4 falls neatly in this range, packed with some premium hardware including a large OLED screen, aluminum edging and a two-day battery. As one of the few phones that will work on Verizon's 5G network (with the added 5G mod) it's a standout right now. However, you really need to live where 5G is supported, and currently that's a small range. Verizon says that will expand this year. But the 5G mod is an added expense to the phone. So buying it for this reason? Maybe not right now.
Ultimately, though, this is a nice addition to the Moto Z line. You'll be able to snap on all your older mods, plus add on the 5G or 360 camera as new options.
For budget Android users, this is certainly one to consider. The feel is good, the operating system works smoothly, and the Moto Actions shortcuts are something we wish other phone makers would include as well.
Pros:
One of few phones that works on 5G network
Long two-day battery life
Tons of photo and video features packed inside
Cons:
Price (it's on the expensive side for Motorola, but certainly cheaper than the expensive Android options)
Portrait mode only recognized phones
5G, a big selling point, has limited use for now
Specs:
Operating system: Android 9 Pie
Processor: Qualcomm Snapdragon 675 octa-core processor (up to 2.0 GHz); Adreno 608 GPU
Memory: (RAM) 4GB
Internal storage:128GB
Expandable Storage: Up to 512GB microSD
Security: In-display fingerprint sensor (Note: use of an incompatible screen protector will disrupt fingerprint sensor) face unlock
Sensors: Accelerometer, Magnetometer (compass), Gyro, Proximity, Ambient Light
Certifications: Android Enterprise Recommended
Battery size: Non-removable Li-ion 3600mAh
Battery life: Up to 2 days
Charging: Hours of power in just minutes of charging with TurboPower™
Charger type: 15W TurboPower™ charger included, USB-C connector. Wireless charging available with Moto Mod
Display Size: 6.39"
Display technology: OLED capactive touchscreen
Resolution: Full HD+ (2340 x 1080p)
Aspect Ratio: 19:9 Max Vision
Screen to body ratio: 85%
Display features: 1,000,000 : 1 contrast ratio; VDE blue light hazard safety certification
Dimensions: 75 x 158 x 7.35mm
Weight: 165g
Body: 2.5D Gorilla Glass 3, 6000 series polished aluminum frame
Water Protection: P2i splash-proof nano-coating
Ports: USB 3.1 (Type C) reversible connector, 3.5mm headset jack
Rear Camera Hardware: 48MP sensor with 12MP output using Quad Pixel technology, f/1.7 aperture, 1.6um pixel size, OIS, PDAF, Laser Autofocus. Color Correlated Temperature (CCT) dual LED flash.
Rear camera software: Night Vision, Cinemagraph, Portrait / AI Portrait Lighting, Spot Color, AR stickers, Panorama, Live Filter, Google Lens7
Rear camera video capture: Up to 4K Ultra HD (30 fps) video capture
Rear camera video software: AR stickers, Timelapse / Hyperlapse, Slow Motion, YouTube Live
Front camera video capture: Up to 1080p (30 fps) video capture
Front camera video software: Timelapse / Hyperlapse, Slow Motion, YouTube Live