Panasonic is upending the way it's designed the 22-year-old Toughbook, that can change into different devices depending on customers needs — from a fingerprint reader to a DVD player — with each new feature sliding into the case.
Read more:
Toughbook is the computer best known for being used on the road — by soldiers, police and fire personnel, and those in transportation. The machine needs to be rugged, far from fragile, and support those who need information quickly and are pulling it up in environments that are hardly ideal.
The new Toughbook 55 is slim and lightweight — but more key is its ability to withstand a drop from three feet. (GearBrain is reviewing the computer and will post our findings on it soon, and link to this piece.)
The different mods are easy to slide into placeGearBrain
The machine has an IP53 reading, which means it can hold off rain and dust — but keep in mind we're talking drizzle not a hurricane. Still, there are drains built into the machine designed to get the liquid out. The computer is also backwards compatible, able to work with existing docking station and power cords.

Modular design
It's the modular design, however that really shows off the transformation, with modular pieces that are built for those who need to make changes quickly in the field. Six screws just hold the keyboard in place, for example, which means swapping it for different languages can be done quickly. Rear xPAKs and the one for dedicated graphics also require screws to install them as well.
Modular design is a direction some device makers are taking — most notably Motorola and its Moto line, with modules that can snap on to the back of the smartphone, expanding its features in seconds.
That's also the idea behind the new Toughbook 55. Here, there's a number of xPAKs including a removable fingerprint or card reader, and a battery as well — all of which slide out. Customers can also add an optional DVD or Blu-ray drive, or a second SSD drive.
The computer holds up to 20 hours of battery life — 40 hours with the extra battery — and the machine went from dual core to Intel quad core processors. The Toughbook 55 also comes with up to 64GB of RAM and up to 2 TB of storage.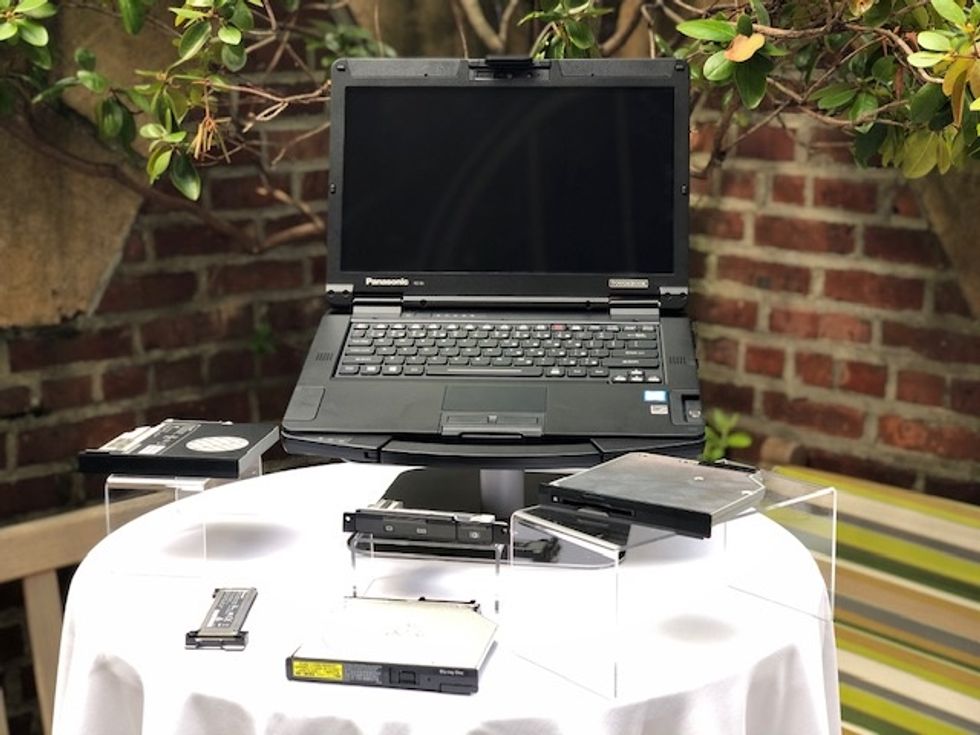 Keyboards, batteries and drives can be added and swapped quicklyGearBrain
Tested in the field

There are four tetra-array microphones, which in a loud environment can help to filter out ambient noise like sirens and sounds from the road. But the 92 decibel speakers will ensure that what's coming off the machine is heard. That feature came straight from police feedback, where officers noted that their environment can be loud, Panasonic told GearBrain.
The company has also been testing the machine across Florida, from Tampa and St. Petersburg to Orlando, putting it into police cars to see how officers interacted.
With Windows 10, the Toughbook 55 can tap into facial recognition tied to the iris scanner on its camera, but privacy proponents will also appreciation the camera slider for privacy. Plus there's a conceal mode, which means that users can darken or black out the screen quickly, without having to press a button multiple times to dim it instead.
The Toughbook 55 goes on sale today, September 9, 2019 for $2099.