Like GearBrain on Facebook
Smart lights are useful in both form and function, as they add ambiance, sophistication, and a high-tech touch to the home, both inside and out. Economically-friendly and fun to use, they're a favorite among the smart home set, replacing the basic bulb with something far more modern. Along with light to lead the way, Philips Hue Outdoor Sensor provides peace of mind, with a built-in alert system that automatically switches on as per your settings, detecting close-by motion. We tried the sensor in our test home, connecting it to Philips Hue own smart lights — and here's how it fared.
What is Philips Hue Outdoor Sensor?
Philips Hue Outdoor Sensor is a weatherproof outdoor motion sensor that works with Philips Hue smart lights, when paired with a Philips Hue bridge. By setting up the sensor to detect action (which you can personalize to your parameters and needs), the device is triggered when it sense something moving nearby. This motion can then turn on your Philips Hue smart lights automatically, if they're both inside and outdoors. The sensor itself is battery operated, black, and measures 76mm in height and width. It weighs 0.145kg and requires a wireless Wi-Fi connection to function properly. (Philips Hue Bridge available on company site.)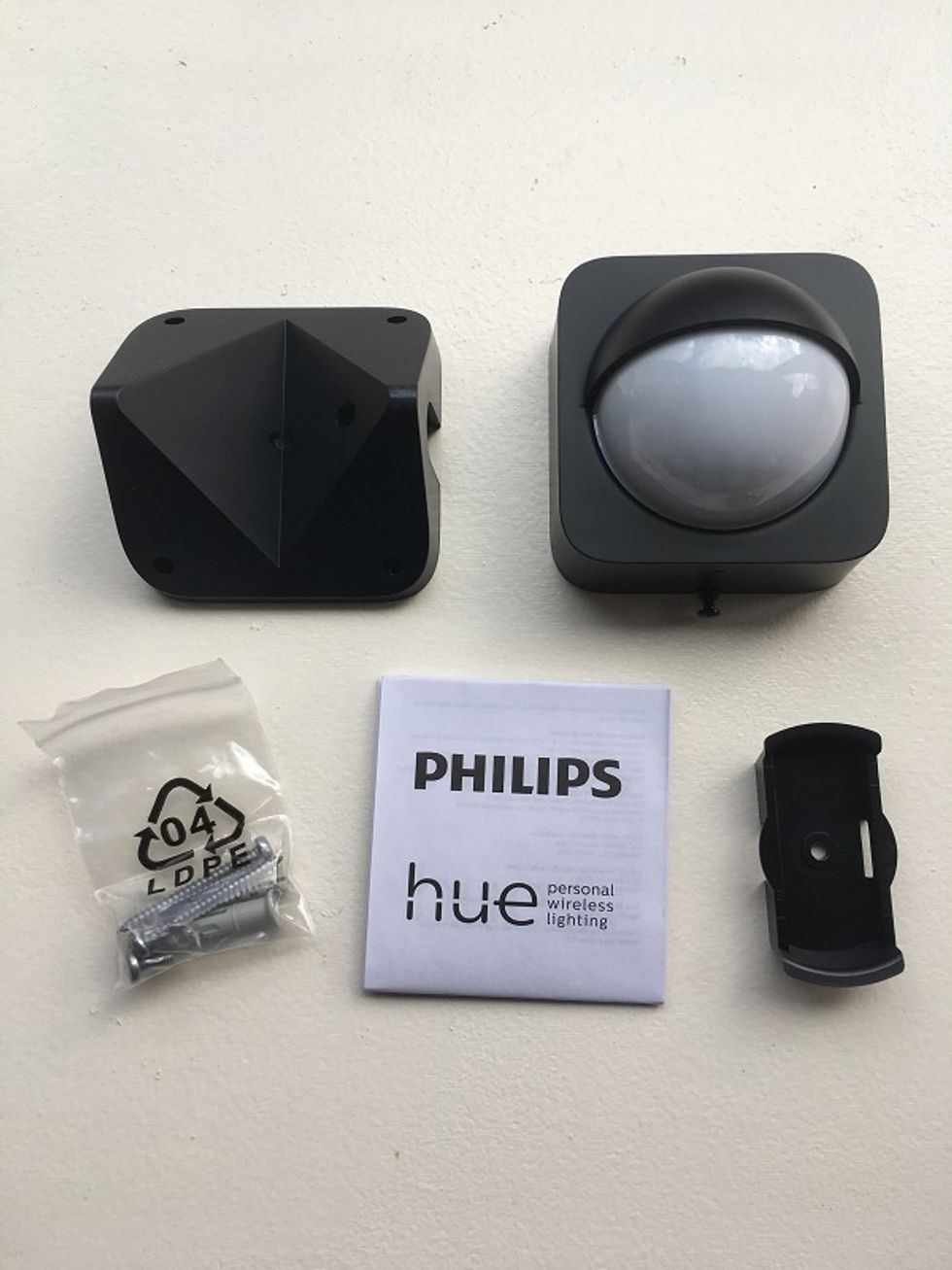 Inside of Philips Hue Outdoor SensorGearBrain
How to install the sensor?

Installation is very easy, and comes with mounting brackets and screws — which make it very convenient to install. First, you'll select a spot outside of your home where you want to monitor if something or someone is moving. Next, download and open the Philips Hue app, go to Settings, and then click to Accessory Setup. Here you will see a list of Philips Hue devices. Select Hue outdoor sensor and follow the easy-to-understand instructions.
Prior to installing the sensor on your home, give it a test run. It would be a shame to mount the device only to learn it's not working properly. Once you're sure everything is in working order, install the outdoor sensor wherever you've decided: on your home, a fence, a post, or wherever you want to add a layer of security on your property.
One tip to keep in mind during setup: Make sure you select the room in the app, that will react to the sensor. For instance, do you want the lights in your Den to turn on if motion is detected your bedroom? Or should the lights go on outside your front door when motion is detected in your drive way. The app is also where you can program what time you want the outdoor sensor to be activated, or whether you only want it to react at night or 24 hours a day.
How to Setup Philips Hue Outdoor Sensor in Hue App
In this slide show, we will walk you through the setup process for your Philips Hue outdoor sensor using the Hue mobile app. We will show you the screens you will interact with during setup. The first place you go to in the Hue app is Settings tab on the lower right side of the app. Click on here to begin "add accessory".
Smart Home Integrations
Philips Hue has a very robust smart home ecosystem. Its devices work with many smart home products on a variety of wireless protocols, such as Z-Wave, Z-Wave Plus, Bluetooth, ZigBee, and Wi-Fi. Its products also integrate well with Google Assistant, Amazon Alexa, and Apple HomeKit (Siri) enabled devices. If you already own any of these types of connected devices, you won't have any trouble connecting to Philips Hue, just make sure you have a Philips Hue bridge so they can speak to each other. (Check out The GearBrain, our smart home compatibility checker to see the other compatible products that work with Philips Hue smart lights.)
How well did this outdoor sensor perform?
Overall, the sensor works as it should. The device is specifically designed to trigger an action when motion is detected outside the home and alerts you accordingly in real time — and it did just that. You can use the sensor to automatically turn on lights outside your home whenever motion is detected, or come on periodically after a pre-set period. The device is also easy to use and install inside your home. For instance, you can use it to turn on the lights in your bedroom or kitchen if motion is detected outside the home, a nice security feature. As an extra touch, you can even set the lights to change color or blink at any signs of motion in the Philips Hue app.
Cost
The cost of the Philips Hue motion sensor is $49.95 and available on Philips Hue site and Amazon.
Summary

This motion sensor is a useful add-on to the already advanced Philips Hue smart lighting system.system. The device makes for a nice security staple— and can even double as a notification system. For example, if you have a pool on your property, and want to know when people are jumping in your pool — at any time of the day — you can set up the motion sensor to turn on lights in the home or make them blink, change blue, or react in any way to alert you. In that same way, the sensor can turn on the lights when you come home or walk into the yard. The various ways you can set the sensor to work makes this a well-designed outdoor motion detector.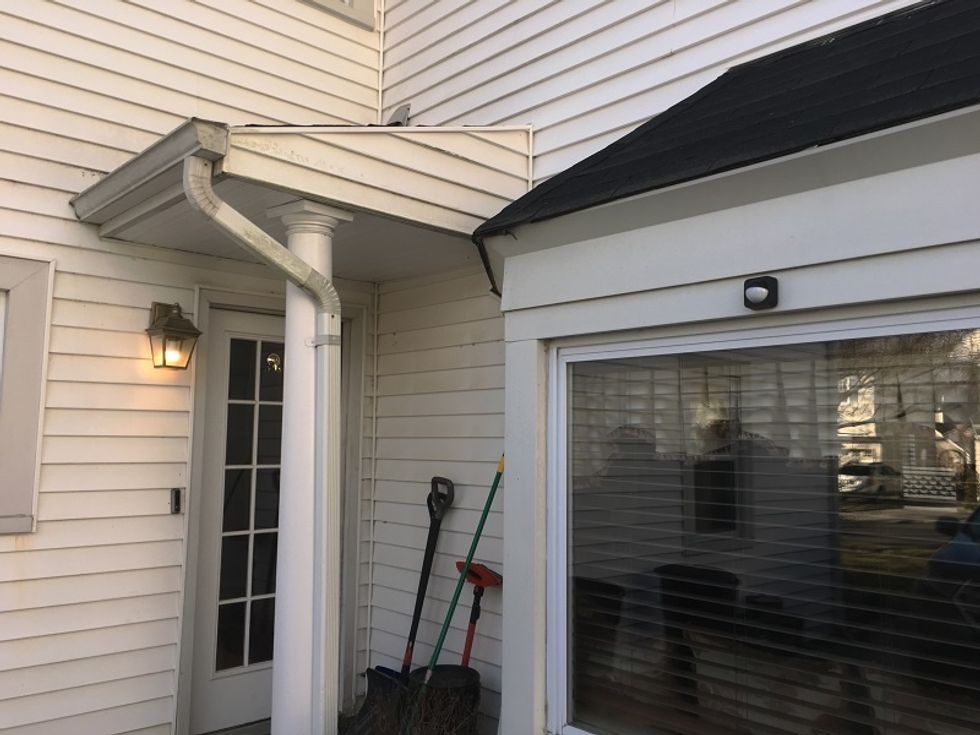 Philips Hue Outdoor Sensor working with Outdoor lightsGearBrain
We did find the price a little steep, especially when compared to other outdoor sensors. Most outdoor motion sensors can be picked up for less than the Philips Hue motion sensor. But those sensor won't work with Philips Hue products, so if you prefer Philips Hue's system, or are using its devices in your home, our recommendation is the Philips Hue motion sensor is worth the investment. You know the device is compatible with your lights and is easy to install and control using the its dedicated app. However, if you don't own a Philips Hue smart lighting system, this sensor isn't necessarily a need for your home, with lots of others out there to select at a lower cost. But keep in mind they most likely not have the type of integrations which Philips Hue offers you when building a smart home.
Specs:
IP Rating: IP54
Sensor depth: 56mm
Sensor height: 76mm
Sensor width: 76mm
SAP EAN/UPC – Piece: 046677541736
EAN/UPC – Case: 50046677541731
SAP Gross Weight EAN (Piece): 0.305 kg
Net Weight (Piece): 0.145 kg
SAP Height (Piece): 16.500 cm
SAP Length (Piece): 7.500 cm
SAP Width (Piece): 17.600 cm
Pros:
Easy installation and setup
Weatherproof and durable
Long lasting battery (min. 2 years)
Cons:
Requires a Philips Hue hub
Price is on the high side
Big sensor
From Your Site Articles
Related Articles Around the Web
Like GearBrain on Facebook