Like GearBrain on Facebook
Fashion designers have toyed with using LED lights in their bags and dresses, but none have come up with a viable way to extend that option to a large number of people, and certainly not in an affordable way.
Then there's Pix, a backpack that launched on Kickstarter in 2019, and is now in full production online. The $259 backpack would be certainly in the high end, save for one thing: The back is covered with LED lights that can beam out graphics and moving images. And yes, you can design them yourself.
We played with the backpack for some days, even testing it outside — yes, during the coronavirus lockdown — and were pleased to see how well it held up, and even more so, how easy it was to create and share pictures. The water-repellent finish was fine in the rain, and the backpack was very comfortable to use.
Inside the backpack is a USB cord you'll attack to a power bank to run the backpack GearBrain
What you need to use Pix

Aside from the backpack, you're going to nee a battery pack. The backpack, aside from LED lights embedded inside, also have a USB cable attached which needs to feed into a portable battery. We attached it to a 6,000 mAh battery, fully charged, which was still at 87 percent even after an hour.
You also need an Android or iPhone so you can download the Pix Backpack app. That's crucial for uploading graphics — you get started with a few — and also for designing your own.
We needed to update our firmware before we could begin, and Pix cutely showed a Wi-Fi symbol and then a green checkmark when we were good to go.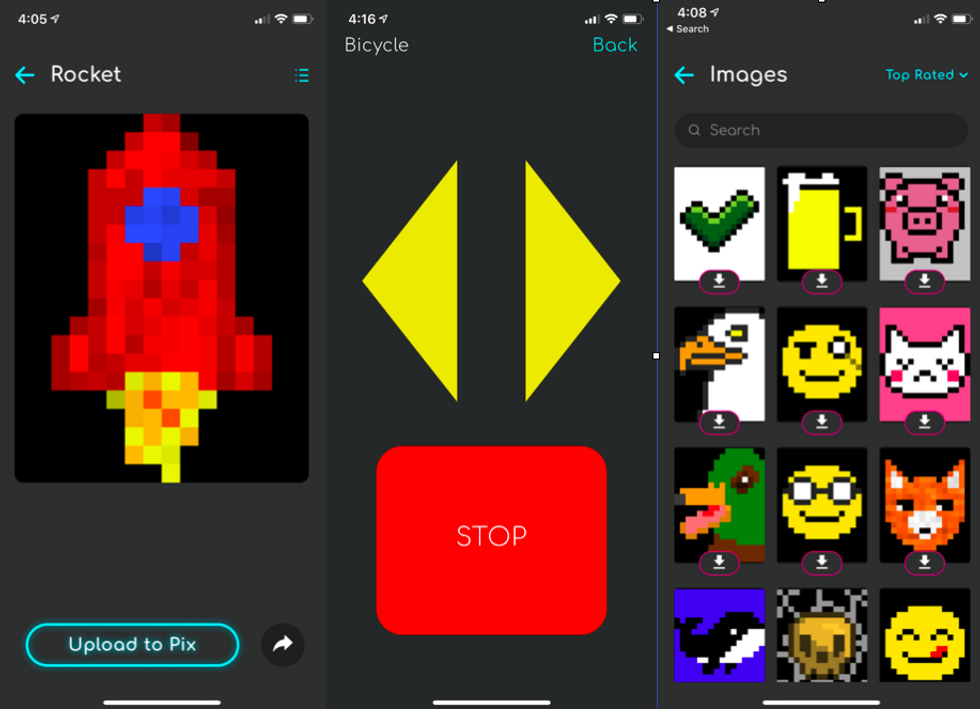 The Pix Backpack app acts as the controller for the images you'll send to the backpackGearBrain
Using the app

The app is simple to use — once you can connect with the Pix Backpack. We had some trouble getting the two to pair throughout our test. But eventually they would link up, and we could push images to the backpack or draw our own.
You'll sketch on a grid in the app, which limits how much you can add. If you're eager to add words, know that the limited real estate means your sketch is going to look squished.
But there is fun in having limits, because then you're challenged to press up against them. You can luckily take what is already in the app, or design one with a palette of 16 different colors, including black and white. Coloring is really nothing more than touching a grid to add and touching a grid to remove.
You can change how fast or slow you want things to be animated. And there's also a simple on and off switch in the app, which apparently doubles as a slider for increasing or decreasing the brightness of the image . But moving that did not seem to change how well the image displayed. Luckily, it was bright enough.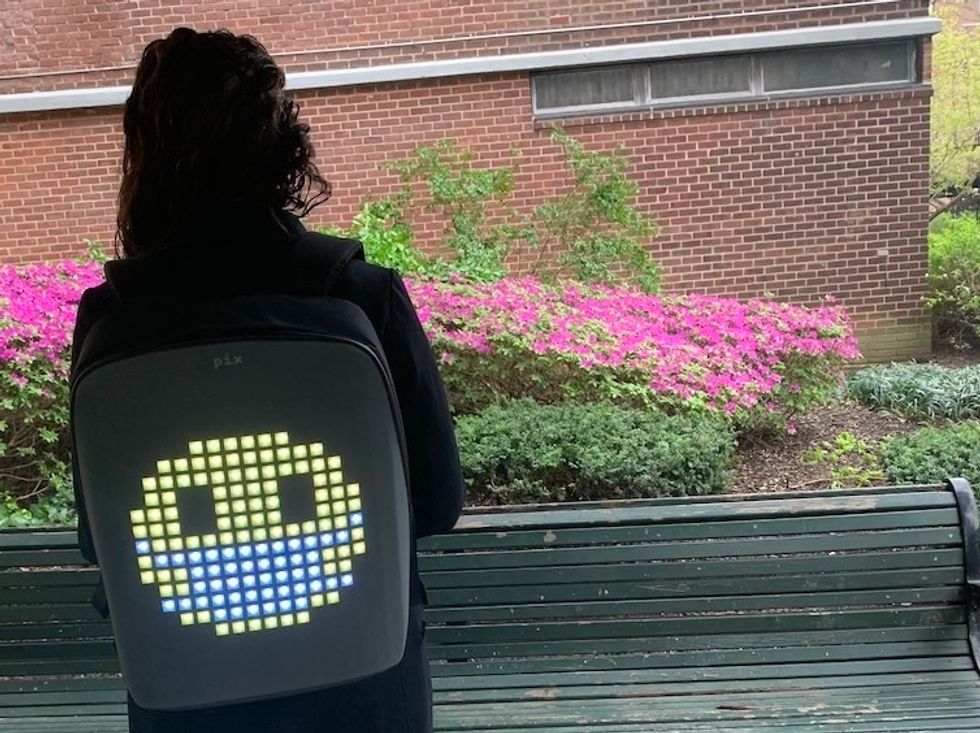 There are clever designs, that can help share messages during the current pandemicGearBrain
Clock, flames and rocket ships

In addition to making your own images, you can also choose from options like a clock, which is shown in military time. Not all worked. An hour glass wouldn't push to the backpack. But a rocket ship was adorable, with a flickering flame, and we found one designed for a bicycle to be really useful. The app has controls so you can push a left arrow and a right arrow and also a button that sends a big red, "Stop" to the back of the backpack.
Some images you need to sign into to get. It's the one time we were asked to create an account. And you can sign up using Google or Facebook if you choose. (We did not.)
Price
The Pix backpack costs $259, and it comes in gray, yellow, cyan and black, which is what we were sent. Keep in mind all of the backpacks have the same black back — key for the LED lights showing up.
The company is offering some bags at discounted prices of $129. They say they all work, but may have issues like uneven seams, LED squares that aren't perfectly aligned or dents, scratches or even some paint marks.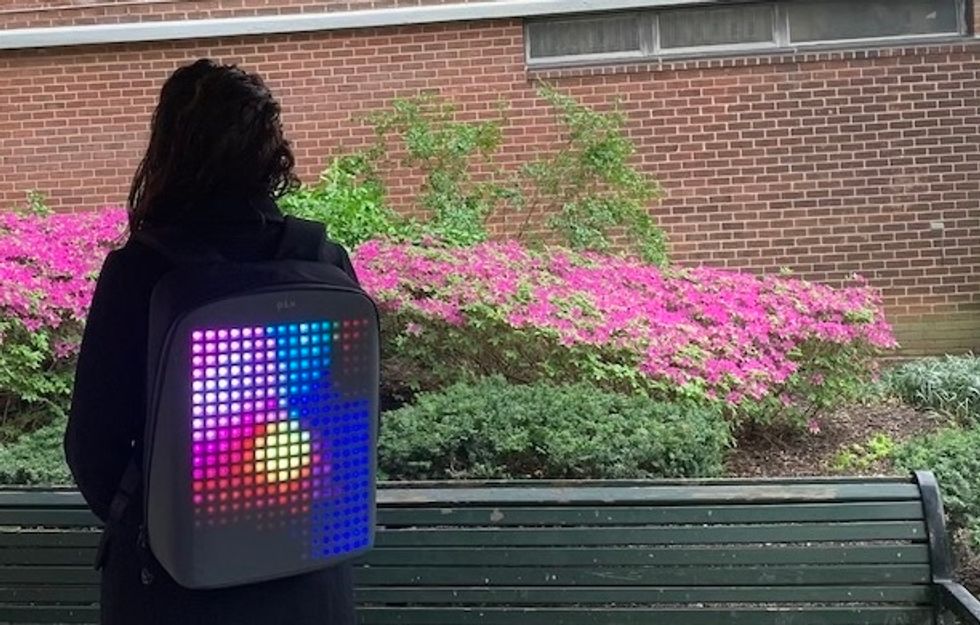 The Pix backpack has great padded shoulders and felt sturdy GearBrain
Worth buying?

A $259 backpack would normally be a difficult thing to recommend. It, frankly, still is. But Pix has something here that's pretty special, given the current pandemic — a way to add a creative bend to an object that frankly everyone can use right now: a bag.
While the backpack wouldn't hold a week's worth of groceries, it's a great thing to carry while biking or heading to the store for some basics. Then, adding a way to add some cheerful images, those that can get people smiling right now, is all the better. The app held up 99 percent of the time, and while one or two images didn't always work, most did — and we could draw what we didn't find, and very easily.
We did find, however, that after that hour the side of the bag with the lights had grown fairly warm. This is definitely something you'd want to note if you're sending your child with a lunch — or you're using the bag during warm summer days. The heat did not transfer to the side against our skin, but again, this is something to keep in mind.
The fact that you can buy a discounted bag with a few flaws for more than half the price is a pretty solid deal, though. While we're aware thiis is not a need right now, clearly, we think it's an adorable and clever want, something children may find both fun and useful — and some of adults too.
Pros:
Customize images in LED light
Nicely constructed backpack with fully padded shoulders
Discounted bags available at deeply reduced prices
Cons:
Doesn't include power bank
Price
Bag gets warm from lights
From Your Site Articles
Related Articles Around the Web
Like GearBrain on Facebook