Ecovacs Deebot Ozmo 920 is a hybrid vacuum and mop — a device that tries to pull double duty on your floors, and does better on one than the other. The sleek $699.99 robot vacuum connects to the internet via an app, but that doesn't help it navigate between floors that are both carpeted and hard wood. Ecovacs sent us the Deebot Ozmo 920 to test, and we put it up to hardest of environments: an apartment with a shedding dog, and a mix of rugs and flat surfaces. Here's what we found.
Read More: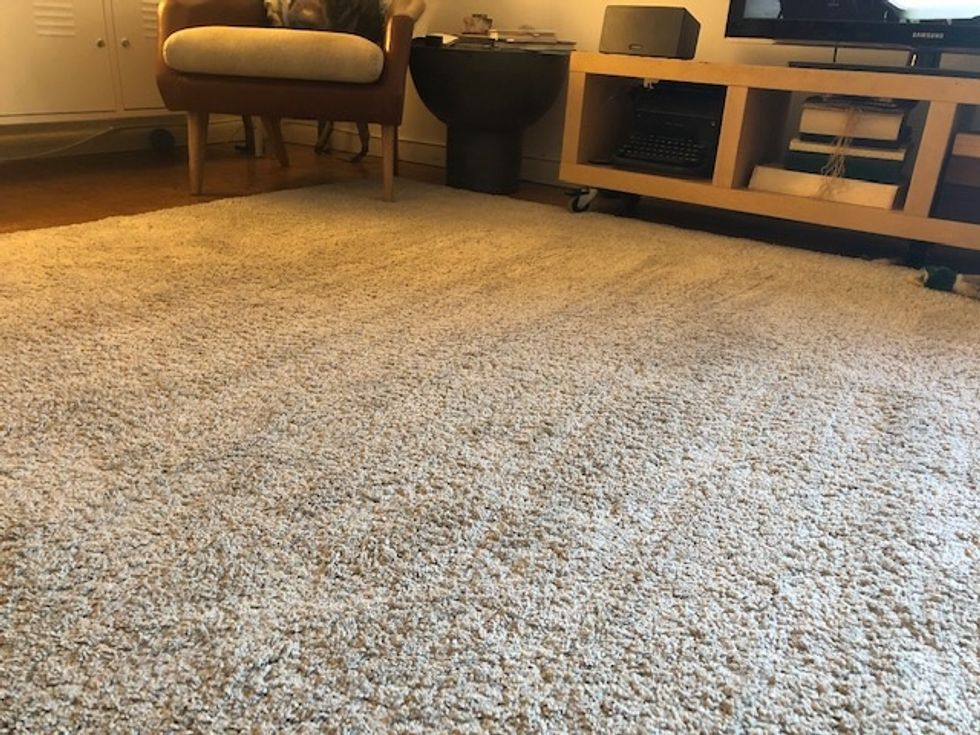 We tested the Ecovacs Deebot Ozmo 920 on both wood floors and shag rugsGearBrain
Installation

Like many robot vacuums, installation is not really an issue. You pull the vacuum from its packaging, and set it on its charger to fully juice. Once fully charged it should run easily for about two hours — and we found the robot was able to work for nearly that without needing to go back for a new charge.
In the Ozmo 920's case, you'll also want to download the Ecovacs Home app (which works for both iOS and Android devices) so you can take advantage of its smarts. Once you create an account with the app, you can easily add your robot by scanning a QR code, and then linking it to your home Wi-Fi.

Here in the app is where you can schedule the Deebot to clean, and set a 'do not disturb' so it doesn't work during the middle of the night.
What's nice about the Deebot Ozmo 920 is you can use this as a dumb machine too — meaning, you don't need the app to get the vacuum working. A button on the top is all you need to press to get the robot to start whirling around the floor vacuum and wiping down the surfaces. And you can empty the bin right from the top — which is a nice feature as you don't have to turn the vacuum over to get at what it's swept up from your floor.
For the mopping feature, there's a cleaning plate, which you'll attach when you want the robot to mop. You'll also need to fill up the tank found under the robot, which holds 240 millimeters of water. When charging, the robot will actually tell you to remove the cleaning plate.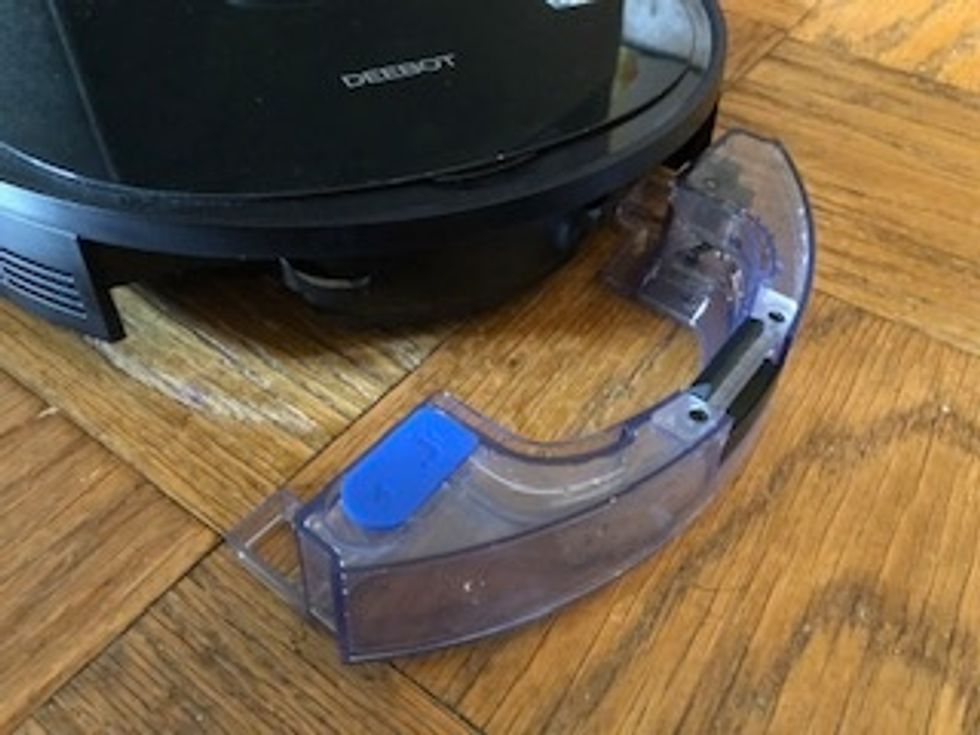 The Deebot Ozmo 920 has a bin where you add water for the robot to mopGearBrain
Is it a vacuum or a mop?

In the case of Deebot Ozmo 920, the robot is both. On the front is a cleaning plate, where you attach a cloth that's included. There are also extra pads that you can use.
My floors are in a constant state of needing attention. We live in New York City, land of exhaust and dust, and we have a very large, very shedding-prone dog. The house is just constantly dirty, and there's usually an hour of reprieve just after we've cleaned — and then it's down hill again.
I was eager, shall we even say thrilled, to try out a device that would both vacuum up dust and dog hair and then wipe down my floor while I was say watching the latest episode of "Succession."
How did the mop work?
Each time the Deebot Ozmo 920 came around from its tour, the pad just never looked dirty enough. I know how bad my floors are. When I start mopping, I go through six to ten of those pads in just one room before they stop looking black. The robot certainly picked up some hair, but it didn't really wipe down the floor well.
I realized the pressure from the Ozmo 920 never really pushed hard enough against the floor to truly mop up anything significant. Light dirt? Fine. A home with a dog, a child and New York's finest tracked across its floor? We proved, I'm afraid, too much.
I did like that the vacuum alerts you by saying when you've added the mop attachment. That helps so that you know that the device is now on, and that water will be lightly coming out of the pad as the vacuum grazes the floor.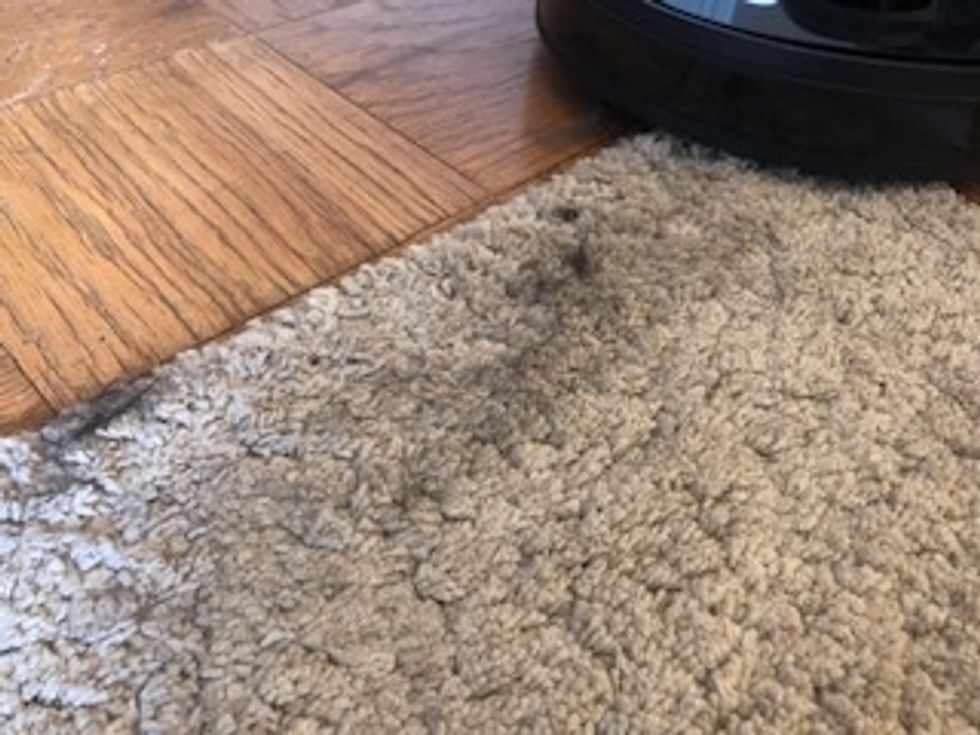 The Deebot Ozmo 920 would sometimes leave dog hair on the rugGearBrain
How did the vacuum work against dog hair

Like many robot vacuums, I find the device struggles against our dog hair issue — mainly with my Labrador Retriever's hair. In the case of the Deebot, I didn't find it delivered a poor result, just not always fantastic.
When the Deebot hit the hair dead on — in other words, driving immediately over it — the suction was easily strong enough to pick it up, if it was on the highest setting. The problem would be side hits, where the brush would then sweep it into piles, and deposit these mounds throughout the house. We've seen this before with other robot vacuums.
The way robot vacuums work, they go over each spot side by side, methodically. That's not typically how we vacuum when we're on our own. Instead we tackle an area running a vacuum over it many times, until we see something gone.
Robot vacuums, however tend to map areas, so they're creating a set of instructions of what to vacuum each time. That's great when you want to set a robot vacuum to run, and forget it.
But if the device is going to leave tufts of dog hair in piles, that you have to later go back and pick up, that's maybe not a time saver.
Rugs vs wood floors

Unlike other robot vacuums we've tested, the Deebot Ozmo 920 had a hard time getting over rugs — and then vacuuming them. In fact, it often couldn't make it across the lip of the shag white rug we have in our living room. When it finally did, though, it did a thorough job as long as the vacuum was on the highest setting.
The Deebot moved easily over wood floors, and again also managed to mop them well. But if you have a hybrid of surfaces, as I did, the Deebot seemed challenged by this.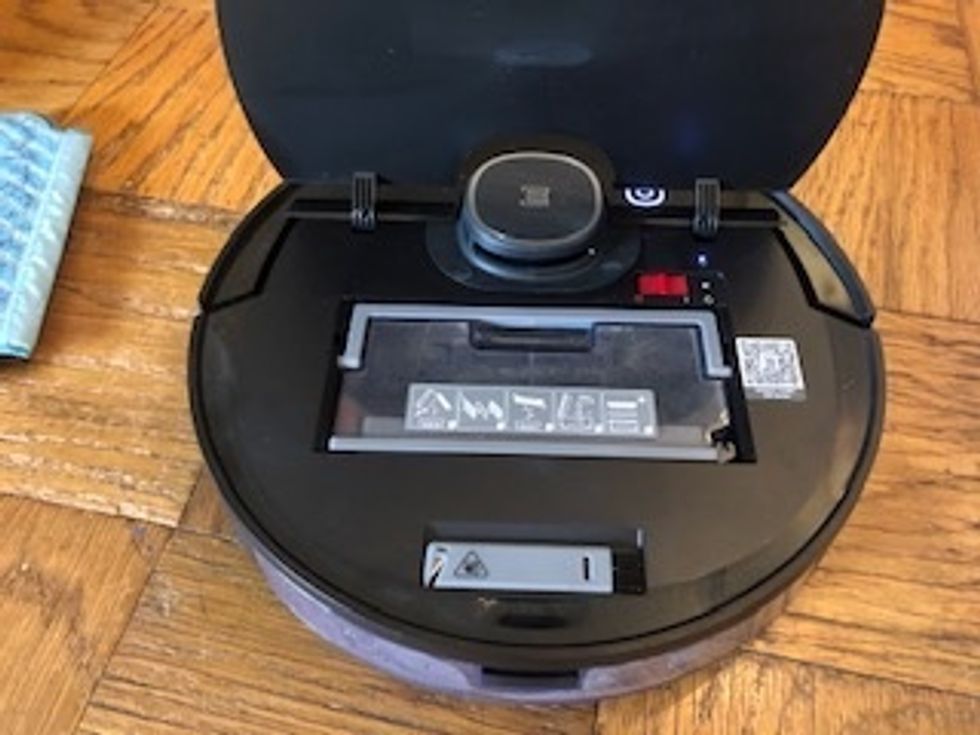 To empty the Deebot Ozmo 920, you pop open the lid, and remove the bin by the handleGearBrain
Voice features with Alexa and Google Assistant

The Deebot is a chatty robot. It will tell you when it's starting to charge, and even remind you to remove the cleaning plate for the mop when it needs to start charging. It's also loud. Be aware.
But what many smart home owners will like is there is Alexa and Google Assistant control, which will help you start and stop the Deebot just by asking.
To add Alexa control:
Register and open an account through the Ecovacs Home app.
Add the Ecovacs Deebot skill to your Alexa app on your mobile device
Sign into your Ecovacs account inside Alexa
Say "Alexa, tell Deebot to clean."
We found Alexa connected easily with Deebot, and even told us it would not start cleaning because the battery was low. You can also ask Alexa to stop having Deebot clean, or to go back to the charger.
To add Google Assistant control:
Open the Google Home app on your home
Then, click on Home Control under the Assistant tab.
Click on the "+" button
Click on Deebot and then log in to your Ecovacs account
Then you can ask, "Hey Google, tell Deebot to start cleaning."
The only problem here is both Google Assistant, Alexa and Deebot will audibly respond to you — that's a lot of talking.
App features

Within the app, there are a ton of features you can tap to really allow your Deebot to go off on its own. The app will also show you the battery and water levels for the mopping feature, and let you increase the level of vacuuming from standard to max, and even set a quiet mode.
Another feature, excellent for those of us with pets, is the Virtual Boundary feature, which will let you set up areas — through the app — where the robot vacuum can't venture. If you have a pet as well, and you set the vacuum to work on its own, consider creating this barrier.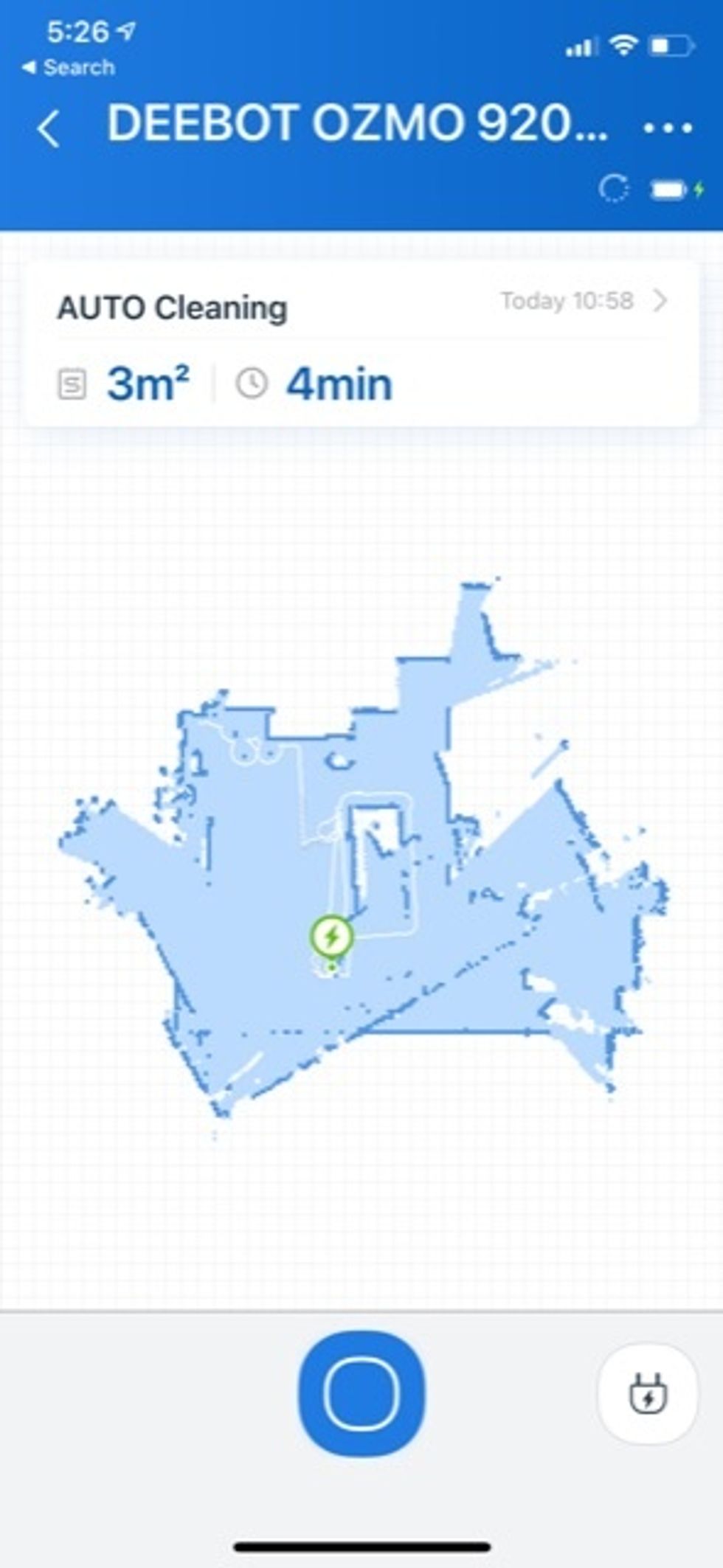 The Deebot Ozmo 920 maps your space in the app, showing you where it's cleanedGearBrain
Cost

The Ecovacs Deebot Ozmo 920 is priced at $699.99, which is extremely pricey — putting it definitely in the high-end range of robot vacuums.
Worth buying?
The Deebot did a very decent job cleaning and vacuuming on flat floors. For those who live in this environment, that price tag of $699.99 is steep. But we do like how you can easily connect and control the robot via Alexa and Google Assistant. Having the ability for a device to do an automatic mop and vacuum while you're out is also solid.
But if you live in an environment that needs heavy cleaning, that smarts may not be enough. It's certainly workable — but it's not necessarily any better than running an old-fashioned vacuum across your floors on your own.
If you live in a space that doesn't have a shedding pet, without a heavy number of rugs, this is a robot vacuum that is worth considering particularly because of the voice assistant integration.
Pros:
Can control via Alexa and Google Assistant
Works as both a vacuum and a mop in one robot
Bin is emptied easily from the top
Cons:
Doesn't pick up heavy duty dirt as a mop
Had a hard time moving between hard floor and rugs
Not great at vacuuming dog hair
How to Ask Questions on The GearBrain, the Compatibility Find Engine for Smart Devices. www.youtube.com