Like GearBrain on Facebook
Pros: Ease of use, cost, keeps track of lists, pairs with online food shopping sites, voice controlled, no monthly fees, battery life.

Cons: Difficult managing multiple lists, hard to share lists outside of app.
How many times do you forget to add something to your shopping list? Or as you're cooking, you make a mental note to get more eggs from the store, but then forget? Hiku is a new smart kitchen tool that acts like a shopping brain—a digital assistant you control with your voice, to build your shopping lists so you'll never forget the kimchi again.
GearBrain was given a hiku to test. As my wife does all the shopping in our house, we asked her to test the device for us, as a shopping consumer. We also wanted to get her friends perspective on hiku to see if it was a useful tool or just another gimmick. We were pleasantly surprised on what we discovered.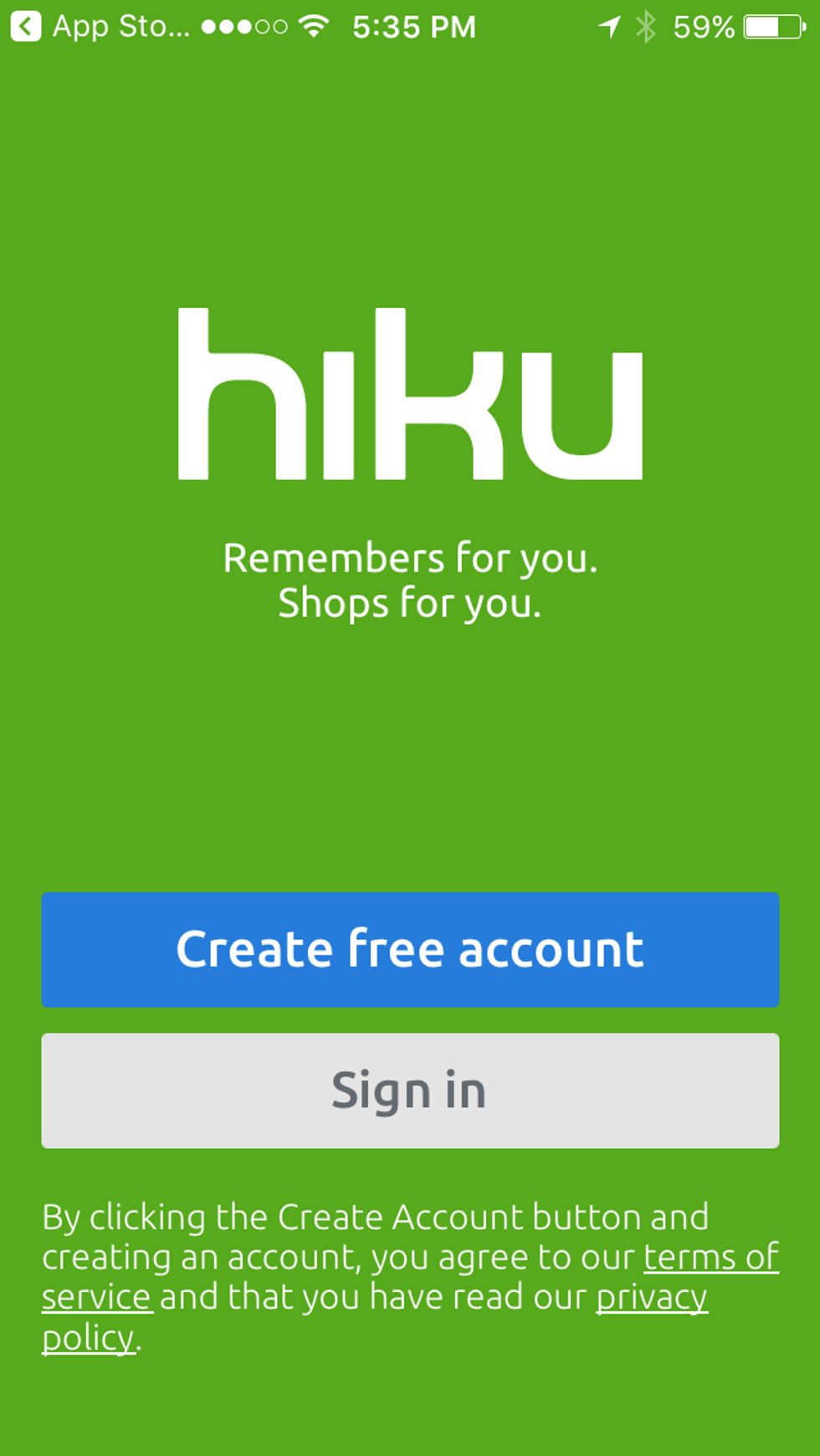 Hiku mobile pageGearBraiin
Setup

Before we started using hiku, we downloaded the app onto my wife's iPhone 5S. (Hiku is compatible with iOS and Android devices.) Once downloaded, we opened an account, then followed the setup instructions on the app. This was easy, and didn't take long. Where you might run into an issue is when you start to pair your hiku device with a smartphone, as we did with the iPhone 5S.
During the pairing process, you must place your hiku on the screen of your smartphone with the hiku lens facing down. (The app will instruct you how to do this as well.) The hiku lens is the see-through window on the bottom of the device. Make sure you remove the protective film covering the lens. At first, it seemed we were not placing the hiku on the smartphone correctly. If you run into problems, like we did, consult the website or help section on the hiku app which has videos you can follow. You can also go to hiku's website and watch a setup video.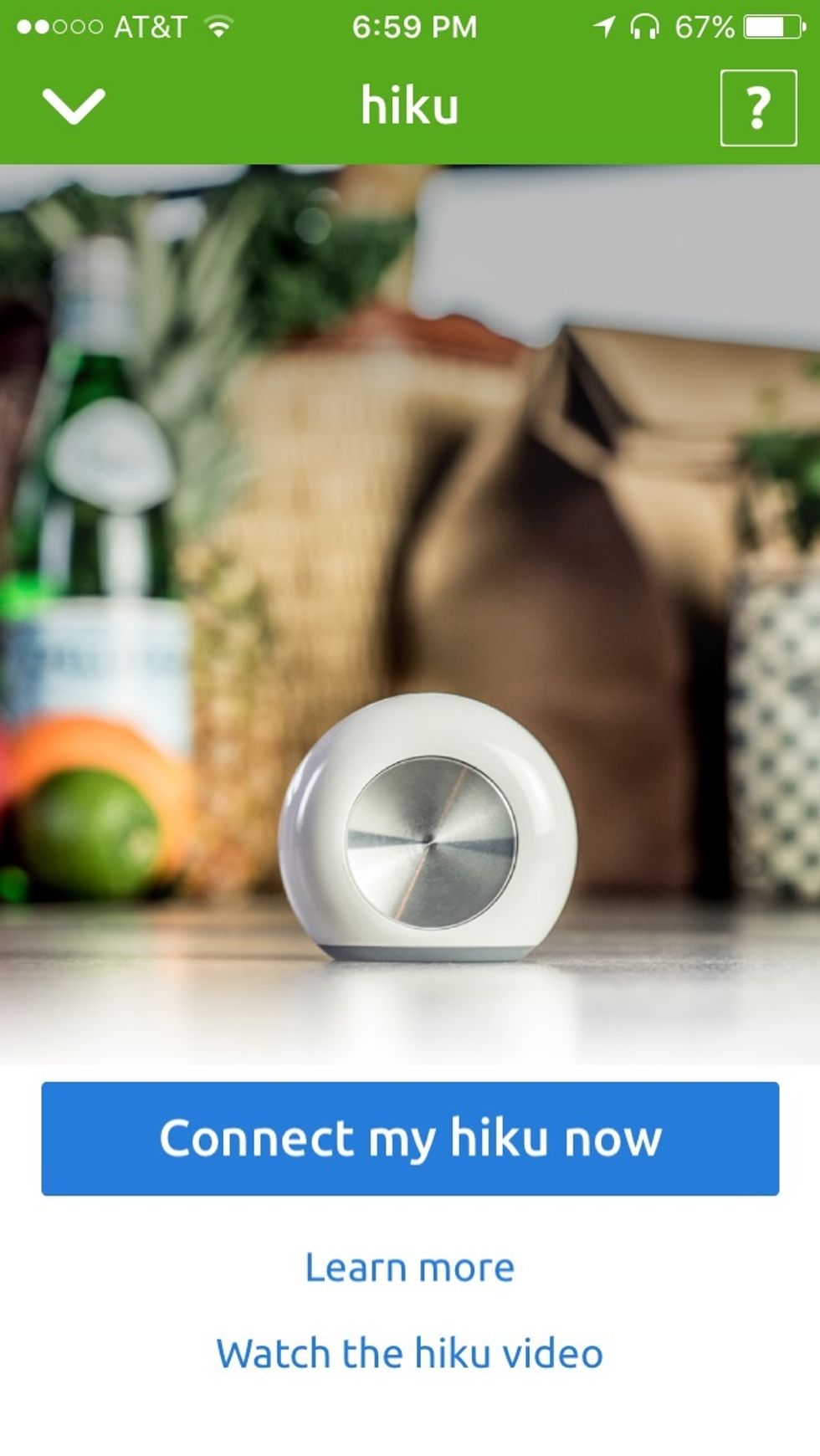 Hiku connects to your smartphone.GearBrain
Usage & Features

Once done pairing hiku with your phone, you'll be ready to start using hiku to build shopping lists. However, remember these tips: First, hiku does not support 5Ghz. It only supports 2.4 Ghz networks. Also, make sure you talk into the hiku device and speak clearly. It will adjust to your voice in the beginning, and can understand multiple languages including English (UK, US and Australia), French, German, Spanish and Italian.
When you scan a product using hiku, you hear two beeps. This means the scan went through and your product was successfully added to your shopping list. But when you scan a product's barcode and get three beeps, this means hiku doesn't recognize the barcode. No worries. You just say the product's name after the three beeps and it will be added to your list. The next time the device sees that barcode, hiku will remember the name. This is a nice feature.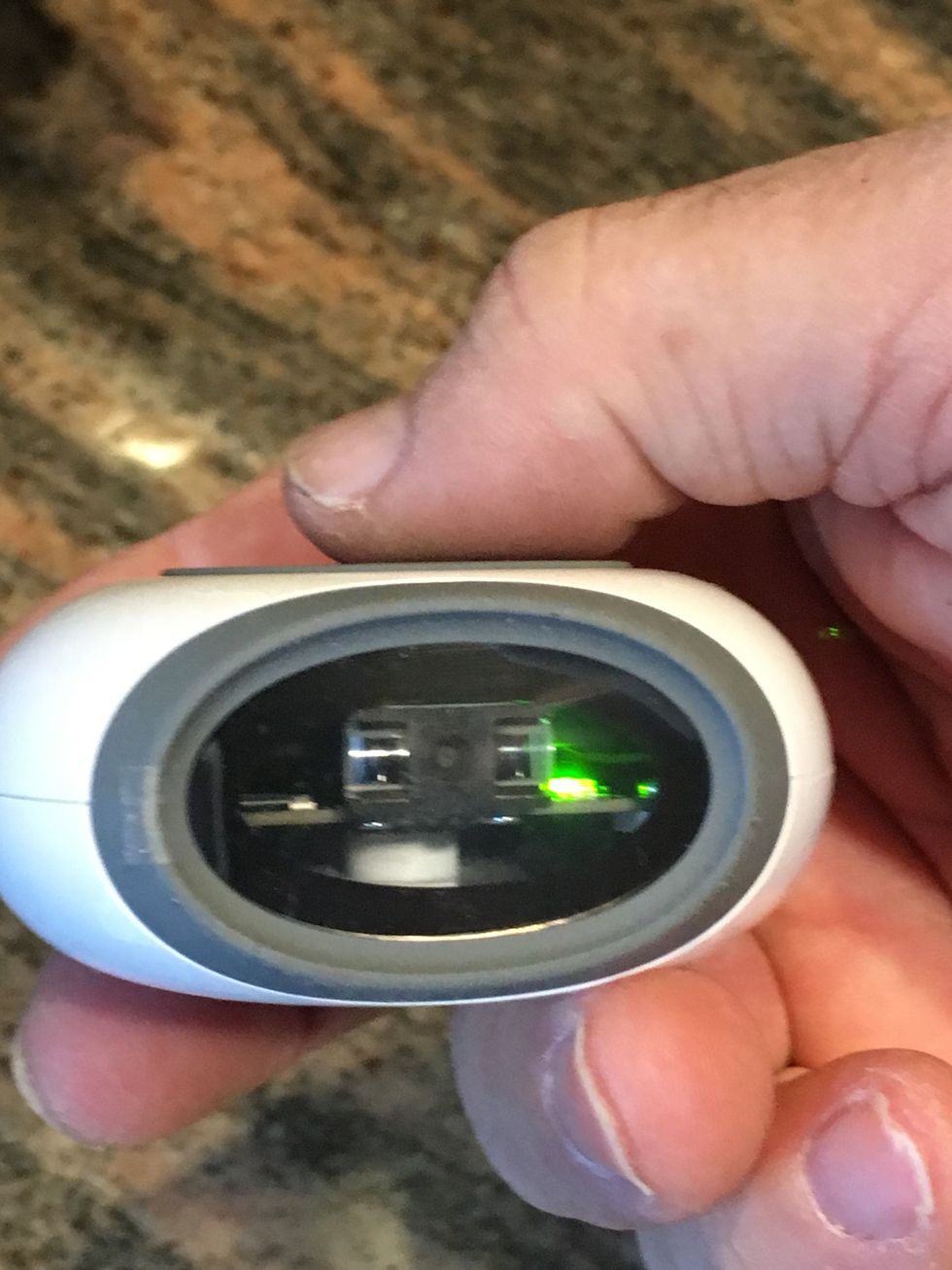 Hiku scans your products bar code.GearBrain
To share lists, everyone must download the app and use the same account, with the same user name and passcode. We thought this wasn't very secure—because if someone loses their phone the account can be opened. We'd also like to see the ability to push out lists using the app or your voice on your hiku. But we did find it easy to delete items from a list: You just swipe and the product is removed.

Another good feature of hiku is its connection to Walmart.com and Peapod, and your ability to buy things from your shopping list from these sites. It's easy to setup. Once your shopping list is complete, just open the hiku app and select the store buttons at the bottom of the screen. Hiku will then walk you through the purchase process. If you're already using either Walmart.com or Peapod to buy groceries, you're going to like this feature.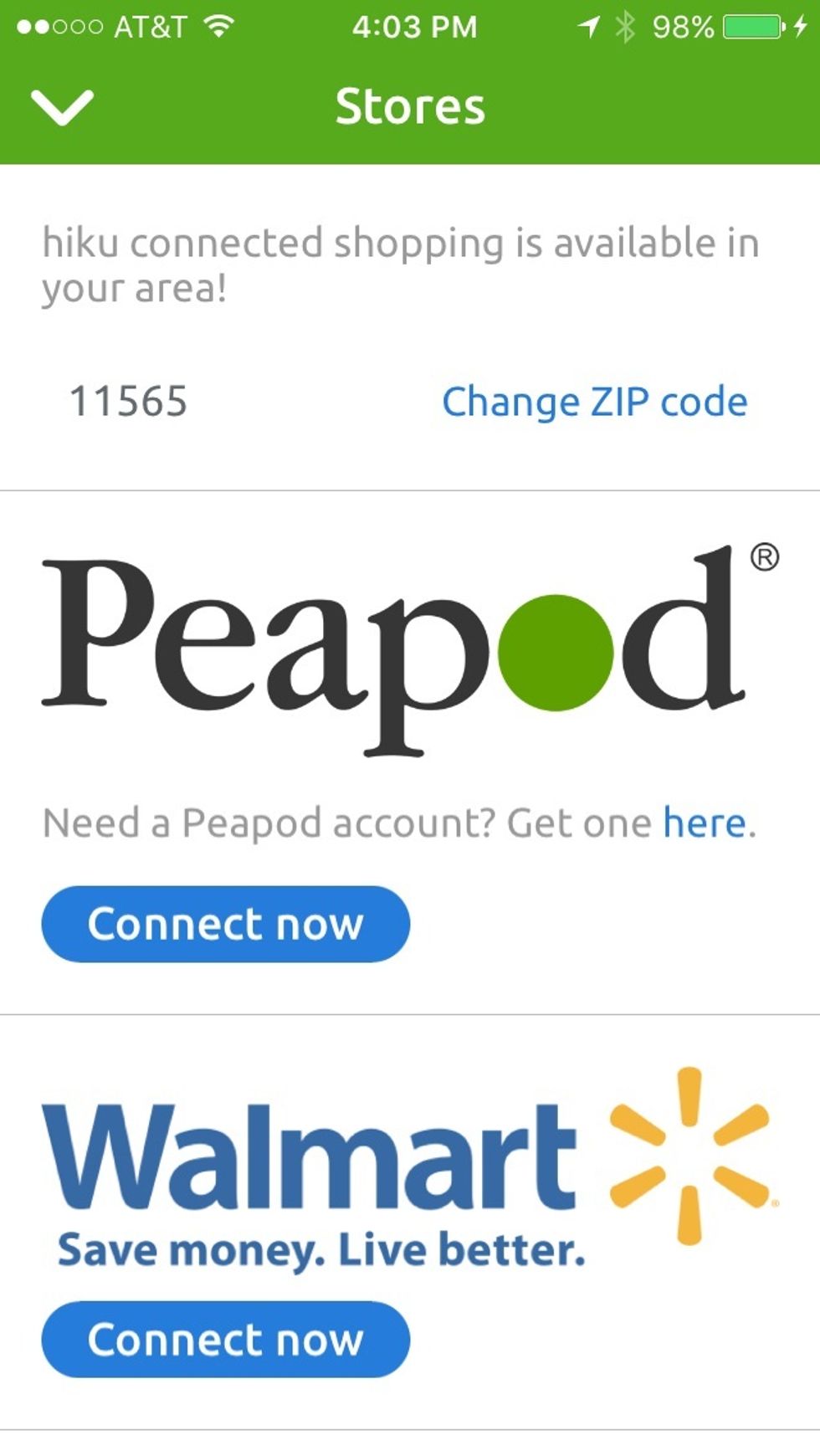 Hiku partners with major grocery stores.GearBrain
Test Results

After using hiku for several weeks, we thought of my wife and her friends as power users. They found hiku simple to use, an easy process in scanning products (including UPC codes) and great for both daily or weekly shopping. The battery also lasts a long time. My wife particularly liked how she could add products while cooking by just speaking into the device—and not have to pause and find a pen and paper.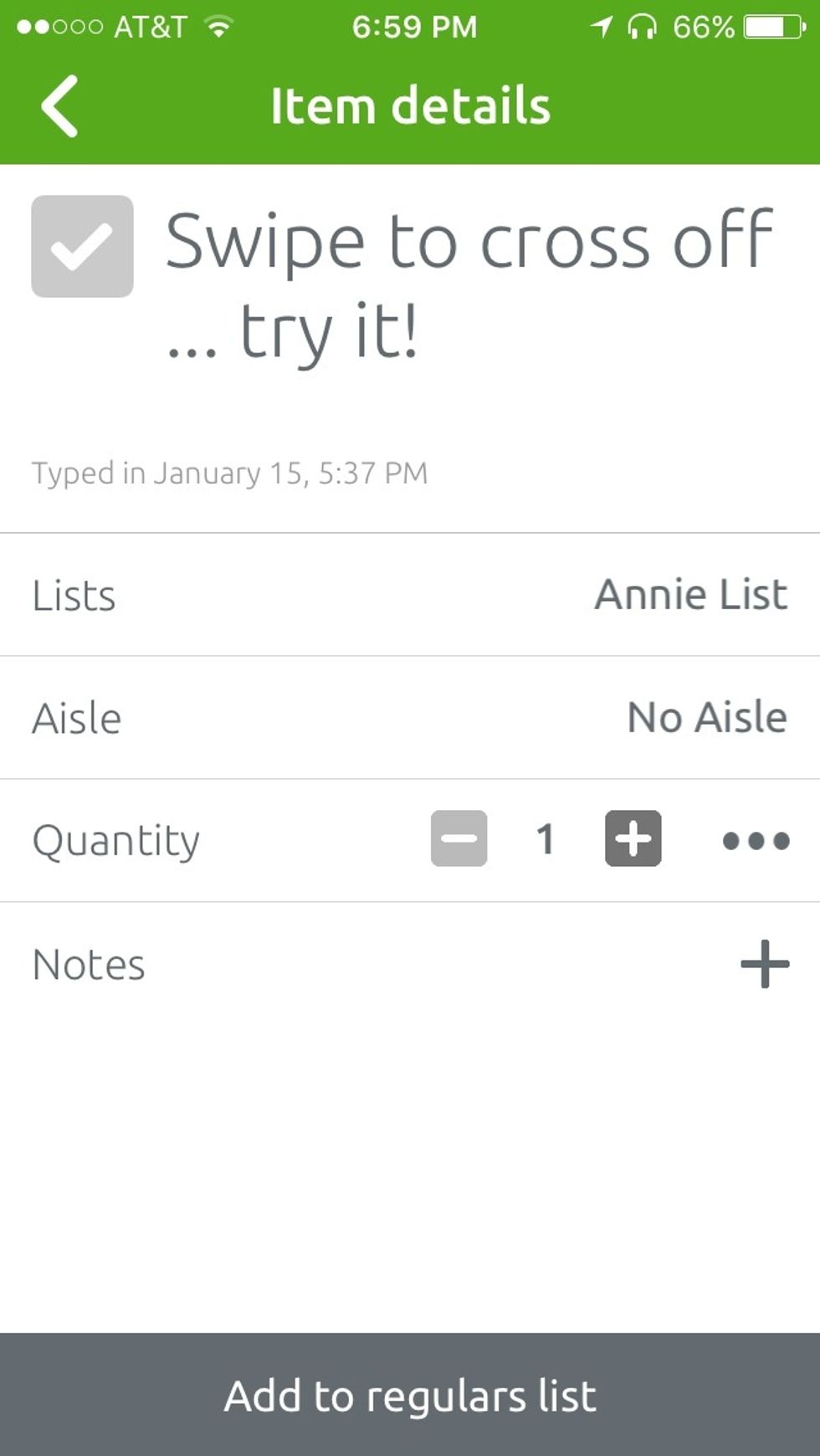 YOu can easily delete products from your list.GearBrain
Here's what we didn't like: the fact you can't easily switch lists. You need to select one list as your default. That means if you are going to talk into your hiku to add products, and want to add them to a different, more specific list, you must add the product to that list through the app. You can select the "Always Add to Default" option in the app, which allows you to scan or speak a product to your Default List, even if you normally keep it into another list. But you still have to manually go in later to add the item from the Default List to whatever list you actually want.

My wife and her friends didn't like this function. They want the ability to add an item to any customized list they want rather than go into the app, to edit the default list. During the holidays, when my wife has different shopping lists, she said she'd find it cumbersome for her to have to remember which product goes with which list. She'd prefer the option to add an item to a specific list in the moment.
Another feature my wife requested is the ability to share lists. To share a shopping list, you need to get the other person to download the hiku app and log in with the same user name and password. That makes sense, but my wife also requested the option to email or text a list to someone from the app as well.

Hiku does not charge any service or monthly fee for storing your lists in the cloud. It retails for $49 and is available through its website. If you do order it through the company website, shipping is free for standard USPS service. If you want your hiku sooner, you can pay an extra $6 to get Priority Mail via USPS. Hiku is also available on Amazon and Walmart. They also provide a 20 percent discount on sales of three or more hiku's. Just use special coupon code of GB#PLUS when ordering.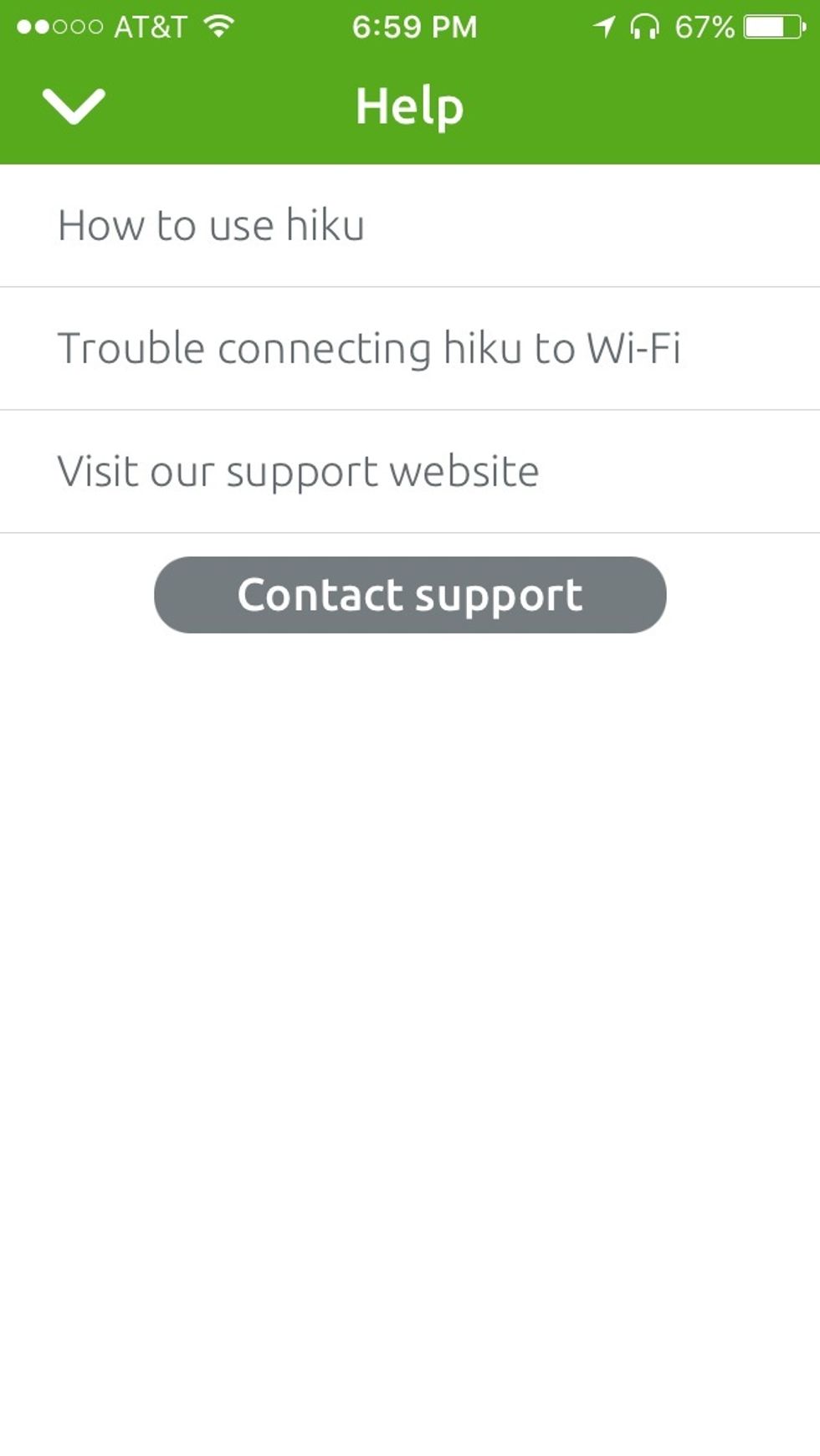 Hiku's help page in their mobile app.GearBrain
Technical Specs

There are not many technical specs for hiku. Besides designed for iOS (10 or later) and Android compatible, hiku also works with Apple Airport, Apple's fast wireless base station. Keep in mind most Wi-Fi routers support 2.4 Ghz and 5Ghz (dual band), but some Wi-Fi routers can get configured to support only 5Ghz. Make sure your Apple Airport is configured correctly. You can go to hiku's support section where a video can help you configure your Apple Airport, if needed.
The device itself is very sturdy. Per hiku, it's designed to live in the kitchen and be handled by anyone, including kids. Hiku is water resistant and its round design makes it easy to hold even if your hands are wet. My wife thought hiku was very durable and easy to store in her kitchen.
Regarding barcodes, hiku can read a wide variety of 1D barcodes. It supports most popular symbologies like UPC-A, Code 128, Code 29, UPC-E, EAN-8, EAN-13 and more. Hiku has a barcode database of over 17 million records with most of the products geared for the US market. However hiku can be used in other markets around the world.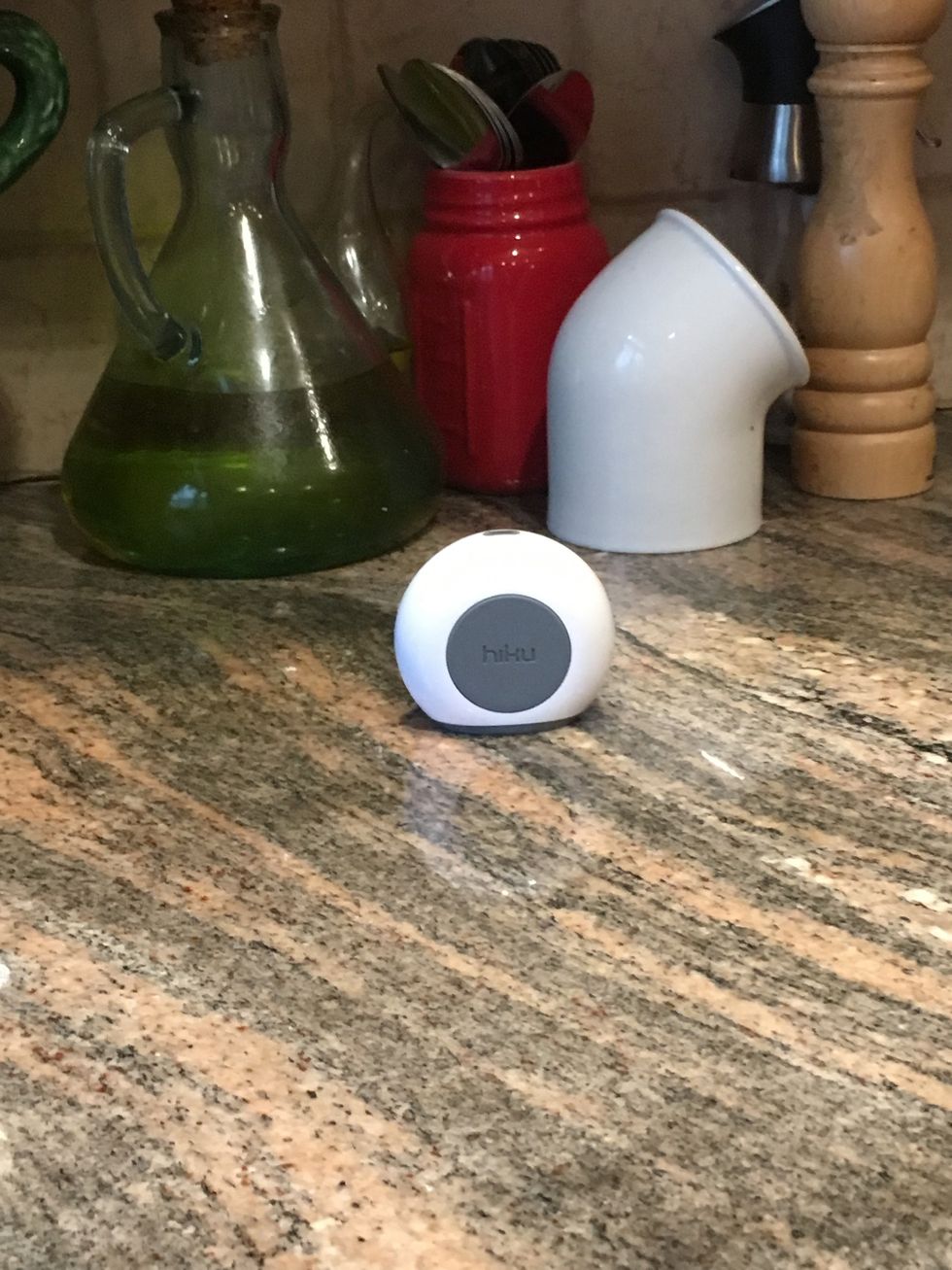 Hiku on Kitchen counter
Summary

We found hiku a great addition to the smart home and smart kitchen of today. Many of us are moving so quickly in today's new connected world, we need help in keeping track of the little things like "don't forget milk." Hiku is one of those smart gadgets that can provide a valuable service to our new connected world. Whether you're a Baby Boomer who seems to forget everything, to the "at work" couple keeping track of dinner assignments, hiku is a product you should consider for your smart kitchen.
If you want a helpful digital assistant to keep track of products you're buying, we recommend hiku. However, if you tend to buy certain products at certain stores (i.e. requiring multiple lists), hiku might be more for you when it comes to managing your shopping.
My wife is one of these consumers and wishes there was an easier way to maintain multiple lists. However, she does feel hiku is easy to use, useful and did recommend the button to her friends. GearBrain likes the fact hiku can be voice controlled and hopes one day it will be Alexa-enabled so Alexa can also help you organize your shopping lists. Then you really have a smart kitchen tool, with voice-control, at an affordable cost.
Like GearBrain on Facebook