Like GearBrain on Facebook
(Update: To see the most recent review on Nvidia Shield, check out GearBrain's Review: NVIDIA Shield Connects Your Mobile Life To Your TV)
Just last year streaming media devices—and how people could cut the cord from cable—generated buzz. Consumers got a smarter home theater experience at a more efficient cost. No longer did you need your TV to provide your favorite programming or sporting event. These new devices brought it all to you via the Internet.
GearBrain provided extensive reviews of a lot of these devices as well as a specific buying guide with questions to ask yourself before you bought one. The key though was to make sure it supported your favorite streaming services so you got your favorite shows and movies. But now, content is not necessarily the issue, as you can do so much more with today's new streaming media devices: they also allow you to fully immerse yourself in either movies, games, TV shows, music or apps. If you have a HDTV or even a 4K HDTV, the experience is even better because these devices have processors that work with new televisions to provide incredible graphics and excellent viewing experiences.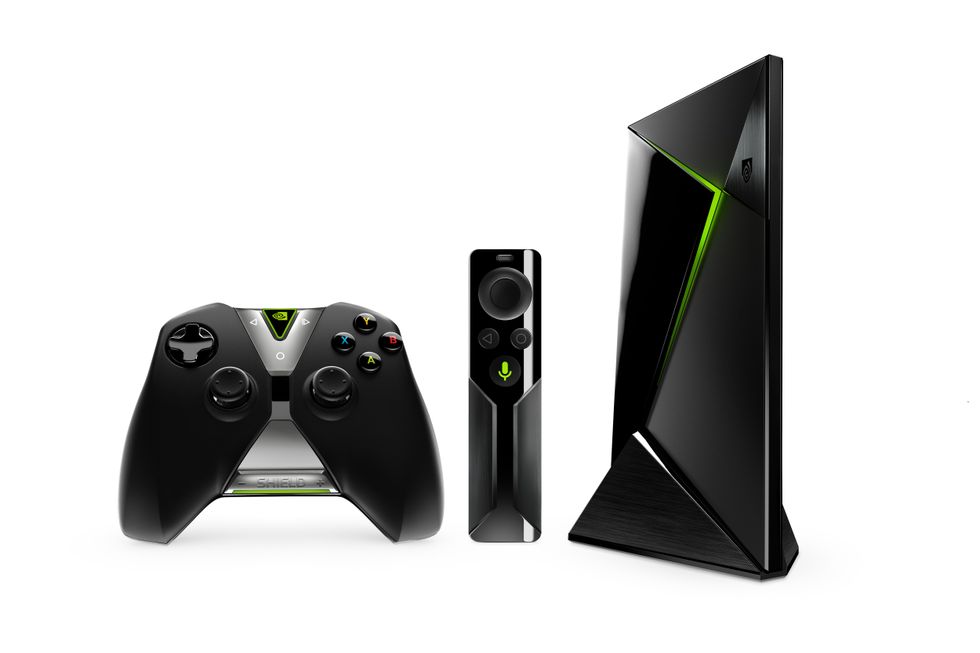 We recently had an opportunity to review one of the new digital media receivers, NVIDIA Shield, which supplied us with a Shield Android TV with 16GB and remote control to test. Our unit came with NVIDIA Shield's Tegra X1, the newest and most advance mobile processor which is its highest performing chip. The receiver also has one of the most energy efficient Maxwell GPU architecture that brings ultra-fast streaming and incredible graphics quality to your TV for games and movies. There was also a game controller with HDMI cords and AC Adapter.

Shield features also include advanced Google Voice search and commands, search results, Google Cast, Google Games as well as the following:
Netflix
Plex
NVIDIA Shield Hub
NVIDIA Share (streaming media service)
NVIDIA Grid (streaming popular PC games from Cloud)
NVIDIA Game Stream (streaming popular PC games from GEForce-GTX Powered PC)
Shield pro (limited time offer for free game downloads like Borderlands: The Pre-Sequel)
The Setup
After unboxing the unit, we found the setup very simple and easy. We don't have a 4K TV but we do have a high end TV with HDMI inputs. (Note: As with all new digital media receivers, make sure you have HDMI cords. If you don't, you will have to use an Ethernet or Wi-Fi connection but the picture quality won't be as good.) We easily connected Shield to our TV via the HDMI cord that came with our unit.
Next, we followed the instructions on screen using our game controller. Instructions and User Guides are available on NVIDIA's web site and they are very thorough. We recommend using them if you have any issues during the set up process.
First, we were prompted to check for software updates. NVIDIA automatically provides updates to your Shield as long as you are connected to the Internet. You need to confirm you have the updated versions. It took us about five minutes to download updates for the software, controller, remote control and Shield Hub.
Next, we downloaded the NVIDIA Shield app to my colleague's, Alex Chang, Android smartphone. Since NVIDIA is designed for an Android TV, you need to have a smartphone running Android or you will not be able to operate Shield. You should also make sure you have a Google account because you will be asked to sign in once all the downloads and updates are complete.
Once we had the app, we ran into a little issue connecting Shield to our phone. But we finally connected, continuing the setup process, which included upgrading on the Shield Experience 3.2.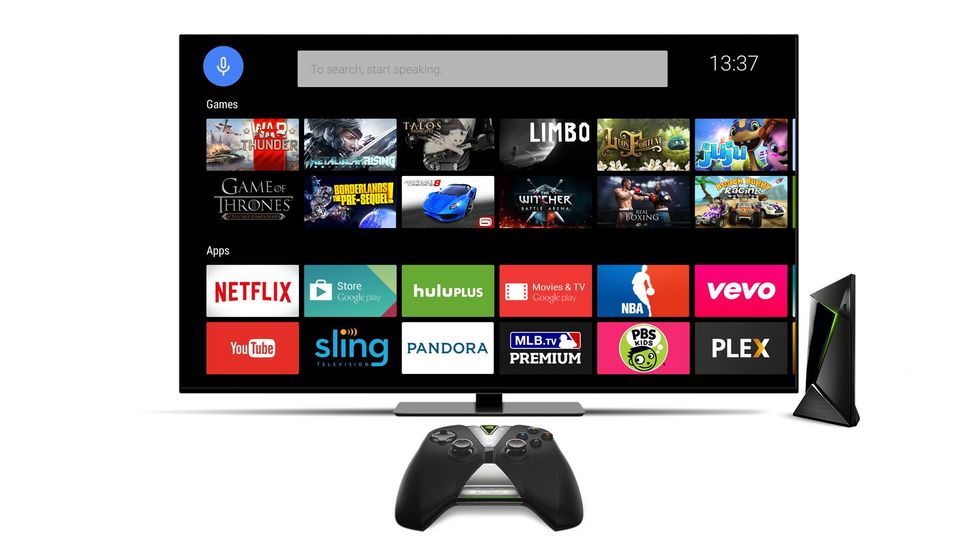 Viewing Experience

For our first test, we decided to connect to Netflix. Regular Netflix accounts don't have access to 4K content—which NVIDIA Shield is designed to stream. For that, you need a premium subscription plan. NVIDIA works either kind though, so we tested with the premium service. I have to tell you, though, signing in to any of these accounts with a controller or remote control is not simple. Selecting one letter at a time is a lot of work. I wish someone would simplify this process for those of us using these decides. Guess what: NVIDIA did.
Using Android 6.0 Marshmallow, you can setup Shield Android TV in just a few clicks from an Android smartphone or tablet. Using the Google app, and Google Voice commands, you simply say "setup your device" and follow the onscreen instructions—which Alex and I did. It worked perfectly.
We asked for "Oscar-winning movies on Hulu" and we got results with Oscar-winning movies that are on Hulu's service as well as YouTube. (Interesting to see YouTube movies in the search results, but then again we are using a Google product.)

Google Voice command was the easiest and best way we found to search for programs. It understood what we were saying every time. We even mumbled at a low level and still got us the results we wanted. We recommend using this function whenever you can when on Shield.
Next up was NVIDIA Hub. We signed in to this special section for members which includes video games and streaming videos. We had to open account for the Hub which was a simple signup process. Once in, we searched video games. Some were free but a majority of them were paid games. For that you'll need to create another account, and enter a credit card number. We decided to go the cheap route and play a free game, "The Wolf Among Us."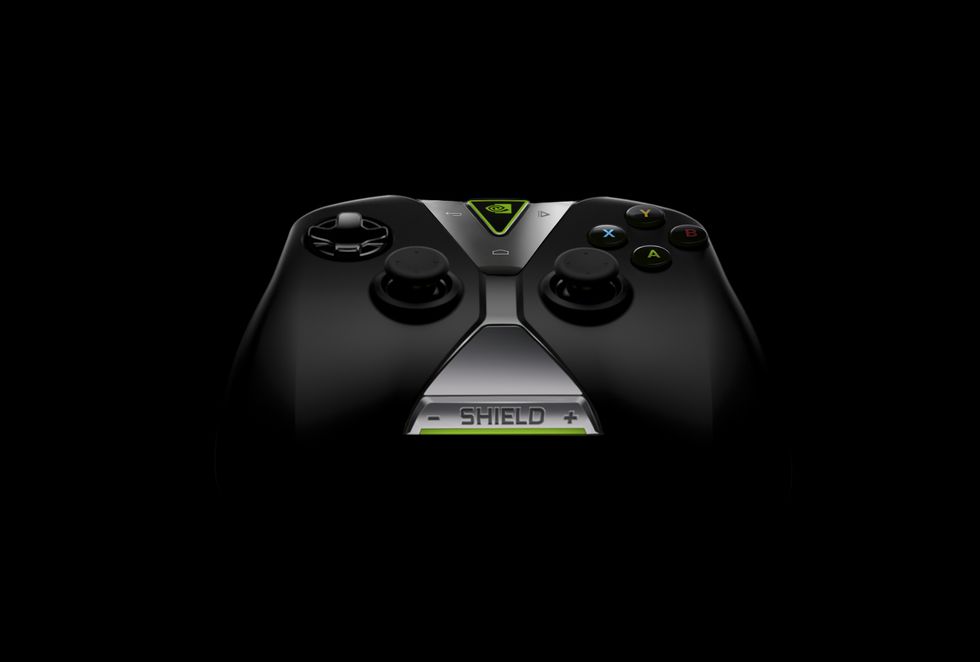 Once installed, we tested the game controller which came with NVIDIA Shield. The controller seemed very light and cheap as compared to a normal game controller you get with a game console system, like PlayStation. Some of the buttons were a little less responsive and didn't offer a lot of resistance, although the shoulder and bumper buttons felt very good and had a little push back. Overall, the game experience was smooth with no hiccups or lag time with graphics. If you are an experienced gamer, you might be able to notice the difference between a good and average game controller. However, if you are not a hard core gamer, you will be happy with the feeling you get with Shield's game controller. For the future, we think it would be great if there were more split screen options for multi-player games.

We then browsed through other services on Shield, including GEForceNow, a library of popular PC games from NVIDIA gaming supercomputers. It's also a paid service ($7.99 a month) but starts with a free three-month trial. GEForceNow had a lot of blockbuster games to choose from (NVIDIA says there are more than 100) including those for kids. We also went into Google Play store which had TV games, movies and TV programs you can either rent or buy, and some you can play using your TV remote. Finally, we browsed through music apps, which had a lot of options, including Spotify or Pandora.
There was even a section where you can go and add in third party developer's devices or apps, like file managers, a PlayStation Sixaxis game controller or Bittorrent (Aria).
Summary
Overall, Alex and I both liked NVIDIA Shield and recommend the device especially if you don't already own a smart TV or a game console—and you have an Android smartphone. They have more games available than what is normally found on a Smart TV service, plus the integration with other streaming media and music sources is sound. The integration with your smartphone is convenient and it's a lot less expensive than buying a game console (which normally go for $399.99 and up.) We only wish they had a web browser and allowed access outside of Android.
NVIDIA Shield retails for $199.99 (without the remote control) on its website and is also available at Best Buy, Walmart, eBay, Amazon and other consumer electronics retailers. (The remote control sells for $49.99.) The device comes in 16GB and 500 GB ($299.99) and is the only digital media receiver or streaming media device that supports 4K resolution and speed.
Internet of Things is all about connectivity and ease of use. NVIDIA has bought both of these together with NVIDIA Shield to provide the connection of your mobile life with your TV.
Pros: Tegra X1 Processor, good movies and TV programming, nice connectivity with smartphone, voice search is good and understands what we said, NVIDIA Shield Hub has nice library and easy to navigate.

Cons: No web browser, limited to Android world, controller feels a little light and cheap, if experienced gamer you have limited game selection.
Like GearBrain on Facebook