Like GearBrain on Facebook
The electric scooter craze continues to grow, expanding into cities across the country. But sometimes you just want your own machine of your own, and not worry if you can find an e-scooter that's available. Razor, known for its scooters, also makes those with a motor built inside.
The Razor E Prime Air Electric Scooter, which the company sent to us to try, is solid for those beginners who want to join in on the e-scooter experience. We rode it around city streets, to see how well the scooter worked, and how comfortable we were riding.
Read More:
What is it?

Designed for commutes or a casual way get around, the Razor E Prime Electric Scooter is well-made and relatively affordable as far as e-scooters go. The 250-watt motor scooter maxes at 15 mph in terms of speed, can travel a distance of up to 7.5 miles on one charge, and is designed for riders age 14+.
The scooter runs on a 36V lithium-ion pack that lasts for about three hours at max speed, but only 35 minutes of continuous use. Expect to spend about 3.5 hours recharging the battery.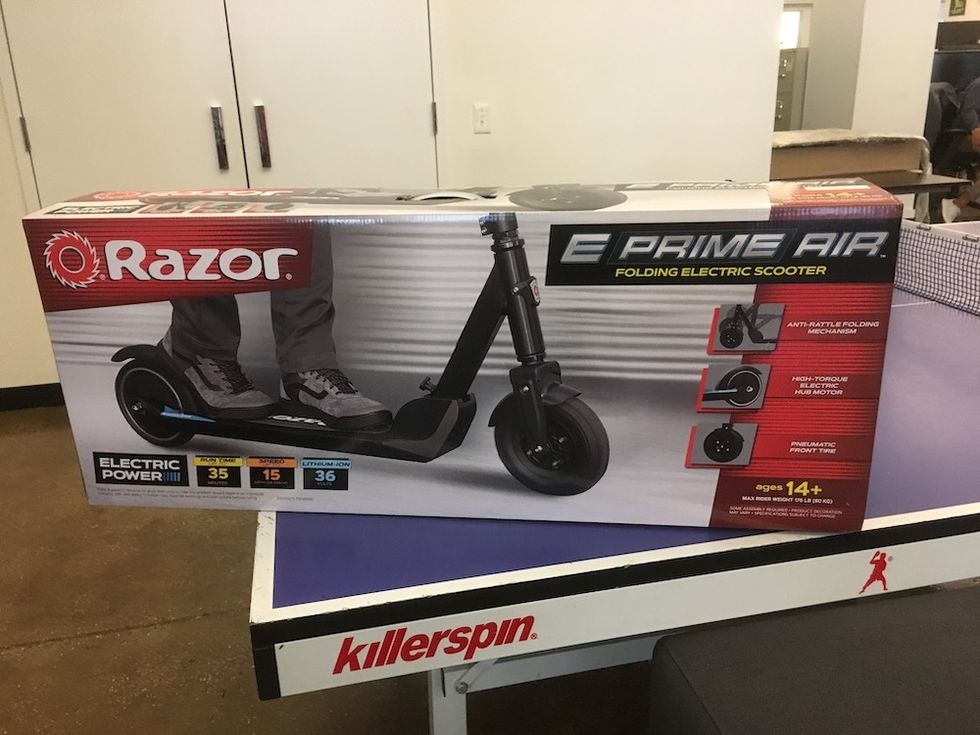 Razor E Prime Air E-ScooterGearBrain
How well did the Razor work?

As far as scooter brands go, Razor is one of the originals, and the Razor E Prime Air model is a solid machine. Balancing is easy, even for a beginner, and if you need to maneuver in tight spaces, the slim design makes it simple. Getting through crowds wasn't much of a concern — even on tourist-packed areas of Manhattan.
It only takes about a day of scooting around a few blocks to get the swing of riding, and the scooter can really save you a lot of time, especially if you're used to getting around New York City on subway, a bus or — never a good idea — a car.
Control is key, and since this one doesn't speed past 15 mph, you can even stop the scooter by putting your foot down or kick it up into movement that way rather than using the accelerator button.
While the pickup isn't particularly powerful, this is also a plus for those who don't have the need or desire to zip off. You'll need a rolling start to get going, and this adds for more manual control over the scooter.
Cost
This scooter costs $419.99 and is available on Razor's website.
Should you buy it?
Getting around by foot is fine — and frankly healthy — but stepping things up with a scooter can be far more fun. The time saved is helpful, and the cost of the scooter is quickly made up if you normally use public transportation or drive, and frankly, if you ride regularly, is likely a good investment.
The battery lasts for a decent amount of time and charging it is similar time-wise with comparable scooters. You can definitely recharge overnight, and you might be able, depending on your office and its policy, to charge at work.
Overall, the scooter is fun to ride, portable, and you can fold it away to stow. For someone looking for a solid commuting machine, for short distances, this is a good choice.
Pros:
Time saver
Easy to maneuver
Slim and portable
Cons:
Not as fast as other electric scooters
You need to recharge after 35 minutes of riding.
Price
Specs:
Speed: Up to 15 mph (24 km/h)
Run Time: Up to 35 minutes of continuous use
Distance: Up to 7.5 miles (12 km)
Motor: 250-watt kick to start, high-torque, brushless hub motor
Throttle: Electronic, thumb-activated, variable-speed, paddle control
Brake: Electronic, thumb-activated paddle and rear-fender controlled
Front Wheel: 8" (200 mm) pneumatic
Rear Wheel: 8" (200 mm) airless, rubber, patent pending
Battery: 36V lithium-ion pack, rechargeable
Patents pending
Max Rider Weight for Maximum Performance: 176 lb (80 kg)
Ages: 14 and up
Unboxing Razor ePrime Air E-Scooter Review www.youtube.com
From Your Site Articles
Related Articles Around the Web
Like GearBrain on Facebook