Like GearBrain on Facebook
With Columbus Day right around the corner, and New Year's Eve fast approaching, you might want to take a break from it all and go somewhere warm, or tropical, or just different. If you're looking to travel without breaking the bank, and with a minimal amount of stress, Skyscanner could be a good option.
Skyscanner is an all-in-one travel app that works on both iOS and Android smartphones. You can book flights, hotels, and car rentals all at once, choosing from hundreds of airlines, hotel locations, and car rental brands.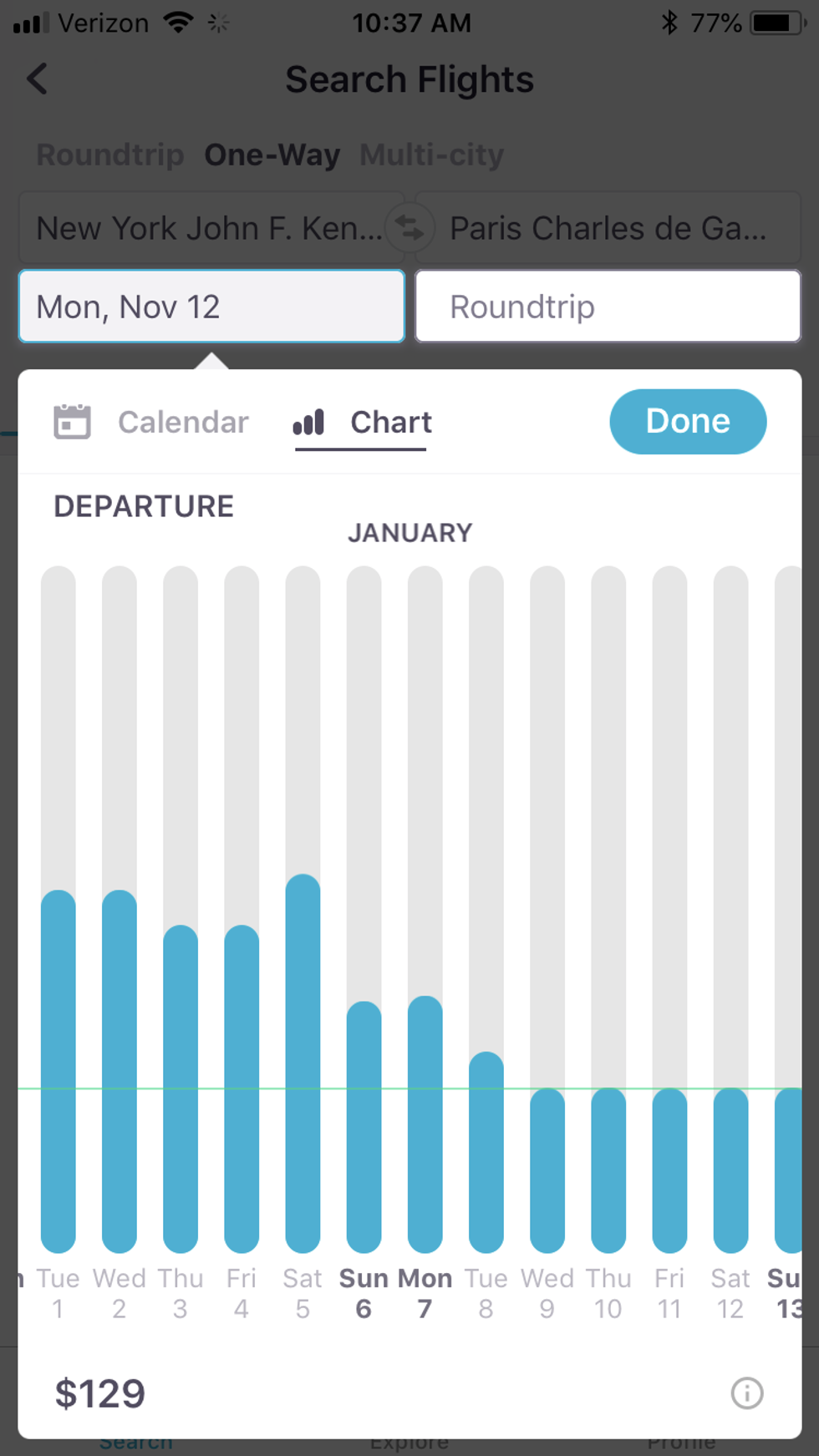 Skyscanner has a chart that shows the cheapest fares on certain days.GearBrain
Last-Minute Deals
First, I tested Skyscanner's last-minute deals, looking for a flight to Paris from New York on September 15th, at the time just two weeks away. I wanted to see how the app could handle finding me a cheap ticket on short notice. Skyscanner's best option was a direct flight for $221 from New York's JFK airport on XL Airways France. Choosing this option, Skyscanner sent me to booking site Vayama to purchase my ticket.
Curious to see how this fare compared to others online, I checked Google Flights and Kayak. Google Flights turned up a $229 fare on Primera Air, while Kayak suggested $233 on Norwegian. On a Lisbon flight, though, Kayak came in at $313 — and Skyscanner at $354.
On domestic flights, Skyscanner didn't do as well. For a last-minute flight to Chicago, Google Flights found a much cheaper option at $54, compared to Skyscanner and Kayak's $98.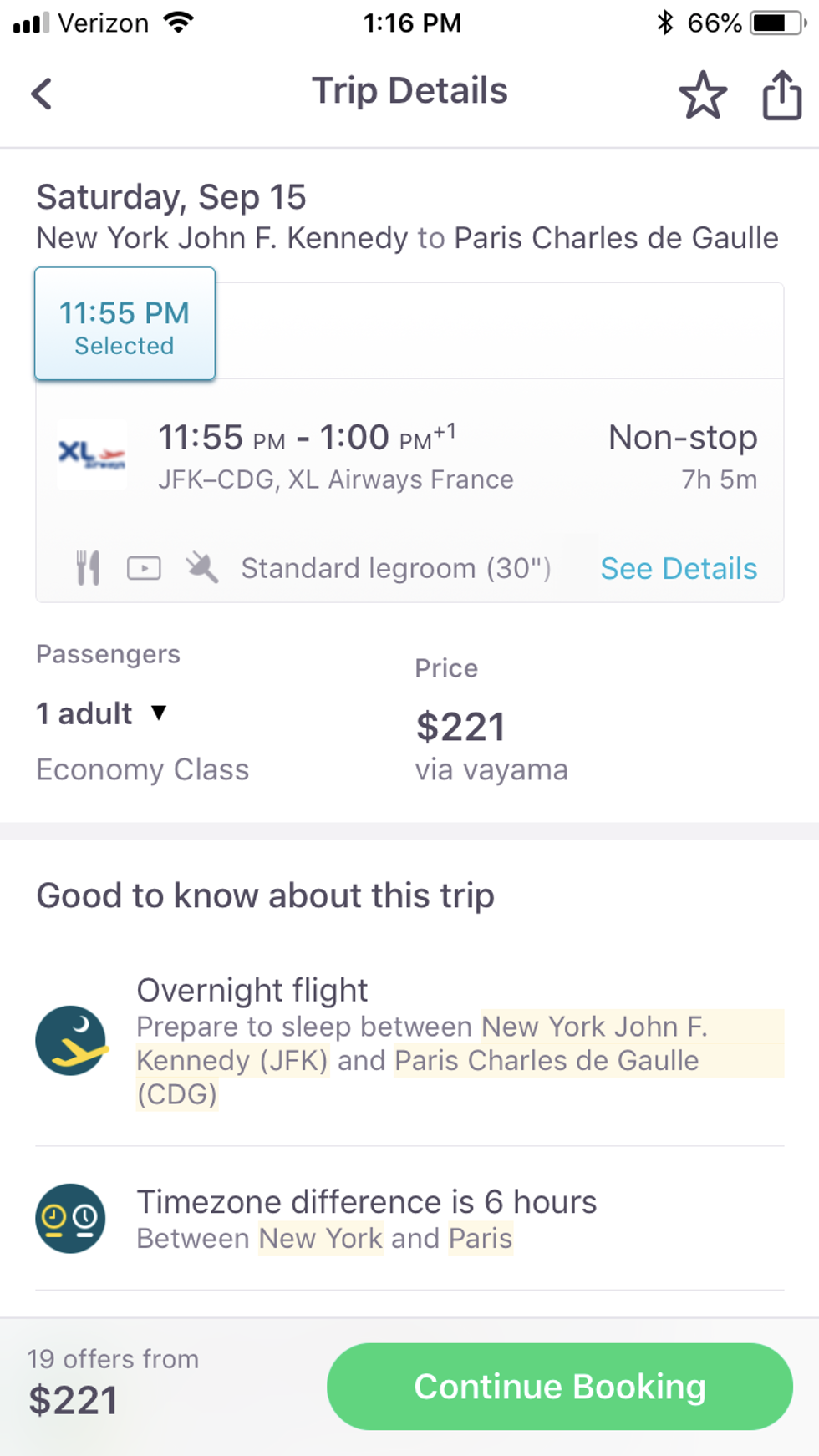 Skyscanner shows how many stops the flight makes, legroom inside the plane, if you get a meal and even the time zone difference between where you're traveling.GearBrain
Trips Planned In Advance
Next, I explored Skyscanner for flights booked far in advance. One of its best features is a chart showing the lowest prices in coming months. You can plan a vacation around the cheapest flights if you're not on a tight schedule. I scrolled through January, finding flights to Lisbon for $220, France for $130, and Chicago for $71. While Skyscanner found cheaper flights than Kayak in the long-term, it didn't include some airlines, such as Primera Air and Spirit Airlines. Google Flights had more airlines and sometimes had better deals.
Skyscanner is not a perfect app. If you truly want to find the cheapest flight available, I would suggest checking Skyscanner, Google Flights, and Kayak to compare all of their prices. On its own, though, Skyscanner's price chart makes it simple to book around cheap flight days, plus the app's explore feature shows you the cheapest flights to any destination.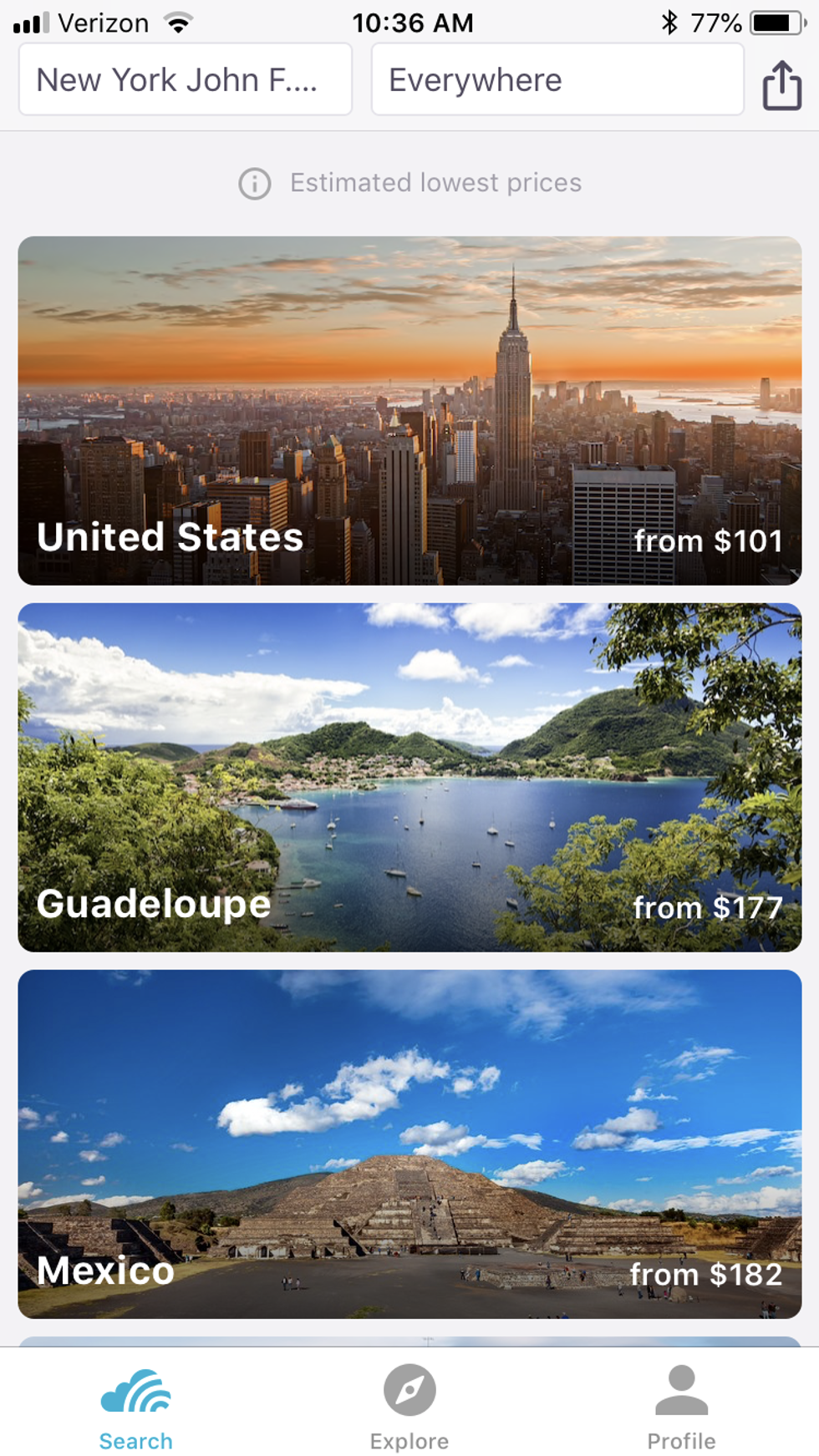 Not sure where you want to go? Skyscanner suggests a few locations with lowest prices on flights.GearBrain
If you book a certain flight, Skyscanner will send you price updates if the ticket for that flight goes down. You can also filter results by price, number of stops, airlines, and take off or landing time. For booking hotels, hostels, and car rentals, Skyscanner matches other sites in terms of finding the lowest prices and the best deals, but there's nothing particularly special about the app's hotel and car rental aspect. Note too that the app lacks an explore feature or price chart for hotels or car rentals. Its flight searches are really what make Skyscanner worth downloading.
If you're going to choose just one site to use for flight searches, though, I would suggest Skyscanner. Its smooth interface, price chart, and explore feature make the app convenient and straightforward, and in most cases Skyscanner found similar or lower flight prices to other search engines such as Google Flights and Kayak.
—Story by Grace Symes, a book reviewer and writer, who is currently pursuing her undergraduate degree at New York University.
Pros:
Smooth interface
Price chart
Free
Cons:
Doesn't always have cheapest flights
Some airlines don't show up
Uses outside booking services
Like GearBrain on Facebook