Like GearBrain on Facebook
The public beta of iOS 12, Apple's latest operating system for iPhone and iPad, is now available for everyone to download.
Being a piece of beta software means this is not the finished version of iOS 12, which is due to launch in the fall, so in using it you may encounter some bugs, glitches, and apps which do not work properly yet.
Although we have been using the beta for a few weeks and not found anything seriously wrong, readers must be aware that this is unfinished software and may run abnormally at first; battery life is also often poorer on beta versions of iOS. You have been warned.
How to install the iOS 12 public beta

Head to this GearBrain article to learn exactly how to download and install the iOS public beta on your iPhone or iPad today.
Several new versions of the beta will be released by Apple between now and the fall, so make sure to keep an eye out for those and update your device in the usual way. That way, you'll also be running the best — and most stable — version of iOS 12.
Which devices can run iOS 12?
iOS 12 can be installed on the following Apple products:
iPhone
iPhone X
iPhone 8
iPhone 8 Plus
iPhone 7
iPhone 7 Plus
iPhone 6s
iPhone 6s Plus
iPhone 6
iPhone 6 Plus
iPhone SE
iPhone 5s
iPad
12.9-inch iPad Pro 2nd generation
12.9-inch iPad Pro 1st generation
10.5-inch iPad Pro
9.7-inch iPad Pro
iPad 6th generation
iPad 5th generation
iPad Air 2
iPad Air
iPad mini 4
iPad mini 3
iPad mini 2
iPod
iPod touch 6th generation
What's new in iOS 12?
There are hundreds of new features in iOS 12, but here are some of the highlights:
Improved performance
When it revealed iOS 12 at its Worldwide Developer Conference event in June, Apple said its main focus for the new software was on performance. This tallies with rumors which previously claimed Apple was seeking to release a more stable version of iOS this time around — after several bugs were discovered in iOS 11 — and that major visual changes will be saved for iOS 13 next year.
Apple says: "Whether you're using your iPhone or iPad, iOS has been enhanced for a faster and more responsive experience all round. Things you do all the time, like launching Camera and typing with the keyboard happen faster than ever."
Although this is still an early beta, we have noticed some actions — like swiping to open the camera from the lock screen — are faster than before. Apple claims the keyboard is up to 50 percent quicker, and some apps now launch twice as fast as before.

We don't disagree with Apple's claims here — iOS does feel quicker — but the company is performing its usual tricks of making software feel faster and more responsive by speeding up the swiping animations.
Speaking of swiping, iOS 12 brings the same iPhone X-style swipes to the iPad. This means you can go to the home screen with an upward swipe from the foot of the screen, and the control panel appears with a swipe down from the top-right corner. This latter gesture suggests Apple will bring Face ID to the next iPad, so needs to move that gesture from the middle to the corner.
Grouped notifications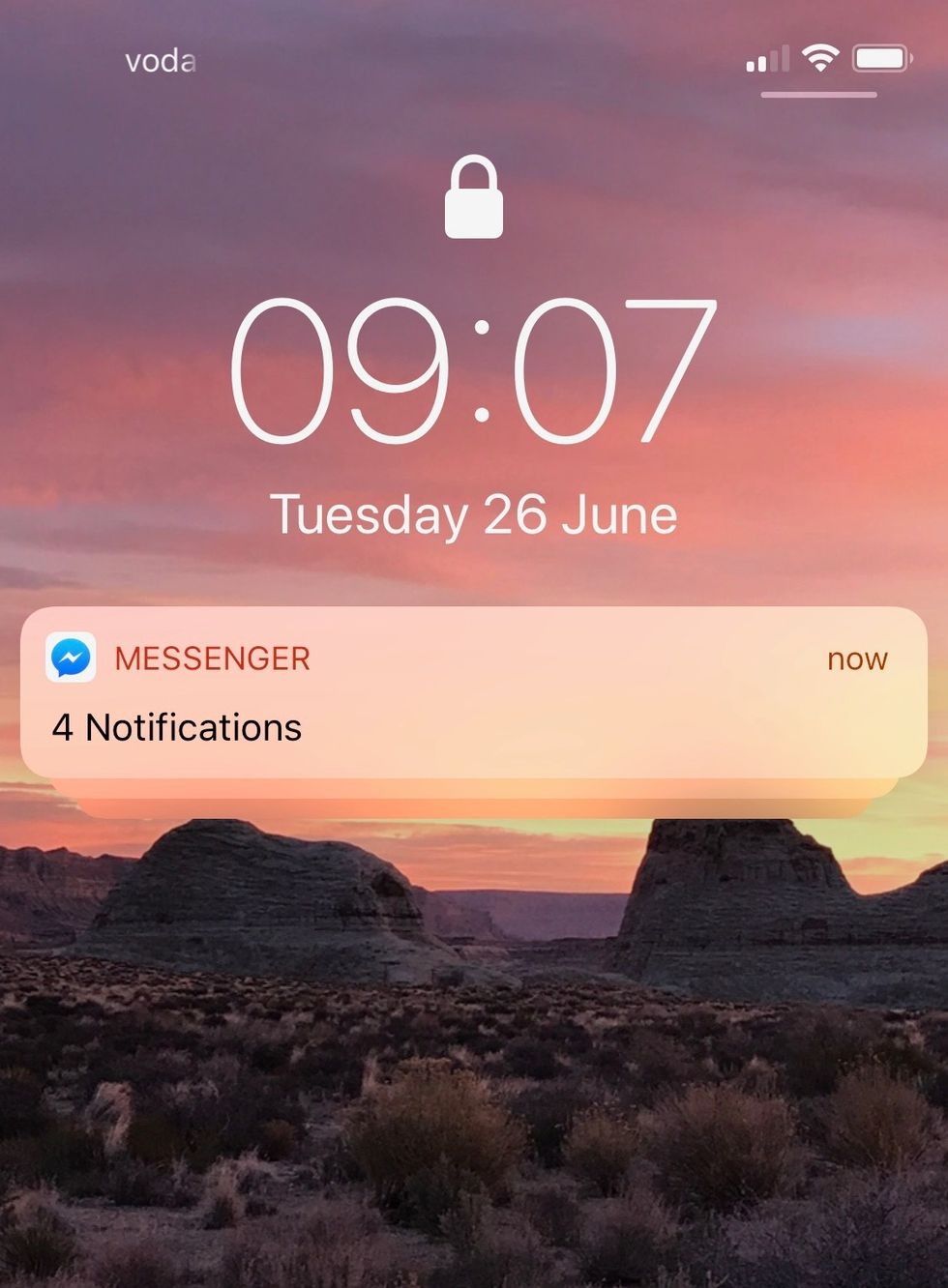 GearBrain
At long last, Apple has listened to years of complaints from users and fixed the iOS notification system. Before, if you received several notifications from the same app — like a bunch of Messenger or WhatsApp messages — they would all get their own notification bubble on the lock screen, taking up loads of space.
Now, when you receive more than a couple from the same app, they are grouped so that all of the notifications for each app take up a single bubble on the lock screen. You can then tap this to expand the bubble and see every message.
Quiet notifications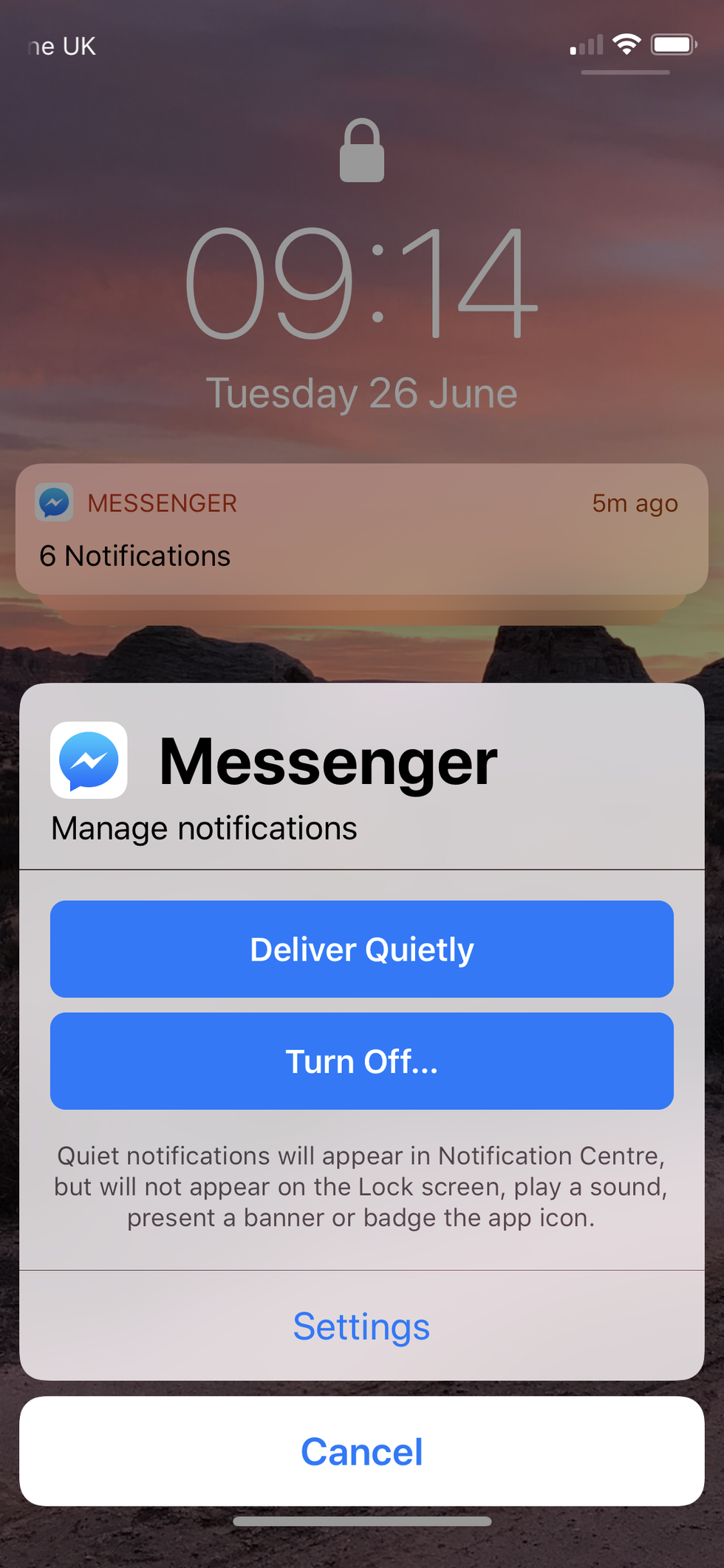 GearBrain
Swipe left on that grouped bubble on the lock screen, then tap Manage and you can adjust how iOS 12 alerts you to notifications from that app. Here, there is an option to switch notifications from that app to 'quiet notifications', which appear in Notification Center, but not on the lock screen. These apps will also no longer make a sound to alert you, present a banner, or show a badge on the app icon.
Siri helps with notifications

If you regularly dismiss or fail to respond to notifications from a specific app, then Siri in iOS 12 will pick up on this and suggest you change how the messages are displayed. For example, say you never act upon Instagram notifications on the lock screen, instead preferring to open the app later and looking at everything at once — Siri will see this behavior and suggest you no longer have your lock screen cluttered up with Instagram notifications. They will instead be sent to Notification Center.
Do Not Disturb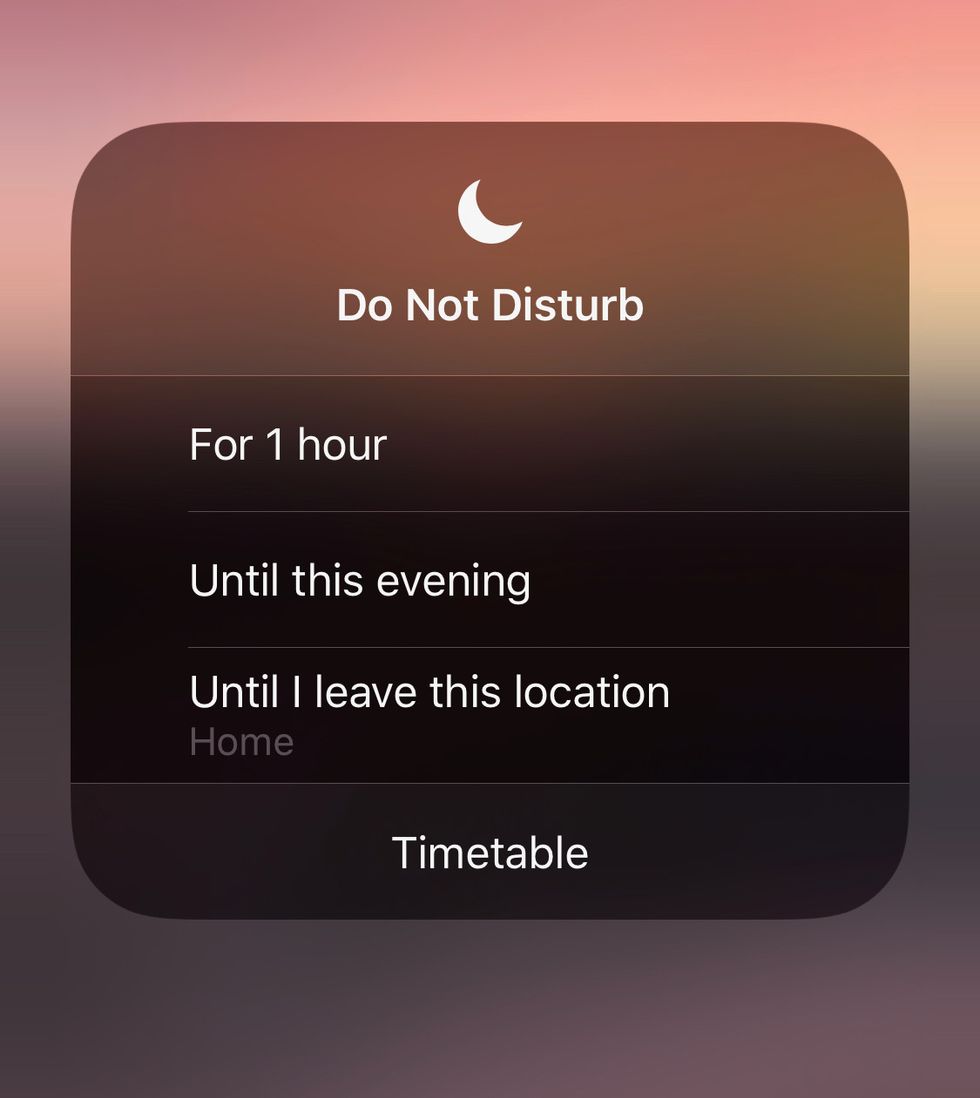 GearBrain
In a further bid to save you from notification chaos, iOS 12 adds a new feature to Do Not Disturb. Now, the feature which turns off all notifications can be quickly set for a certain amount of time. For example, you can silence notifications for one hour — if you're heading into a meeting, for example — until the evening, or until you leave your current location.
You can also ask Do Not Disturb to remain active until the end of a certain event in your calendar — again, useful for when you're in a meeting and don't want notifications getting in the way.
There is also a new feature called Do Not Disturb During Bedtime, where no notifications will appear on your lock screen between certain times of day (or night). That way, if you wake up in the night and check the time on your phone, you won't be shown any distracting unread messages.
Screen Time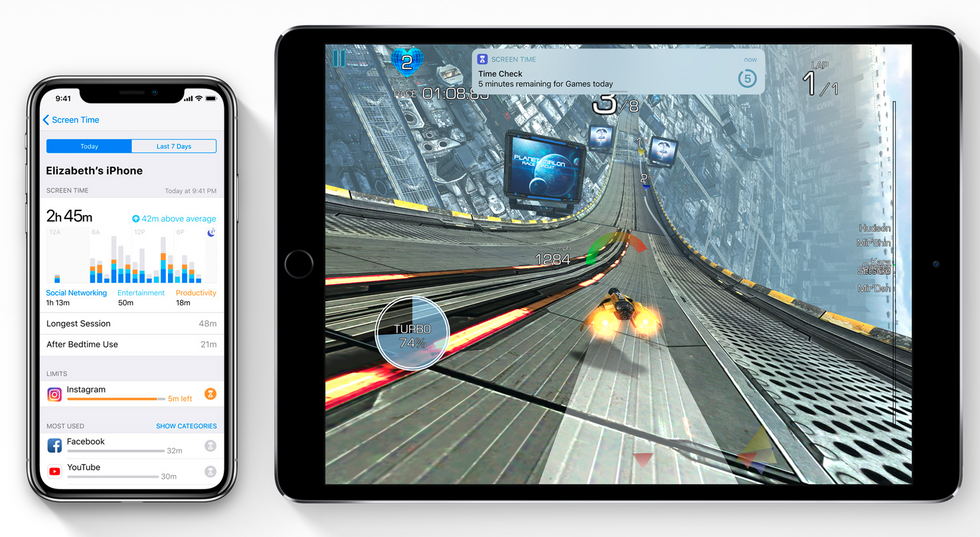 Apple
In a way, Apple wants us to use our iPhones less. That is the goal of Screen Time, a new feature in the Settings menu which shows data about how and when you use your phone. The results can be rather shocking, especially when it says how you pick up your phone 129 times every day, on average, and sometimes receive over 200 WhatsApp messages a day.
The idea is this data might make iPhone users change their habits. To help this, Apple has several new features in iOS 12 to limit how much you — or, more specifically, your children — use iOS devices.
Read More:

A feature called Downtime can be enabled, blocking the use of all but a handful of user-selected applications at certain times of day. This could be useful for stopping children from using YouTube after a certain time each night, for example. Daily limits for how much each app, or category of app like 'games', can also be set. You (or your child on their device) will be warned when you are approaching that limit, then accessing the apps won't be available until the next day.
Memoji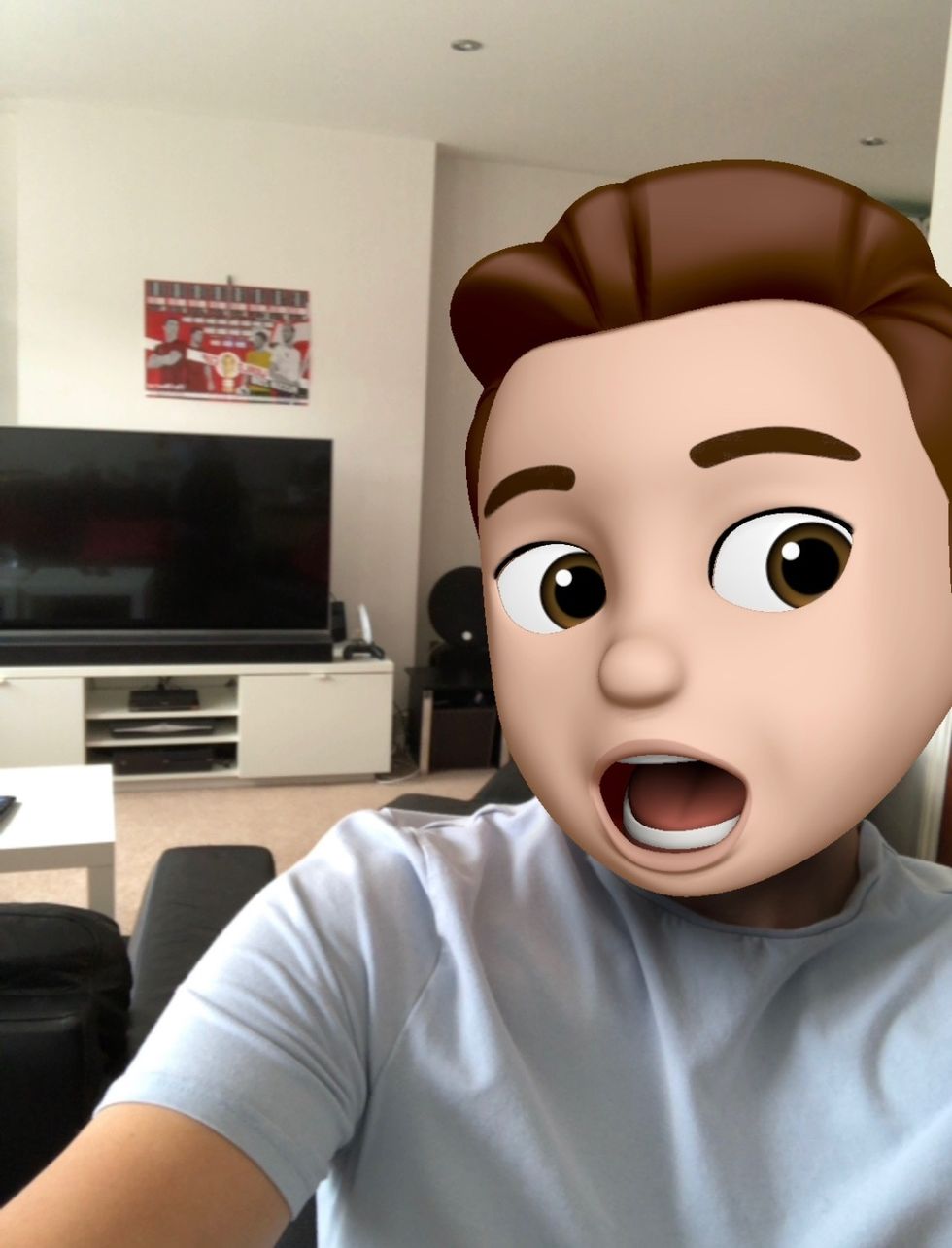 GearBrain
On a less seriously note — a far, far less serious note — iOS 12 introduces Memoji. A clear counter strike against Samsung's AR Emoji on the Galaxy S9, Memoji lets iOS 12 users create their own Animoji for use on the iPhone X.

Read More:
Instead of photographing your face and applying it to a slightly creepy digital version of you, Memoji gives users a blank canvas to create any character they like. There are hundreds and hundreds of options for hairstyle, face shape, skin tone, eyes, glasses, hats and much more. The customisation is extensive to say the least, and once you have created your Memoji you can use it during FaceTime calls, where the face reacts sits on your shoulders and reacts to your movements, just as regular Animojis did before.
New for all Animojis in iOS 12 is the ability to blink, wink, and stick out your tongue. There are also four new Animoji to use with iOS 12, including a koala, tiger, ghost and a T.rex.
Group FaceTime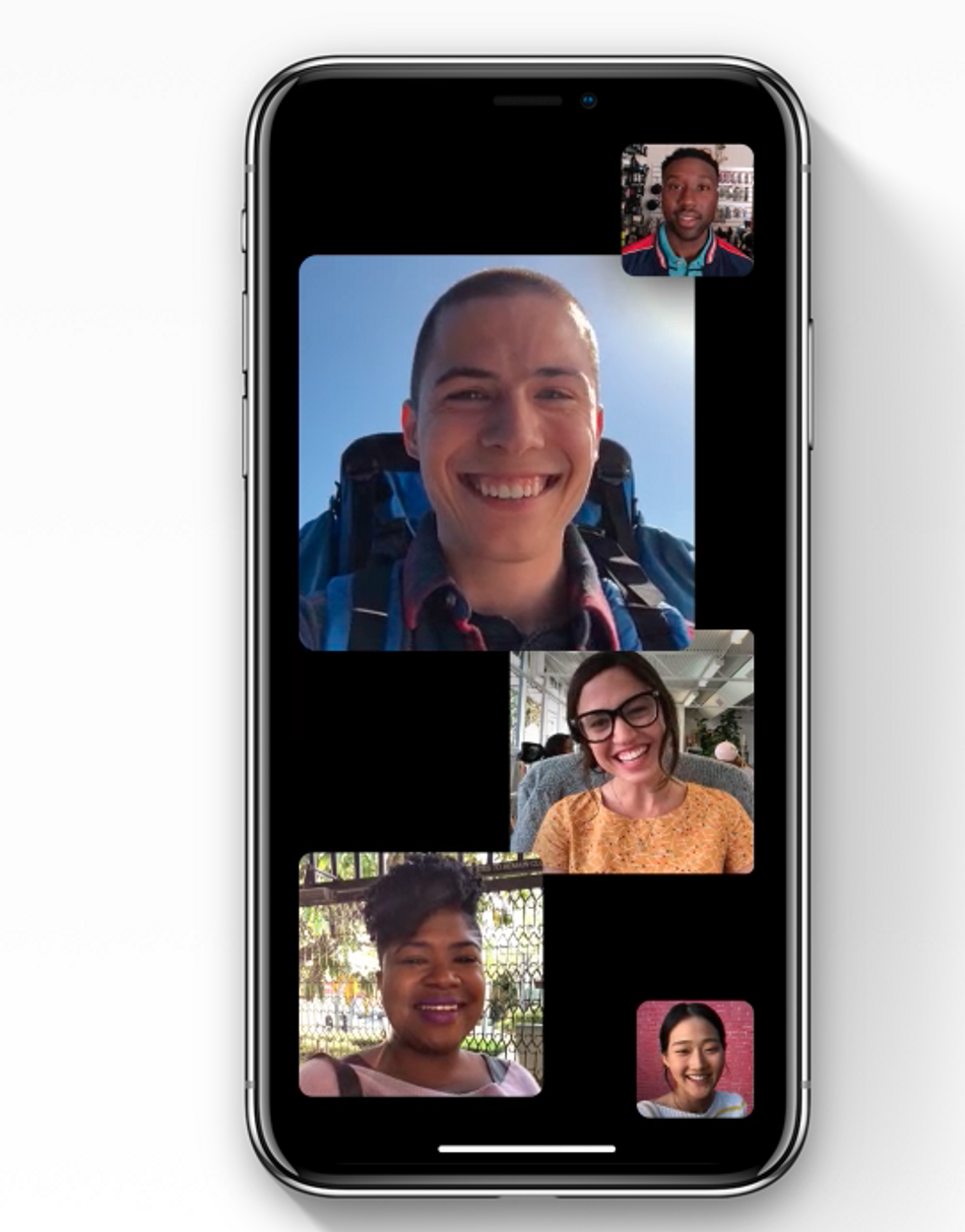 Apple
Apple has always advertized FaceTime as an intimate way for friends and family members to keep in touch, whether they are wishing their children goodnight from the other side of the world, or keeping in touch with their long-distance partner.
Now though, iOS 12 introduces group FaceTime calls, where you can speak to up to 31 other people at once. Yes, 32 people in a single video chat. This may sound like a complete mess, but iOS 12 works to keep the interface simple by only showing those who are talking, helping you keep track of the conversation.
Group FaceTime can be started from a pre-existing group chat in Messages or you can create a new one in FaceTime itself.
Siri Shortcuts

This is one of the features which isn't fully up to speed yet in the iOS 12 beta, so you'll need to have some patience. What Siri Shortcuts will be, is a system for streamlining your day based on routines. Say you buy a coffee at roughly the same time every morning; Siri will pick up on this routine and put a suggestion to place your coffee order at the right time on the lock screen.
These work with third-party apps, so you can ask Siri to interact with a non-Apple app. For example, you could ask Siri to find your keys and the assistant will, within its own interface, search for the Tile device attached to your keys, using the Tile app in the background.
You can also run shortcuts with customized voice prompts. This has the potential to make Siri Shortcuts similar to the routines feature of both Amazon Alexa and the Google Assistant, where you can ask the digital butler to do something — or tell it what you're doing — and have it perform tasks for you. This could see Siri become a more prominent and useful player in the smart home space, but we'll have to wait until the Shortcuts system is fully functional to find out.
Measure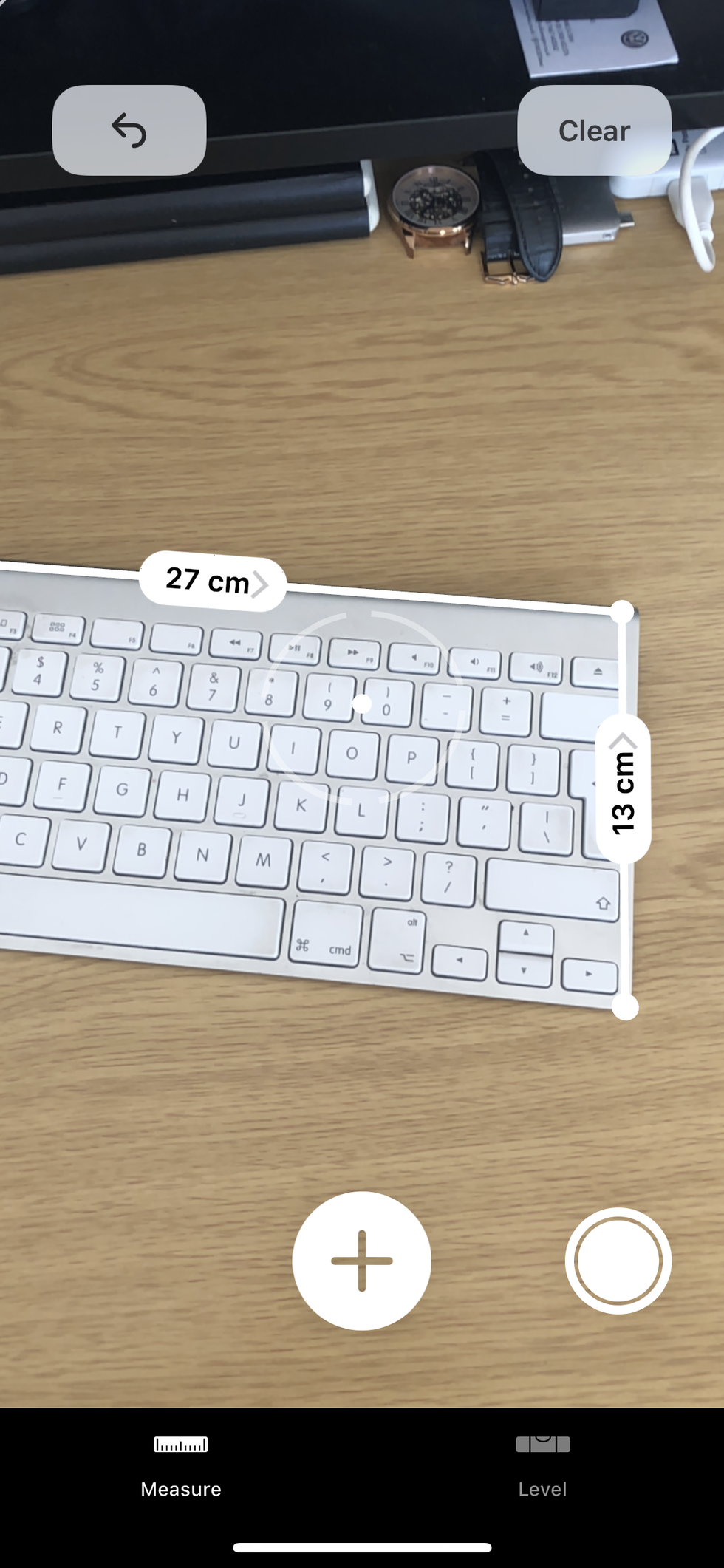 GearBrain
iOS 12 has an all-new application called Measure. Using the camera and augmented reality, the app helps you measure objects in the real world with a digital tape measure. There are a lot of apps from third-party developers that can do this too, but it's convenient to see Apple include its own on every recent iOS device.
Augmented reality updates
Apple's new ARKit 2 improves on the iPhone and iPad's augmented reality abilities. One key update is multi-user experiences, where two or more iPhone users can see the same AR objects, in the same real-world places, at the same time.
This gives AR app developers new freedom to create shared experiences — for example, the Ikea Place app could be updated so that two people at once can see how augmented furniture would look in their room, each using their own phone but seeing the same results.
Security code AutoFill

While some of iOS 12's headline features and obvious, others take more time to notice and appreciate. Security code AutoFill is one of those, because while we didn't notice it at first, it soon became useful and a genuine time-saver.
This feature recognizes when you receive a text message containing a security code — like when Facebook or another service send you a code for two-factor authentication. It then automatically copies the code from the message and pastes it into wherever it is needed — such as in a web browser form.
On a similar note, the Safari web browser in iOS 12 automatically offers up a strong, complex and unique password whenever a website asks for one. So when you are creating a new user account, Safari comes up with a password and saves it; it then provides the password whenever it's needed, so you never really have to remember it yourself. Also new for iOS 12 is how it alerts you when trying to use the same password for two different accounts or services.
Third-party navigation apps comes to CarPlay

Apple Maps has improved since its disastrous launch back in 2012, but for many users Google Maps or alternatives like Waze offer a better solution. Thankfully, with iOS 12 these mapping apps can now be used in CarPlay, Apple's iPhone-powered car infotainment system.
Safari gets a privacy boost
Cookies and how websites collect and share your information is a hot topic at the moment, and with iOS 12 Apple has clamped down further on this data sharing. Safari now prevents Share buttons and comment widgets on web pages from tracking you without your permission. The web browser also prevents advertisers from collecting information about your device, preventing them from re-targeting ads to you across the web.
New Stocks app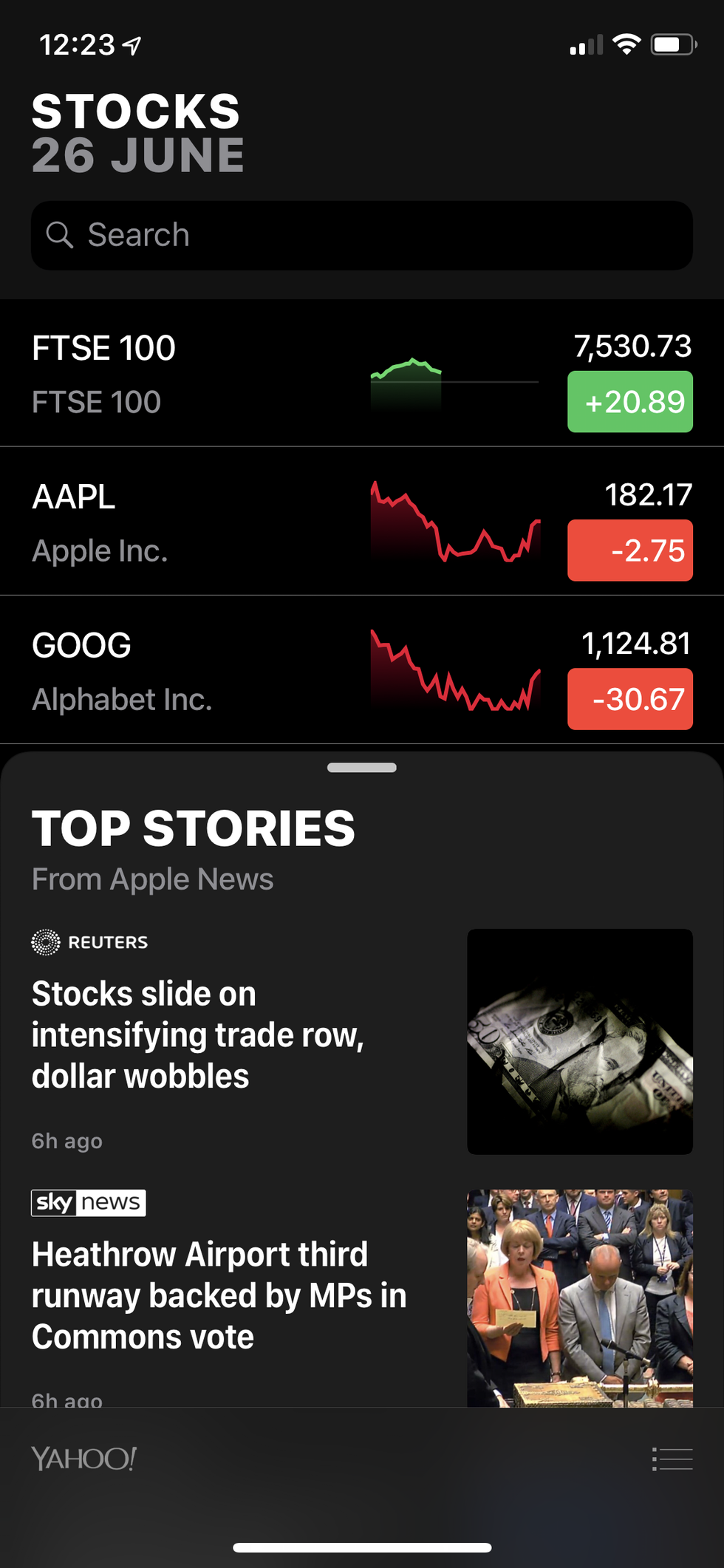 GearBrain
The Stocks app has had a refresh for iOS 12 and now includes section on business and financial news stories from Yahoo.
More detailed battery data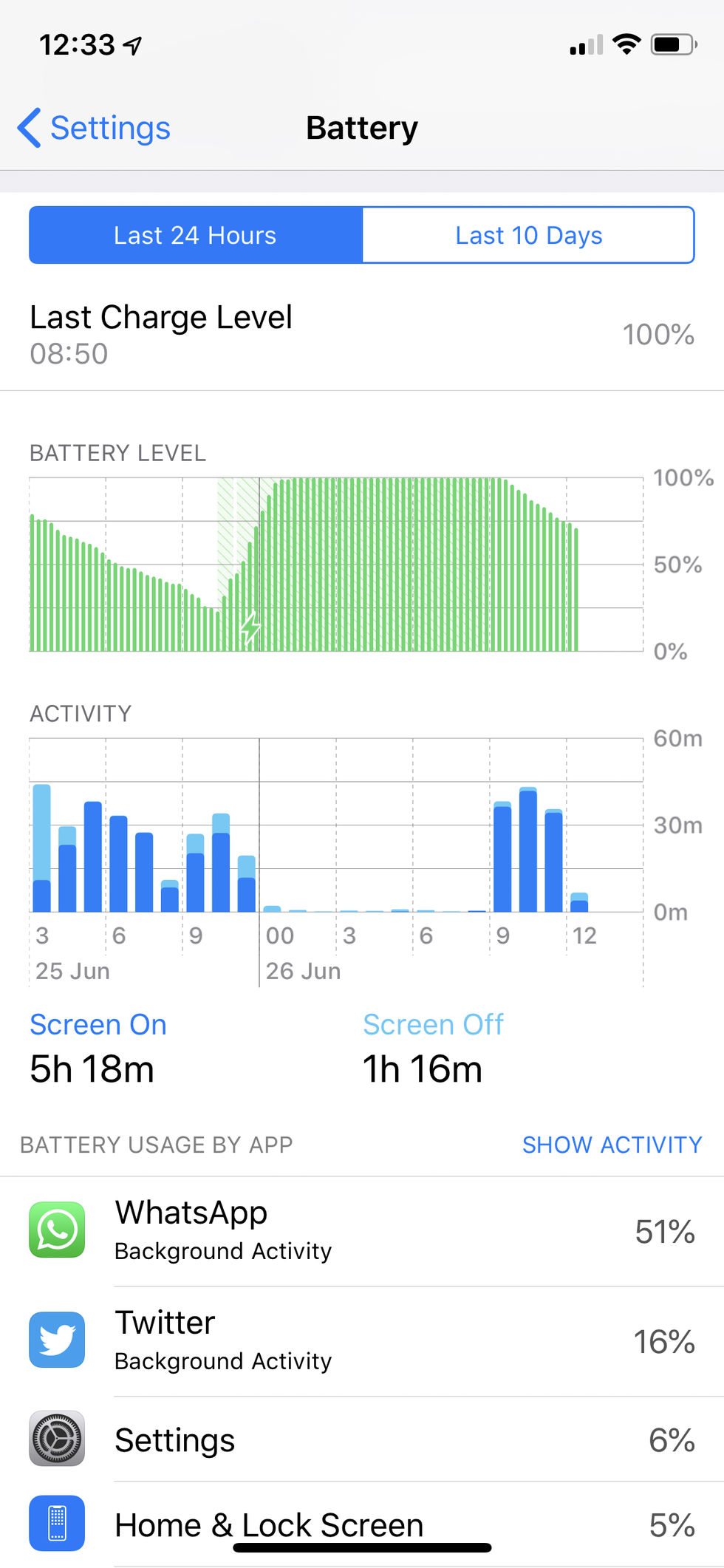 GearBrain
Head into the Battery page of the Settings app and you will now find a new graph to show how your battery had depleted since it was last fully charged. A second new chart shows how your device has been used over the last 10 days.

Redesigned and updated Voice Memos
The Voice Memos app has had a small design refresh and is now location-aware. Knowing where you are when you use the app, it will automatically name new recordings after your current location, unless you enter a new name.
Like GearBrain on Facebook