Pros: Easy setup, Bluetooth, water resistant, loudness level is good, answer your phone in the shower.

Cons: Answer your phone in the shower, suction only works on smooth tiles, tinny sound.
When I first heard about Freshetech's Bluetooth shower speakers, I wondered what kind of person wants to answer their phone while in the shower. Is this a need that I had missed? People who enjoy listening to music but also want to be able to grab a call during those few minutes in the bathroom? Maybe. So when offered a chance to test Freshetech's Splash Tunes Pro Bluetooth Shower Speakers, we put them through a test run—to see just how good the sound quality would be in the water, along with any call connection.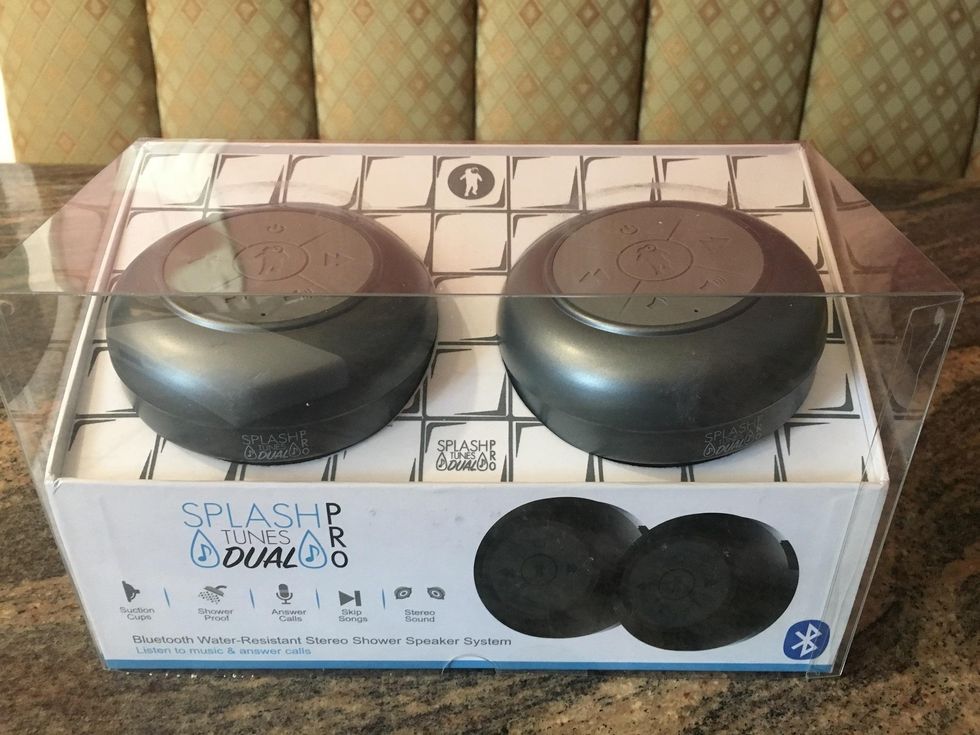 Splash Pro Tunes Waterproof Connected Show SpeakersGearBrai
Splash Tunes Dual Pro Bluetooth Shower Speakers comes with two Bluetooth speakers, described as shower proof or water resistant, and have a built-in microphone, along with suction cups on the back. You also get rechargeable batteries (1200 MaH) for the speakers which will last up to 14 hours of continuous play—quite a long shower.

The Splash Tunes Pro speaker has six buttons: on/off, volume control, forward or rewind, plus a pause/play/answer phone button which is in the shape of an astronaut. You can pair the speakers with any Bluetooth enabled smartphone, tablet or computer. They work with all Apple iPhones, iPads and Android devices, and can even be paired with Amazon Echo Dot using the Alexa app. (Note: we tried to pair Splash Tunes Pro speakers with our Amazon Echo and it didn't work.)
Shower tunes
For our first test, we tried pairing the Splash Tunes Pro speakers with an iPhone and ran into some issues. We could pair the first speaker, but not sync both speakers for stereo mode. The devices had to be turned off, then restarted, before they both would work together in stereo mode.
Next, we placed the speakers in the shower to listen to their acoustics while playing music, and while answering a call. But when we went to place the Splash Tunes Pro speakers on the shower tile, the suction cups wouldn't grab hold of the tile and stick. Put the blame on our decorative tile: the surface wasn't smooth. Moving to a second bathroom, with plain tiling did the trick. The speakers held to the wall immediately.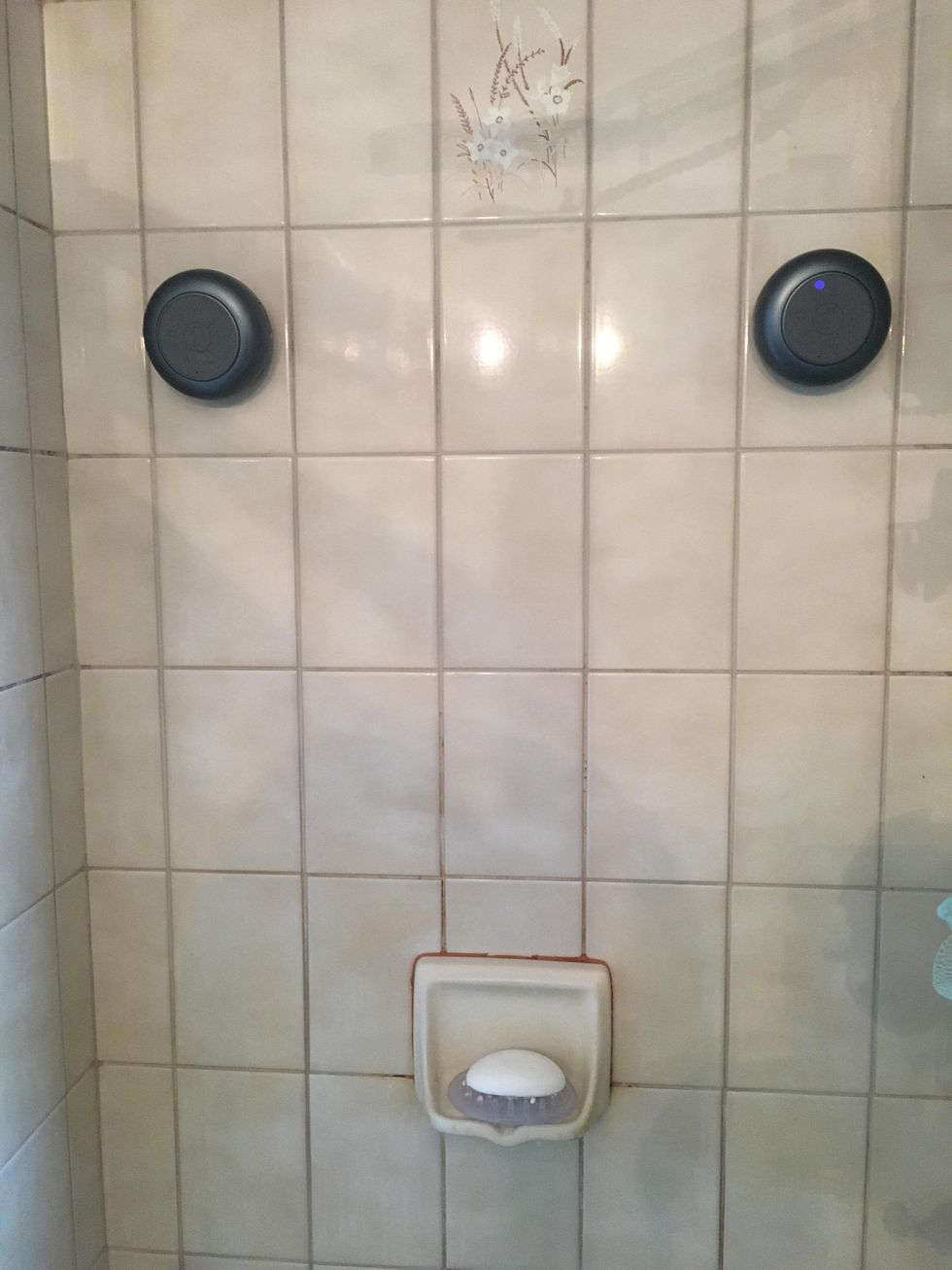 Splash Pro Tunes speakers installed in a shower.GearBrain
Sound quality tests came next. Each speaker is a 3-watt device, and we were pleasantly surprised by the volume of the sound. Even with water running, you could clearly hear the music. While the sound quality was not as good as other Bluetooth speakers we've tested (see aiFi review), this was in stereo. Still, while the high-end sounds were good, we found the speakers lacking on the low end or bass. If you want more full-sounding music, particularly with a lot of bass, you might not like these Bluetooth speakers. But if you want to hear some music in the shower, these will work. Just don't expect symphony quality.

I'll take that call
The phone call seemed the crucial element to Splash Tunes Pro selling point. I placed a call to my smartphone—with the water running and while listening to music—and could immediately hear a loud ringing, even with my head under the water, in the shower. To answer the incoming call using the speakers, you hit the astronaut or center button on the speaker, the music stops and you can begin talking.

On the call, I found the sound quality the same as if using the speaker of my smartphone. The person on the other end could not tell I was in the shower speaking to them—which was nice. We then tried the reverse, making a call to my smartphone while it was connected to both Amazon Echo Dot and Splash Tunes Pro speakers. The call didn't go through the speakers. I contacted the company and they were not sure why my speakers wouldn't link or place the call. So know there's an issue there, particularly if you're going to pair your speakers with an Amazon Echo Dot and your smartphone.
Uber connected
All of this testing still didn't answer my original question: would people want to answer their phone while in the shower listening to music? Without running a formal scientific study, I asked friends and even family members and got mixed results. Younger friends, who can't seem to let go of their smartphones, liked the idea of staying connected to calls even in the shower. Older family members and friends thought music in the bathroom sounded great, but drew a line with answering the phone. I guess this will come down to a personal choice by the buyer.

Some final notes: make sure you fully charge the Splash Tunes Pro Show Speakers before you first use them, or pair them. You'll know their fully charged when the LED indicator, which glows red while charging, turns off. Finally, don't submerge the speakers or open their casing while in the shower. While the speakers are water resistant, they're not meant to be run underwater.
The Splash Tunes Pro Speakers retail for $99.95 and can be purchased on FRESHeTECH's website as well as Amazon. The company also offers single packs of Splash Tunes Pro ($39.95) and Splash Tunes Bluetooth Shower Speakers ($24.95). These speakers come in two colors: gun metal grey or rose gold. We think and are for the individual who doesn't need or want stereo speakers in the shower. The company also offers other Bluetooth speakers.

Summary
Splash Tunes Pro Bluetooth Shower Speakers are the first Bluetooth shower speaker we've come across at GearBrain. They have a good sound quality, but aren't going to provide stereo-like sound. The speakers are easy to set up, provided you have a smooth tile surface in your bathroom, and do let you answer calls while showering. For those who can't be away from their phone—even while washing your hair—these gadgets will keep you connected.