Like GearBrain on Facebook
By Sonya Vatomsky
Smartphone apps can book doctor visits, track blood pressure readings and pull up side effects for prescription drugs. Medical wearables can read your glucose levels. But digital devices are moving quickly into the terrain of the medical professional: doing follow-up wound care, comforting sick children and even performing surgery. The world of healthcare is swiftly growing beyond the walls of a doctor's office and into the digital world. Patients are now making receiving a diagnosis, prescriptions, undergoing lab tests and surgical procedures without ever speaking to another person in the room.
Telehealth, as an industry, is expected to top $1 billion by the end of 2017, according to a study from consulting firm Accenture. One of the most-touted benefits is price: virtual doctors cut costs for both hospitals and patients. As health care costs continue to rise — another 6.5 percent for 2018, says Price Waterhouse Coopers — that factor, a chance for medical care at a discount, is a big draw.
Consider Teladoc, a service that connects you to a doctor in an average of 10 minutes, and serves more than 20 million members. Members can request an appointment via video call, phone call, or through their mobile app. Hospitals that are part of the network include Beth Israel Medical Center, which charges non-members $49 for a consult, individual Teladoc members $39 and those on a family plan $29. Plans vary from $2.99 to $4.99 a month.
MDLIVE is a similar service that also offers consults with therapists and psychiatrists. They charge patients up to $59 for each virtual visit — and there are no monthly membership fees. A recent study in Health Affairs found that while telehealth plans are not only cheaper, they're also encouraging people to call a doctor instead of self-medicating with chicken soup and Netflix.The convenience of the service means patients are actually seeking medical care more.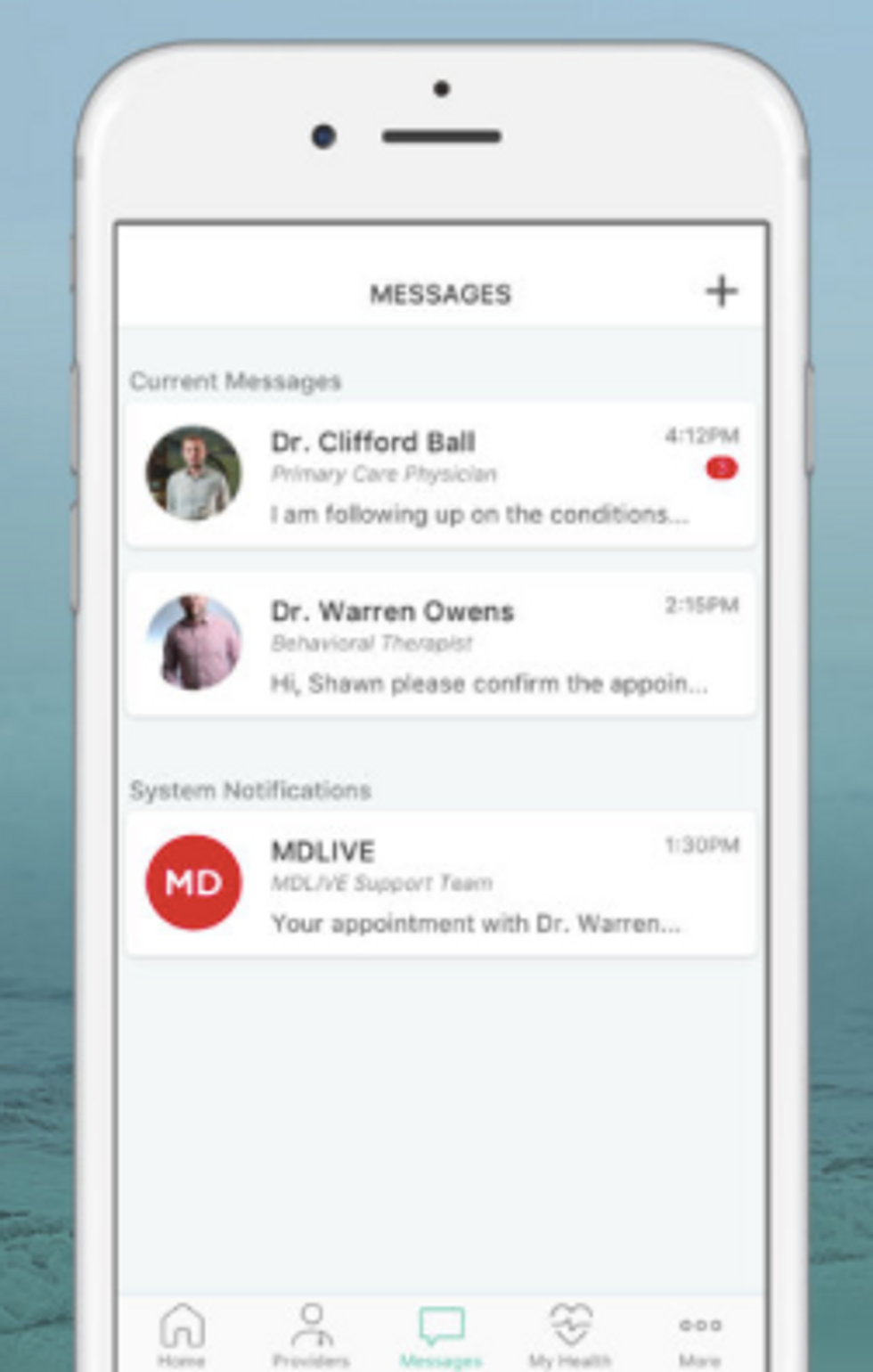 MDLIVE app lets patients chat with their doctors.
Hospitals get robotic help
While one of the biggest telehealth benefits is receiving care at home and skipping the costs of travel, child care, and time off work, innovations are happening within hospital walls as well. A clinic in Oroville, CA reportedly added a 5-foot tall white robot to its staff. The Oroville Hospital only has one on-staff neurologist and the addition of the robot, nicknamed RED, means immediate access to specialists in the Sacramento area.
Doctors are also testing a robot, STAR, that can perform surgery, stitching up soft tissue and even planning the operation on its own, according to a study published in Science Translational Checkup last year.
At New York-Presbyterian/Lower Manhattan Hospital hospital in New York, patients can be seen by doctor — on a TV screen — checking wounds via remote camera, and walking nurses through removing stitches.
Other hospitals reportedly comfort children receiving IV chemotherapy drugs, such as IVEY, a small robot at Children's Hospital Los Angeles. And in Children's Hospital Boston, a robot made by VGo Communications Inc. comes home with patients who have undergone surgery, allowing post-surgical checkups to be done from the living room and not a hospital room miles away from home.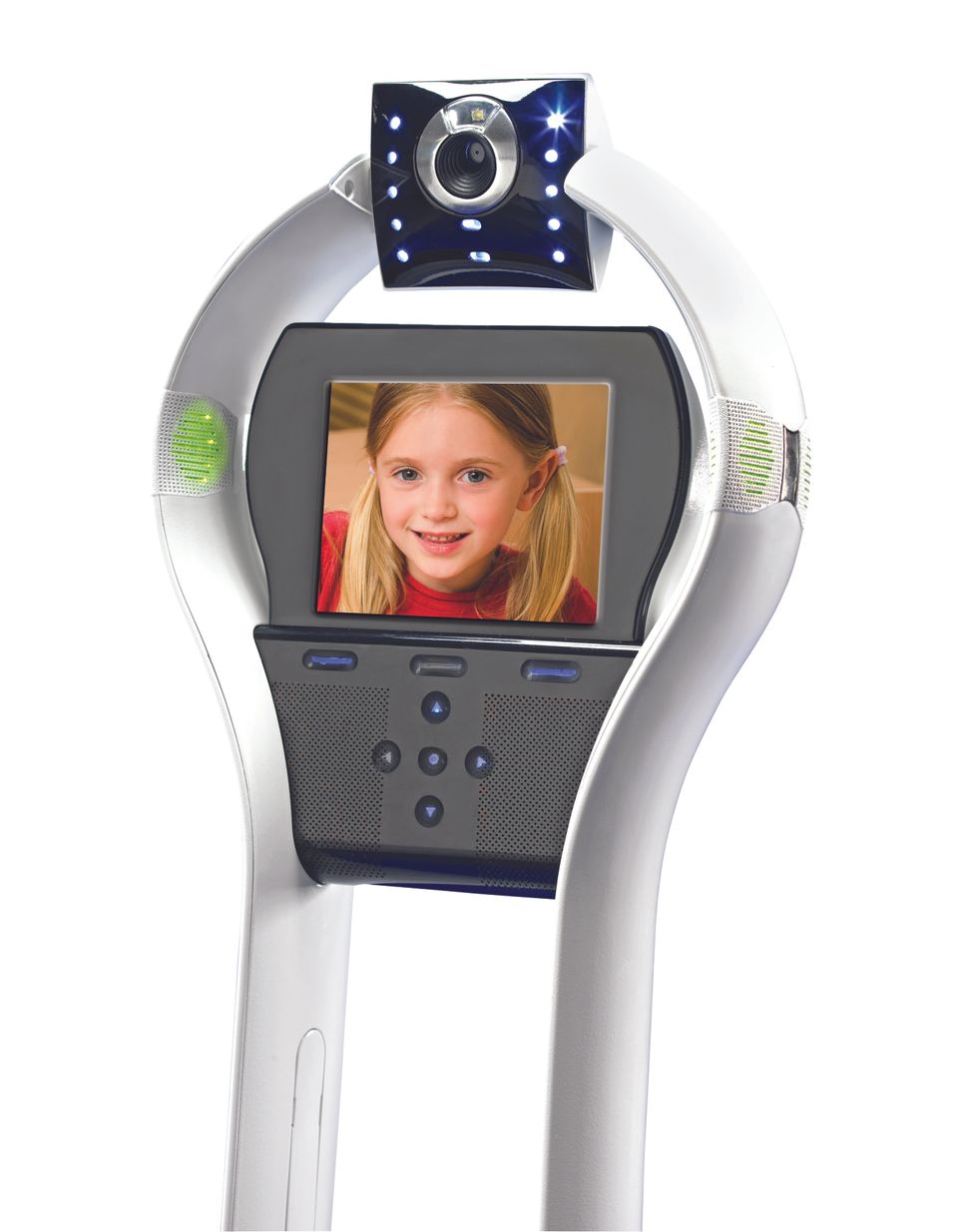 VGo's robot is sent home with children so they don't have to return to hospitals for check-ups.Photo courtesy of VGo Communications
Digital house calls
But why use a robot when you can take a picture with your phone? A new app from healthy.io offers clinical urinalysis at home, which is more useful than it sounds. The results — whether that's for detecting a urinary tract infection or monitoring a high-risk pregnancy — are reportedly as accurate as a standard lab-based analyzer, and the service is currently available in the EU while the company waits for clinical approval in the USA.
Don't worry: you're not peeing on your phone. The app uses a standard urine-dipstick test, which you photograph against a color card provided by the company. The app then color-corrects the dipstick and analyzes the result, helping you set up further consultations or fill prescriptions if necessary.
Smartphone apps can also monitor various health conditions, from high blood pressure to diabetes. Glooko syncs with most insulin pumps and fitness trackers to analyzes medication, food, and lifestyle data, feeding that information back as easy-to-digest graphs and charts. The app also shows the times of day when sugar readings are usually high or low, allowing patients to share the information with a healthcare provider, letting them make necessary changes to a care plan and offer support in between visits. Glooko comes with a subscription plan, so it's not free to use. But patients can waive the fees if sponsored by a doctor, insurance plan, or employer.
Apps like Glooko even offer insight into someone's current state of health, helpful for those who in between appointments. Telemedicine also offers a solution to nurse shortage: according to Finnish think tank EVA, robots can be employed to do as much as one-fifth of nurses' work. Repetitive tasks like drawing blood can be automated, freeing nurses to do more involved tasks that require a human touch.
Replacing the entire medical profession with robots or apps is hardly on the immediate horizon. Telehealth services, however, can be a welcome addition to a treatment plan. Availability 24 hours a day, seven days a week opens the door to getting care from anywhere a patient needs help, whether that's from home or on the road, thousands of miles away from a trusted health care professional.
-Sonya Vatomsky is a writer based in the Pacific Northwest.
Like GearBrain on Facebook