Like GearBrain on Facebook
Rocketbook is launching a new whiteboard priced for the current economic environment, a peel-and-stick solution called the Think Board X2 that starts at just $12.
The new device, which goes on sale today, has built-in Rocketbook Beacons , where anything drawn or displayed within these guides can be sent digitally as a PDF or JPEG to other people through Google Drive, Evernote, OneNote, iCloud and more. The Beacons themselves are visible on the four corners of the board as orange triangles.
The boards can be used for anything where you may want to share what you've created with others, or even yourself. From a grocery list to a school assignment , what's drawn between the four corners can be uploaded for others to see. You can also collaborate on the image through a collaboration mode called Snapcast which uploads images of the whiteboard to a specific URL and people can see changes happening to them every five seconds.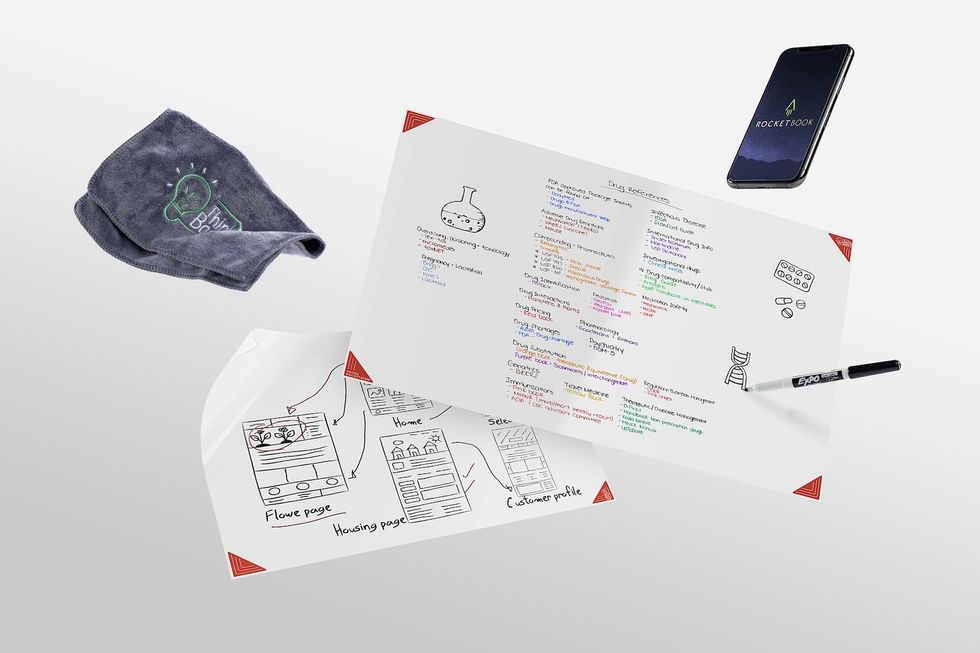 What's written on the Rocketbook Think Board X2 can be shared digitally through multiple apps Rocketbook
After writing on the board, people can use the Rocketbook app to capture the image. The board itself is very thin comes in three different sizes from a standard 8-inch by 11-inch frame to a three-foot by two-foot frame, which will cost $40. Pricing differs on the sizes, but each board comes with one black dry erase marker and one microfiber cloth. The boards can be erased and used again.

"Given the current environment with so many professionals, teachers, and students working from home, we saw a need for an affordable and easy-to-use remote working and learning product," said Joe Lemay, CEO of Rocketbook in a statement. "We teamed up with a fellow Boston company, Think Board, to create the Think Board X2, a perfectly sized digital whiteboard for your home office. Remote work poses a variety of challenges, but it doesn't have to mean sharing content has to be one of them. Teachers rely on whiteboards or chalkboards to show students how to solve a problem. Students write out and practice the materials they're learning. Professionals sketch ideas or concepts to help colleagues better understand. We've kept those in-person conveniences possible with Think Board X2."
Think Board X 2 Smart Whiteboard Film (Large 2'x3') (24"x36") - Powered by Rocketbook Beacon Technology - Scannable White Board
Like GearBrain on Facebook