Like GearBrain on Facebook
Samsung has said it will not introduce any new Blu-ray players in the US, as consumers are increasingly switching away from discs and towards streaming services.
This is even the case - and increasingly the case - with Ultra HD content, also known as 4K. The availability of such content is growing on services like Netflix and Amazon Prime, while Apple lets customers upgrade their HD iTunes movie collection to 4K for no additional cost.
Read More:
Samsung was quick to jump into the Ultra HD Blu-ray player market, launching its first player back in 2016, but now no new models will come to the US, it says. Tech company Oppo made a similar move last year, announcing it was exiting the Blu-ray player market.
Sony also appears to be distancing itself from the disc market, by not including an Ultra HD Blu-ray player in the PlayStation 4 Pro. The rival Xbox One X and One S from Microsoft have this feature, however.
"Samsung will no longer introduce new Blu-ray or 4K Blu-ray player models in the US market," a Samsung spokesperson told CNET.
This doesn't mean availability will dry up immediately. Samsung could feasibly keep producing and selling Blu-ray players for months or even years if demand justifies it. A clue to this shift was seen at the IFA tech show in Berlin last year and this year's CES, with Samsung's booth featuring no Blu-ray players at either show.
A 2018 consumer trend report by Nielsen claimed American adults, on average, watch just five minutes of content on DVD or Blu-ray each day, compared to nearly four hours of live TV. The report also claimed a third of US adults do not even own a DVD or Blu-ray player.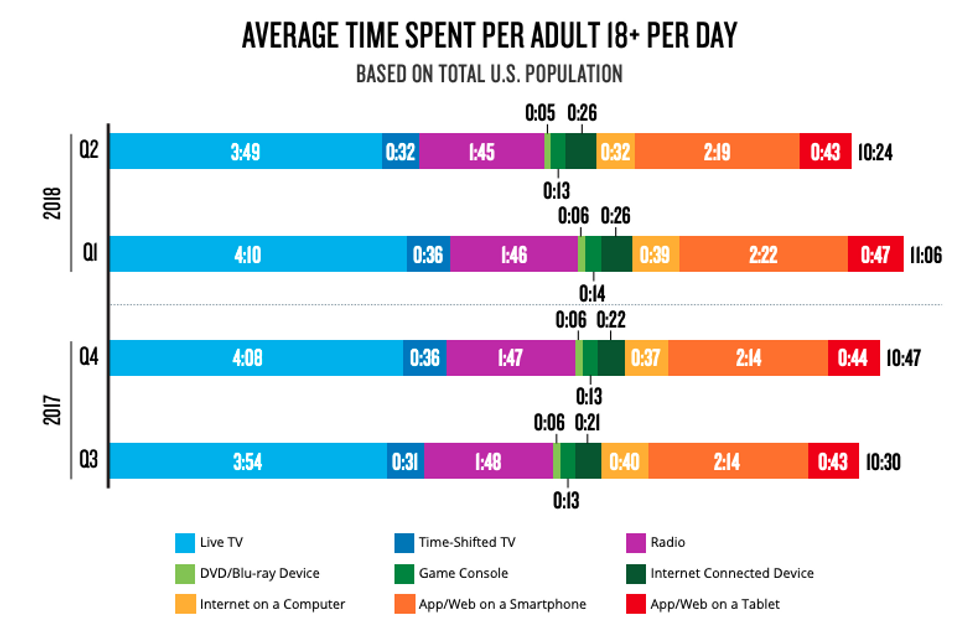 Nielsen
As well as the increase of 4K content on streaming services, a number of competing video standards make the Ultra HD film market confusing for consumers. Some films come to Ultra HD Blu-ray with HDR10+, while others opt for Dolby Vision, a rival form of HDR. Not all televisions and disc players can play both standards, which leads to an inconsistent experience for the customer.

Home cinema purists will argue that discs offer higher quality than 4K streams from the likes of Netflix, which can be affected by variations in internet speed and Wi-Fi signal strength. However, the quality will only improve in time and it is likely that convenience will win out over ultimate picture and sound quality.
That said, Blu-rays will not disappear overnight. Samsung could keep producing the same players for years yet, and there is still a strong growing range of movies released on Ultra HD disc each year. After all, DVDs are still being produced some 12 years after Blu-ray players hit the market.
From Your Site Articles
Related Articles Around the Web
Like GearBrain on Facebook