"Just wait until you see the beetroot being pulled up, that's my favorite part."
As introductions to new televisions go, this sounds like a strange one, as the member of Samsung's PR and product demo team is visibly excited by slow-motion footage of unearthed vegetables.
Read More:
But there is good reason for her excitement. The footage was shot in 8K and is being shown on Samsung's new Q900R, the first 8K television to go on sale anywhere in the world. The picture quality is, as you might expect, outstanding.
Given 8K content has four times the resolution as 4K content, which itself has four times the pixels of HD video, this shouldn't come as too much of a surprise. The shot of the beetroot, framed in such a way that you can see through a cross-section of the soil, bristles with detail, as seemingly each and every grain of soil and dirt is clearly visible.

Equally impressive is the next shot of demo footage, featuring an adorable Golden Retriever puppy. Each hair and whisker is visible and we're almost overcome by the desire to reach out and stroke him.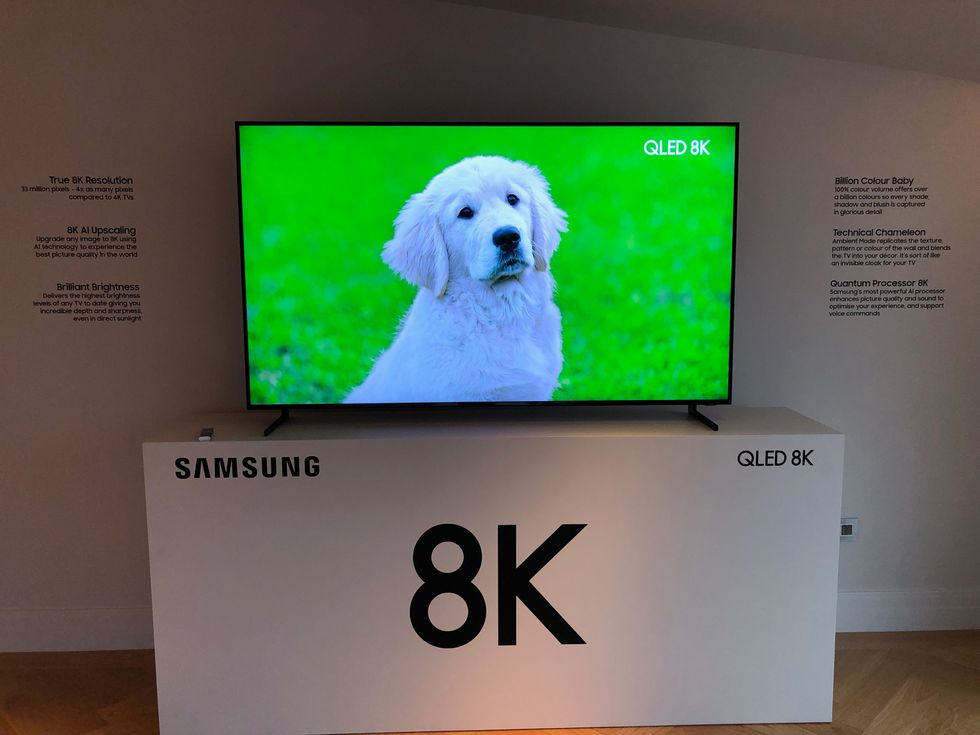 Samsung QLED 8K TVGearBrain
Over 30 million pixels spread across a resolution of 7680 x 4320 is going to have this effect, of course, and also working in Samsung's favour is the Q900R's QLED and HDR technology. Also featuring in some of the company's lesser 4K televisions - like the Q8C we reviewed recently - these technologies work wonders with the backlighting, brightness and contrast to produce deep, inky blacks and vibrant colors.

With a maximum output of 4,000 nits, the Q900R's brightness is double that of most other televisions on sale today, while local dimming means it can shut off the backlighting of individual sections of the display, helping to make blacks truly black.
At this point you are probably wondering, what's the point of owning an 8K television when there's no 8K content to watch on it? Given this television costs up to $15,000 for the monstrous 85-inch model, it's a fair question.

And it's true. There is no 8K content available to consumers, apart from the kind of demo footage Samsung uses to show off the Q900R. There are no 8K TV broadcasts or streams from Netflix, no 8K Blu-rays, no 8K downloads, and no 8K video games.
One day, there will be. Japanese national broadcaster NHK is launching an 8K channel at the end of this year, and plans to shoot the 2020 Tokyo Olympics in 8K. Netflix has also begun shooting some content in 8K, but none is available to consumers just yet.
Artificial intelligence
Until 2020, Samsung is relying on artificial intelligence. The Q900R is Samsung's first TV to use its new 'Quantum Processor 8K', a chip which uses AI to upscale HD and 4K footage into something approaching 8K. This means the content you watch now, on disc and through online streams or broadcasts, will be made better by the television.
What's more, Samsung is constantly teaching its upscaling AI how to do a better job. It does this by feeding it information in the form of films and TV shows - along with feedback from customers and the technology press - then issuing a software update to the Q900R every month. That way, the TVs 'Quantum Processor' gets better at upscaling with every update.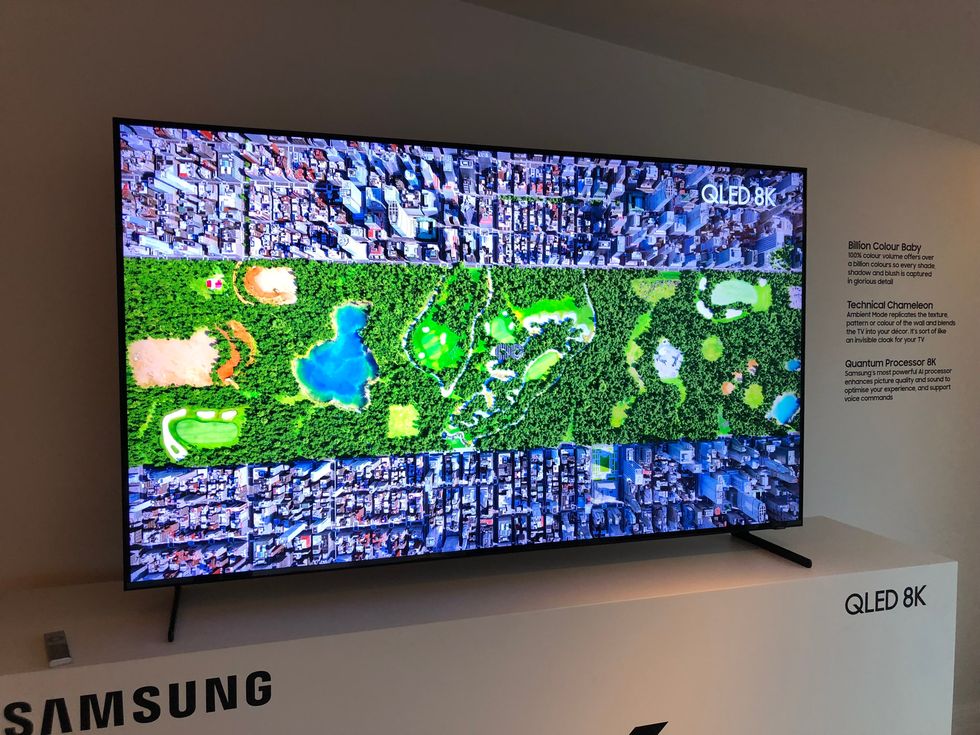 GearBrain
All this results in an improvement to 4K content. We watched an episode of Planet Earth 2 on Ultra HD Blu-ray and were impressed by how the TV upscales without blurring the image or introducing artefacts or grainy noise. It isn't a night-and-day improvement over normal 4K just yet, but with those regular AI updates the Q900R should, in theory, get better - and your 4K content will look better - as time goes by.
Away from the 8K picture and AI smarts, the Q900R uses an updated and more powerful version of Samsung's One Connect box which we have written about before. Basically, you plug your cable box, games console, Blu-ray player, USB drive, soundbar and everything else into the One Connect box, then attach this to the TV using a single, slender and almost transparent cable.

That way, the box can be hidden out of sight and the TV gets to hang on a wall with nothing but the tiny semi-transparent cable to distract you. It's a very smart solution. In fact, look closely at the top image of this article - the One Connect cable exits the rear leg of the stand and runs along the foot of wall to the left of the photo, where a Blu-ray player was sat. It's just about invisible.
Also smart is 'ambient mode' which can mimic your wallpaper on the TV screen. Take a photo of the TV and wall with your phone via the Samsung SmartThings app, then the TV screen matches the wall behind it, helping the massive piece of black glass blend into the room when it isn't being used.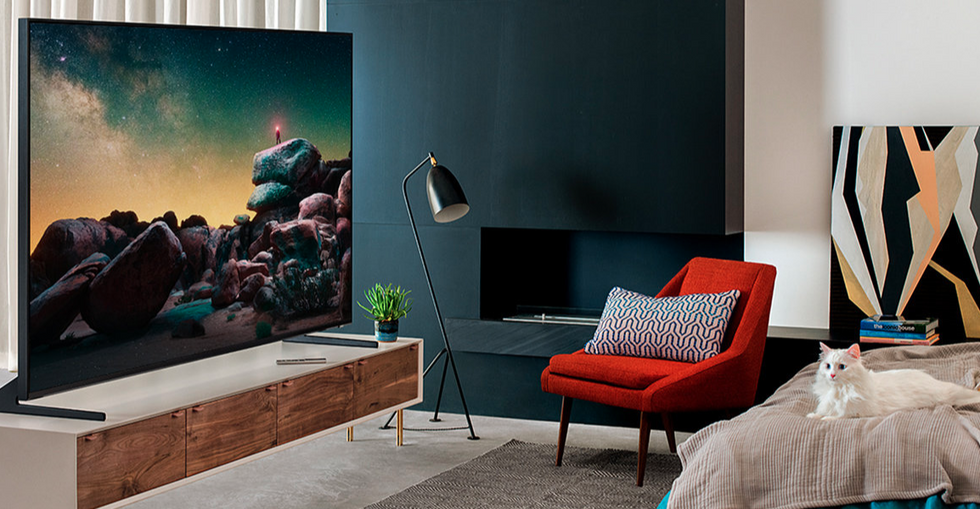 GearBrain
Should you buy an 8K TV now?

The short answer is no, not really, unless you are a very deep-pocketed early adopted who simply must have the newest tech as soon as possible, no matter the cost.
If money is no object, then the Q900R and its intelligent upscaling does make some sense - as long as Samsung keeps teaching the AI, and in two or three years' time that quantum processor is still as smart as new 8K TVs from 2020 and beyond.
Another point of interest is how only the 85-inch model is available in the US, for $15,000. But in the UK Samsung sells the Q900R in 65, 75, 82 and 85 inches, with the smallest costing £5,000 ($6,500), just £100 more than Samsung's 4K flagship, the 65-inch Q9F, cost when it launched a year ago.
We have no doubt that 8K will eventually become as widespread as 4K is today (that is, through Netflix, Amazon, video games, some Blu-ray discs and a handful of TV channels). But until then, unless money really is no object, we recommend you save your cash and buy a high-end 4K TV instead. It'll be almost as good, and you won't have to deflect the persistent 'is there any 8K content to watch?' question every time someone sees it.
(Don't forget to check out The GearBrain, our smart home compatibility checker to see the other compatible products that work with Samsung SmartThings.)