Like GearBrain on Facebook
Samsung is confident that it can address falling profits and stumbling smartphone sales by making 8K television mainstream.
This is the bold plan outlined in the company's second-quarter financial results, which saw the South Korean tech giant post profits down 56 percent from the previous year. A big factor was a fall in the price of memory chips, which Samsung sells to much of the consumer tech industry.
Read More:
To counter this, the company said it plans "to maximize end-year sales through close cooperation with retail partners and cementing the 8K leadership by positioning QLED 8K TV as mainstream TVs."
Despite televisions having an almost ubiquitous presence in homes around the world, it will be no easy ride to convince consumers to upgrade to 8K. High prices and limited content - the latter an issue still being felt with 4K - are huge hurdles for Samsung and fellow 8K television maker LG to overcome.

For a start, 8K televisions are expensive. The smallest Samsung models (which still measures 65 inches, and are therefore far too large for many homes) cost from around $3,500. Larger models quickly become much more expensive, with the 85-inch Samsung Q900 costing $15,000 when it went on sale in October 2018.
Prices will fall, of course, just as they did with HD and 4K televisions before. But the lack of 8K content remains a real problem. There is currently no 8K content on broadcast or satellite television in the US and Europe, and none on any streaming service either. There are no 8K Blu-ray discs and no 8K movie downloads.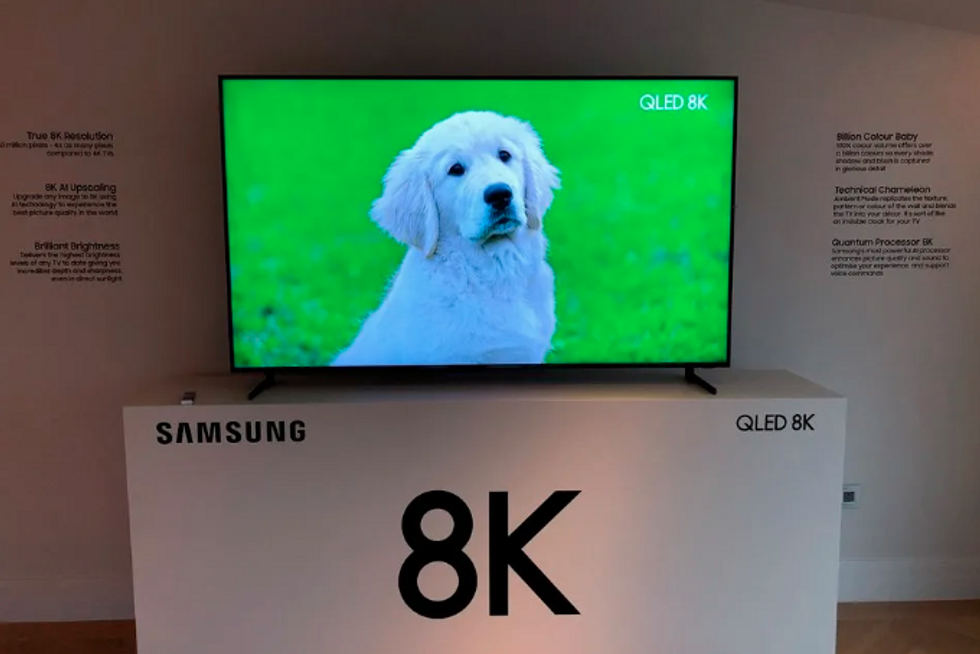 Despite 8K televisions now on sale, there is very little 8K content for themGearBrain
YouTube has an option for 8K videos, and footage can be shot in this resolution using some high-end cameras from the likes of RED. But good luck finding a computer capable of showing these 8K videos in all their glory.

Instead, Samsung insists its 8K televisions do a great job of upscaling HD and 4K content into 8K, by using an ever-improving artificial intelligence. While this is partially true - we were very impressed when we tried out the system last year - the wealthy early adopters Samsung needs to sell 8K TVs to are also the movie buffs and home cinema fanatics who want real 8K, not footage with extra pixels added by AI.
Samsung is making some inroads, however. Just this week the company announced it had successfully broadcast 8K footage over a satellite connection, with partner KT SkyLife. This should give broadcasters hope that 8K via satellite dish is possible, where before it was thought such resolution could only be sent through a very fast fibre internet connection.

Samsung has also begun producing its own 8K content, and filmed soccer matches at the International Champions Cup in Singapore in late-June. The matches, including Manchester United and Tottenham Hotspur, were filmed using six 8K cameras
A real kick-starter for 8K consumers can actually watch will be the 2020 Tokyo Olympic and Paralympic Games, which run from July 24 to August 9 next year, and will be shot and broadcast in 8K by national broadcaster NHK.
NHK began 8K broadcasts in Japan in December 2018, but only on one channel which remains a small selection of content between 10am and 10pm each day.
But with 4K broadcasts still a rarity and 8K discs non-existent, it could be some time before Samsung realizes its dreams of taking 8K into the mainstream.
Check out The GearBrain, our smart home compatibility checker to see the other compatible products that work with Samsung SmartThings.
Samsung QLED 8K TV : Real 8K Resolution www.youtube.com
Like GearBrain on Facebook