Like GearBrain on Facebook
Samsung surprised everyone at the IFA tech show in Berlin earlier this year when it promised to begin selling its first 8K television before the end of 2018.
Boasting four times the resolution of 4K (also known as Ultra HD), and 16 times the resolution of Full HD, 8K televisions have been around for a few years now, but only as technical demonstrations of what's possible, and what the future might look like.
Read More:
But Samsung said the Q900 would go on sale this year, and it is now fulfilling that promise - for a cool $15,000. If that's a bit steep for you then fear not, as Samsung also offers zero percent finance for $416 a month for three years - by which time better 8K TVs will cost significantly less.

Although available in three size, only the 85-inch flagship will be available in the US at launch for that sky-high price tag. It is the first TV to use Samsung's Quantum Processor, which uses artificial intelligence to upscale non-8K video into the larger format, so 4K and HD footage - perhaps even standard definition broadcasts - will look much improved.
GearBrain feasted our eyes on the Q900 at IFA and can report that, yes, 8K footage looks spectacular - but so does upscaled content shot in lower resolutions. It's a neat trick which will hopefully convince the seriously well-heeled early adopters this TV is aimed at to part with that significant chunk of cash.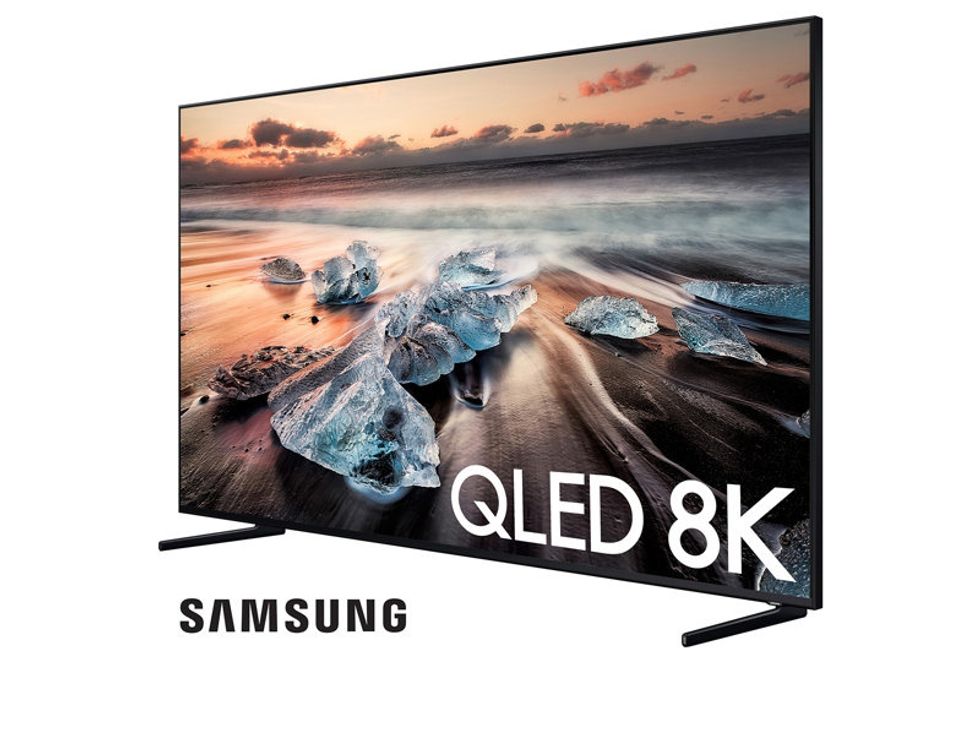 Samsung
That's because there is no 8K footage currently available. No TV stations broadcast in 8K, there are no 8K Blu-ray discs, no games, no Netflix streams. Nothing, except for the demo footage Samsung used at IFA and YouTube has an 8K option, but good luck finding a computer capable of feeding it to the TV.
Instead, Samsung will be hoping that the Q900 and the headlines it creates will encourage Hollywood, streaming services and broadcasters to move into 8K - even if many consumers are only just jumping aboard the 4K bandwagon.
That said, the 2020 Tokyo Olympics will be filmed it 8K (at least in some capacity) and broadcast by national broadcaster NHK, so hopefully that will give early adopters something to watch.
By then, however, it is entirely likely that 8K TV prices will already have begun to fall. 4K screens started at similarly high prices, but fell sharply in the following years - just as HD televisions did during the previous generation.
There is some better new for British readers, as in the UK Samsung is also selling a 75-inch version of the Q900 for £6,999 ($9,000) and a 65-inch model for 'just' £4,999 ($6,500).
From Your Site Articles
Related Articles Around the Web
Like GearBrain on Facebook