Samsung Galaxy S9 release date, price and specs: Everything we know so far
A year on from the Galaxy S8, Samsung is getting ready to reveal its next flagship Android smartphone — the Galaxy S9. To go head-to-head with the iPhone X and Galaxy Pixel 2, the new handset is set for its reveal at the Mobile World Congress technology show at the end of February.
As always, plenty of news about Samsung's new phone has leaked out ahead of the big unveiling. Here is everything we've heard so far about the S9.
When and where will the Samsung Galaxy S9 be launched?
Odds placed Samsung showing off the S9 at a media event in Barcelona — one day before Mobile World Congress (MWC) opens in the same city. And Samsung's mobile division president, DJ Koh, confirmed, at CES, the phone would be ready for MWC.
Samsung could hold a media event entirely on its own terms earlier in February — and has hosted phone launches in London and New York before. But MWC is right around the corner, Samsung is no stranger to Barcelona's CCIB convention center — and so a launch on the 25th seems likely. (Expect the 25th to be a busy day — with news from rivals like LG and Huawei on the same day as well.)
How much will the Samsung Galaxy S9 cost?
The Galaxy S8 launched with a retail price of $720. We believe the S9 will land in a similar ballpark. With Apple pushing the iPhone X beyond $1,000, however, the S9 might stray into the $800 or even $900 region, especially when the larger S9+ is brought into consideration.
When will the Samsung Galaxy S9 go on sale?
Samsung tends to put its phones on sale a few weeks after launching them. So the S9 should arrive in stores in late-March or early-April.
Samsung Galaxy S9 rumor roundup: Design
Ever since the Galaxy S6 Edge arrived in 2015, Samsung has boasted some of the best smartphone design of any manufacturer — Apple included. So far, leaked renders claiming to be of the S9 suggest it will look similar to last year's S8, which was itself an evolution of the S7 and the S6.
Images show a sleek glass front and back, a metal chassis and a screen which curves over the edges and stretches to the top and bottom of the handset. Renders also suggest the fingerprint scanner has been moved; instead of appearing next to the rear camera where it was awkward to locate with an outstretched finger, it will sit below the camera and more comfortably within reach.
The jury is still out on whether the Galaxy S9 will get a fingerprint reader under its screen or not. Both Qualcomm and Synaptics have said such a feature is now possible, with the latter even suggesting it would work beneath an "infinity display" — the nomenclature used by Samsung to describe its edge-to-edge screens. We saw such an embedded fingerprint reader on the Vivo X20 in CES, but perhaps this feature will remain one for the S10.
Elsewhere, the S9 is likely to feature the same dedicated Bixby button as we saw on the S8 and Galaxy Note 8, which summons Samsung's AI assistant with a press. Bixby needs to have a very strong 2018 if it is to make up any ground on Amazon Alexa and Google Assistant — and the same can be said for Apple's Siri, too.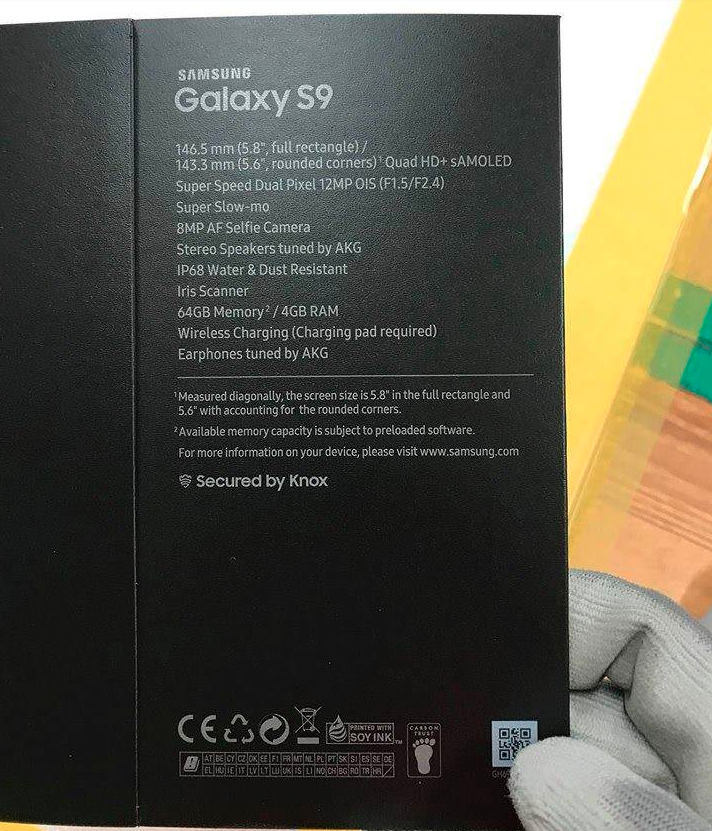 Image claims to show the retail packaging of the Galaxy S9Reddit user minhvn
Samsung Galaxy S9 rumor roundup: Display
The S8's long and narrow 18.5:9 aspect ratio will likely see a second outing on the Galaxy S9, and the size will remain unchanged at 5.8 inches, according to an image of the retail packaging. The resolution will stick at 1440 x 2960.
You can also bet the screen will be curved on its edges, like previous Galaxy flagships, and feature AMOLED technology to delivery the deep blacks and vibrant (if slightly artificial) colors Samsung is known for.
As with the S8, Samsung will likely offer a larger S9+ for those who want a bigger screen (and battery). The S8+'s screen measured 6.2 inches, and we can expect the new version to be the same.
Samsung Galaxy S9 rumor roundup: Camera
Samsung is never one to offer a bad camera on its smartphones. But in 2017 the (very good) Galaxy Note 8 was outgunned in the photography department by the iPhone X — and especially by the Google Pixel 2 XL, which uses machine learning to produce incredible snaps.
For the S9, Samsung is rumored to be fitting a 12-megapixel setup with optical image stabilization — the same as the S8. But, for the first time, this camera will include a variable aperture ranging from f/1.5 for low-light shots to f/2.4 for when you have more light and want more of the scene in focus. Unlike the Note 8 and iPhone X, the S9 is tipped to have just one rear camera instead of two. The larger S9+, however, has been spotted sporting two lenses stacked vertically, as they are on the iPhone X.
Samsung has been rumored to be working on a camera capable of shooting at 1,000 frames per second, far beyond that of any other smartphone on sale today. However, we think this should be taken with a pinch of salt for now. A sensor capable of shooting 4K at 60fps seems much more likely.
There has also been talk of Samsung fitting a 3D scanner to the front of the S9, enabling a face detection system like FaceID on the iPhone X. But, again, this claim is somewhat sketchy as it comes from a single unsubstantiated tweet from an account with just a few thousand followers.
More likely is that Samsung will improve the iris scanner used by the S8 and Note 8. Reports claim the resolution of the scanner will be increased by 50 percent, enabling it to work more quickly with people who wear glasses.
Samsung Galaxy S9 rumor roundup: Processor and performance
U.S. versions of the Galaxy S9 will likely be powered by the new Snapdragon 845 processor by Qualcomm, while other markets will get Samsung's own Exynos 9810 chipset. The Snapdragon is an eight-core system with four running at 2.8GHz and four at 1.8GHz. As some manufacturers install 6GB of RAM in their smartphones, the S9 will reportedly stick with 4GB. Storage options will reportedly be 64GB and 128GB.
This article will be updated as more information about the Galaxy S9 comes to light.
AlertMe