Like GearBrain on Facebook
Almost three years on from showing off its huge, 146-inch concept television called The Wall, Samsung has launched a commercial model.
Still massive by most standards, the MicroLED television measures 110 inches from corner to corner. But where The Wall was delivered in parts, had to be assembled by a professional and wasn't intended for the consumer market, the new model arrives in one piece. Samsung describes it as the next generation of television.
What is Samsung's MicroLED TV technology?
When it launched back in 2018, Samsung's MicroLED technology demonstrated how a display of any size could be constructed using modular panels and with zero bezel. Samsung is now offering a set size of 110 inches, but there will likely be other (smaller) options coming soon.
At its simplest, MicroLED is a rival to OLED, with both technologies looking to replace the more common (and cheaper) LCD screens most of us have today. The problem with these screens, which are on computer monitors and many kinds of television including Samsung's own QLED range, is that their LED backlights take up space and are not that precise.
Television makers have addressed this by adding multiple backlights that can be controlled individually to only illuminate parts of the screen, while plunging other parts into darkness to create true black. But they aren't perfect, and they add bulk to the back of television screens.
OLED, with the O standing for organic, are self-emissive which means they produce their own light and don't need lighting from behind. This improves the experience, but Samsung hasn't used OLED in its televisions due to fears over how long the organic elements will last, and a lack of brightness.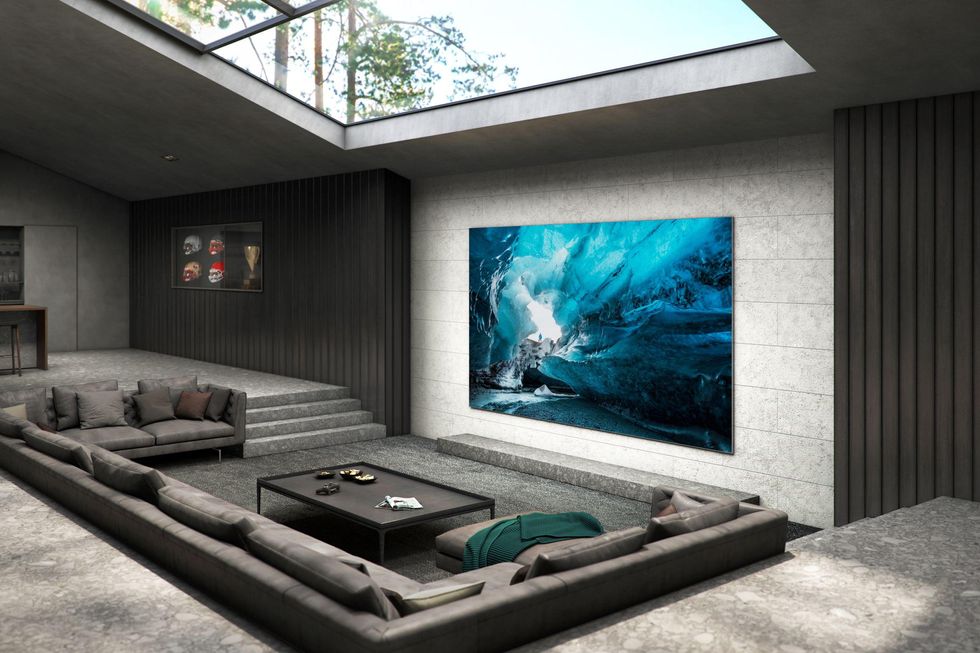 The TV has a screen-to-body ratio of 99.99 percentSamsung
Step forward MicroLED, which is also a self-emissive technology but doesn't use the organic compounds of OLED. These MicroLED displays are illuminated by three tiny LEDs per pixel, meaning each pixel can be turned on or off individually; they can also display a completely different color to the next pixel, meaning vastly improved contrast and color control.

Samsung says its MicroLED screens can go four times brighter than today's OLED panels, and believes they could go as high as 10,000 nits, a 10x jump on the 1,000 nits of OLED.
A truly bezel-free television
Another key improvement is how MiroLED televisions have virtually no bezel at all. Samsung claims the TV has a 99.99 percent screen-to-body ratio.
Until now, manufacturing MicroLED panels has been tricky – after all, it has been three years since we saw Samsung's first The Wall concept in January 2018. But progress has been made, and Samsung's first commercial MicroLED television is now available to pre-order, albeit only in its native Korea for now.
Jonghee Han, president of Samsung's display business, said: "MicroLED is going to redefine what premium at-home experiences mean for consumers around the world."
Samsung says how the result of using MicroLED technology is "stunning, lifelike colors and accurate brightness from the display's 4K resolution and eight million pixels."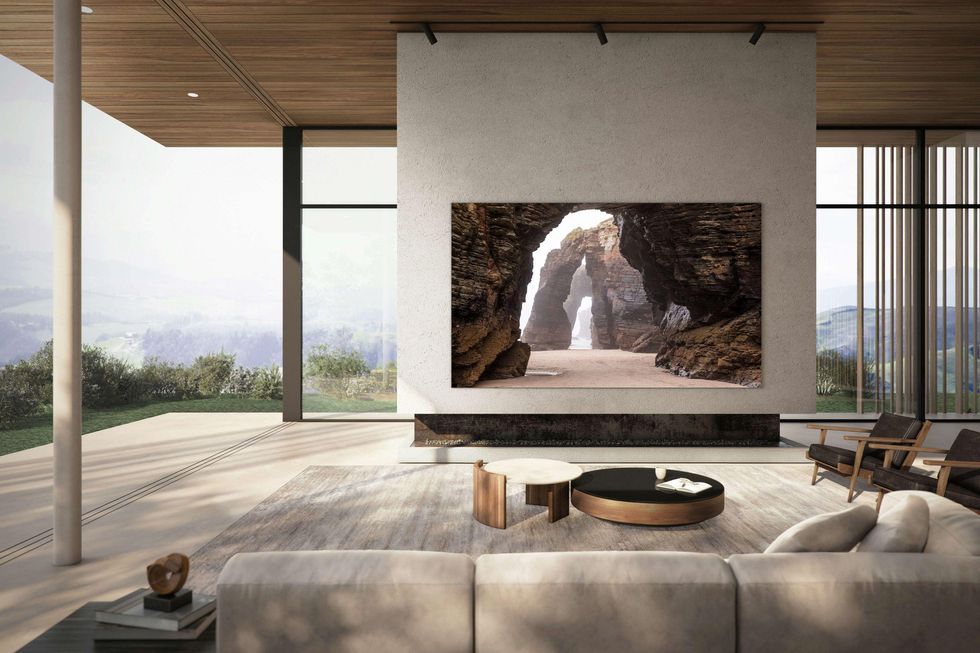 Available to pre-order in Korea, the TV doesn't yet have a priceSamsung
You read that right – this television has a resolution of 'only' 4K, and so misses out on 8K, which is available on some of Samsung's LED-backlight televisions. But that shouldn't pose a huge concern for now, since there isn't really any 8K content to watch yet.

Being so large, Samsung suggests how owners of the new TV could split the screen into four, 55-inch sections, each showing something different – perfect when there are several sports fixtures on at once.
As for sound, which is often a problem for slim televisions with nowhere to fit high-quality speakers, Samsung says the MicroLED TV has a "Majestic Sound System" that is capable of 5.1 surround sound without attaching to external speakers.
Although the TV can be pre-ordered from today, December 10, Samsung hasn't yet said how much it costs. Given the new technology and massive size, we wouldn't be surprised if this television has a six-figure price tag. But, as with all such technologies, we expect to see smaller and more affordable options arrive in the coming years.
Check out The GearBrain, our smart home compatibility checker to see the other compatible products that work with Samsung SmartThings.
Like GearBrain on Facebook