Like GearBrain on Facebook
Samsung has staged its first product launch event dedicated to televisions, called Unbox & Discover. The company revealed plans to begin selling its flagship Micro LED televisions in a matter of weeks, and a range of updates to other members of its TV portfolio.
It has become fashionable in recent years for television makers to show off new technologies with enormous screens that either never go on sale, or that are so eye-wateringly expensive (and expansive) that only the super-rich need apply.
Read More:
LG enjoyed showing off its rollable TV for a couple of years before putting it on sale in late-2020 for almost $90,000. Now Samsung has similar news for its Micro LED television, known as The Wall.
First shown off in 2018 at a whopping 292 inches, The Wall has now shrunk into a television that is almost (almost) suitable for the home. Today Samsung says its Micro LED televisions will be available to buy globally from April with screen size options of 110 and 99 inches.
A more accessible 88-inch model will arrive in the fall and today Samsung said a 76-inch option is "on the future roadmap". This would suggest 2022, and perhaps with a bit of luck that year might also see Samsung's Micro LED technology approach the best-selling 55 to 65-inch category. Prices are still under wraps across the board, but you can expect the largest models to command five figures.
Since the current lineup may as well be measured in feet instead of inches, Samsung is keen to promote the 4Vue feature of these screens, where four sources of content can be shown simultaneously. For example, you could watch two sports channels at once (one from a streaming stick and one from a cable box, for example), while also playing Xbox and – I don't know – watching YouTube?
Plainly this is a fun feature for anyone wishing to recreate a TV news studio at home, but it's appeal is probably as limiting as the size and price tag. That said, if you are a sports nut with an unlimited budget, then why not?
As well as its vast size and ability to show multiple sources at once, the Micro LED's design means there is almost no bezel at all, which is something we think looks great.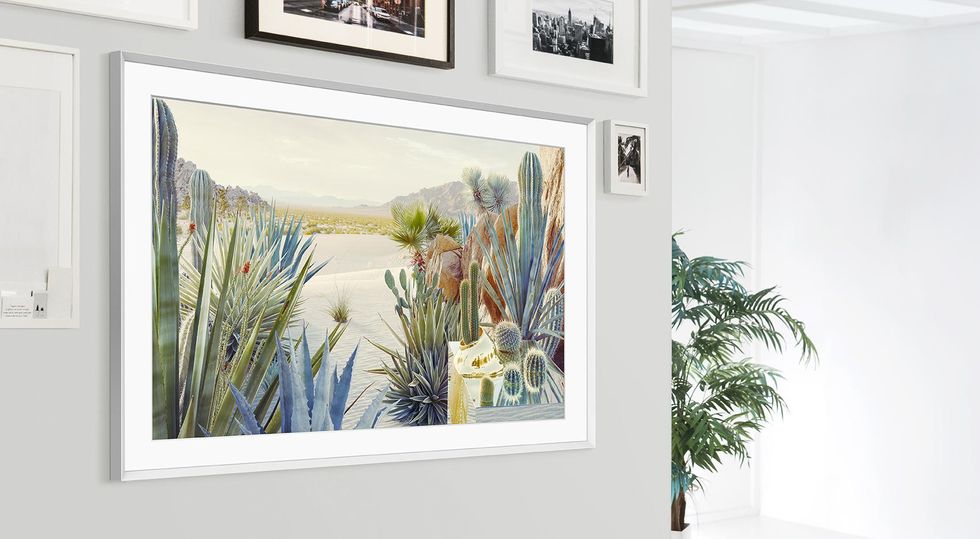 Samsung's The Frame televisions displays art when not in useSamsung
Today also saw Samsung update its most design-focused TV, called The Frame. The new 2021 model is available with the same 55, 65 and 75-inch screen options as before, but is now slimmer at 24.9mm and has had its internal storage bumped from 500MB to 6GB. This means it can store up to 1,200 photos in Ultra HD resolution.

That storage is used to hold artwork to display on the TV when it isn't being used. To that end, The Frame now has an AI-powered curation system that suggests additional artwork and imagery based on those you have already chosen to display. Adding more artwork for 2021, Samsung now has new partnerships with NAVA Contemporary and Etsy; this takes the total art catalogue to 1,400 pieces.
There is also a new mounting option for 2021, called My Shelf and available globally later this year in beige, white, brown and black. The price is unknown for now.
Other design options for The Frame include a new Slim Fit Wall Mount and five different bezels, plus other options from third-party manufacturers.
It's easy to dismiss The Frame as a novelty item, but we like where Samsung is going here. As televisions grow larger, so too does the unattractive black rectangle that dominates the room when they are switched off. We think readers will like how The Frame is a TV that is more aesthetically pleasing in use, but also acts as a picture frame for curated artwork when you aren't binging Netflix.
As for the rest of Samsung's 2021 TV lineup, there's a new model of Terrace, the company's weather-resistant televisions designed to live outdoors. Joining the existing 55 and 65-inch models, a new 75-inch Full Sun model (meaning it is bright enough to overcome even direct sunlight) is coming this summer for an as-yet unknown price.
Like GearBrain on Facebook