Like GearBrain on Facebook
A new device is bringing control to your smart home — letting you operate the way your house operates just by moving from one room to another. Called RoomMe, the product is actually a set of sensors, which debuted at CES 2019, winning an Innovation Award in the Smart Home category.
Read More:
RoomMe sensors are installed in different rooms, which detect when someone enters a space through their smartphone. Coming into a room, people cross a Bluetooth Low Energy curtain — which helps devices tell one person over another. Thermostats, lights and speakers automatically operate based on the preferences of that person. If two people come in, the devices flip to what's called a priority level, assigned to a specific person and their preferences.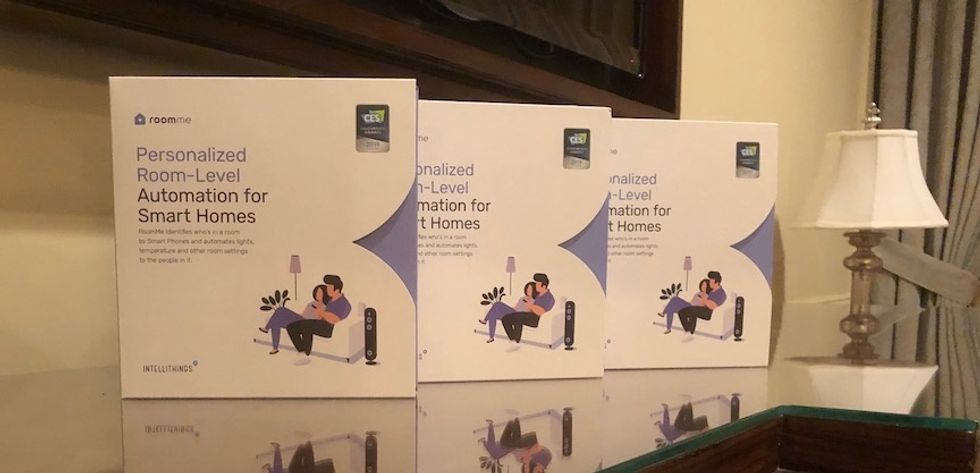 RoomMe, which won a smart home Innovation award at CES 2019, can be pre-ordered on the company's web siteGearBrain
Devices including thermostats, speakers and lights run through RoomMe without having to physically turn them on. Nor are voice and gesture control needed either.
People set their preferences through the RoomMe app, which works with a variety of devices. These include a host of Philips Hue lights such as color, white and indoor and outdoor light strips, and also LIFX bulbs as well. Speakers that work with the RoomMe app include the Sonos PLAY:1 and Bose SoundTouch 10. The system also works with the Ecobee 3 and 4 thermostats.
RoomMe, owned by the Tel Aviv-based Intellithings, can be pre-ordered on its web site — as sets of two, four or just a single sensor for $69.
"We designed RoomMe because modern smart homes aren't all that clever, as we still have to point or talk to control IoT devices," said Oren Kotlicki, founder and CEO of Intellithings through a statement. "Market research proves that consumers want complete automation based on presence alone – that's why we're so excited to finally open sales to the general public for everyone to experience the benefit of RoomMe. We've already been met with an overwhelmingly positive response to the product and are looking forward to further satisfaction from new customers."
Like GearBrain on Facebook