Like GearBrain on Facebook
We have all heard a great deal about the air quality in our outdoor environment and how pollution, manufacturing, transportation, our carbon footprint, etc. is taking a toll on the air we breathe. But the air quality on the inside of the home —what the U.S. Environmental Protection Agency calls Indoor Air Quality (IAQ)—is something to keep a watch on as well.
People who live in urban environments spend up to 90 percent of their time indoors, according to a 2016 study published in the Science of The Total Environment journal. Researchers also noted that indoor air is a major factor in determining life expectancy, with "...household air pollution is ranked the 9th largest Global Burden of Disease risk."
That's why investing in a smart air quality device is a smart move to protect your family. These devices below can help you keep watch over the levels of radon, air particles and CO2 levels to hopefully help you live in a more breathable home and in a healthier indoor environment.
Wave: Smart Radon Detector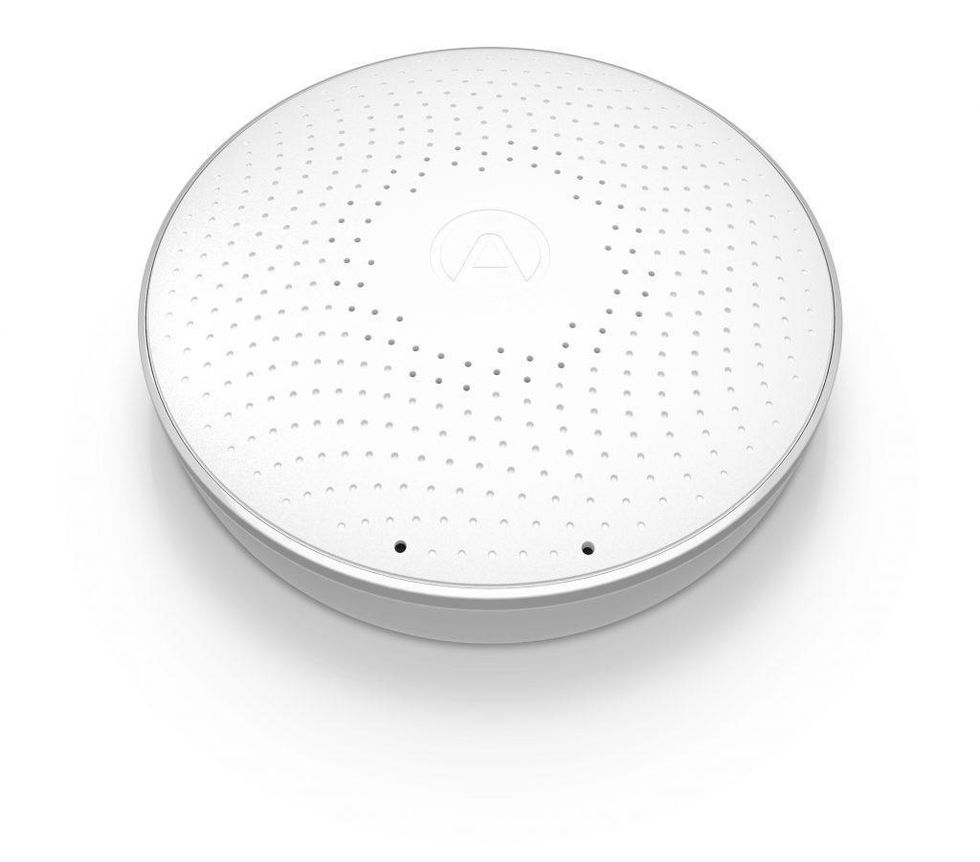 Via airthings.com
Wave makes it easy to detect levels of radon in your home with or without a smartphone. With a wave of your hand, the device, even in the dark, indicates whether you have normal or dangerously high levels of the radioactive gas by changing colors. Green is good, yellow is a warning, and red is a problem. Radon gas can leak into homes through cracks in walls and floors, as well as well water and can be found in any home in the United States, according to the U.S. Environmental Protection Agency. It's worth monitoring. Wave's mobile app works with iOS or Android devices, and displays in both metric and imperial units with Bluetooth connectivity. Wave is priced at $199, and is easy to attach to nearly any wall or ceiling and has a 1.5-year battery life.
Airthings Wave (2nd Gen) - Smart Radon Detector with free app - Easy-to-Use - Temp and Humidity - Accurate - No Lab Fees - Battery Operated
Xiaomi Mi MiHome Smart Particulate Monitor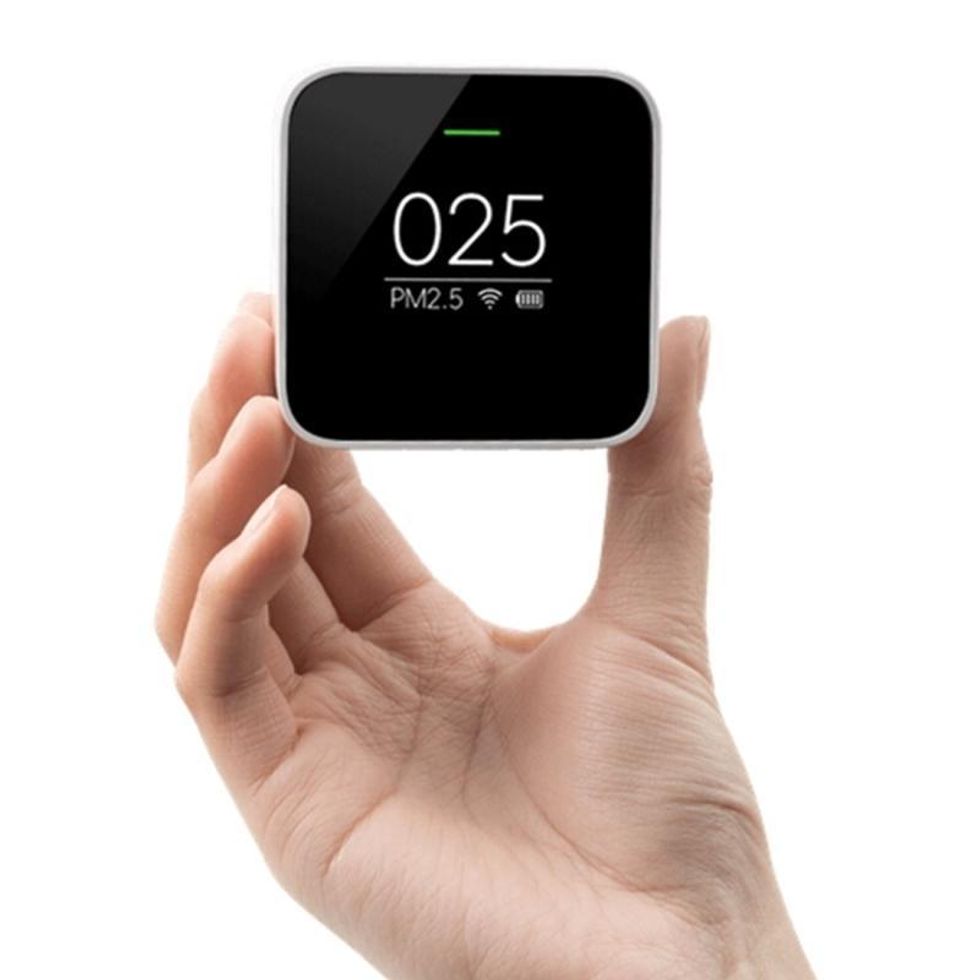 Via alexnld.com
This tiny air quality monitor is only 100g but it does a big job in distinguishing particulates in the home. Xiaomi Mi MiHome uses an indicator light to quickly alert users of the air quality in the home with an OLED display. The company also produces the Xiaomi air purifier, which can be paired with the monitor and start cleaning the air in your home. The 4100 Mi Air Purifier uses two high-performance fans to take in and expel air upwards through four ducts. Clean air is sent towards the ceiling, circulating in all directions before it is sucked back into the purifier. Connected to a smartphone, check on the current air quality in your home as well as historical data. The app will recommend when to close windows or open them depending on outside air quality.
Awair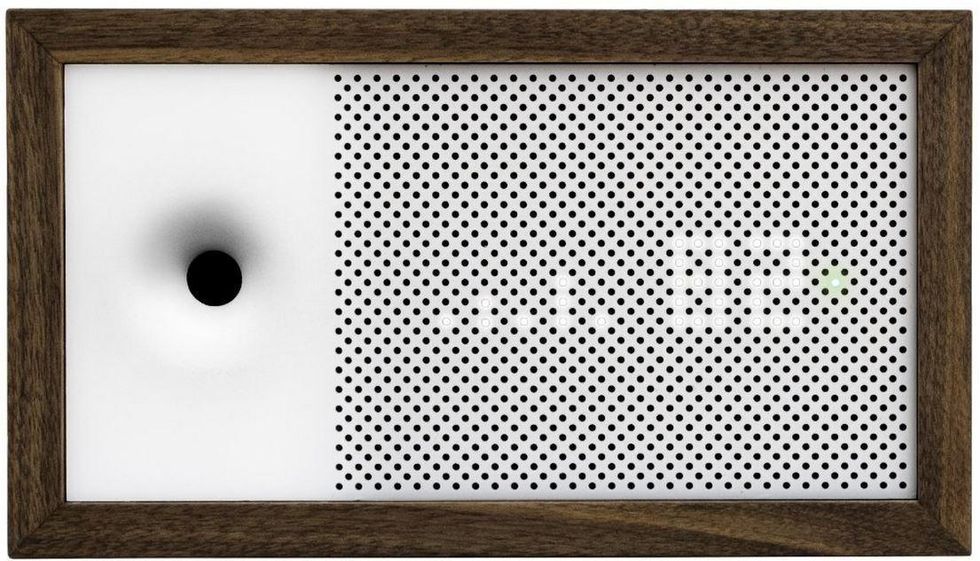 Via nerdtechy.com
Awair keeps track of chemicals and toxins in your home, and also provides personal recommendations for you to make adjustments to clear the air in your space. With a quick glance, you can see the air temperature, humidity levels, CO2 levels, chemical components, and dust in your surroundings with an Awair color-coded score to sum it all up. The $199 Awair pairs simply with Alexa and Nest, allowing you to keep your connected home running with even more hi-tech capabilities. The device uses Wi-Fi and Bluetooth to connect.
uHoo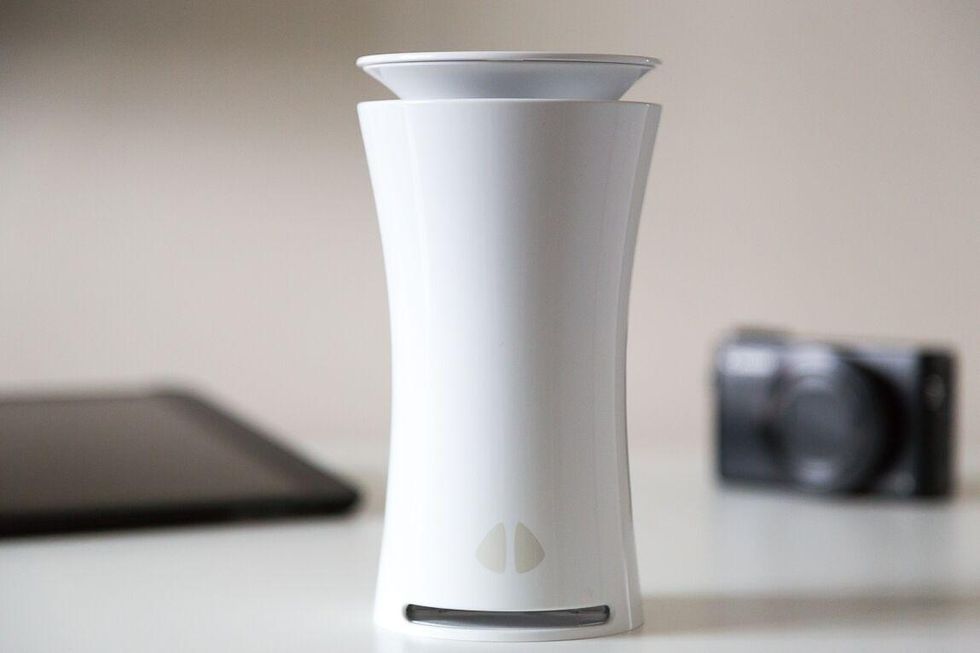 Via energycircle.com
Protect your family from in-home toxins and allergens with uHoo. uHoo is a chemical sensor, a dust sensor, temperature sensor, ozone counter, air pressure monitor plus other devices rolled into one. You can personalize what your uHoo app (iOS or Android) tells you depending on your health status and other personal considerations. Set up alerts for real-time pollution levels. Keep tabs on historical data and your personal habits with a specialized chart you can view on the app. Use uHoo anywhere there is Wi-Fi; it's lightweight and portable. uHoo is pricey at $299, but we think the sleek design, and multiple toxin sensors make this product worth considering.
uHoo Indoor Air Quality Sensor - 9 in 1 Smart Air Monitor to Boost Productivity & Health - Breathe Easy Climate Control Meter with CO2 Monitor, Thermometer, Humidity Gauge, Dust, VOC & Allergen Sensor
Sensio AIR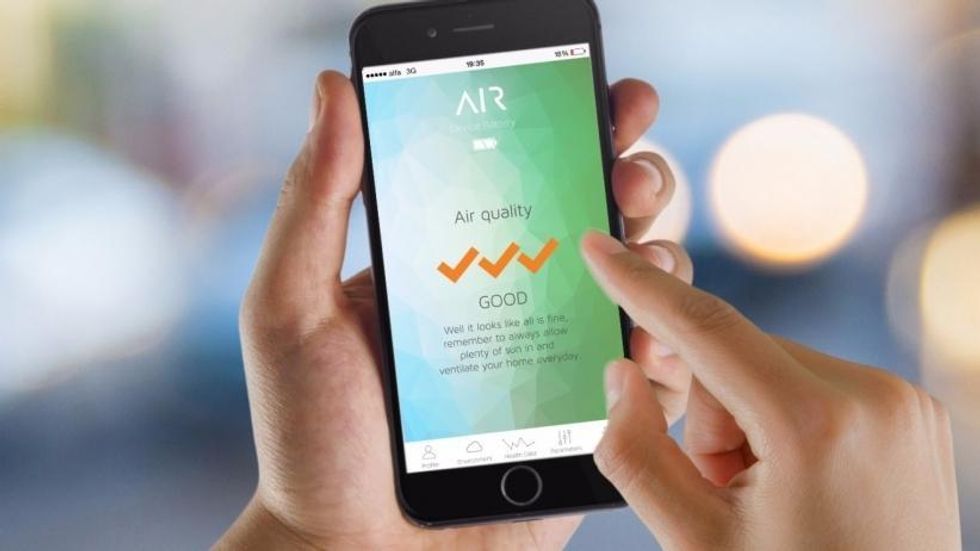 Via entrepreneur.com
Sensio AIR is the first and only patented allergen tracker for the home. Easily check the air quality index on the AIR app, get personalized advice to reduce allergens and irritants in the home, and keep logs of your health and home by managing your history and data. Monitor dust mites, mold, dander, pollen, harmful gasses, smoke, and more in real time. Sensio AIR won the Harvard startup competition's 1st prize. This device is currently in a beta testing mode, and you can sign up for a chance to be one of the first to test it out on your own.
Cube Sensors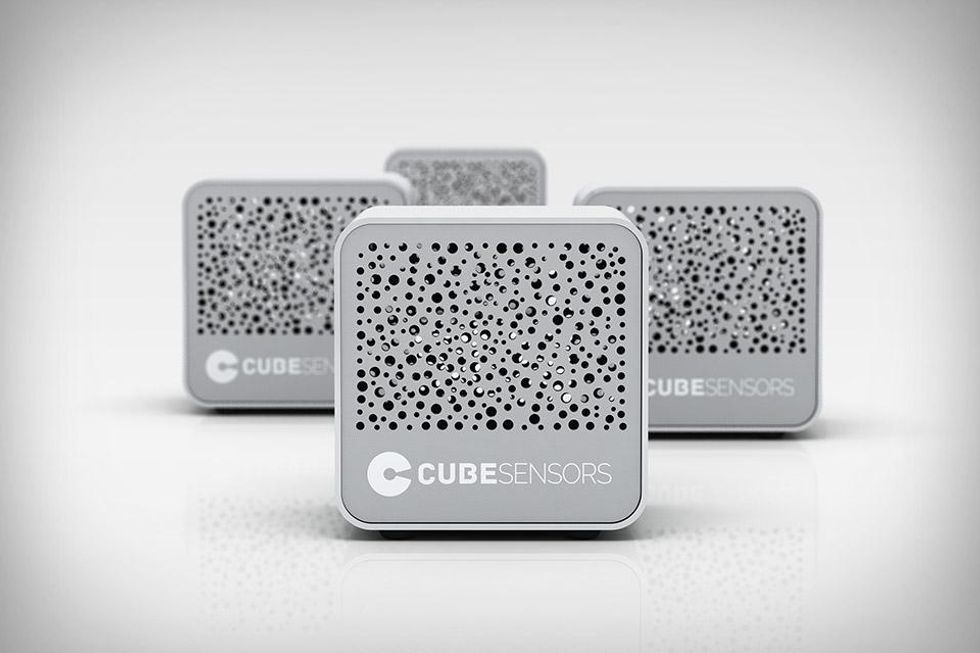 Via uncrate.com
Cube is a small, cordless, and connected gadget that claims to help control allergies, asthma, and other breathing issues by measuring air toxins and pollutants like mold and CO2. But Cube does more than monitor air quality. The device will also keep tabs on your lights, household temperature, humidity levels, noise levels, sleep comfort, and more. Cube connects to an app and sends alerts and recommendations for a better, more breathable home. Get a two-pack for $300.
Koto Air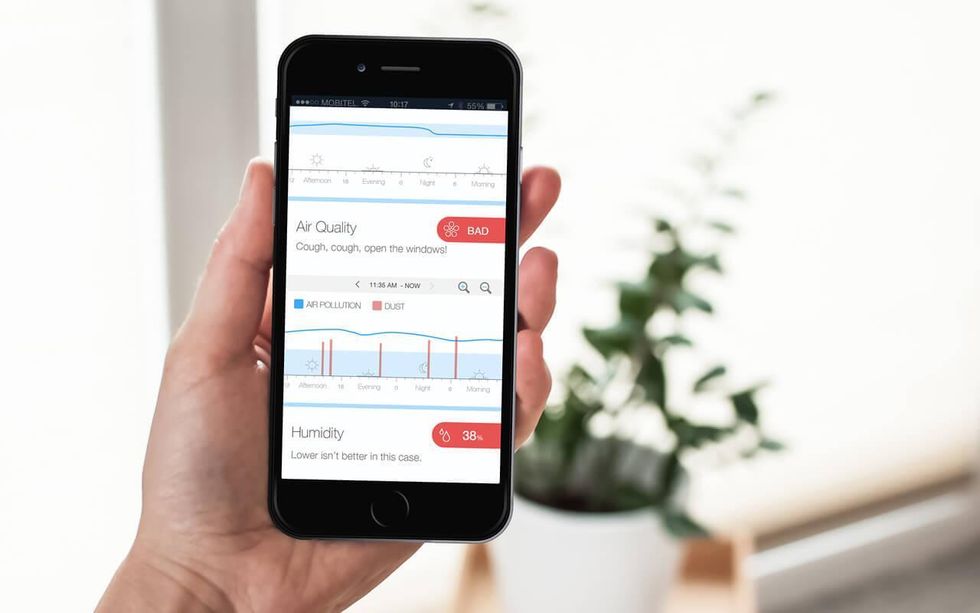 Via koto.io
From the makers of Cube comes their newer model, Koto Air which helps with humidity and dry air issues in the home. The device syncs with a smartphone (iOS or Android) via Bluetooth and you can view the metrics on the easy-to-read app. Koto can detect a wide range of harmful gasses and sends the user reminders as to when to open or shut the windows. Koto Air works along with the Cube Sensor.
Speck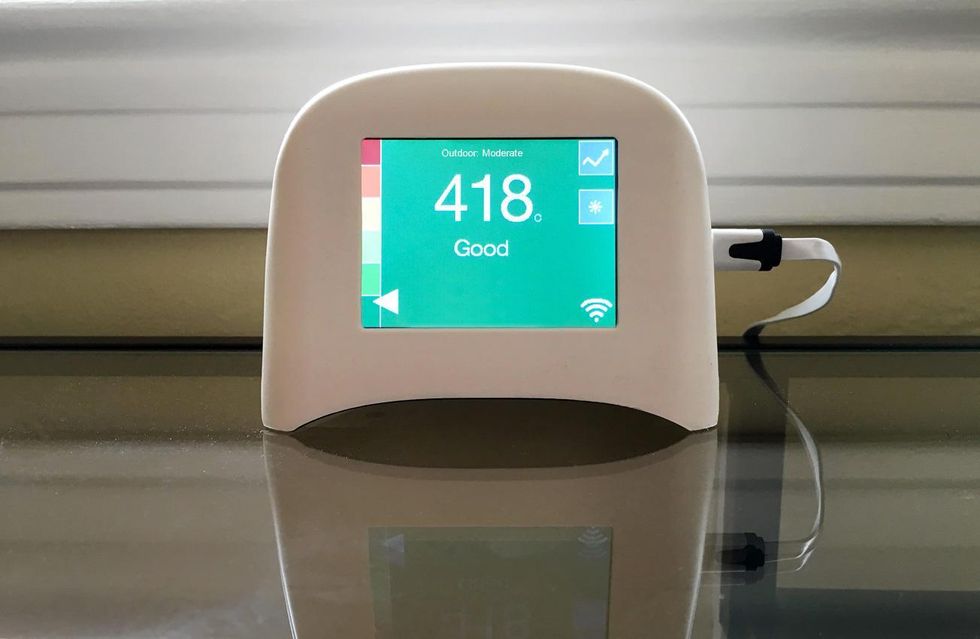 Via specksensor.com
Monitor your indoor air quality one, well, speck at a time with Speck. This in-home device detects fine particulate matter like dust, smoke, and exhaust, and alerts you to changes and trends. Speck is a cinch to use—just plug in the device and it gets to work on the spot. Use the device's built-in Wi-Fi and log into your account to check your home's air quality data from anywhere via a smartphone, tablet, or computer. Speck pairs with iOS and Android to its mobile app. The classic model is $149 and the 2.0 is $199. The 2.0 version includes a humidity sensor and improved Wi-Fi range.
Awair Glow Air Quality Monitor + Smart Plug
Like GearBrain on Facebook