Like GearBrain on Facebook
For most of us, the smart speaker with voice assistant — like an Amazon Echo with Alexa — is a device for playing music, looking up facts online, reading us the news headlines, and controlling smart home devices.
But the assistants and their increasingly intelligent personalities are becoming valuable tools for more vulnerable members of society.
Read More:
They can respond helpfully to calls for help or admissions of feeling depressed; they can give disabled people the ability to control aspects of their home — such as the lighting and heating — without moving or asking for assistance; and they can give the elderly an easy, hands-free way to speak to remote friends and relatives, or call for help.

Giving the disabled a helping hand
This Reddit discussion thread offers some heartwarming ways in which Amazon Echo speakers and their Alexa assistant have helped disabled people gain independence. One person writes: "I have a degenerative muscle wasting disease and Echo is a lifesaver. Something as simple as being able to turn on lights without asking someone is wonderful!"
Another Reddit user says how an Echo helped his blind, disabled father. "My father now has access to a personal assistant that not only has made his life more enjoyable, but mine too as he doesn't have to learn to touch anything which means less frustration for all of us...He has not stopped using it since he got it for Christmas."
Clearly, the features many of us see as time-saving (or just plain gimmicky), like switching on lights with our voice, are of huge benefit to those less able to get up and flick the switch themselves.

Amazon
Carlsbad By The Sea, an upmarket retirement home in California, provides Echo devices to residents as a way of offering all the information and services the web has to offer, but without the need to use a computer.

Resident Corianne Sawyer wrote in a 2017 blog post: "I haven't had this much fun with a gadget in years and years, not to mention that I find it useful...I don't have to find a clock, I just ask Alexa the time. I figure out what to pull out of the closet to wear, and whether to put on extra sunblock during my walk by asking Alexa for a weather report the night before...I am now letting Alexa keep my personal appointment calendar to backup my written notes (which I too often mislay)."
Residents can also use their Echo speakers to control the lighting and heating with voice commands.
Over in the UK, Public Health England, a government led agency, is looking into the use of smart speakers to help combat loneliness. Professor Sir Muir Gray said in January this year: "There's significant potential here for older adults in particular, who often need extra encouragement to be active and would benefit from hearing another voice to help prevent feelings of loneliness and isolation."

Someone to listen
While assistants like Alexa and Siri can't replace real companionship, they are programmed to spot the signs of loneliness and even depression and suicidal thoughts in their users. Saying "Alexa, I feel sad" returns the response: "I'm sorry to hear you feel that way. Sometimes talking to a friend, listening to music, or even taking a walk can help. I hope you feel better soon."
Telling the Google Assistant the same things returns the response: "Oh no, it may not be much but let me know if there's anything I can do for you."
Following this up with: "Hey Google, can you cheer me up?" encourages the assistant to tell some jokes in an upbeat voice.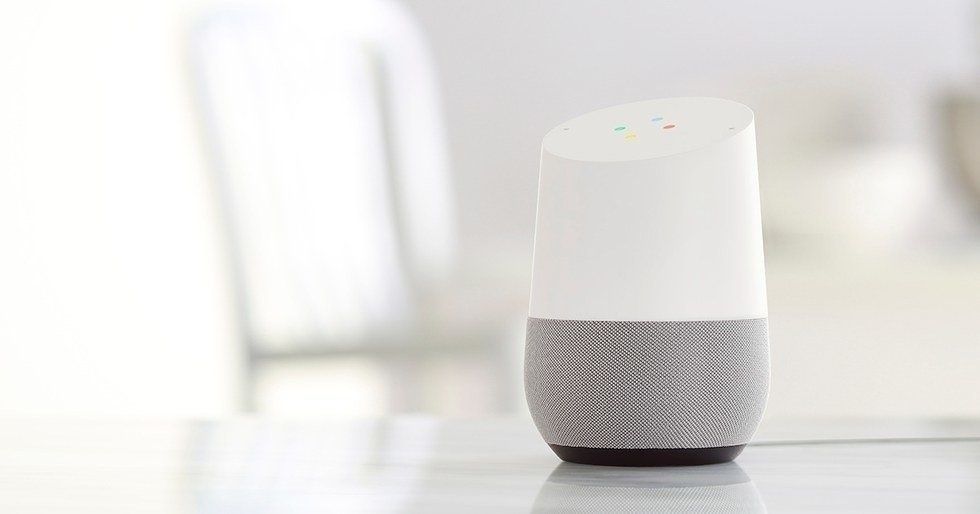 Google HomeGoogle
More proactively, telling Alexa that you feel depressed causes her to say: "I'm so sorry you are feeling that way. Please know that you are not alone. There are people that can help you. You can try talking to a friend, or your doctor. You can also try the Samaritans on [local phone number]."

Although Siri doesn't offer such advice — the iPhone assistant says it is "here to listen" — Apple knows that its customers sometimes turn to artificial intelligence when they feel down. In September 2017, an Apple job listing said: "People have serious conversations with Siri..[they] turn to Siri in emergencies [and] when they want guidance on living a healthier life."
The ad, which is no longer listed, was looking for an engineer with a psychology background to join the Siri team at Apple's California headquarters. The ad continued: "Play a part in the next revolution in human-computer interaction...We are looking for people passionate about the power of data and have the skills to transform data to intelligent sources that will take Siri to the next level."
Amazon is also looking at better-understanding the mood of people who speak to its assistant. A June 2016 story published by MIT Technology Review said Amazon was at the time, according to a source, exploring ways to help Alexa understand the emotion in a user's voice.
Returning to Reddit, and a user posted in March 2018 about an Alexa skill they have built, called DepressionAI, which "aims to help people with depression by encouraging them to perform daily activities." It can also, the creator claims, "detect suicidal intentions and provide the number of the national suicide prevention hotline, and recommend a local therapist based on your location."
What You Need To Know About Smart Speaker Assistants www.youtube.com
Meditate and relax with a voice assistant

As GearBrain wrote about in May this year, Alexa and Google Assistant both offer a number of ways to help relax and meditate. The Headspace app is available on both platforms and has a lot of free content, including daily 10-minute meditation sessions led by Headspace founder and former monk, Andy Puddicombe.
Other options include Guided Meditation and Mindful Meditation on Alexa, and Meditation Guide for the Google Assistant. Both systems can play relaxing sounds - like rain, a fireplace, or white noise - on command.
It may seem strange to turn to a virtual assistant when you feel lonely or depressed, but tech companies know this happens, and are already building a framework to help their users find the help they need — whether it's a particularly well-timed joke, or the Samaritans phone number for a potentially life-saving conversation.
Check out The GearBrain, our smart home compatibility checker to see the other compatible products that work with Google Home and Home Mini as well as Amazon Alexa enabled devices.
Like GearBrain on Facebook