Like GearBrain on Facebook
Last Updated: September 16, 2016
At this point everyone has a so-called "smart TV." But how smart are they really? Can they help us control devices in our home? Monitor the temperature or alert us if someone is there that shouldn't be?
Experts believe our TV is set to morph into the single most important device in our home. Moreover? These wall-sized pieces of hardware are going to borrow from the device we can't live without: our phone.
"Very soon, your TV will start like a smartphone, with a screen filled with apps," says Dr. Jüergen Boyny, global director of consumer electronics at research firm GfK.
Already, 47 percent of consumers have access to a TV with smart features such as web browsers, according to GfK's Tech Trends 2016, a survey the firm did of consumers across 15 industrial countries in January 2016.
Currently, 38 percent of consumers connect their TVs to the Internet using another device, says GfK. By 2018, GfK says a billion TVs around the world will be connected to the Internet, and there will be two billion connected TV devices.
Ditch the hub?
Maybe you don't want your TV screen to be filled with apps. A smarter TV, though, may help eliminate one of the more annoying attributes of your smart home set-up: the separate smart hub.
Not only will smarter TVs—with Wi-Fi/Ethernet connectivity and hefty processing—transform into your smart home hub, eliminating the annoying separate box, they'll also complement or replace your smartphone or tablet for control and monitoring. If you hear a suspicious noise, for instance, you can switch from watching "Game of Thrones" to watching the feed from your Wi-Fi security cameras.
This TV-as-hub evolution has already begun, albeit slowly. So far just two TV makers have figured out the smart TV/smart home hub connection. Which ones? We're going to tell you.
Samsung's SmartThings
Our first pick for a smart TV/smart hub maker is Samsung's 2016 line. All of the smart 4K TVs the company has released this year work with the SmartThings smart home system, which Samsung bought two years ago, as well as select smart ZigBee and Z-Wave gizmos: up to 200 smart home devices in all.
SmartThings access is incorporated into the Samsung TV operating system, easily accessible from an on-screen horizontal scrolling menu along with access to your other connected TV devices such as game consoles and Blu-ray players and frequently accessed smart TV apps such as Netflix. This smart TV SmartThings access includes being able to view live footage from SmartThings security cameras, as well as control over locks, lights, thermostats, et al, all via the TV's remote control.
One problem: the SmartThings access isn't actually built into the TV sets. You need to first plug in something called a SmartThings Extend USB stick to imbue the set with the necessary SmartThings smarts. Fortunately, Samsung is supplying the Extend stick for free.
Samsung is smart enough to know an add-in stick, regardless of its smartness, is a silly solution. Samsung's plan is to eliminate the need for the extra stick in next year's models, or perhaps when next generation sets appear later this year, to make its TVs truly smart home smart all by themselves.
If you need help setting up any of these smart home systems, you can visit HomeAdvisor.com to find a local trusted professional.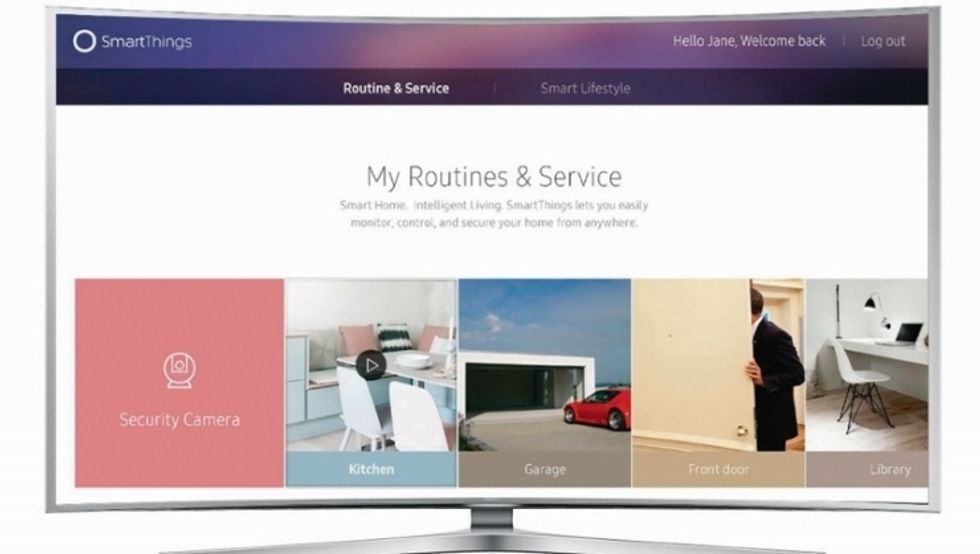 Will Samsung SmartThings control your smart home devices?
LG's smartThinQ
Next up? Samsung's Korean bête noire, LG. The company is sniffing around a similar smart home/smart TV solution under the embarrassingly similar smartThinQ name. I was told "smartThinQ" is pronounced "smart thin cue" rather than "smart think," but it's doubtful anyone will be convinced or care.
Like SmartThings, smartThinQ will connect to a wide variety of devices from a variety of smart home ecosystems and protocols including ZigBee, Z-Wave, Nest and AllJoyn.
Secondary to the usual smart home gear, LG is concentrating smartThinQ's smart TV control to the company's smart appliances—refrigerators, washers/dryers, air conditioners and robot vacuums.
smartThinQ isn't as far along as SmartThings, however, or as easily adoptable. You not only have to buy expensive new smart LG appliances, but the TV control capability is only available through the company's WebOS smart TV operating system on the company's new 2016 Signature 4K OLEDs, of which there is only one—the 65-inch OLED65G6P ($8,000). A second 77-inch Signature 4K OLED with WebOS 3.0 is due "soon" at an unannounced but likely "if you have to ask, you can't afford it" price.
Presumably, LG will expand WebOS 3.0's available to more reasonably-priced models.
If you need help setting up any of these smart home systems, you can visit HomeAdvisor.com to find a local trusted professional.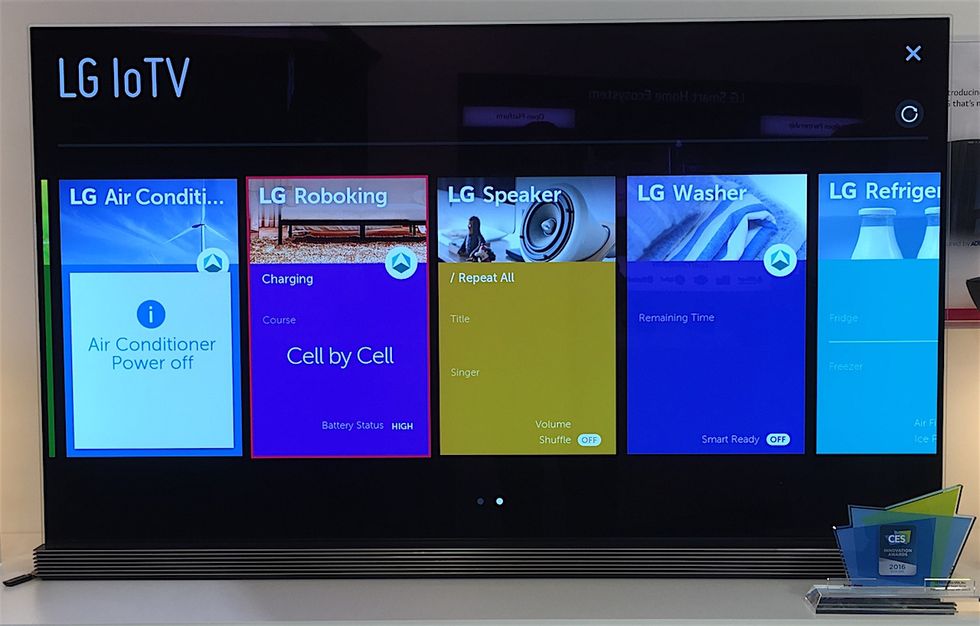 LG smartThinQ will link a variety of smart items in your home.
Sage by Hughes

Last but not least, is a far more egalitarian smart home TV system: Sage by Hughes. Sage gives you control over its smart home devices from any TV you own, smart or not, connected or not.
How does Sage work? Read GearBrain's extensive Sage report here.
Which concept will catch on? Smart TVs with built-in smart home hub/control capabilities or plain TVs with add-on smart home control? Given the rising sales of smart TVs, likely the former, and likely from a lot more TV makers.
Either way, your TV is about to extend its hold over your home in a far more useful way.
Click here to buy Samsung SmartThings Hub, 2nd generation.

If you need help setting up any of these smart home systems, you can visit HomeAdvisor.com to find a local trusted professional.
Like GearBrain on Facebook